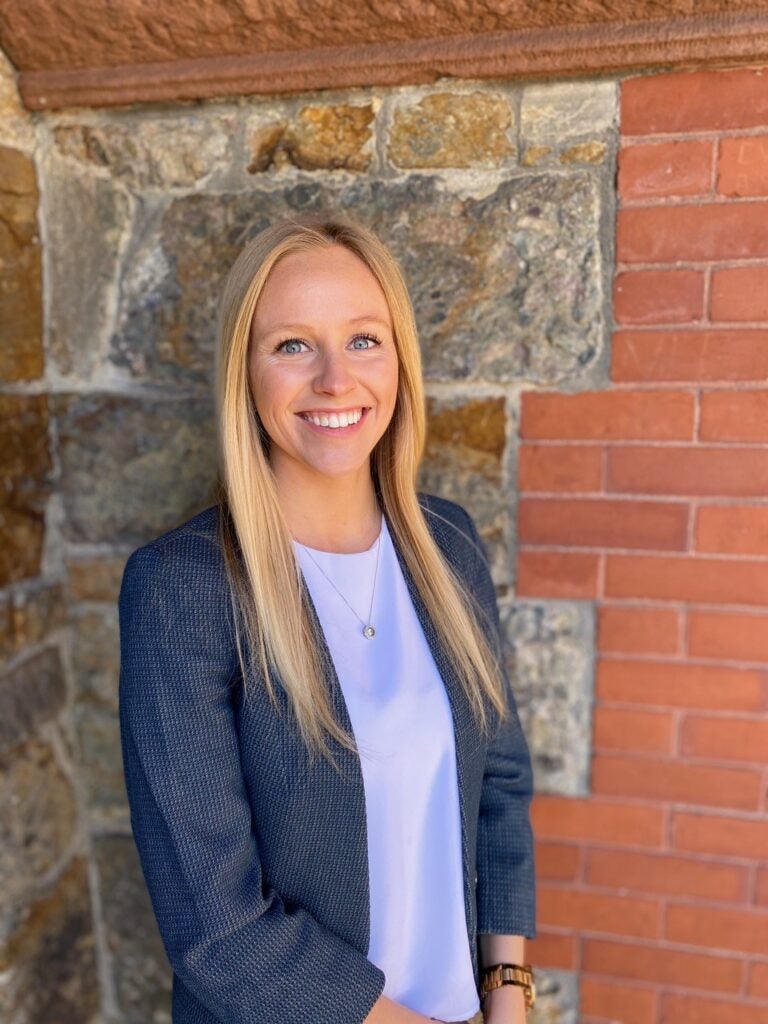 Brianna Johnson-King '21, this year's recipient of the 2021 CLEA Outstanding Clinical Student Award, is recognized for her accomplishments and commitment to advocacy through her clinical work with the Food Law & Policy Clinic (FLPC) of the Center for Health Law and Policy Innovation.
The award, which is presented annually by the Clinical Legal Education Association, is given to one student or student team from each U.S. law school for outstanding clinical coursework and contributions to the clinical community. Student winners are selected by full-time clinical faculty at each law school.
Having grown up in rural Ohio, Johnson-King's background in agriculture and her experience showing animals as a member of 4-H is what inspired her to join FLPC her 2L year.
"I've always carried that rural aspect with me as a personal passion of mine," she said. "I've seen how it impacts so many areas whether it's environmental law, food access, or other issues. The clinic … was the first time I was going to have the opportunity to tie in my personal background and upbringing into my legal work."
Over the course of four semesters with FLPC, Johnson-King dedicated herself to advocating for a broad range of issues and clients, from farmers to home cooks. Johnson-King was the main student author of the clinic's Recommendations to the House Select Committee on the Climate Crisis on ways the agricultural sector could better mitigate and adapt to climate change. These included bolstering the federal assistance farmers would receive when they adopted new climate-friendly practices. She also helped write an issue brief on federal and state mechanisms to support local agriculture during the pandemic, and then participated in follow-up calls and correspondence with congressional staffers seeking to learn more about these ideas.
In Johnson-King's last semester with FLPC, she worked on a project that she noted was her favorite experience with the clinic. She, along with another FLPC student, prepared draft legislation to support a home cook client looking to change state law to allow more sales of home-prepared goods. As part of the project she compiled detailed research from all 50 states to back up the proposed change in the legislation. This was only one out of several projects with the clinic where Johnson-King felt she was able to demonstrate her versatility.
"My favorite aspect of working with the clinic was the range of experiences that I had over my four semesters, including submitting comments to federal agencies, writing blog posts, advising on how to provide COVID-19 relief, writing state bills, and so much more," said Johnson-King.
In addition to writing a brief on conservation and climate in the 2018 Farm Bill, Johnson-King also developed recommendations for strengthening food access and nutrition funding and programs in the 2023 Farm Bill. Amid the COVID-19 pandemic, Johnson-King adapted to a new surge of clinical work by making FLPC projects on food accessibility more available to the public and devised ways to make the Supplemental Nutrition Assistance Program more effective.
Faculty and staff at FLPC lauded Johnson-King not only for the efficiency and efficacy of her advocacy but also the innovative solutions she would bring to the table.
"Brianna's work ethic and work quality have continually surpassed our expectations," they said. "She has already developed the skill—which most seasoned attorneys still struggle with—of doing thorough work in a short amount of time. She also does not hesitate to dig into new areas or review literature outside of traditional legal resources."
"One interest or one area of law can intersect so many things and I think the Food Law and Policy Clinic is the perfect example of that," said Johnson-King. "My time with FLPC allowed me to develop my writing and research skills, especially adapting to learning about new subjects. This gave me the confidence and ability to dive into new projects without any direct prior experience. Additionally, I know that I have found great mentors and friends through my time with FLPC, which I know will carry on well past my time at HLS."
After graduation, Johnson-King will be working at Schulte Roth & Zabel in New York City.