The Library is open to Harvard University affiliates and researchers from across the globe. Our physical spaces are designed to meet the varying needs of learners, from quiet spaces to collaboration areas.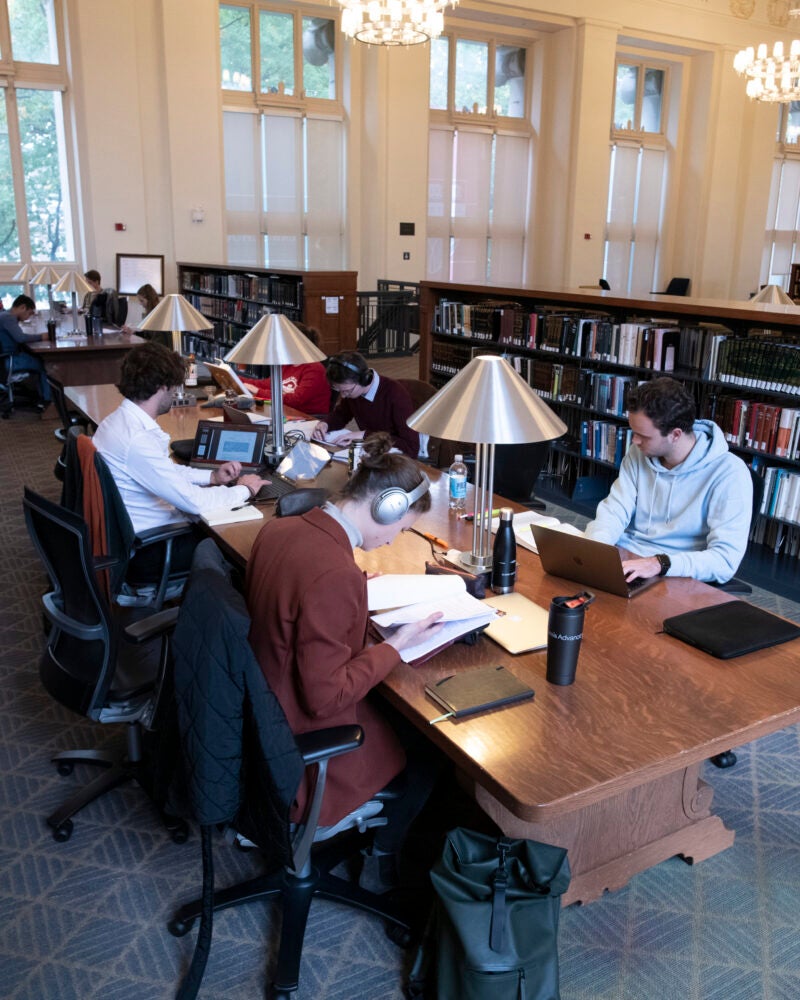 Our Spaces
Find the right space for your needs. These are a few our spaces and amenities:
Open study spaces
Private group study rooms
Sofas and comfortable armchairs
Coffee and tea station
Phone call rooms
---
Library Hours
---
Access
The Harvard Law School Library is open to active Harvard ID holders:
Faculty
Students
Staff
Harvard Library Cardholders
Researchers & Scholars
Access to the Harvard Law School Library's unique collections is available to scholars and researchers. Research should be self-directed.
Please visit the Harvard Library Visitor Access page for all information about access categories and processes including:
Alumni
Harvard Research Assistants and Library Proxies
Non-Harvard Faculty, Students, and Librarians
Government Documents Users (Monday-Friday, 9:00 am – 5:00 pm)
Self-represented Litigants (Pro Se)
Reference Librarians do not practice law and are not permitted to:
Conduct legal research for patrons
Provide legal advice or opinions
Read a legal authority over the phone, even if provided with a citation
Resources
If you need legal assistance, please contact your local Bar Association for referrals to attorneys; or visit the American Bar Association information site.
---
Borrowing
Borrowing is limited to users with active Harvard IDs
Current faculty
Staff
Students
Harvard Library Special Borrower cardholders
Read our borrowing policies for information on loan periods, renewals, and interlibrary loans. Learn about getting articles and book chapters delivered to your inbox with Scan & Deliver.
Historical & Special Collections
Manuscripts, visual materials, and rare books are housed in the Harvard Law School Library's Historical & Special Collections.
Visit the Historical & Special Collections page for more information.