Our library spaces are designed to give you the best environment to get your work done.
Private Group Study Rooms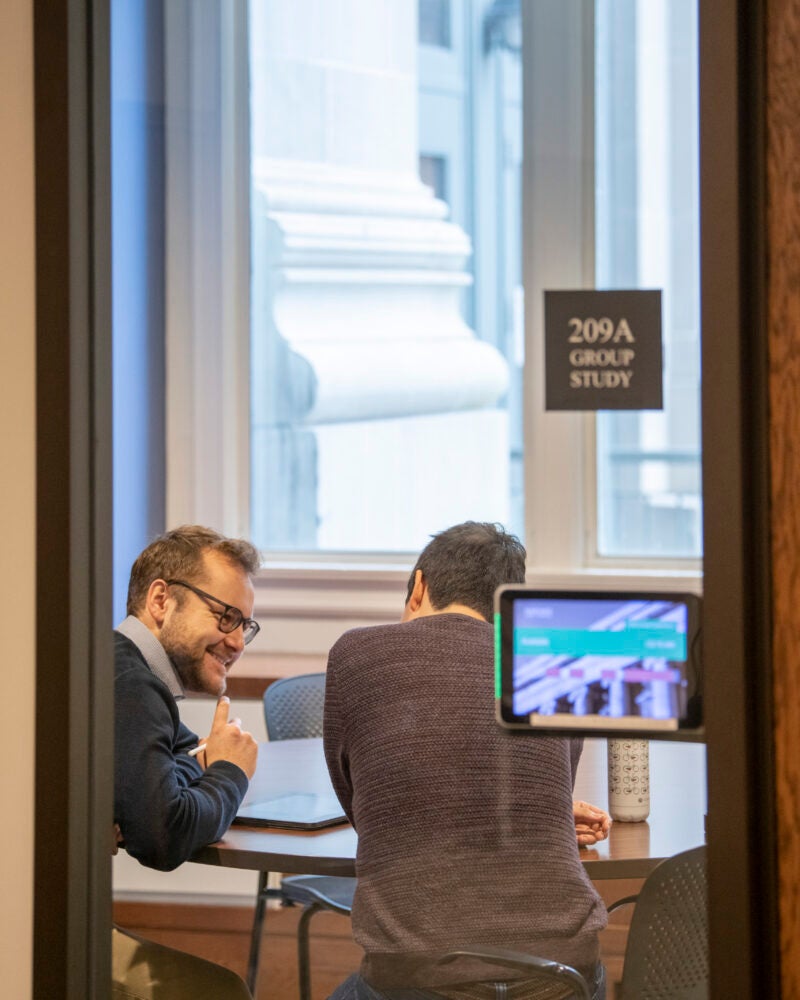 We have 10 rooms you can reserve for group study sessions.
Rooms include:
Monitors for screen sharing
White board and markers
Tables and chairs
Location:
2nd (main) floor in rooms Langdell 209 A-G
3rd floor (available after 6:00pm)
1 reservation per day for up to 3 hours
Open Study & Collaboration Spaces
The Reading Room – 4th floor

Long tables
Individual desks
Armchairs

Best for quiet study and minimal distractions

Reference Room – 3rd floor

Shared tables
Sofas
Armchairs

Best for taking a break and collaboration

Lemann Lounge – 2nd (main) floor

Soft seating
Standing table
Shared tables

Best for working with some background noise and collaboration

Fishman Room – 2nd (main) floor

Flexible furniture
White boards
Projection screens

Best for group study and collaboration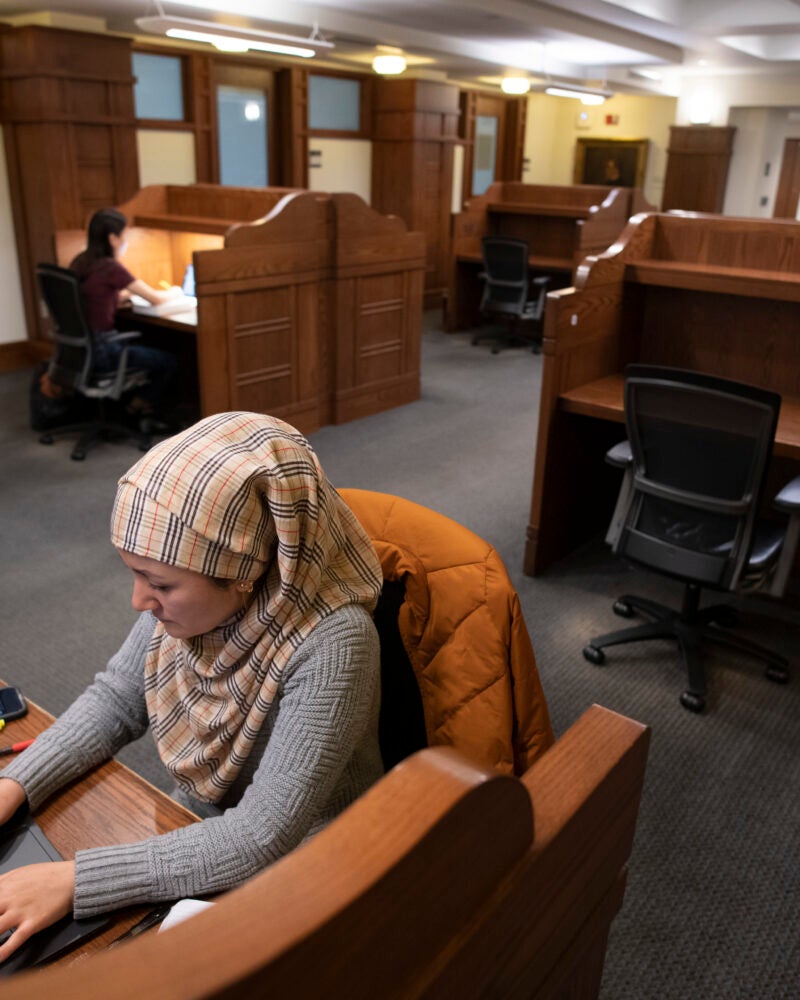 Individual Study Desks
We have individual study desks on the 3rd and 4th floors.  These desks are:
Available first-come, first-served
Not reservable
May not be used to store library material or personal belongings
Best for working quietly with minimal distractions
Phone Rooms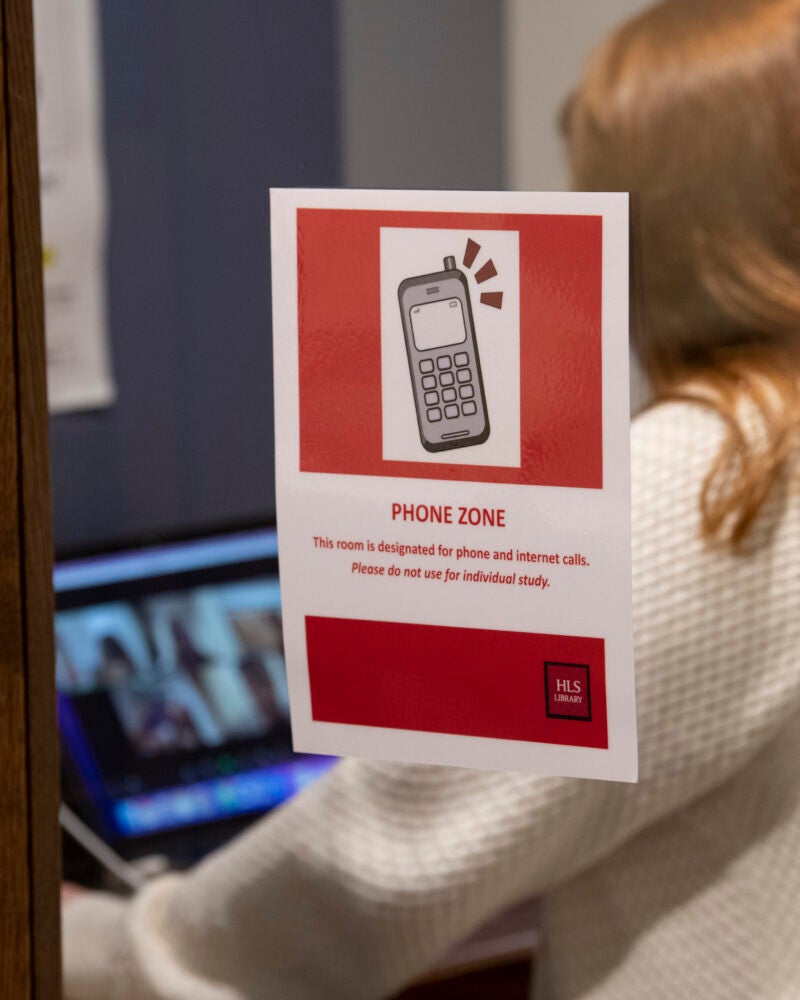 Private Phone Rooms
Use our private talking spaces to take phone calls when you're in the library
On the 2nd and 3rd Floor
Not reservable
For quick phone calls
Spaces & Amenities by Floor
4th Floor

Collections
A-KFZ number range

Spaces

Reading Room
Caspersen Room
Root Room

Ammenities

Restrooms
Coffee/Tea (bring your own mug)
Water Dispenser

Noise Level
Quiet Zone

3rd Floor

Collections
Reference and Reference Desk Books

Spaces

Faculty offices
Librarian offices
Reference Room
Study area with individual desks
After-hours Private Group Study Rooms
Westlaw & Bloomberg computer room (L353)

Amenities

Restrooms
Water dispenser
Private Phone Rooms
Scanners, printers, copiers
Chess Tables

Noise Level

Collaboration Zone in Reference Room
Quiet Zone in 3 North

2nd (main) Floor

Collections
At the Circulation Desk:

Reserves
Study guides
Tech equipment
Games

Spaces

Fishman Room and Seminar Rooms (232 to 233)
Lemann Lounge
Private Group Study Rooms
Library Administration offices – 294
Circulation Desk

Amenities

Restrooms
Printers, scanners, copiers
Water dispenser
Coffee/Tea (bring your own mug)

Noise Level
Collaboration zone and designated phone zone

1st Floor

Collections
Islamic Reference, Call Numbers KGA-KKH

Noise Level
Quiet Zone

Basement

Collections
Call Numbers KKH-Z

Noise Level
Quiet Zone
Printers, Scanners, & Other Equipment
Printing
Location
Printers are available to HLS students throughout the library.
HLS students can print throughout the library using Papercut. Learn about Papercut software, printing costs, and billing.
Photocopying
Location
2nd (main) floor
3rd-floor Scanner Room (L352)
4th floor
Photocopies cost 10 cents per page.
Scanning
Location
3rd-floor Scanner Room (L352)
Scanning is free and the instructions are attached to each machine.
Other Equipment
We have several other items available to check out at the Circulation Desk including:
Laptop chargers
Laptop risers
Headphones
Library Services for Persons with Disabilities
We are committed to making our spaces and collections accessible to all scholars and researchers. Please contact Access/Circulation, 617-495-3455 or access@law.harvard.edu to ask about available library services.