via Bloomberg Government
by Megan U. Boyanton
Food bank operators and lawmakers are pushing President Joe Biden's administration for systematic changes to the federal food box program to help feed hungry Americans during the coronavirus pandemic.
Nonprofit leaders also foresee a future need for continued government assistance, even when the nation finally recovers from Covid-19.
"The nationwide network of food banks really are dependent upon government food right now," said Pamela Irvine, president and CEO of Feeding Southwest Virginia.
Her nonprofit has received about 1 million pounds of food through the Farmers to Families Food Box program—an Agriculture Department initiative that buys and distributes boxes of produce, meat, and dairy to food banks in an effort to help families put food on the table and give agriculture producers an economic boost.
House Democrats and food bank leaders hope Agriculture Secretary Tom Vilsack will improve the initiative. Rep. Jim Costa (D-Calif.), one of the most senior Agriculture Committee members, asked the agency to address market disruptions and distribution challenges.
"Programs like this should not create radical fluctuations in commodity prices like what happened in the dairy industry where we saw cheese prices rise to all-time highs while butter prices hit record lows," Costa said in an emailed statement on March 3. "Rural areas with high rates of poverty and hunger, where food insecurity is a reality, should not receive fewer boxes."
Twelve states, among them Alaska, Kentucky, and West Virginia, lacked locally headquartered companies with program contracts in the first round of the program, the Midwest Center for Investigative Reporting reported.
Costa pressed for using locally-sourced food—a call echoed by fellow House Agriculture Committee Democrats Josh Harder (Calif.) and Chellie Pingree (Maine).
Biden Agriculture Chief Signals Increase in Food Aid Beyond Covid Crisis
Pingree also pointed to "concerns about the quality and cultural relevancy of some of the food offerings." Rep. Cheri Bustos (D-Ill.) said better refrigeration infrastructure needs to be a priority to ensure the proper storage of items, such aseggs, meat, and milk.
Program 'Faced Challenges'
The food box program, an element of the Agriculture Department's $19 billion Coronavirus Food Assistance Program, was initially funded by two coronavirus relief laws (Public Law 116-127 and Public Law 116-136). Congress allotted an extra $1.5 billion to the food box program in December as part of the Covid-19 relief and fiscal 2021 omnibus.
Contractors have delivered more than 142 million food boxes as of March 3, the department reports.
Still, the program has been controversial since its establishment in April. Democrats and small agriculture businesses criticized the Trump administration's choice in suppliers. A note from former President Donald Trump that was stuffed into boxes days before the November presidential election also sparked an outcry among Democrats.
More Food Boxes With Trump Letter to Ship Days Before Election
House Select Subcommittee on the Coronavirus Crisis Chair James Clyburn (D-S.C.) launched an investigation into the program last August, alleging "questionable contracting practices, a lack of accountability, and a failure to deliver food to many communities that need it most."
The congressional investigation continues, and will result in recommendations and new revelations, a select subcommittee staffer familiar with the matter said March 3.
Calls to Replace
The problems have prompted some questions on whether Biden should continue the program or scrap it.
Feeding America encouraged Vilsack to review the food box initiative and potentially replace it with "a more robust and equitably available emergency food assistance program across the country," said Carrie Calvert, vice president of government relations at nonprofit Feeding America.
Federal investments into short-term Covid-19 assistance have kept hunger "from spiking to the very high points we saw right when the pandemic started," but more should be done to meet future needs, Calvert said.
Her organization, which represents a U.S. network of 200 food banks, urges Congress to extend the 15% increase in Supplemental Nutrition Assistance Program benefits, formerly known as food stamps, through the pandemic recovery. Lawmakers should invest in resources to help food banks meet heightened demand, Calvert added in a telephone interview.
Operators such as Irvine from Feeding Southwest Virginia will find themselves in a "critical" position if government assistance isn't provided for the next couple of years, Irvine said in a telephone interview.
'Worth Salvaging'?
House Agriculture Committee member Rodney Davis (R-Ill.) advised Vilsack to "preserve and expand the program, building off of its enormous success."
The food box initiative "should be the start of a conversation on how we can use this model for years to come," he said in an emailed statement.
The current fifth phase of purchases, which started on Jan. 19, will run through April, USDA communications director Matt Herrick said in an emailed statement.
"The food box effort served some communities well, but faced challenges in others," Herrick said. "If the program continues beyond April, it is likely to look different, but the intent to use our resources to address market disruption and reach individuals and communities in need, and to do so equitably, will remain a priority."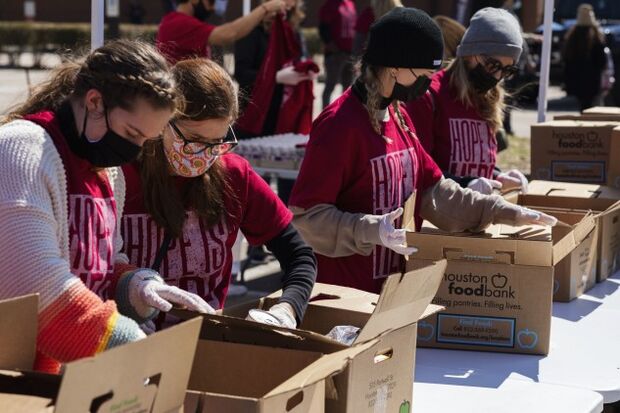 House Agriculture Committee ranking member Glenn "GT" Thompson (R-Penn.) called a potential extension of food boxes "an obvious choice" in an emailed statement.
Food bank operators are also pushing to extend the initiative past April and bolster access to additional nonprofits.
Michael Flood, president and CEO of the Los Angeles Regional Food Bank, requested a formal feedback loop for nonprofits to relay problems better to the Agriculture Department, such as difficult contractors and the bidding process for awards.
"There's still a lot of details with this program that we're hoping the Biden administration will really evaluate and address," he said. However, Vilsack should still move forward with the initiative because it satisfies its main goal: feeding the hungry with "a lot of food in a very short time," Flood said.
"There's debate in terms of, is this program worth salvaging?" he said. "Absolutely, the program's had huge benefits."
USDA Deputy Pick Faces Calls to Aid Rural Communities
Program's Successes
Overall, the initiative helped mitigate distributor job loss, involved small-to-mid-sized farms initially, reduced food waste to an extent, and made improvements in its first four rounds, according to a February report by Harvard Law School's Food Law and Policy Clinic and the National Sustainable Agriculture Coalition.
The program should make adjustments to step up support for minority- and women-owned farms, compensate small and specialty farms adequately, and restore non-combination boxes—those consisting solely of either produce, meat, or dairy—among other provisions, the groups recommended.
"With changes, this Program also could serve as the model for a long-term food system solution," said professor Emily Broad Leib, the faculty director for the Food Law and Policy Clinic.
To contact the reporter on this story: Megan U. Boyanton in Washington at mboyanton@bgov.com
To contact the editors responsible for this story: Anna Yukhananov at ayukhananov@bloombergindustry.com; Robin Meszoly at rmeszoly@bgov.com