Four members of the HLS Class of 2023 have been selected as recipients of the Skadden Fellowship, a two-year fellowship to pursue public interest law on a full-time basis. The Skadden Foundation launched the fellowship in 1988, in line with their mission aiming to expand the legal services available to economically disadvantaged communities by supporting newly graduated lawyers beginning their long-term public interest careers.
Jessica Cianci, Ricardo Jimenez Solis, Sarah Rosenkrantz, and Cathy Zhang have participated in a wide range of clinics and student practice organizations (SPOs) at HLS, bringing a variety of experiences and passions to each of their Skadden Fellowship projects. We caught up with the fellows to learn more about their fellowship projects and how their clinical experiences have influenced their career plans.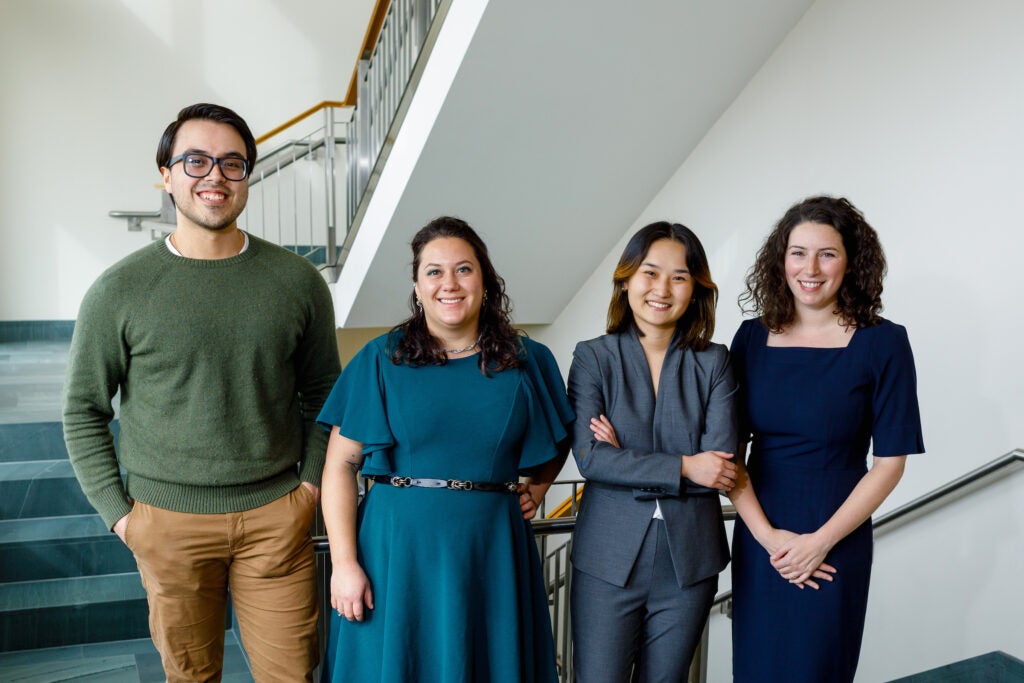 ---
Office of Clinical and Pro Bono Programs (OCP): What drew you to apply for the Skadden Fellowship?
Ricardo Jimenez Solis (RJS): I applied for the Skadden Fellowship because I knew that it was the perfect opportunity for me to pursue my career goals while also having an opportunity to partner up with an organization to help the immigrant community in the northern part of Massachusetts.
Sarah Rosenkrantz (SR): I applied to several public interest fellowships, but I was very excited about the possibility of being a part of a broader group of fellows that would offer a support system during the first few years of legal work.
Jessica Cianci (JC): It can be challenging to get a public interest job right out of law school, and I had heard many times that fellowships and clerkships were the best routes. I did not want to divide my time between fellowship and clerkship applications, and I felt passionate about the impact my project and host organization could make on the CARE Court process in California.
Cathy Zhang (CZ): The opportunity to be able to commit at least two years to my fellowship project was a major factor. A lot of the work that I am interested in doing revolves around relationship building with other advocates, both legal and non-legal, so having more continuity there was important to me. I also saw that many lawyers in the LGBTQ+ movement had started their careers doing legal fellowships, so I had always viewed it as a path for getting into the work that I want to be doing long-term.
OCP: Can you describe the project you'll be working on during your fellowship? What inspired you to pursue this work?
SR: Before HLS, I worked in homeless shelters for many years and decided to go to law school to gain the skills to challenge the systems that cause housing instability. Building on this experience, my project is focused on preserving Section 8 vouchers for tenants in Greater Boston who are facing eviction. Through direct representation and advocacy, I hope to help individuals and families who are most at risk of homelessness stay in their homes.
Like many communities across the country, Greater Boston is facing an unparalleled housing crisis and now that the moratoriums have lifted, evictions have skyrocketed. Tenants with Section 8 vouchers are especially vulnerable to these evictions, as landlords are drastically raising rents or looking for reasons to evict so that they can bring in higher-paying tenants. Once a tenant with a Section 8 is evicted, it is incredibly hard to place the voucher again—assuming it has not been terminated—in the current housing market. Also, the stakes for tenants with vouchers are extremely high; if they are evicted for cause, the housing authority may permanently terminate their subsidy. I will primarily be doing eviction defense work to fight to keep voucher-holders in their homes.
CZ: The goal of my project with the Transgender Legal Defense & Education Fund (TLDEF) is to improve access to gender-affirming health care for transgender individuals who face state-implemented barriers to care, particularly low-income residents of Southern and Midwestern states. The tools we plan to use include a combination of litigation, administrative advocacy, coalition building, and public education.
Hostile state legislatures across the country have turned trans health care into a political target in recent years, including in my home state of Tennessee, which just adopted a law banning gender-affirming care for trans youth. This care is in many cases life-saving for individuals struggling with gender dysphoria. For young people, gender-affirming care is associated with a 73% lower risk for suicidality and nearly 40% fewer suicide attempts. Growing up in Tennessee, I developed an understanding that federal civil rights don't automatically trickle down to every state; private enforcement of civil rights at the state level is key to ensuring that those rights get realized. There's already a lot of robust grassroots work being done in the South and Midwest for trans patients, and I hope to connect organizers and develop legal resources to equip people to make good on the promise of the nondiscrimination rights that everyone is entitled to, and to get the care they need to continue living in their home states.
RJS: For my fellowship, I will be working with the Northeast Justice Center in Massachusetts to provide direct representation services to individuals and families going through immigration proceedings, and I will also be working to secure non-citizens' release from detention. I will also work to set up immigration clinics in the Lynn, Lawrence, and Lowell areas of Massachusetts in an effort to reach out to community members in those cities that might need help with their immigration cases.
I decided to focus on these issues because of how often immigrants, both outside and inside detention, are forced to navigate our complex immigration system without representation. You have families coming to the U.S. with nothing but what they were able to put in a backpack, yet our immigration system expects them to be able to find legal representation on their own, either through expensive immigration attorneys or by hoping legal aid organizations will have the capacity to take their cases. You also have individuals who are placed in detention for prolonged periods of time while their cases are resolved, something which can take years if not decades to happen. What is worse is that many of them have very strong claims for some form of immigration relief or to be released from detention, yet they are unable to obtain this relief because they do not have a lawyer that can advocate for them.
I hope that even if I cannot fully address the need for legal services immigrants in Massachusetts have, I will be able to help families and individuals in their cases and find a way for them to obtain the help and opportunities that they came to this country for.
JC: I had always planned to do public interest work focused on health law and disability rights after law school. This past summer, I worked at the Disability Rights Legal Center (DRLC) in Los Angeles, CA. I had a great experience and met my fellowship host organization, Mental Health Advocacy Services (MHAS), through my work there. DRLC and MHAS were both involved in advocacy opposing a new CARE Court bill in California, which authorizes involuntary treatment for people with severe mental health disabilities. This bill passed in the fall of 2022, and I talked with MHAS about ways I could represent people in CARE Court and Mental Health Court to help them secure housing and public benefits. Our hope is that my project will support the people who are involuntarily entered into these court-mandated treatment programs to achieve stability and autonomy.
Unhoused people in Los Angeles County have a higher rate of disability than the general population and are often stuck in a cycle of poverty and inadequate services. The CARE Court program was promoted as a solution to homelessness, however, it has not given more funding to mental health services in the state or provided permanent housing for the participants. Additionally, the law allows participants who fail to complete the treatment program in 1-2 years to be referred to conservatorship. This means the CARE Court program will likely act as a pipeline that allows California police to refer disabled and homeless individuals to inadequate court-ordered treatment, and without the resources necessary to graduate from these programs in 1-2 years, these individuals will be recommended for state or private conservatorships.
OCP: Cathy, tell us about your clinical experiences with the Health Law & Policy Clinic and your current clinic, the LGBTQ+ Advocacy Clinic; why were you interested in joining these clinics at HLS? Are there any projects you worked on in these clinics that stick out as particularly significant in shaping how you think about public service legal work?
CZ: I knew coming into HLS that the Health Law & Policy Clinic was doing some health care nondiscrimination work, so that was the first clinic I signed up for. I ended up working on administrative advocacy around rulemaking for Department of Health and Human Services' rule interpreting Section 1557, the nondiscrimination provision of the Affordable Care Act, as well as some litigation for which the clinic and TLDEF were co-counsel. The LGBTQ+ Advocacy Clinic also partners with TLDEF, so it's been great to be able to work with them in coalition contexts. The fact that HLS has an LGBTQ+ Advocacy Clinic is really unique and is also one of the reasons why I chose to come to HLS in the first place.
These clinics have introduced me to a wide variety of tools for change, from administrative advocacy to litigation to legal toolkits for medical providers. Clinics have also given me a chance to sit in on meetings led by non-legal advocates, as well as meetings with just lawyers, and has made me appreciate the importance of priority setting with the former.
OCP: Ricardo, tell us about your clinical experiences with the Crimmigration Clinic, Immigration and Refugee Clinic, and the Government Lawyer: Attorney General Clinic; why were you interested in joining these clinics at HLS? What were your biggest takeaways from these learning experiences?
All my clinical experiences at HLS have been amazing, and it was because of these clinical programs that I decided to transfer to Harvard. I like to think that all these experiences have complemented each other and made me a better-rounded advocate. For example, it was through the Harvard Immigration and Refugee Clinic that I learned about the dedicated docket and the kind of problems the initiative is leading to. During my time in the clinic, I also had a chance to learn more about representing asylum seekers in the US and how to effectively provide direct representation services and work with clients.
The semester after that, I did the Crimmigration Clinic, which was also very instructive for my project, because through the clinic we learned about the intersection of criminal law and immigration law and how it has engendered this massive immigration enforcement and detention system that many immigrants are often caught in. The Crimmigration Clinic was also a very formative learning experience because one of the things that the clinic focuses on is how to take a step back as a lawyer and figure out the best way to serve the communities you want to help. Before the clinic, I felt that I was being taught how to address problems primarily through litigation, whereas the Crimmigration Clinic taught me that there are many ways to advocate for communities that do not necessarily involve litigation. Perhaps one of the greatest things I learned was to listen and pay attention to community members and local partners before engaging in action because, at the end of the day, you are working for them.
Finally, the Attorney General Clinic allowed me to learn what it is like to be a public servant, and what it means to be "the people's lawyer." My professors were great at teaching us the value of taking decisive action to address a problem, and how to make use of legal and non-legal tools to advocate for your clients. I like to think I am taking the experiences from these three clinics with me to the fellowship.
OCP: Jessica, tell us about your clinical experiences with the Veterans Law & Disability Benefits Clinic and the Health Law & Policy Clinic; why were you interested in joining these clinics at HLS? What were your biggest takeaways from these learning experiences?
JC: My clinical experiences have been vital in preparation for the cases I will take next year. I was interested in health and disability before law school and found both of these clinics valuable. While I enjoyed my time in the Health Law & Policy Clinic, I realized I wanted more hands-on work than I was getting with policy advocacy. I pursued the Disability Benefits Clinic to get that client interaction and also to get some experience with the issues I anticipate will be relevant to my fellowship at MHAS.
For me, the most important part of clinical and SPO work has been the emphasis on each individual client. I came to law school thrilled by the idea of impact litigation and the ripple effect of small, strategic legal victories. I still think that is an important tool, but with the current Supreme Court, litigation advocacy is increasingly protracted and risks setting bad precedents. This is disheartening, but my work with individuals in the clinics and the Prison Legal Assistance Project (PLAP) has been a constant reminder of the importance of direct representation. It is not as flashy as impact litigation, but it is crucial. The daily fight to improve the life of one individual at a time is also a wonderful use of your legal degree.
OCP: You've been a member of PLAP for all of your years at HLS; what has that student practice organization (SPO) experience been like?
PLAP has been one of my favorite experiences at HLS. It has been 1) a valuable place to meet people with similar interests and 2) an opportunity to work directly with clients. Law school often feels detached from reality and like a navel-gazing exercise in impractical philosophy. PLAP was a place where I could learn how laws impacted real people, get experience with representation, and see the positive impact that my legal education could provide.
OCP: Sarah, tell us about your clinical experience with the Harvard Legal Aid Bureau; why were you interested in joining? Did your clinical experience impact the shaping of your Skadden Fellowship project?
SR: I was really excited to join a clinic where I could invest for two years in the work I came here to do. Over the past two years, I've learned so much from my clinical instructors, other clinic students, and clients on what it means to be a legal aid attorney. It's been a great experience getting to see how different attorneys approach the work differently. I definitely feel a lot more confident starting as a legal aid attorney than if I had been going without two years of learning and support from HLAB.
I came to law school knowing I wanted to pursue public interest work after graduation, but my clinical experiences definitely helped me figure out how I wanted to do this work. For example, HLAB's housing practice works very closely with organizers to meet community needs. The students and clinical instructors don't just take full representation cases but are also present in court and in community meetings to help unrepresented tenants navigate the housing system. I hope to take some of these community lawyering principles into my post-grad work.
OCP: What advice would you give to students considering a career in public interest after graduation?
JC: Do it. Absolutely do it. There are a lot of options to have a career/life balance in public interest and ways to make the financial/debt obligations work. If you have questions, I'm always happy to talk about it.
CZ: For folks not already in law school, I think it's worth taking the time to figure out why you think you want to come to law school and what matters to you before enrolling (and familiarize yourself with the loan repayment programs as well). It can be especially helpful to talk to lawyers and non-legal advocates in your field to figure out if the way you want to engage with the issues you care about is as a lawyer.
For those already in law school, I think it's always helpful to talk to public interest lawyers — Wasserstein fellows, clinical staff, and through cold emails to people whose work you find interesting (the response rate is higher than you might expect). Being intentional with your time commitments outside of class also helps. It can be difficult to find adequate time to reflect on what you're doing while in school, and it's harder if you're doing a bunch of extracurriculars or firm talks that you signed up for because someone told you you "needed" to do something to keep your options open. When signing up for clinics, externships, and internships, it's helpful to think about not only the substantive areas of law you're interested in, but also about the type of legal skills you're seeking to develop (e.g., litigation vs. direct client services vs. policy work).
SR: Get involved with clinics and SPOs! Make use of your summers to figure out what you do and don't like. Use these experiences to not just explore substantive work, but also whether you enjoy the day-to-day of different public interest jobs. Also, take advantage of OPIA's drop-in hours.
RJS: Go for it! I know it can be daunting and overwhelming to pursue public interest work for a myriad of reasons. Personally, I am as anxious about doing this kind of work as I am excited to get started. However, I think that if you are passionate about the work, it is absolutely worth it and rewarding. Perhaps if I had to give advice it would be the following:
First, take the time to explore your interests and values. Public interest law is a broad field that encompasses many different areas, from civil rights to environmental law to immigration law. Take classes, participate in clinics, and seek out internships and externships that align with your interests and allow you to gain practical experience in the areas of law that interest you.
Second, develop your legal skills. Whether you choose to work for a nonprofit organization, a government agency, or a private firm, strong legal skills are essential to success in public interest law. Focus on developing your research, writing, and advocacy skills, and seek out opportunities to work with clients and gain experience. At the same time, reach out to professors who have experience in the field and see what you can learn from them.
Third, be prepared to face challenges along the way. Public interest work can be emotionally draining and frustrating at times, but I believe it is important to stay focused on the bigger picture and remember the impact that you are making on the lives of those you are helping.
Finally, never lose sight of your passion and your commitment to making a difference in the world. Public interest law is not just a job, it is a calling, and it requires dedication, perseverance, and a deep commitment to social justice and equality.
Filed in: Clinical Student Voices
Tags: 2023 Skadden Fellows, Class of 2023, Crimmigration Clinic, Government Lawyer - State Attorney General Clinic, Harvard Immigration and Refugee Clinical Program, Harvard Legal Aid Bureau, Health Law and Policy Clinic, LGBTQ+ Advocacy Clinic, Prison Legal Assistance Project, Skadden Fellowship, Veterans Law and Disability Benefits Clinic