via CHLPI blog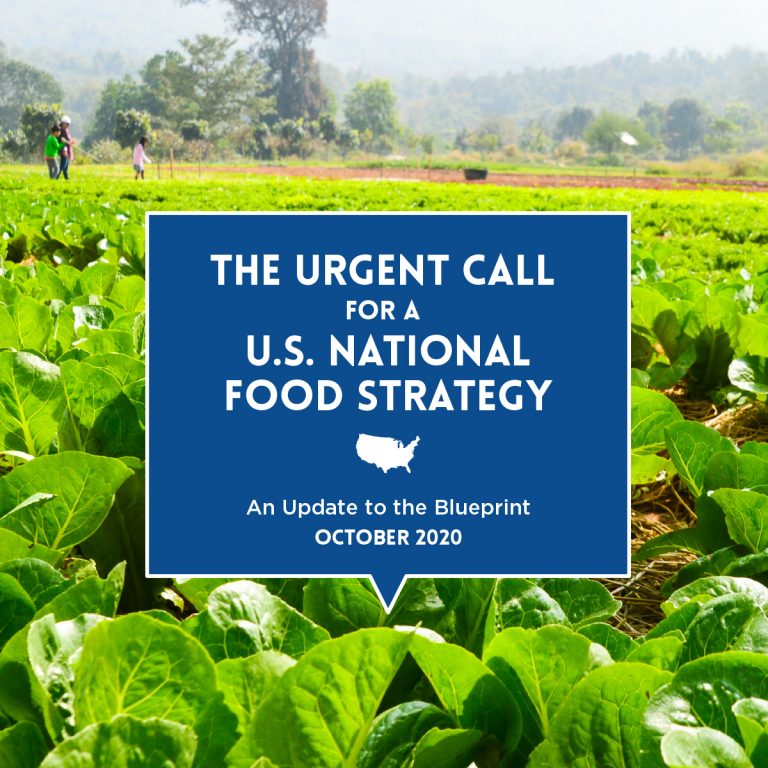 The Harvard Law School Food Law and Policy Clinic (FLPC) and Vermont Law School Center for Agriculture and Food Systems (CAFS) released The Urgent Call for a U.S. National Food Strategy. Because of its enormous impact on the United States' economy, public health, and environment, a thriving food and agricultural system ("food system") is critical to our nation's wellbeing. Unfortunately, the current food system faces severe challenges. Diet-related disease—which includes obesity, heart disease, stroke, type 2 diabetes, hypertension, and various cancers—is the most significant public health challenge facing the United States, and disease rates are rising precipitously. For example, nearly ten percent of Americans suffer from diabetes today (and more than one-third are pre-diabetic), compared with less than one percent fifty years ago. The food system devastates the environment by degrading soil, destroying biodiversity, and emitting greenhouse gases that threaten the Unites States' long-term viability. The food system is also deeply inequitable, as Black, Indigenous and people of color (BIPOC) and under-resourced communities are disproportionately impacted by its negative economic, health, and environmental aspects, not only as consumers but also as farmworkers and other food system laborers. 
The Urgent Call for a U.S. National Food Strategy builds upon the 2017 Blueprint for a National Food Strategy, which called for the United States to develop a national food strategy and offered recommendations for a this coordinated federal strategy based on an analysis of selected domestic and international models. The Urgent Call continues to advocate for the adoption of the Blueprint's recommended strategies, but it does so within a new context: the COVID-19 pandemic has made the need for a national food strategy even more urgent. Congress and the next presidential administration should use this pivotal moment to respond to the inequality, environmental damage, and poor health outcomes that plague the country's food system.
COVID-19 and the Food System
If it was not already clear that the United States urgently needs a coordinated food strategy, the COVID-19 pandemic has exacerbated every difficulty the food system typically faces. Food insecurity sharply increased as the virus caused job loss and disrupted food distribution and donation channels, and BIPOC communities were hardest hit. Farmers and food producers were also harmed, when shutdowns in the foodservice sector led to wasted food and lost income. Though food supply chains are efficient, they are not necessarily resilient, and food meant for one market often could not be diverted to another due to packaging, labeling, and distribution challenges.
In addition to causing food insecurity and waste, COVID-19 quickly spread through food system workers who, though quickly deemed "essential," earn low wages, often work in hazardous conditions, and receive minimal job protection. Agricultural workers and workers in meatpacking facilities are especially vulnerable, as many of them are unauthorized immigrants and other marginalized populations, and are uncomfortable raising complaints about unsafe working conditions because of job security fears. The federal government's treatment of these workers during the pandemic has been particularly egregious. The federal government did not release guidelines for COVID safety in meat and poultry processing facilities until the end of April, and did not release guidelines for agricultural workers until June. Even when these guidelines finally emerged, they were purely guidance, and not required or enforceable. Only recently did OSHA charge a few noncompliant meat processing plants with fines, and these fines were minimal despite clearly unsafe conditions.
Building a National Food Strategy
To address these food system problems, CAFS and FLPC recently released The Urgent Call for a U.S. National Food Strategy. This report expands on the 2017 Blueprint, reiterating why the United States needs a national strategy and describing what progress has been made toward that goal over the past few years.
Foreign governments have already mobilized to establish more cohesive food systems. Since 2017, the United Kingdom and Scotland have made progress toward their food system goals. Canada launched its own national food strategy in 2019, and provides a strong example of creative and collaborative food system innovation. Furthermore, in response to COVID, subnational governments have organized around food system change; New York City and Massachusetts devised particularly commendable relief plans.
Developing a secure and equitable food system will prove challenging, but it is well within the nation's capabilities. The Urgent Call implores federal policymakers to quickly mobilize around the issue. Like the Blueprint, the The Urgent Call offers recommendations for creating a fair, sustainable, and inclusive national food strategy. It also analyzes examples of other times the American government has created coordinated strategies to address other urgent, complicated societal issues. Consider, for example, the Obama Administration's creation of the National HIV/AIDS Strategy in 2010, which responded to sustained public support for a comprehensive response to the HIV/AIDS crisis, and Congress's creation of the 9/11 Commission to address national security and terrorism concerns.
Despite—indeed, because of—the havoc COVID has wreaked on our country's food system, now is the time to make structural changes for the long-term security, sustainability, and health of the food system. The importance of this moment is even greater considering the upcoming 2020 election. The new Congress and next presidential administration should make the creation of a comprehensive national food strategy one of their first goals—the time has never been better.