via Harvard Law Today
by Rachel Reed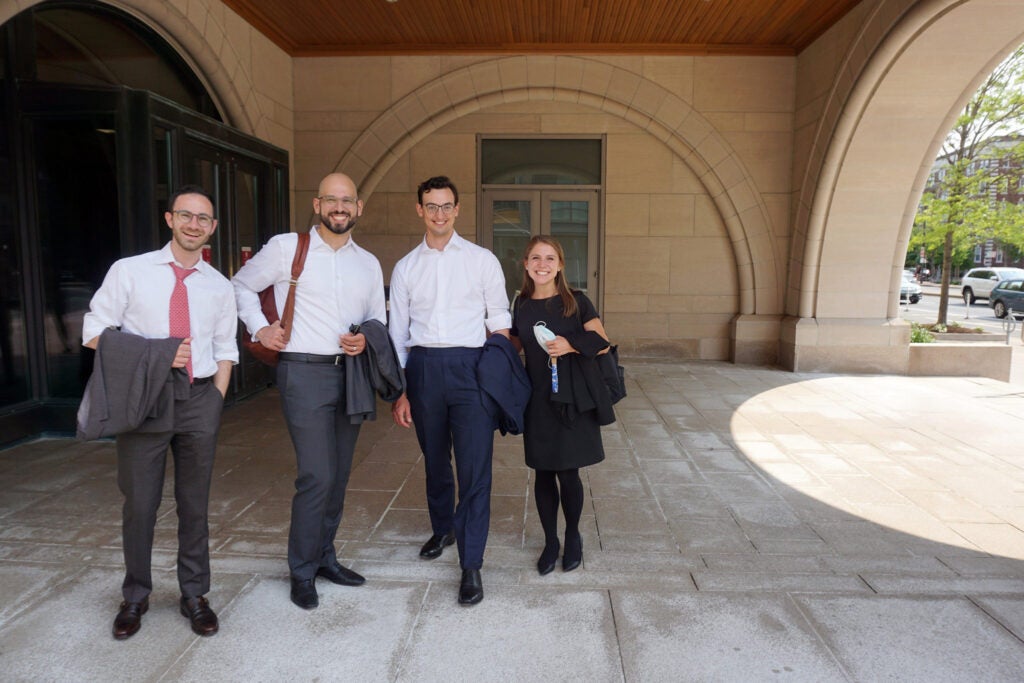 It is not uncommon for a defense attorney to fight for justice for a client facing incarceration. What is rarer, though, is the opportunity to simultaneously fight for justice for hundreds of people in a similar situation all at the same time. For students in Harvard Law School's Impact Defense Initiative, a new clinic founded by Professor Andrew Manuel Crespo '08, that opportunity arose two years ago when they banded together to challenge a federal policy in the District of Columbia that they say is illegal and unjust. A few weeks ago, just days before their graduation, two of the clinic's students presented oral argument in the case to the federal district court in Washington, D.C.
"Our goal when first building this clinic back in the fall of 2019 was to develop a new model of lawyering in which public defenders leverage creative and nuanced legal arguments to fight for the rights of a large group of people all at once," explains Crespo, the recently named Morris Wasserstein Public Interest Professor of Law and faculty director of the school's new Institute to End Mass Incarceration.
At the outset, Crespo and his team, which included HLS students Alexandra Avvocato '20, Nick Hine '21, Laura Londoño Pardo '21, Ethan Lowens '21, Dan Meyer '21, Isabel Patkowski '21, and Nate Sobel '20, sought to identify a criminal case with broad implications.
"I applied to the clinic during the summer after my first year while I was doing public defense work. I was representing my individual clients well, but the individual nature of each representation made it difficult to challenge systemically unjust policies and practices," says Hine. "I was drawn to [the clinic] because it promised the opportunity to mount a strategic litigation campaign that could improve outcomes for criminal defendants across the board."
The team found their chance in U.S. v. John Victor Reed. Their client, Mr. Reed, had a prior felony conviction for a nonviolent offense committed nearly three decades ago. In 2019, he was arrested with a gun in the District of Columbia and charged as a felon in possession of a firearm. But in a break from past practice, Mr. Reed was charged not in D.C.'s local court but in federal court, where data show he faces an average prison sentence twice as long as in the local court system.
Mr. Reed's situation is the result of a policy instituted by President Donald Trump's Department of Justice in 2019, when officials announced that certain criminal cases arising in the District — namely, felon-in-possession cases — would be tried in federal court rather than the District's superior court. Government officials argued that the policy would help address rising crime, and particularly gun violence, in D.C. Two years later, there has been no noticeable impact on violent crime. But Crespo and the clinic team argue that the policy has nonetheless had serious — and negative — consequences.
The team takes issue with both the rationale offered for the policy and its impact on District residents. First, they argue, the policy violates D.C.'s right to self-governance by superseding the District's own felon-in-possession statute. They also say it subverts recent laws enacted by the D.C. Council to reduce prison sentences and racial disparities in the local incarceration rate.
"I think everybody understood that this was something that was bad for D.C. autonomy, because at the time [it was adopted], the city council was trying to rethink its approach to criminal justice and dial back on heavily punitive policies," says Meyer. "And then to have this Trump-appointed federal prosecutor with no local control coming in and adopting this relatively unilateral policy — the case just had a lot of troubling ingredients."
The team also alleges that the government misled the public when it revealed both its rationale for the change and how it would be enforced. They point to a statement made by U.S. Attorney Jessie K. Liu at the time of the policy's unveiling that "essentially all" felon-in-possession cases arising in the District would be tried in federal court. This official line was inaccurate, the team says: in the course of the clinic's litigation, the Department of Justice eventually revealed that it had only ever applied the policy in the easternmost portion of the city, which has the largest African American population. The litigation further revealed that a working group of Black assistant U.S. attorneys (AUSAs) formally constituted itself within the prosecutor's office to oppose the policy.
Akhi Johnson was one of the AUSAs in the office when the policy first began. He now works at the Vera Institute of Justice, where he produced a study finding that "Even though D.C. is less than 50% Black, Black people account for 97% of the people charged with felon-in-possession cases in D.C.," as he told NPR in a recent interview.
According to the HLS team, these statistics speak to the policy's biggest problem: instead of making D.C. communities safer, it was instead tearing families apart, fueling mass incarceration, and worsening already-stark racial inequities in the justice system.
"The policy we are challenging doubles prison sentences for hundreds of people accused of possessory firearm offenses in D.C., almost all of them Black men," says Crespo. "It will lead to potentially thousands of harmful years in prison and will exacerbate racial disparities in the penal system. Through their mastery of various issues, the clinic students designed a creative litigation strategy that shows just how unlawful and unjust this policy is. A victory would deal a real blow to mass incarceration and racial injustice in the nation's capital."
"The immediate practical stakes of this case are very significant: it has the potential to wipe out this misguided charging policy," adds Benjamin Eidelson, assistant professor of law, who offered feedback on the team's briefs and helped prepare them for oral argument. "But the case also has a broader legal significance. It could reaffirm that the government has to justify its policy choices in a reasoned, accountable way, without resort to pretexts or false claims that the law tied its hands."
First assembled in the fall of 2019, the HLS team spent two years fighting on behalf of Mr. Reed and another similarly situated client, Mr. Bernard Byrd. Their work began with a period of intense research, during which they sought to understand their clients' goals, the policy itself, its implications, and how it was being carried out. They also began collaborating with local and national partners, including the American Civil Liberties Union and D.C.'s Attorney General, to build a comprehensive campaign strategy.
Next, the team drafted and filed an extensive pair of motions to dismiss Mr. Reed and Mr. Byrd's cases, raising claims under the District's Home Rule Act, the Administrative Procedure Act (APA), and a doctrine prohibiting prosecutorial harassment. The litigation shifted course, though, when the government filed its response brief in the summer of 2020, in which it revealed for the first time that the policy initially announced as a citywide program had only ever been applied to the Blackest neighborhoods in the District.
With Crespo and Eidelson's guidance, the HLS team combed through the government's response brief and meticulously crafted their reply, expanding on their original APA arguments for dismissing the case.
"That was a really interesting experience," says Lowens. "It was a quick turnaround — something like six weeks or so. Those of us working on it were also working in other capacities, so we were pulled in a million directions. But it was a team-building experience that will stay with me. And that [reply] brief became the basis for the oral arguments that followed."
With their reply brief submitted, the team also worked to raise awareness of the policy. Once the new administration took office, they hoped to persuade President Joseph Biden and U.S. Attorney General Merrick Garland to overturn it. But to their disappointment, the new administration declined to reverse the felon-in-possession policy in April 2021, opting instead to defend the Trump administration's policy at a court hearing set for May.
At that hearing, the Department of Justice tapped a seasoned appellate specialist to present its defense of the policy in court. Arguing for the clinic on behalf of Mr. Reed and Mr. Byrd were two of the student team members, Dan Meyer and Laura Londoño Pardo. The hearing, conducted remotely via Zoom, lasted nearly two hours.
"We were so ready to go," says Londoño Pardo. "We'd practiced the argument at least 12 times. And once we actually got to set up the Zoom room and wear our suits, dial in, and know that we were actually going to advocate for something we had been working on for so long … It really meant a lot."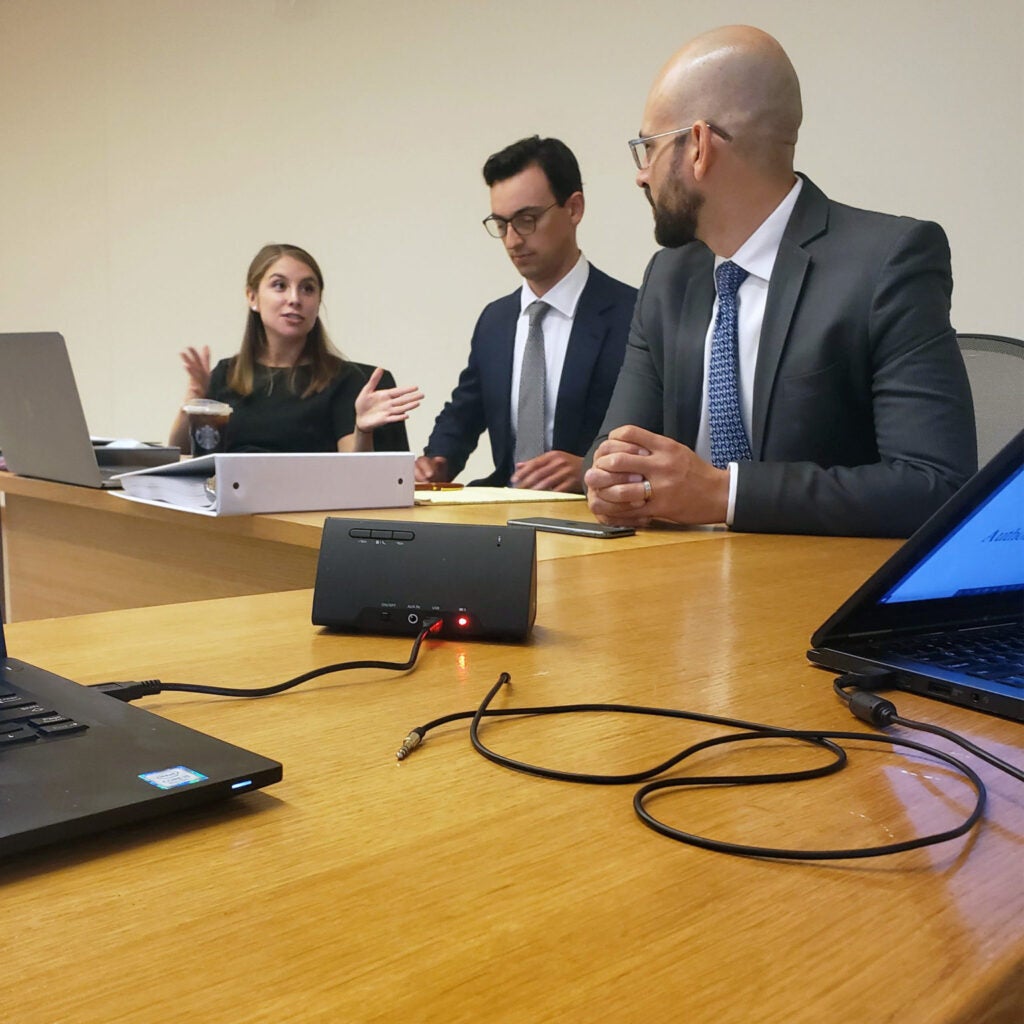 District Judge Emmet G. Sullivan praised the HLS team for their argument, but did not immediately issue a decision. As the team eagerly awaits word from the court, or from the Biden administration, they reflect on what the experiences of the last two years have meant to their legal education and their goals after graduation.
Meyer says he came to law school hoping to become a public defender, and his involvement in this case solidified his interest; he is now headed to the Office of the Colorado State Public Defender. For Londoño Pardo, who will be clerking with the Sixth Circuit Court of Appeals and the Southern District of New York, the case was an opportunity to work on an issue with significant implications for a client and the broader community, and to work with partners outside of HLS.
"I came into law school thinking that I might want to do strategic litigation, so I appreciated the opportunity to work in a small group to better understand what issue we might target and think through our steps to tackle the problem while being thoughtful about client and community impact," she said. "This helped show me how lawyers can change things that are problematic in our communities… I think this formed me as a lawyer, and as a litigator, more than any other experience in law school."
Patkowski, who will be clerking in D.C. after graduation, echoes Londoño Pardo. "I came into law school thinking I wanted to do civil rights impact litigation, especially in the criminal legal system, but pretty soon began to confront the questions of whose interests are served by impact litigation, and what it would mean for this litigation to be truly client-centered. Working on this case showed me what strategic litigation can look like when it grows out of a public defense practice, and strengthened my resolve to find ways to do client-centered and community-driven impact work, especially within public defender's offices," she says.
"I know that my legal writing improved because of [this clinic] — Prof. Crespo is a great writer," adds Hine, who will be clerking in New York. "The clinic also helped expand my imagination regarding the possibility of strategic litigation in public defense work. When we started, we had a few ideas and a whiteboard. Over the course of two years we turned those ideas into arguments that have a strong chance of invalidating the felon-in-possession initiative."
Lowens, who is headed to work as a public defender in New York, says that in addition to learning about crafting legal arguments, the clinic taught him the importance of building relationships with community partners and of using thoughtful messaging when communicating with news media and policymakers. "All these things together made for a very comprehensive clinical experience beyond just writing and filing a brief which is what I initially had signed on to do," he says.
Crespo himself proudly points to all that his students were able to accomplish, even while taking other classes, working additional jobs, and attending to obligations outside of school.
"Through tireless work over the past two years, the students drafted a compelling set of briefs that showcase their skills as legal thinkers and writers; they worked with organizers, activists, and civil rights groups to raise the profile of the issue; they coordinated with the D.C. Attorney General, who presented arguments alongside our clients on behalf of the District of Columbia; and they argued the merits of the case in federal court, a week before graduation," he says. "Many lawyers don't have that set of experiences in the first decade of their careers."
For Crespo, the case is a testament to the power of collaboration. "These students have been an incredible team. They constantly built off of each other's insights and work, they helped each other grow, they supported each other through countless drafts and moots, and they really worked together as a unit. I couldn't be prouder of them. They are some of the very best lawyers I've ever worked with."
And, adds Eidelson, "The case is also a testament to the power of the model that Andrew Crespo is building though the Institute to End Mass Incarceration. It shows that cutting-edge advocacy and cutting-edge pedagogy not only are fully compatible, but actually can be two sides of the same coin."
Although all of the team members have now graduated, they say they'll be waiting with anticipation for further developments in this critical case, which they believe has implications for Mr. Reed and D.C. residents alike.
"We think that this policy is quite inconsistent with the current Department of Justice's stated priorities of reducing racial disparities in the criminal legal system and dialing back needlessly harsh sentences," says Meyer. "We would be thrilled if they acted on their own to end this policy."
Alternatively, "We are hopeful that the court will agree with our arguments and that our clients' cases will be dismissed, because we think that is the just and correct outcome," says Londoño Pardo. "When we do get a decision, I guarantee that we will all quickly get to our computers and call one another. No matter what, I know that there will be an exciting hour where we figure out what to do next."