via Harvard Law Today
by Rachel Reed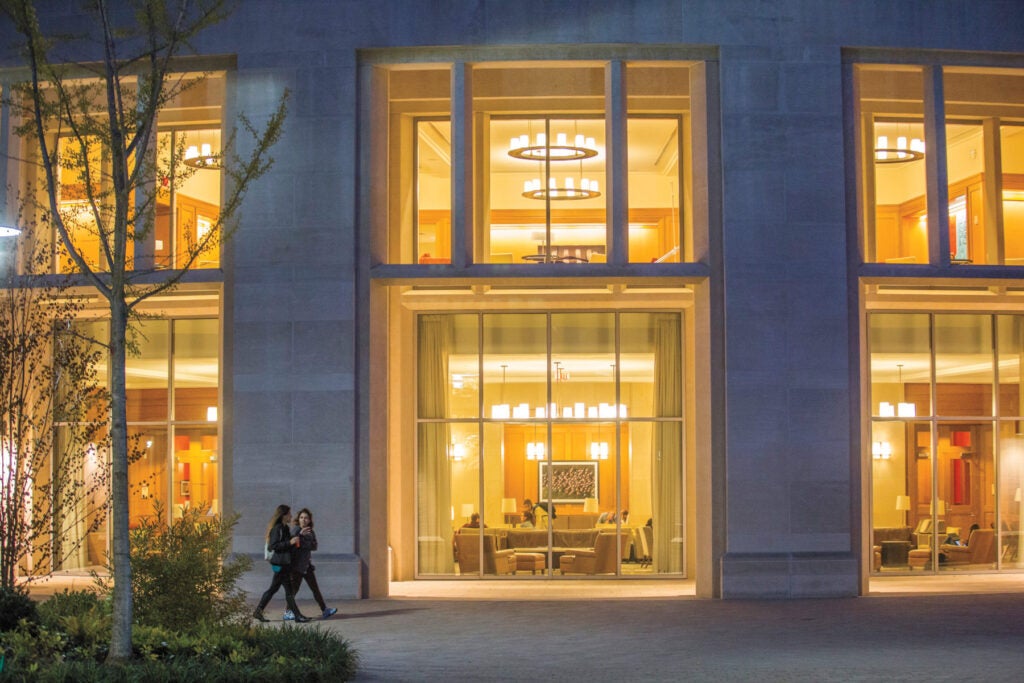 Ask students involved with any of Harvard Law School's 11 Student Practice Organizations (SPOs) why they participate, and one word comes up again and again: community. Community—of friends, of peers, of clients. Of like-minded people looking to make a difference.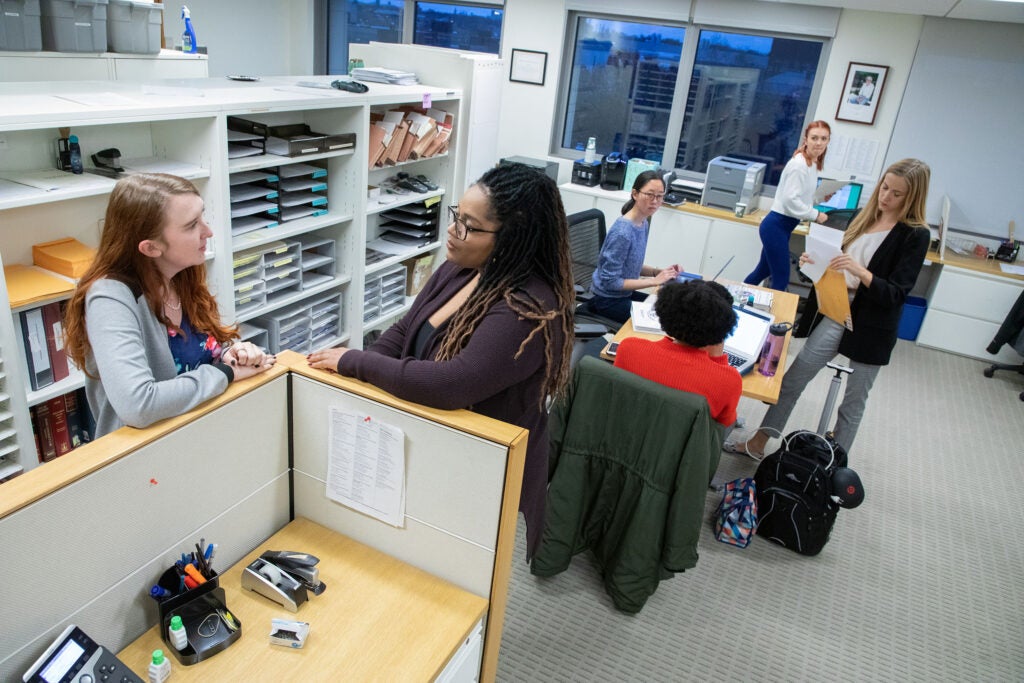 "For students who are looking for a community of people they can talk to and learn from, I think our SPO is a really great place to be," says Emily Chazen '22, co-executive director of Prison Legal Assistance Project. "Our organization connects you with other students in a community where we not only have really intense and deep conversations about what is going on in the world – but we can also just be people who eat Twizzlers together."
SPOs, which are open to students beginning in their first year of law school, provide opportunities for students to gain practical legal experience under the supervision of a licensed attorney. Work at SPOs runs the gamut, from providing protection for people at risk of eviction in Boston, to bringing attention to human rights abuses around the world, to supporting the legal needs of local musicians and entertainers. SPOs are part of a larger portfolio of experiential learning opportunities at Harvard Law School, which includes 23 in-house and 15 externship clinics.
Each year, half of HLS' first-year J.D. students and around a quarter of LL.M. students participate in at least one SPO, with some involved in multiple organizations at once. And hours volunteered through an SPO count toward HLS' 50-hour J.D. pro bono requirement for graduation. In 2018-2019, students who participated in SPOs provided 27,834 hours of pro bono service. During the last academic year, students volunteered 24,169 hours through SPOs—even through the pandemic.
No matter the mission, every SPO brings together students with a shared interest in helping people and building a community. As you consider which SPO might be right for you this year, here is a sneak peek of just a few.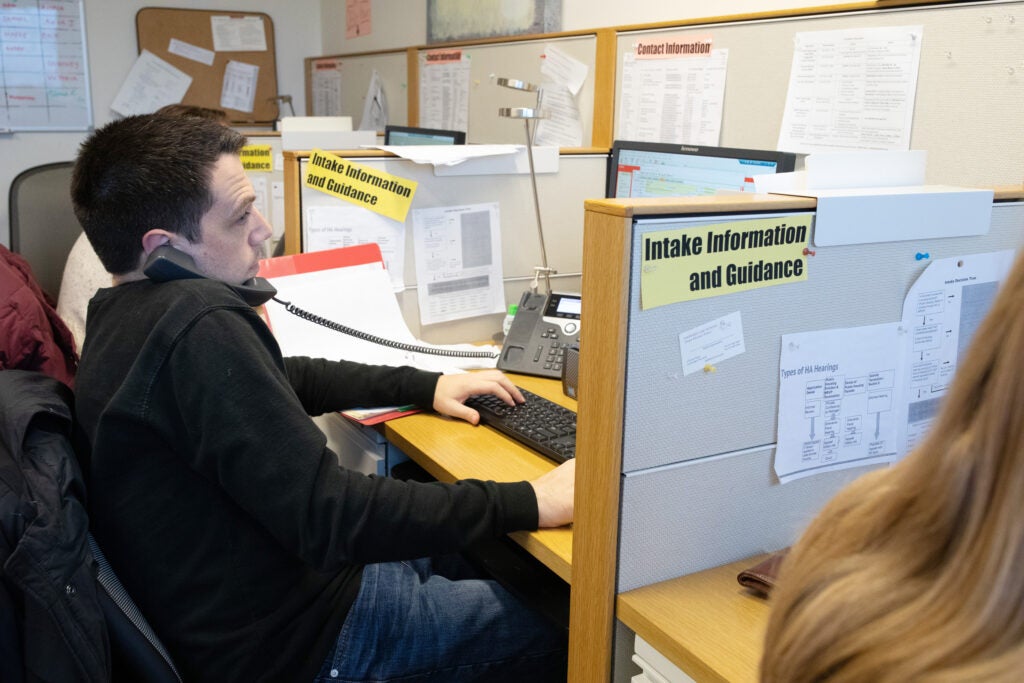 With the pandemic-era eviction moratorium at an end, housing advocates expect their work to become even more critical this year. At the Tenant Advocacy Project, whose mission is to "further the right to safe, stable, and affordable housing," students serve those who live in or qualify for subsidized or public housing. Lena Melillo '22, the project's co-president, says she initially came to law school to be a public defender, and that her involvement with the organization has shown how intimately intertwined housing can be with other issues of systemic injustice.
"I think what people don't realize is that housing administration moves much faster than our criminal system," she says. "You can be accused of a crime, and it can threaten you and your whole family's housing before you've ever been convicted—if you're even convicted at all. Sometimes someone who is not even on the lease has been accused of a crime and the housing authority will act right away to evict the entire family, or to terminate their subsidy, before they're found guilty. At TAP, we are trying to empower not only the clients we are representing, but also communities more broadly."
Melillo says student attorneys assist clients who are facing evictions or subsidy terminations, and also represent prospective tenants—those who qualify and have applied for subsidized or public housing who have had their application denied.
She emphasizes that students are given independence in representing clients, even as first-year students. "You're trusted as an intelligent and thoughtful advocate to start crafting legal strategies and talking to clients, while also being in a safe environment to bounce ideas off of people and be mentored," she says, adding that each case is supervised by an experienced attorney and TAP clinical instructor.
Melillo adds that working with TAP helped her find her place at HLS and build a network of friends and allies. "I'm a first generation college student, and I initially felt very overwhelmed trying to figure out what is important and what is not," she says. "I came to law school to get experience working directly with clients, and to actually make a difference in the community that I had just moved to. Working with TAP helps me remember why I came to Harvard Law School."
Harvard Prison Legal Assistance Project
At the Harvard Prison Legal Assistance Project (PLAP), students are working to put an end to America's mass incarceration crisis. Through advocating for and empowering men and women who are currently detained, student members hope to bring attention to the impact of prison on individuals and families—while making a difference for incarcerated people themselves.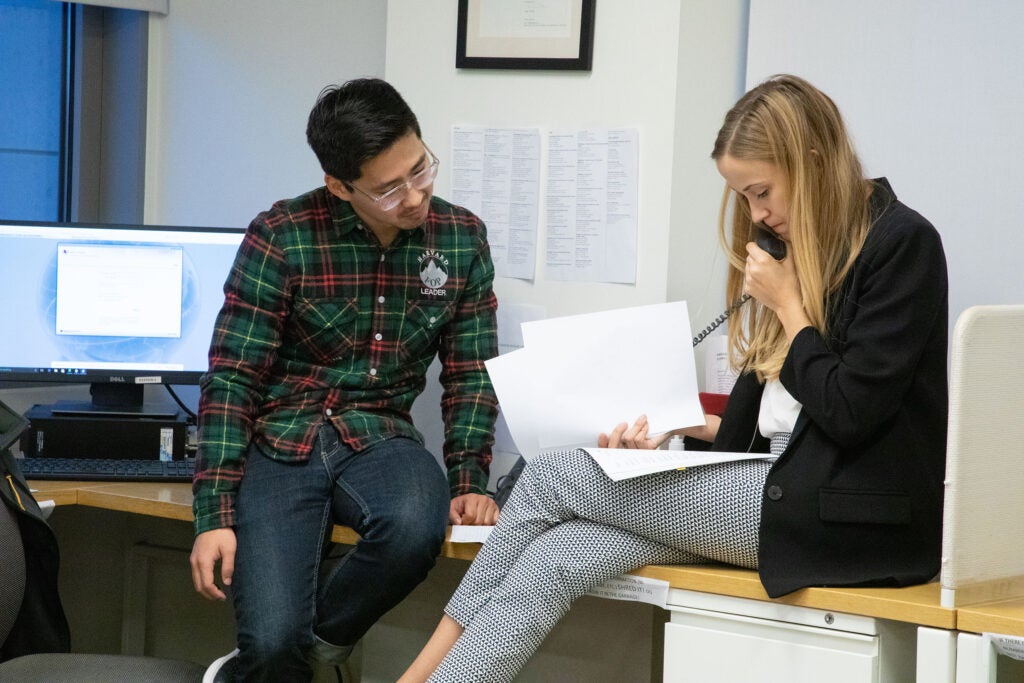 "We envision abolitionist futures while also reckoning with the fact that the prison system is unfortunately alive and well," says Emily Chazen '22, the organization's co-executive director. "The question we ask is how we as advocates can humanize and help those who are suffering from systems of harm perpetuated by this incredibly racist, violent, ablest system."
Law students represent incarcerated people in prison disciplinary hearings, life sentence parole hearings, parole revocation hearings, prison classification hearings, sentence commutation petitions, and litigation emanating therefrom. "We really are a group that is committed to taking all comers and giving anyone who's serious about it the opportunity to get some direct legal services skills," says Jack Lubin '22, also a co-executive director. "Because we believe that you learn by doing, and we want to be an organization that can be the launching pad for careers in the public interest."
Chazen says that one of the biggest rewards is being able to be there for someone who has been ignored or disparaged by much of society.
"I represented a client this summer who was accused of assaulting guards, but there was absolutely no evidence of him doing that," she says. "It was very clear that the guards had pinned him down and pepper-sprayed him and harassed him, then claimed he had assaulted them. He had to spend six months in solitary confinement for this, and what was remarkable to me was that what mattered to him was not the outcome of the case, but rather just knowing that there was somebody there who was listening to him and believed him."
Lubin says that students have the freedom to choose which cases they would like to pursue, and that the ability to do real work for clients right away is an important opportunity. He also says his experiences representing incarcerated people through PLAP have given him an invaluable perspective on his role and responsibilities as an attorney.
"I think we as law students have a duty to bear witness and to stand by the people who our system has tried to separate from the rest of us, because I think it is just such a fundamental part of being a conscientious lawyer in the future," he says.
HLS Advocates for Human Rights
Demanding the release of Uyghurs detained in China. Seeking justice for North Koreans, for coal miners in South Africa, and for those in arbitrary detention in Russia. These are just a few of the human rights issues HLS Advocates for Human Rights are working on.
Operating under the umbrella of the International Human Rights Clinic, and supervised by clinic attorneys, Advocates partner with international and domestic human rights practitioners and nongovernmental organizations—such as Human Rights Watch or the International Criminal Court—on student-led projects to call attention to and mitigate human rights crises around the world. Advocates also help to promote awareness of human rights issues on campus through student activism.
"The skills one learns from our projects are multifaceted. From open-source intelligence investigative skills, to crafting poignant policy papers to governments, to writing reports to U.N. special rapporteurs, regional court judges, and more, this club has a plethora of opportunities for students to explore what it means to pursue international human rights law and to learn from expert practitioners, affected community members, and your peers," says Anoush Baghdassarian '22, its co-president.
Most importantly, Advocates seek justice.
"Personally, the most memorable and rewarding work since joining Advocates has been leading our SPO's activism campaign with Uyghur human rights lawyer Rayhan Asat," says Sondra Anton '22, also a co-president. "Last year, Advocates launched a university-wide call for the release of Rayhan's brother Ekpar Asat, who is currently in a Xinjiang detention camp, and bringing attention to the ongoing atrocities being committed in the region. This work, which Advocates will be continuing this year, garnered the attention of international media outlets and U.S. government officials for Ekpar's case."
Anton says that her work with Advocates is a crucial part of her HLS experience. "Being a part of Advocates has reminded me that the value in our law school education falls not simply in what we learn in the classroom, but how we use the platform and privileges afforded to us at HLS to take concrete action to fight against injustice in our community and beyond."
And, adds Baghdassarian, "Advocates is really a fantastic organization where there are a wide range of projects to work on and skills to foster, and you are able to tap into your potential to help others in meaningful ways as soon as you start law school."
For more than 70 years, members of the Harvard Defenders have represented low-income Boston residents in show-cause hearings in criminal court. For more than 70 years, the Defenders have fought for real justice for their clients.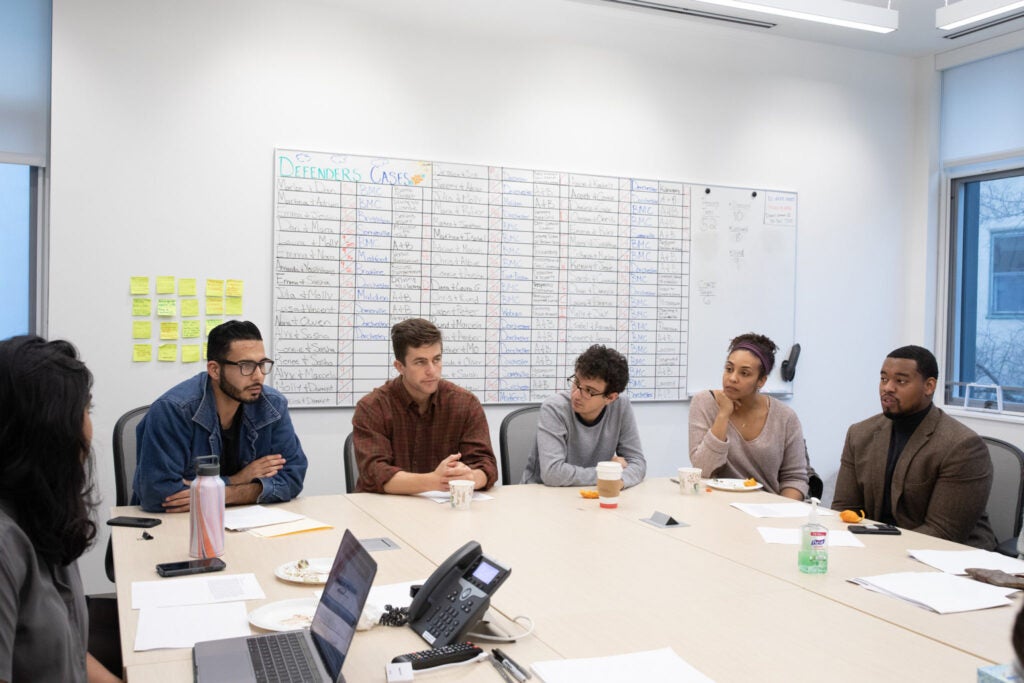 Jonathan Roberts '22, the organization's president, describes Defenders as "a student-led public defender's office that represents people in show-cause hearings and also provides criminal record sealing services." He says the organization, of which the majority are people of color, is also diverse in many other ways, and offers opportunities for students to experience the legal system beyond what they are learning in their classes or textbooks.
"We collectively view our work as being client-centered and grounded in anti-racism," says Roberts. "We see those as necessary parts of our mission."
Roberts says that he became involved with Defenders "as a way doing healing, liberating work. Being criminalized for my Blackness, my queerness, I really recognize this as personal labor. I see myself in the other students who are part of Defenders, who care about justice – real justice for Black and brown kids, for older adults, and for everyone in between."
He adds that Defenders advocate for clients from a variety of backgrounds who are facing charges such possession, assault and battery, domestic violence, larceny, and other alleged offenses. "We have clients who speak Spanish, Portuguese, Haitian Creole, Mandarin, Cantonese, Urdu," Roberts says. "Every case is different and challenging in its own way."
For Roberts, working as a Defender has brought him closer to the client-centered and community-based lawyering he believes in.
"The first client that I ever represented really grounded me," he says. "They were my first exposure to this side of the criminal legal system of being able to advocate for someone else, instead of someone being advocated for. I remember sitting on the bench in the courthouse, talking with them about life: an anniversary, barbecue. It was important to me because I always recognize the privilege and the honor I have of seeing this very tiny slice of a person's life—their interaction with the legal system and the carceral state. And to recognize that that is a very small part of their life, and it might have an outsized effect, but at the end of the day, we're not just representing clients, we are representing people."
From helping immigrants in the Boston area navigate the law and understand their rights, to exposing injustices experienced by women in America's immigrant detention facilities, the Harvard Law School Immigration Project (HIP), part of the Harvard Immigration and Refugee Clinical Program, is devoted to providing students opportunities to make a difference in the immigration system and in peoples' lives.
Students work directly with clients, partnering with attorneys to offer legal support and advice to immigrants and their families. The project also plays an important policy role in advocating for immigration reform and human rights in the U.S. and around the world, pushing for policy changes on climate refugees, asylum, and more. As one example, members recently published a report documenting horrifying first-hand accounts from women who suffered medical abuse in immigration detention in Georgia.
Many of the immigration project's members have a personal connection to the immigration system, like Stacey Menjivar '22, one of the organization's presidents.
"My parents were immigrants," says Menjivar. "It's something that has been near and dear to my heart. It's what kind of spurred me to go to law school to begin with. It has been a really great experience to work at HIP and the Immigration Clinic, and to work with other students who are passionate about these issues, and who are willing to give a lot of their time and their compassion to the communities around Harvard."
Gina Starfield '22, also a co-president of HIP, echoed Menjivar. "My parents are also immigrants. When I got to HLS, I wanted so badly to continue my interest in immigration work and have something that connected to me—that reminded me why I wanted to go to law school in the first place. HIP immediately gave me a sense of community."
Starfield adds that her work with immigration project has ensured that she does not lose sight of her purpose at HLS.
"I think having something that's a bit larger than law school has been really important and really grounding for me," she says. "It reminds me that law school is not just about my classes or my exams. It reminds me why I'm here: the real work that we do to have an impact on communities outside of school."
Despite the tense and sensationalized courtroom scenes of television's legal dramas, the vast majority of real-life lawsuits are handed outside of court — more than 90% of them, according to some estimates. The Harvard Mediation Program recognizes and embraces these alternative dispute resolution methods, with a mission to provide fair and effective mediation processes in which disputing members of the community can resolve their own differences. At the same time, by co-mediating with clients (working under a supervising attorney), HLS students have the opportunity to develop and refine their communication and mediation skills as well.
"The program provides a unique opportunity to gain exposure to a form of dispute resolution that is very different from what we learn about in the classroom," says Joshua Jordan '23, its communications director. "Of course, as a law student, I believe that traditional litigation is indispensable in many contexts; at the same time, litigation is often inaccessible and unduly adversarial. It has been incredibly rewarding to help empower individuals to resolve their differences through a more informal process and to gain applicable real-world skills and experiences that I can carry with me beyond law school."
Students in the Harvard Mediation Program work on cases referred from small claims courts in the Greater Boston area and focus on disputes between landlords and tenants, contractors and customers, and friends and neighbors. They also mediate more complex civil and harassment prevention order cases.
The team recalled one particularly memorable case, in which a local resident had hired a small business owner for a construction project and encountered disagreement about the timeline of the project.
"This case stood out because it demonstrated the way that a conflict we would have discussed in terms of contract terms and fine print in our classes was instead resolved through attention to the interpersonal relationship and need for renewed trust between the parties," says Valerie Gutmann, the organization's president.
Jordan adds that this year is an especially exciting time to join the program. "Because many of the mediation opportunities are currently remote, students are able to mediate in ways that fit more easily into their busy schedules while developing skills that will be transferable when there are more in-person mediation options."
Gutmann agrees. "The Harvard Mediation Program is one of several alternative dispute resolution opportunities at the law school, and joining it felt like joining a community and being welcomed into a broader umbrella of people interested in the efficient resolution of conflicts. We also have a strong culture of mentorship, and many of the people I met through the SPO have become informal mentors and friends that I will turn to for advice and camaraderie for years to come."
Other SPOs include:
Filed in: Clinical and Pro Bono Opportunities, Clinical Student Voices
Tags: Anush Baghdassarian, Class of 2022, Emily Chazen, Gina Starfield, Harvard Defenders, Harvard Law Entrepreneurship Project, Harvard Mediation Program, Harvard Prison Legal Assistance Project, HIP, HLEP, HLS Advocates for Human Rights, HLS Negotiators, HMP, Jonathan Roberts, Joshua Jordan, Lena Melillo, Mississippi Delta Project, PLAP, PNOL, Predatory Lending and Consumer Protection Clinic, Prison Legal Assistance Project, RAP, Recording Artists Project, SPO, Stacey Menjivar, Student Practice Organization, TAP, Tenant Advocacy Project, Valerie Gutmann