by Christine Perkins
via Harvard Law Today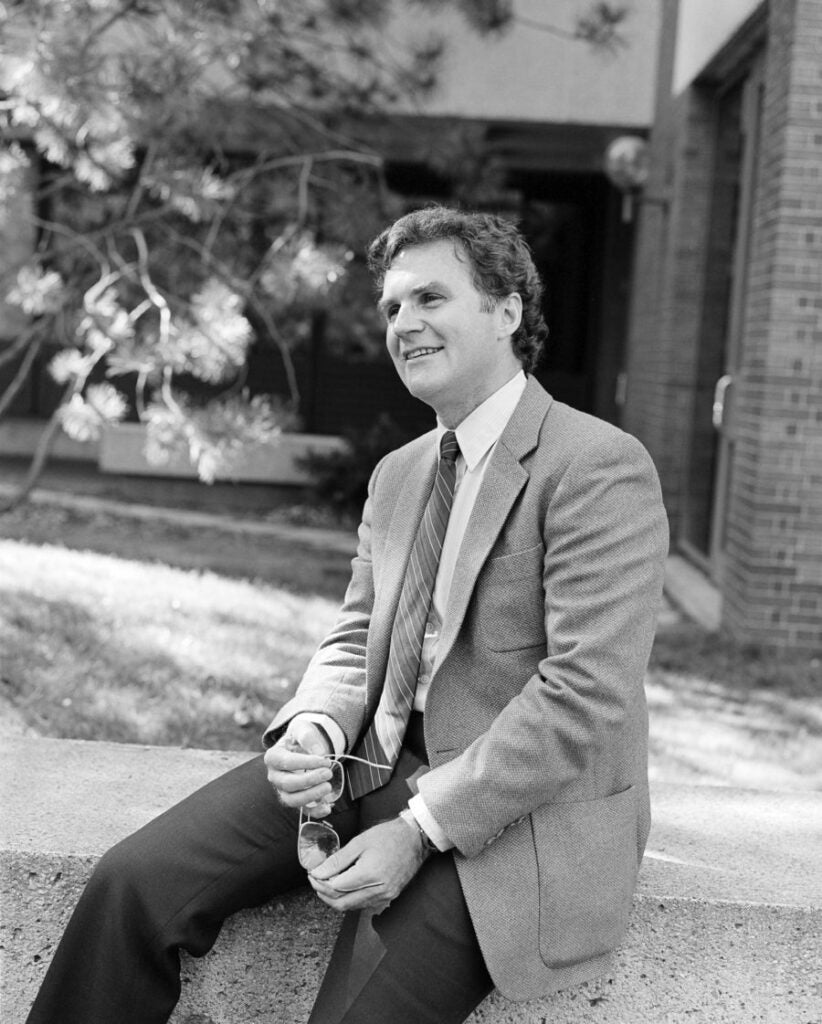 Paul C. Weiler LL.M. '65, the Henry J. Friendly Professor of Law Emeritus at Harvard Law School, renowned as North America's foremost labor law scholar and the founder of sports and the law, died July 7 after a long illness.
Weiler left a multifaceted intellectual legacy. An expert in labor law, he pioneered protections for workers and constitutional reform in his native Canada. He produced seminal scholarship that framed the debate about U.S. labor law in ways that endure to this day. He also founded the field of sports and the law as a serious academic subject, which has resulted in many of his former students now serving in the upper echelons of the professional sports industry or teaching sports law themselves in law schools across North America.
"Paul represented the best of our profession and of the legal academy," said Harvard Law School Dean John F. Manning '85. "He was one the most influential labor law scholars ever. He helped us understand the ways in which the federal labor law fell short of fulfilling its central statutory promise of providing employees freedom of choice in unionization, and he brought to bear his rich experience as a labor lawyer to offer productive paths forward that continue to shape the way we think about labor law today."
Weiler is "universally acknowledged" as the father of "sports and the law," said HLS Lecturer on Law Peter Carfagna '79, who teaches sports law at HLS and serves as the faculty supervisor of Harvard Law School's Sports Law Clinical Program, the Harvard Law School's Committee on Sports and Entertainment Law and the Journal on Sports and Entertainment Law.
Early in his career, Weiler, a native of Ontario, Canada, played an important role in shaping that country's labor laws and constitution. He crafted British Columbia's Labour Relations Code, which remains the cornerstone of labor law in that province, and he introduced innovative legislation that had a major influence on labor law and policy across Canada. Beginning in 1973, he served for five years as the first chair of British Columbia's Labour Relations Board, presiding during some of the province's most turbulent years of labor strife.
Weiler was also considered one of Canada's leading constitutional law minds. He served as a legal adviser to Prime Minister Pierre Trudeau and was one of the most influential figures in the construction of the 1982 Canadian Charter of Rights and Freedoms. In the 1980s, acting as special counsel to the Ontario government, he undertook a comprehensive examination of the province's workers' compensation scheme, and his reports led to fundamental changes in policy and administration, including the creation of the Workers' Compensation Appeals Tribunal. This past March, Weiler was inducted as an Officer of the Order of Canada, the nation's second highest honor for merit, for his contributions to "reforming labour and employment standards as one of North America's foremost legal scholars."
Weiler earned his B.A. and M.A. from the University of Toronto, an LL.B. at the Osgoode Hall Law School in Toronto in 1964, and an LL.M. from Harvard Law School in 1965. He began his career in the legal academy, serving as a professor of law at Osgoode Hall Law School at York University, in Toronto, from 1965 to 1973, during which time he also frequently served as an arbitrator in labor disputes. In 1978, he joined the Harvard Law faculty as the William Lyon MacKenzie King Visiting Professor of Canadian Studies.
A prolific scholar, during his career he published 18 books on a wide variety of legal issues in labor law, sports law, medical malpractice, and constitutional law. Drawing on his own practical and innovative experience, he wrote about the reform of labor law in Canada in his 1980 book, "Reconcilable Differences: New Directions in Canadian Labour Law."
He was appointed to the tenured faculty in 1981 and was named the Henry J. Friendly Professor of Law at Harvard Law School in 1993.
During his first five years on the HLS faculty, he published two seminal Harvard Law Review articles, "Promises to Keep: Securing Workers' Rights to Self-Organization Under the NLRA," and "Striking a New Balance: Freedom of Contract and the Prospects for Union Representation," pieces that have influenced a generation of U.S. labor law scholars and policy thinkers. Writing at a time when labor law and collective bargaining were believed to be in crisis in the United States, he presented his vision of labor reform in his acclaimed 1990 book "Governing the Workplace: The Future of Labor and Employment Law."
For nearly 25 years, from 1982 to 2006, he served as a member of the Public Review Board of the United Auto Workers. President Bill Clinton appointed Weiler as chief counsel to the U.S. (Dunlop) Commission on the Future of Worker-Management Relations.
At Harvard, Weiler played an important role in the transformation of the Harvard Trade Union Program into a broader center for the study of the world of work, the Labor and Worklife Program, where he was faculty co-director for many years, and then faculty director emeritus.
"Paul Weiler's brilliant work shaped labor scholarship for decades," said Benjamin Sachs, the Kestnbaum Professor of Labor and Industry at Harvard Law School and the faculty co-director of the LWP. "He helped teach us how labor law has a promise to keep — to give working people a real choice to form and join a union — and also the profound costs when law fails to fulfill that obligation," said Sachs. "I'll never forget how warmly Paul welcomed me to Harvard when I joined the faculty and how much that meant coming from such a preeminent scholar and leader of the field."
In the mid-1980s, along with colleagues from Harvard Medical School and Harvard's Economics Department, Weiler developed and conducted the groundbreaking Harvard Medical Practice Study, which examined adverse events in healthcare organizations and established the standard by which they are measured; the study laid the foundation for policy discussions on and changes in patient safety in several countries.
Shortly after arriving at Harvard Law School, Weiler, an avid sports fan, drew on his expertise in labor law and personal injury law to launch a sports law program at HLS.
For many Harvard Law students, attorneys, and professors, Weiler is "indisputably the founder of American sports law and the field's most distinguished member, having virtually invented the specialty by merging his expertise in labor law with his love of sports," wrote Michael McCann LL.M. '05, a professor at the University of New Hampshire Franklin Pierce School of Law, and director of its Sports & Entertainment Law Institute, in a tribute when Weiler assumed emeritus status in 2008.
In his introduction to "Leveling the Playing Field: How the Law Can Make Sports Better for Fans," Weiler noted that when he first joined the HLS faculty, no one at Harvard thought there was anything "legally special" about sports to warrant a course on the subject. "A year later I began to learn the truth on that score, when four of my labor law students said they wanted to write their final-year theses on how the law was and should be shaping the players market in the four major sports," he wrote.
After advising a number of students on third-year papers — including HLS Lecturer on Law Peter Carfagna '79, chairman and CEO of Magis, a sports marketing, management and investment company; Jeffrey Pash '80, executive vice president and general counsel for the National Football League; and Rob Manfred '83, commissioner of Major League Baseball — Weiler went on to create a sports law forum at HLS, co-chairing it with Red Auerbach, then-head of the Boston Celtics, which brought in major sports figures to discuss how law was impacting the industry.
"He inspired countless HLS students to successfully pursue careers in sports law, as sports law scholars, agents, litigators, mediators, commissioners, and other professionals engaged in what is quite possibly the most competitive specialty within the law," said Manning.
Weiler's law review articles and publications helped establish and substantiated the growing canon of sports law scholarship, and made Harvard a preeminent source of expertise in the field. In 1993, he co-wrote the first casebook on the subject, "Sports and the Law." Now in its 6th edition, it is considered the "encyclopedia to end all encyclopedias" of sports law, according to Carfagna.
Carfagna said when he was asked to deliver remarks as the chief legal officer and general counsel of International Management Group, he would advise sports industry experts and lawyers to keep the latest edition of Weiler's casebook on their shelves. "When in doubt, we should check with Paul Weiler—his book is the bible for sports lawyers," said Carfagna. "It was always cutting edge. It was his ongoing gift."
Weiler went on to create a new course in entertainment law and write its text, "Entertainment, Media and the Law," teaching and writing about the ways law shapes the entertainment industry.
In 2008, Carfagna, Pash and Manfred were among the donors who helped establish the Paul C. Weiler Endowed Scholarship Fund to support outstanding sports law students. Recipients of the Weiler Scholar Award are recognized each year at Harvard Law School's Sports Law Symposium.
Despite suffering from a degenerative neurological condition for the last two decades, Weiler is remembered for his sense of joy and positive spirit. He is survived by his wife, HLS Lecturer on Law Florrie Darwin '84, and Weiler's four children, Virginia Weiler, John Weiler, Charles Weiler and Kathryn Weiler, as well as seven grandchildren, his two brothers, a sister, and several nieces and nephews. In lieu of flowers, the family encourages people to contribute to one of two funds at Harvard Law School: the Paul C. Weiler Endowed Scholarship Fund or the Trade Union Program scholarship in memory of Paul Weiler.