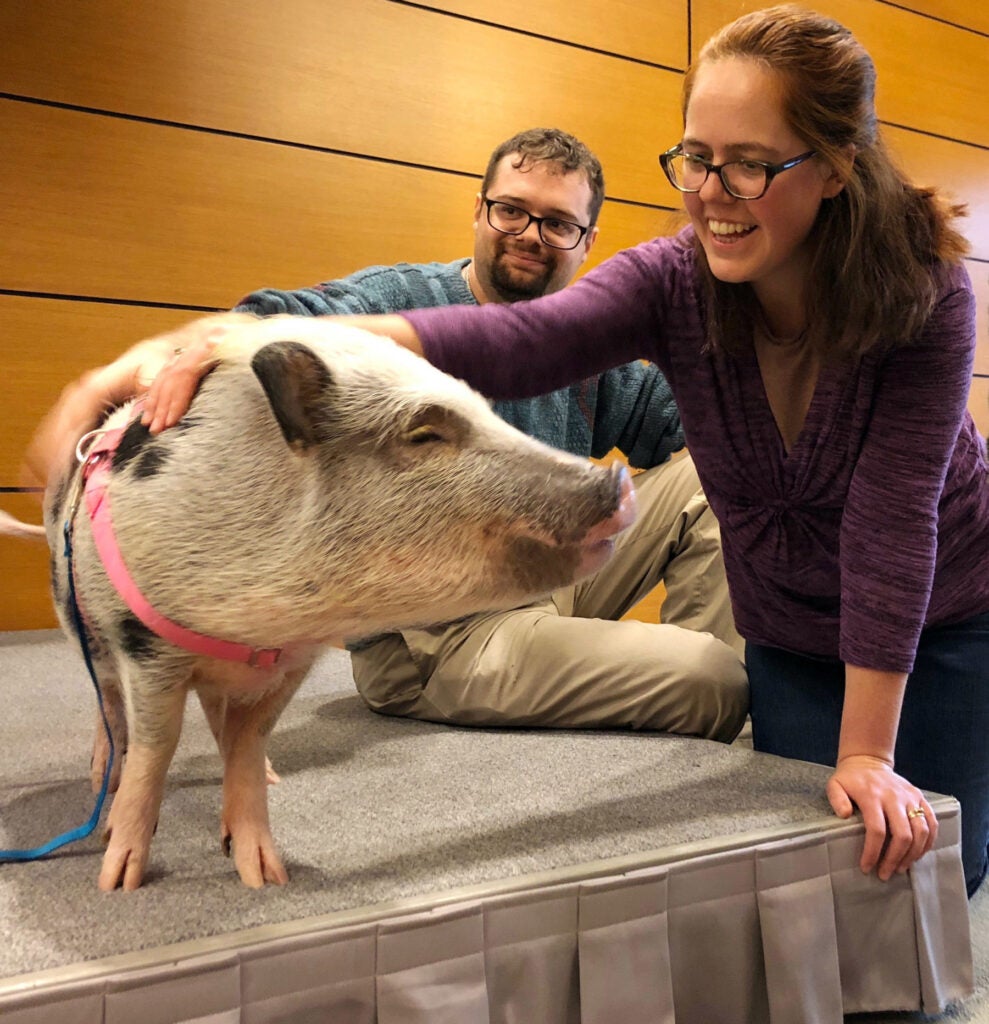 Harvard Law School today announced the launch of the new Animal Law & Policy Clinic. Animal protection is one of the fastest developing areas of public interest law. Reflecting this interest, the number of schools in the United States offering Animal Law courses has increased dramatically from only nine institutions in the year 2000 to 167 such law schools today.
The Animal Law & Policy Clinic will provide students with direct hands-on experience in litigation, legislation, administrative practice, and policymaking, both in the U.S. and internationally. The clinic will work on a broad range of issues affecting farmed animals, wildlife, animals in captivity, and the overarching threat to all forms of life from climate change. Establishing such a clinic at HLS will leverage all of Harvard University's institutional strengths and resources to develop creative strategies utilizing law, science, and public policy. These educational opportunities will enable Harvard Law School students to make crucial contributions to the field while HLS trains a new generation of leaders for the animal protection movement.
The clinic will be part of the Animal Law & Policy Program, led by Faculty Director Professor Kristen Stilt. Announcing the clinic, Stilt said: "The Animal Law & Policy Clinic at HLS will train and prepare our graduates to embark on careers in the animal protection field, produce impactful litigation and policy analysis to benefit the animal protection movement, and provide an internationally renowned platform for educating the broader public about the many pressing issues involving animal law and policy."
The clinic will be led by Visiting Assistant Clinical Professor Katherine Meyer and Clinical Instructor Nicole Negowetti. Recent HLS graduate Kate Barnekow '19 will be returning to serve as the first Clinical Fellow, and Sarah Pickering will be joining the team as Communications Manager for both the clinic and the program.
The Animal Law & Policy Clinic's inauguration is made possible by major gifts from the Brooks McCormick Jr. Trust, the Brooks Institute for Animal Rights Law and Policy, the Animal Welfare Trust, and other generous supporters.
"Animal law is a vitally important and rapidly growing field," said Harvard Law School Dean John F. Manning '85. "Our new Animal Law & Policy Clinic will give students real-world experience in this burgeoning field, build on Harvard Law School's long tradition of innovative pedagogy, and prepare future graduates to address significant societal challenges. I am delighted to welcome Katherine Meyer to the Harvard Law School community and congratulate her, Kristen Stilt, and Nicole Negowetti on the launch of this terrific initiative."
Katherine Meyer joins HLS as one of the most experienced animal protection litigators in the country, having founded the nation's leading environmental and animal public interest law firm 26 years ago. At Meyer Glitzenstein & Eubanks, Meyer developed a long track record of training many other leading attorneys now practicing in the animal protection movement––as she did while also teaching Civil Litigation and Public Interest Advocacy at Georgetown University Law Center.
"I am thrilled to become part of the team that is launching the new Animal Law & Policy Clinic at Harvard, and very much look forward to mentoring and working with HLS students to advance the very important cause of fighting for non-human animal rights, protection, and conservation," Meyer said.
Richard Lazarus '79, the Howard and Katherine Aibel Professor of Law, praised both Meyer's experience and the contributions she will bring to students.
"This is truly thrilling news for our law students and for the entire law school community. Katherine Meyer's contributions as a public interest lawyer and animal welfare advocate in Washington D.C. are legendary," said Lazarus, who teaches environmental law at HLS. "She has been a consistent path-breaker and it is wonderful that Harvard Law students will now have the tremendous advantage of learning from Katherine in the law school's new Animal Law & Policy Clinic."
Nicole Negowetti is a nationally recognized food systems policy expert, and comes to the Animal Law & Policy Clinic from the HLS Food Law and Policy Clinic, where she was a clinical instructor and lecturer on law. Prior to that she was the Policy Director for the Good Food Institute and an associate professor of law at Valparaiso University. Negowetti has focused her teaching, scholarship, and advocacy on the impacts of industrial livestock production on animal welfare, the environment, and human health. In addition to her work at the Animal Law & Policy Clinic, she will also teach the reading group "Disruptive Food Technologies: Law, Politics, and Policy" in the fall semester.
"I am honored to help launch the Animal Law & Policy Clinic at Harvard Law School," said Negowetti. "The clinic will provide outstanding training for a new generation of advocates as we identify and pursue high-impact legal strategies to achieve a resilient, healthy, and just food system—for the benefit of human and non-human animals alike."
One of Negowetti's current students said: "Nicole's drive to help others and her unique background, particularly her expertise related to plant-based and cell-based meat regulation, make her an invaluable resource for students like me at Harvard Law. Nicole is patient and supportive of student learning, and has gone out of her way to serve as a mentor to me. It is great news that she will be joining the new Animal Law & Policy Clinic," said Kelley McGill '20, co-president of the HLS Animal Law Society.
As Gabriel Wildgen '20, co-president of the HLS Animal Law Society, explained, "Having advocated for animal protection laws with Humane Society International for over six years, HLS was my obvious first choice because it was the only top law school with a program dedicated to animal law and policy. The world-class faculty and visiting fellows in the Animal Law & Policy Program have exposed me to cutting edge issues, enabling me to focus on my particular interest in the intersection between cruelty to farm animals and the food innovations that are making animal products obsolete. The new Harvard Animal Law & Policy Clinic will be another huge step forward for Harvard and for the field of animal law as a whole, and I am excited to be taking part in its groundbreaking work."
The Animal Law & Policy Clinic will develop and strengthen synergies across HLS's wide-reaching clinical program, given that many of the harmful impacts to animals from major commercial uses have adverse effects on a range of other public interest concerns, including environmental protection, labor rights, human rights, and other social justice issues. As one example, the externalities of industrial animal agriculture, such as air and water contamination, food safety risks, worker exploitation, and greenhouse gas emissions, present an opportunity for collective legal action by a consortium of affected constituencies. The Harvard Animal Law & Policy Clinic will be able to convene and represent a diverse coalition of stakeholders who are injured by such practices, and thus build a strong foundation for catalyzing change.