Harvard Law School has produced plenty of senators, Supreme Court justices and two presidents, but no graduate has ever served as vice president.
This election has presented the first opportunity in decades to end that drought with both Democrat Tim Kaine '83 and Libertarian William Weld '70 on the ballot as vice presidential candidates.
The last Harvard Law School alumnus nominated to be vice president—Thomas Eagleton '53—was forced to withdraw as George McGovern's running mate in 1972 after just 18 days, when his prior treatment for acute depression was publicized.
The job has evolved significantly in the decades since, said Joel Goldstein '81, a Saint Louis University law professor and author of "The White House Vice Presidency: The Path to Significance, Mondale to Biden."
Originally narrowly conceived as a legislative job presiding over the Senate, the vice president became more of a participant in the executive branch when Richard Nixon held the post in the 1950s, Goldstein said.
But it wasn't until Walter Mondale served under President Jimmy Carter that the vice president moved into the White House and became part of the president's inner circle. "For the last 40 years, across six administrations, it has really been an important institution of the presidency," said Goldstein.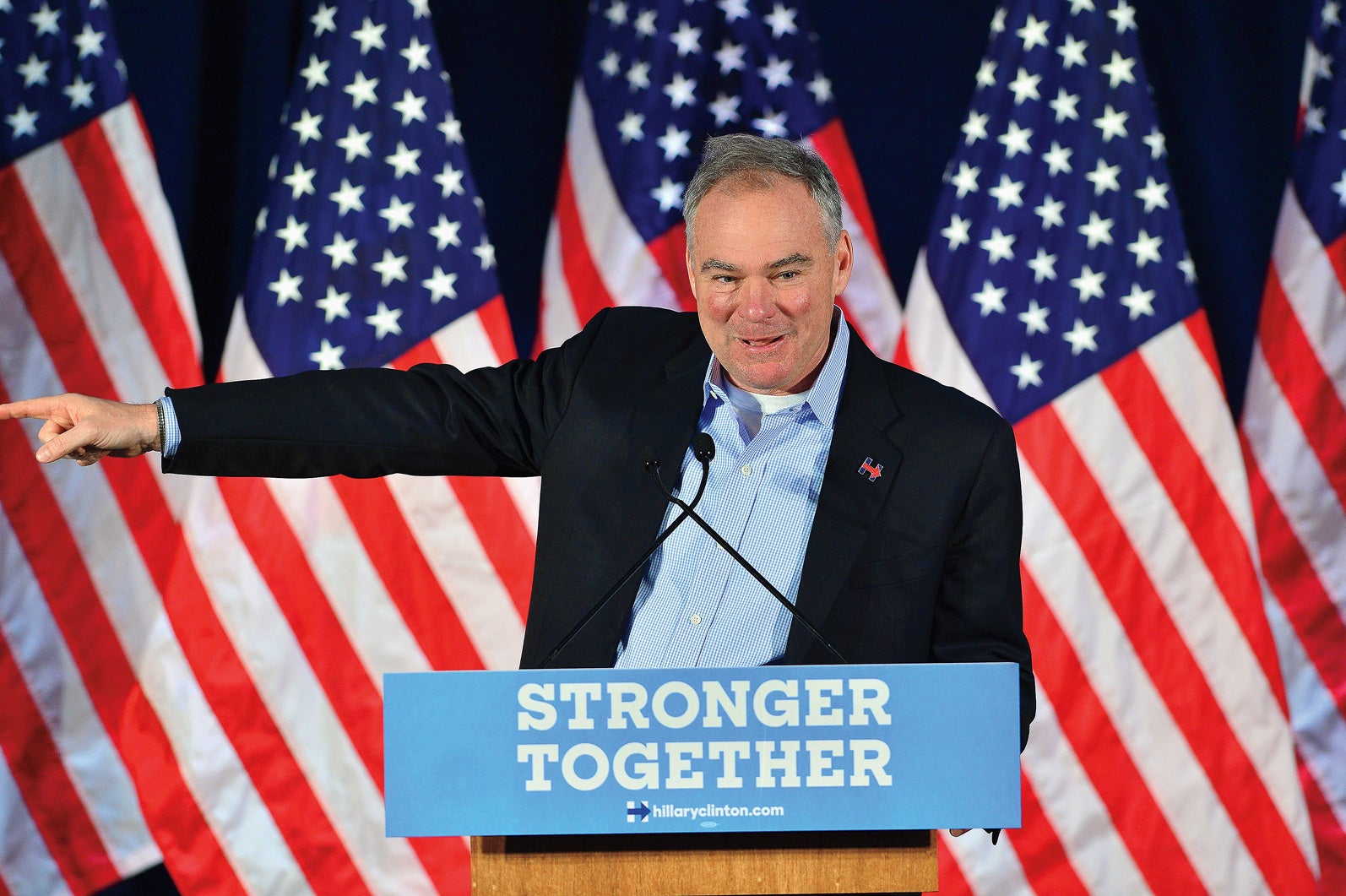 Even in the modern era of the vice presidency, Kaine stands out for the diversity of his experience, said Goldstein. Kaine served as a city councilor, mayor of Richmond and then lieutenant governor and governor of Virginia before being elected the state's junior senator in 2012 alongside Mark Warner '80.
Weld is also a former governor, who led Massachusetts from 1991 to 1997 after serving as the U.S. attorney and head of the Justice Department's Criminal Division under President Reagan.
Having been a popular Republican governor in a largely Democratic state, Weld attempted to win a seat in the U.S. Senate and narrowly lost to John Kerry.
Weld was no stranger to the Harvard campus, having graduated from Harvard College, where his ancestors were among the original benefactors. In law school, he was a member of the Voluntary Defenders, whose members helped inmates and poor defendants prepare appeals. When asked about his membership, Weld quipped, "I should have been in the young prosecutors club," according to a 1996 Boston Globe profile.
He worked for a Boston law firm briefly after graduation before becoming one of the first staff members for the U.S. House Judiciary Committee's Watergate investigation along with a recent Yale Law School graduate named Hillary Rodham, he recalled in a 2011 interview for the Nixon Presidential Library and Museum.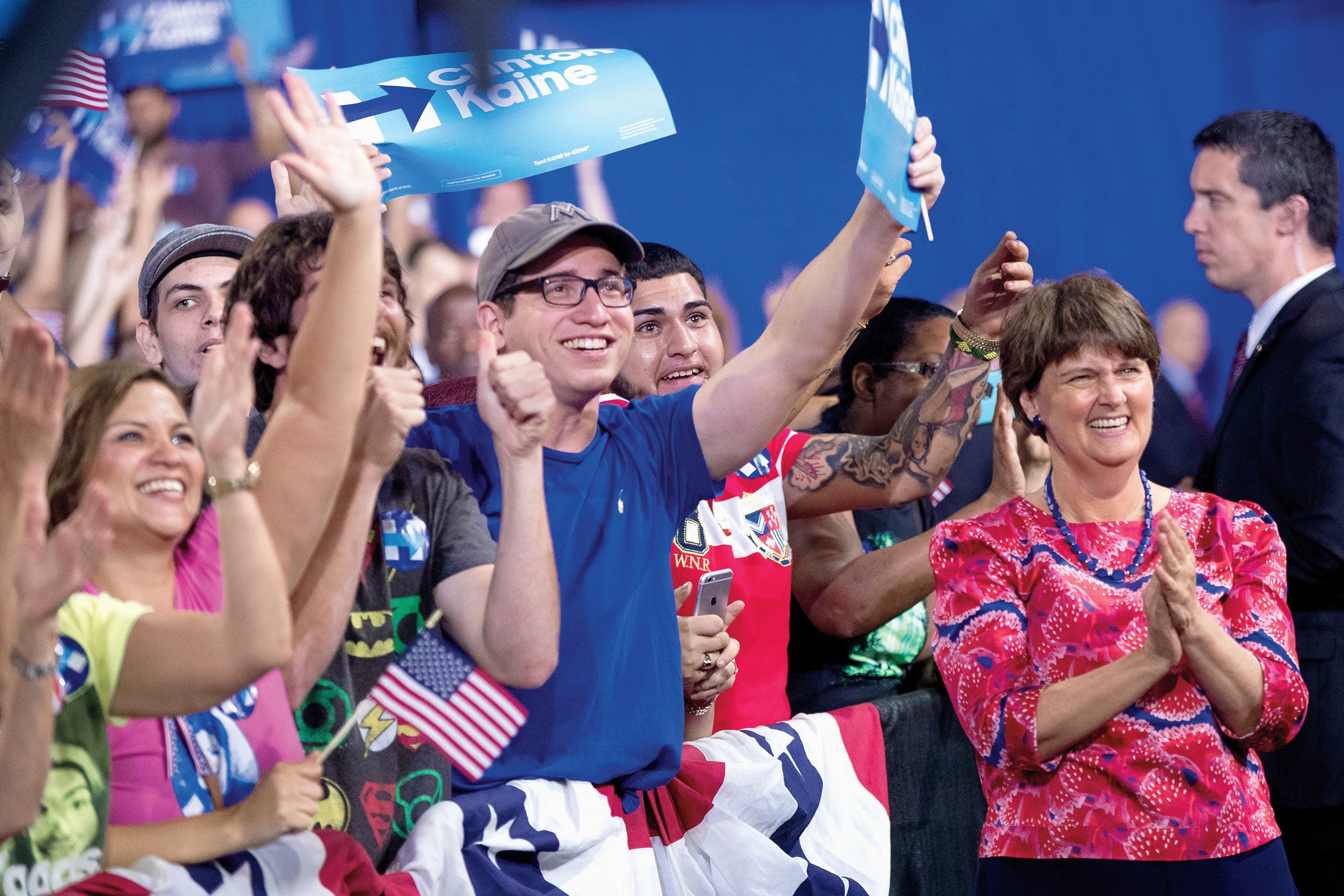 Kaine had never visited the HLS campus before showing up for the start of school in 1979, after finishing college at the University of Missouri in three years. He soon rethought the wisdom of moving so quickly.
"I remember thinking, why am I rushing? And also, I don't really know what I want to do with my life," Kaine said in an interview with C-SPAN in June.
He decided to take a year off after his 1L year and served as a Catholic missionary in Honduras. "It was a transformative experience," said Brian Wolfman '84, who met Kaine the following school year when both worked for the Harvard Prison Legal Assistance Project (PLAP).
Kaine recalled rejoining PLAP after his year away thanks in part to the recruiting efforts of Anne Holton '83. They started dating midway through the school year and married after graduating.
Their work together representing prisoners before disciplinary and parole hearings exemplified a common commitment to social justice they've shown ever since, said Leto Copeley '83, who met them both in law school and now practices law in North Carolina.
After HLS, Kaine followed Holton back to Richmond, Virginia, where her father had served as governor. He spent a decade as a civil rights litigator and law professor before running for city council in 1994. Holton worked as a legal aid attorney and a juvenile court judge before being appointed the commonwealth's education secretary in 2014.
Copeley has stayed in touch with Kaine and Holton, attending Kaine's gubernatorial inauguration with other law school friends and, more recently, a campaign fundraiser in Chapel Hill after his nomination. She said they're the same down-to-earth, friendly people she first met in law school.
"He's the same guy. He's just surrounded by 25 Secret Service agents," Copeley said.