As the nation honors its veterans on November 11, Harvard Law Today shines a light on current and former students who have served in the United States armed forces, and on the legal support and advocacy today's law students are providing without cost to veterans in the communities and across the country.
---
Edward T. Matheny Jr. '49: A sailor, a lawyer, a leader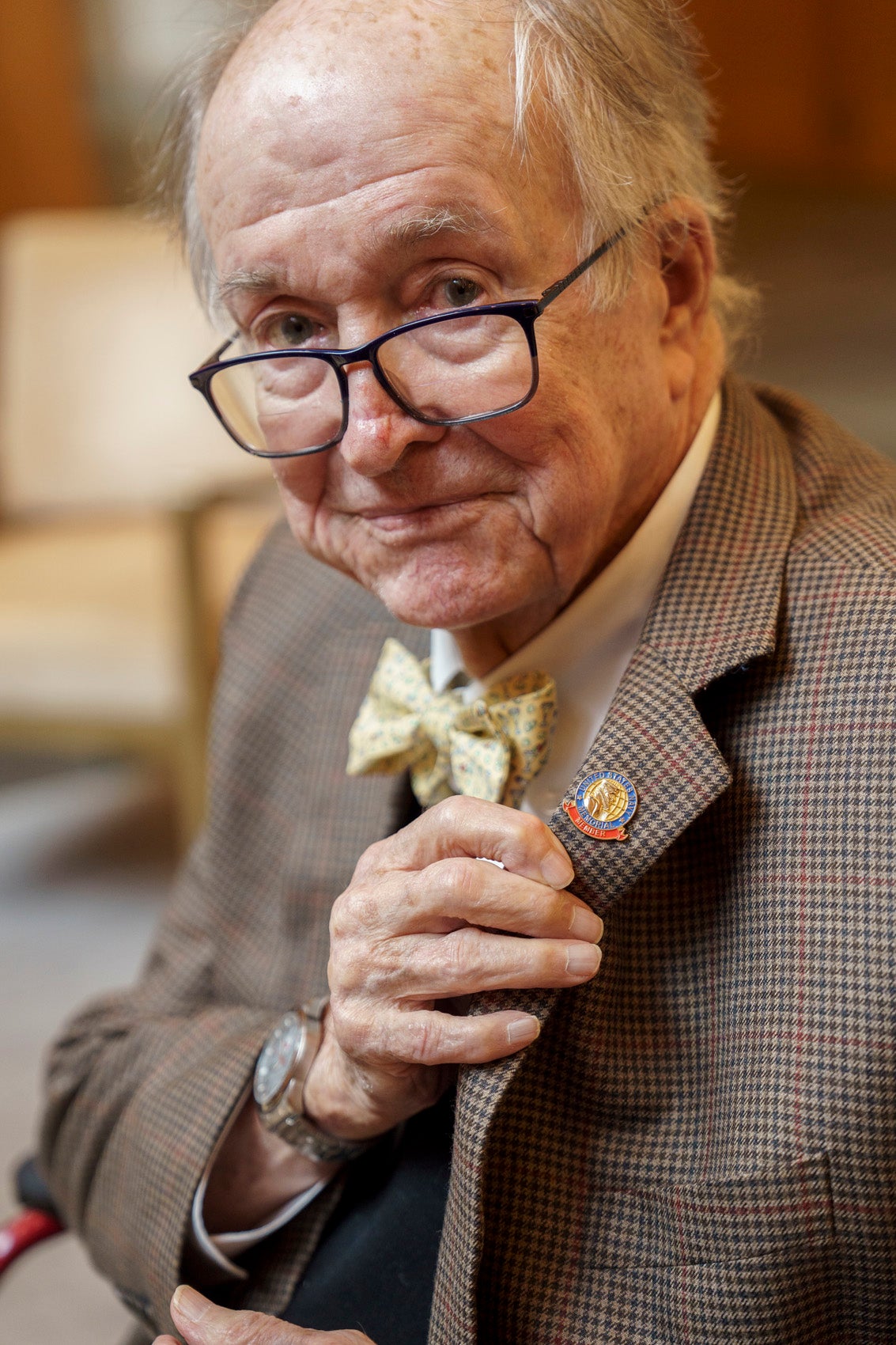 From an underground bunker, Edward T. Matheny Jr. '49 helped his superiors, including Adms. Chester Nimitz and Raymond A. Spruance, see World War II unfold in front of them.
A Navy intelligence officer, Matheny was responsible for plotting the location of every U.S. ship and submarine in the Pacific theater on a giant map.
"I was privy to everything that was going on," Matheny recalled during a recent phone call from his home in Kansas City. "They say a picture is worth a thousand words … and my commanding officers would look over my shoulder and see what I was putting on the chart."
To help mark his 100th birthday, Matheny was back at Harvard Law School in October for a tour, visiting a number of buildings, posing for photos, and chatting with current students including Brian Henson '25, a former Navy intelligence officer, who helped escort him around campus. Henson called meeting Matheny an honor.
---
Rachel Anderson J.D./M.B.A. '26: Keeping things in perspective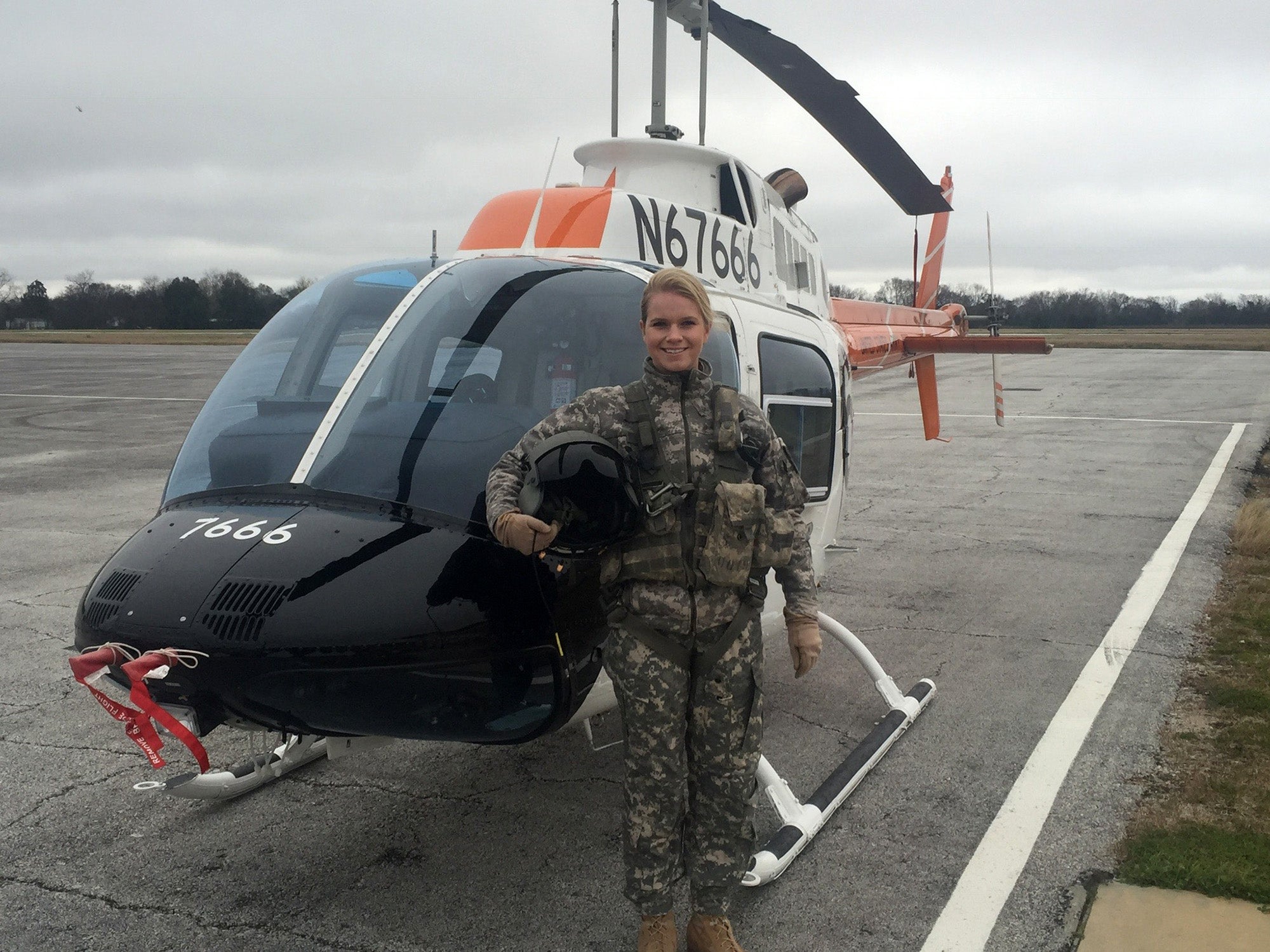 For Rachel Anderson J.D./M.B.A. '26, there is life before and after the crash.
It was March 21, 2016, and the aspiring aviation officer was 1,300 feet up over Fort Rucker, Alabama when her helicopter suffered a complete engine failure. She was at the controls; her instructor was sitting next to her; a second student was seated in the back. Initially, she thought it was just a training exercise.
"The first emergency procedure you learn is an autorotation, gliding the helicopter down to a safe landing when the engine malfunctions, and we had been practicing that for three months," said Anderson, then a 2nd Lieutenant in the U.S. Army who was preparing to become a helicopter pilot.
But an instant later she realized it was no drill when her instructor grabbed the controls and yelled a mayday call into the radio. As they fell from the sky, Anderson was calm, thinking "this is going to be cool to see how this emergency procedure is done for real.'"
Then they narrowly missed a set of electric wires.
"When you're in the air, you have no idea how fast you're going because you don't have any ground reference for your mind to conceptualize speed," said Anderson. "When we got close to the ground, I realized we were going way too fast, and I remember looking out the windscreen and thinking, 'you're probably going to die.'"
But she also remembers feeling at peace.
"I've always been a person who tries to live life to the fullest. So, I was thinking that if that was my time, then I was going to be okay with it."
---
Logan Lathrop '25: Adversity training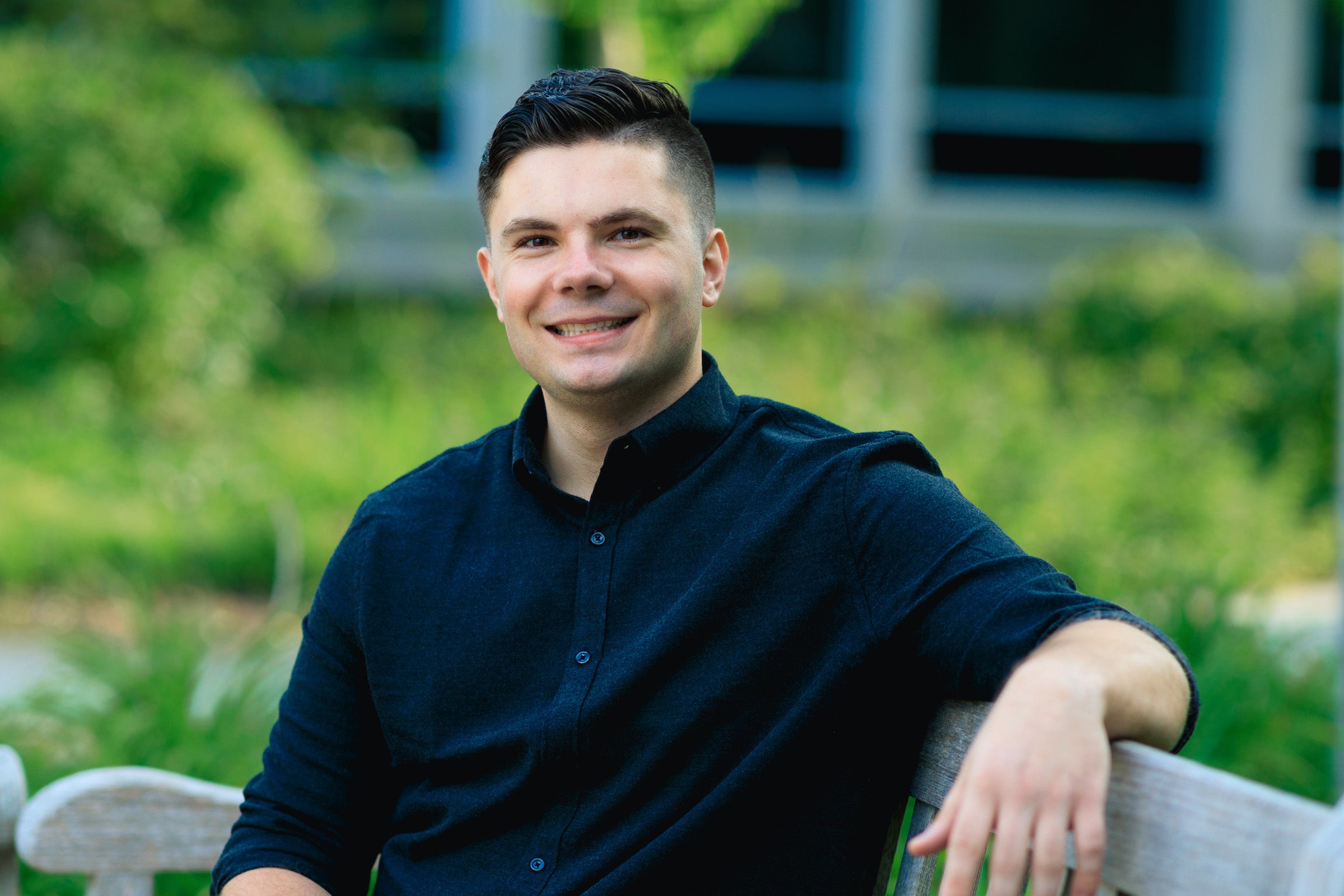 Logan Lathrop '25 can't reveal much about his military career, which has included a seven-month deployment to Kuwait. As a cybersecurity and IT specialist with the Nevada Air National Guard, the specifics of his duties are by necessity classified.
But Lathrop — who is on reserve status with the guard while a student at Harvard Law School — will happily discuss how the military turned his life around. From a sometimes-homeless teen who barely graduated high school to a cum laude graduate of the University of Nevada, Reno, today he's a second-year law student who's "loving" his law school experience, he says, and planning a career in technology-related litigation.
Lathrop, 25, was born in California; his family then moved to a small town in Nevada, where his father ran a family-owned tile and granite business. With the housing bust of 2008 the business fell on hard times, and his family lost their own home. They moved to Sacramento as Lathrop was starting high school, and his parents split up.
"It was very, very rough," he recalls. "We were very, very poor growing up. Both my parents battled with drug addiction." In Sacramento, he and his brother Dylan sometimes lived in a motel with their dad; other times they were homeless and survived by couch-surfing with friends. "It was a very complicated thing for a couple of years," he says.
---
Matt Pekoske LL.M. '24: Leading at sea and in the law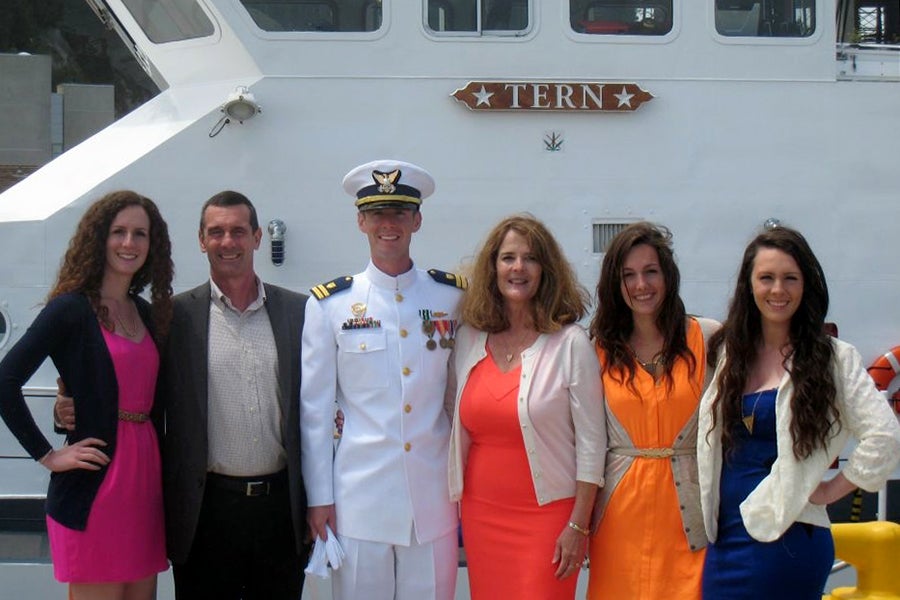 Matt Pekoske L.L.M. '24 knows a lot about cocaine. As a federal law enforcement officer, he knows how it's made, where it comes from, and one of the best ways to stop it from getting to the United States.
"Most often cocaine smugglers start in Colombia, and Ecuador, and transit up to the cartels in Mexico and then over the border. But if you can intercept it off the coast of its origin, before it gets to the cartels where it's split up, you can recover much, much more of it," said Pekoske, a lieutenant commander and judge advocate in the U.S. Coast Guard who has spent part of his 15-year military career running down illegal drug traffickers in the eastern Pacific Ocean and Caribbean Sea.
As part of the crew on a Coast Guard cutter stationed in Key West during his first tour of service, from 2008 to 2010, Pekoske would jump in small speedboats to chase down drug runners on boats loaded with millions of dollars of illegal narcotics. A few years later, he led those same missions as the Cutter's operations officer, coordinating with speedboats, the planes tracking the action, and the helicopters with snipers ready to shoot out the traffickers' engines.
But apprehending the criminals and confiscating their contraband was only part of his job. Pekoske also had to assemble a case — compiling witness statements, video footage, photos, and drug test kits — that would hold up in a U.S. courtroom. When the U.S. attorneys took those cases to trial, he, or members of his team, would testify before a federal judge.
For Pekoske, the legal work was equally as challenging as his time at sea, and even more rewarding. "I really enjoyed putting together those packages on the back end to make sure that it wasn't just a boat that we stopped, but that it went through the process and that there was a meaningful prosecution to impact the transnational criminal organization at the end. Making that kind of impact is really why I wanted to go to law school in the first place."
---
A Harvard Law clinic on the front lines for veterans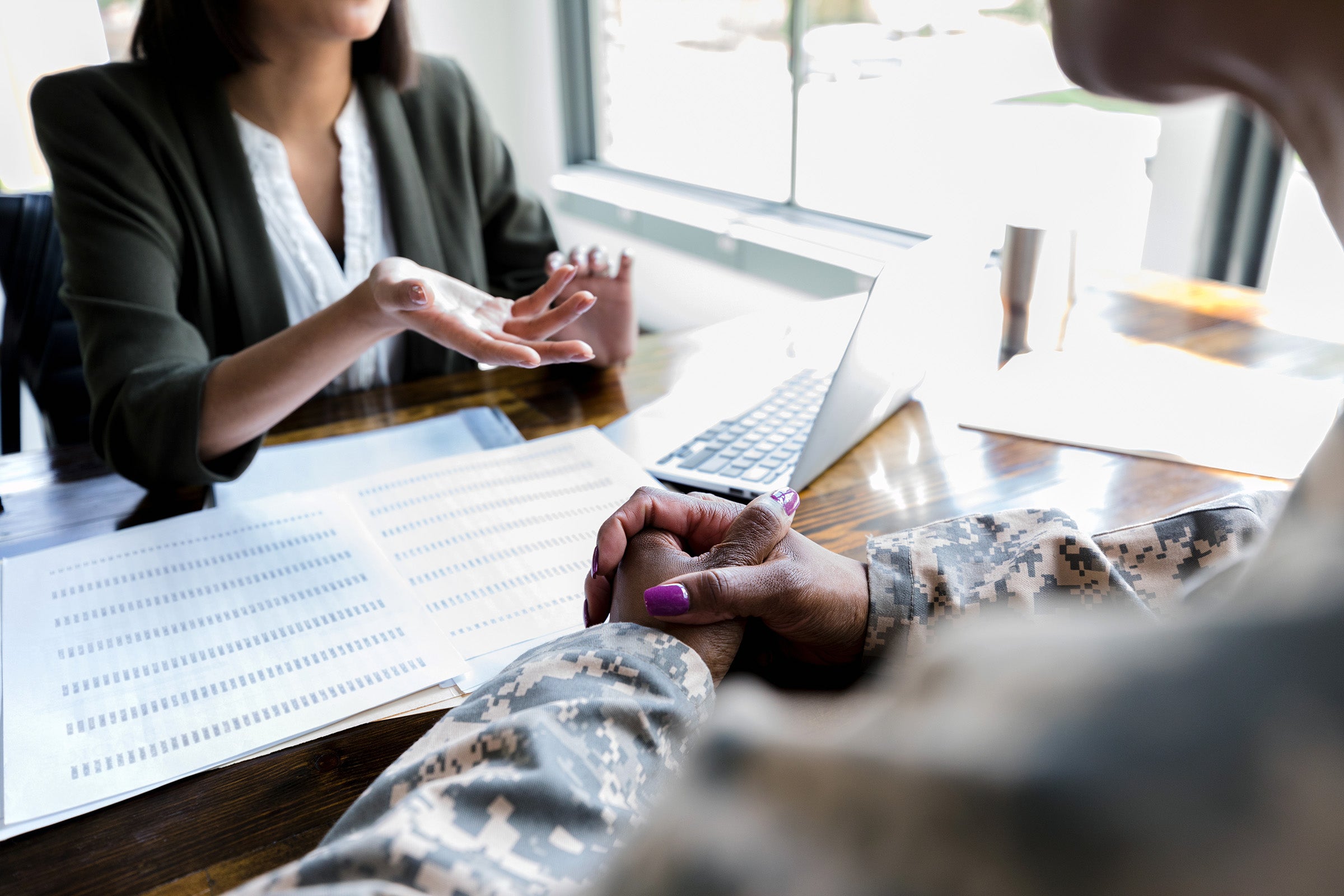 Scott Palmer, a United States Marine Corps veteran, has never been afraid to do things his own way. After serving for several years in the Marines, he became an entrepreneur, opening his own restaurant and, eventually, a successful coffee shop as well.
Then he had an epiphany: He would put his experience in the restaurant industry to good use as a personal chef and nutritionist, creating custom plant-based meals for local clients.
His new service blossomed, attracting a devoted clientele who appreciated his convenient, health-conscious meals. But, in 2020, the COVID-19 pandemic arrived, and suddenly many of Palmer's clients began trying to reduce their budgets. Business slowed. "Everyone took a little bit of a hit during those tough times," he says.
Palmer knew he would need to find a way to supplement his finances until the pandemic receded and his business had recovered. On the advice of a friend, Palmer visited a local veterans services office to ask about a benefit unique to Massachusetts, called Chapter 115, which provides low-income veterans income during difficult times.
The local office seemed to agree that Palmer was rightly owed the benefit, but when his application was processed, he was rejected for what seemed like a strange reason: his self-employment. To fight for his own case — and for other entrepreneurial veterans who fall on hard times — Palmer knew he needed legal representation and reached out to the Harvard Law School's Veterans Law and Disability Benefits Clinic.
---
Psychedelic medicine in the veteran population: promoting research, increasing access
This event hosted by the Petrie-Flom Center for Health Law Policy, Biotechnology, and Bioethics at Harvard Law School assembled a panel of leading experts on veterans health, psychiatry, public health, law, and psychedelic research to discuss the challenges facing veterans who seek access to psychedelic medicine. Panelists discussed efforts to increase funding of psychedelic research for veterans, nonprofit organizations that help veterans access psychedelics in jurisdictions where they are legal, efforts to educate Congress and federal agencies on psychedelic medicine, reducing the cost of psychedelic medicines, and current legislation to promote research and access, including state-level legal reforms, the federal Breakthrough Therapies Act, and federal defense spending bills.
Learn more on the Petrie-Flom Center's website