Logan Lathrop '25 can't reveal much about his military career, which has included a seven-month deployment to Kuwait. As a cybersecurity and IT specialist with the Nevada Air National Guard, the specifics of his duties are by necessity classified.
But Lathrop — who is on reserve status with the guard while a student at Harvard Law School — will happily discuss how the military turned his life around. From a sometimes-homeless teen who barely graduated high school to a cum laude graduate of the University of Nevada, Reno, today he's a second-year law student who's "loving" his law school experience, he says, and planning a career in technology-related litigation.
Lathrop, 25, was born in California; his family then moved to a small town in Nevada, where his father ran a family-owned tile and granite business. With the housing bust of 2008 the business fell on hard times, and his family lost their own home. They moved to Sacramento as Lathrop was starting high school, and his parents split up.
"It was very, very rough," he recalls. "We were very, very poor growing up. Both my parents battled with drug addiction." In Sacramento, he and his brother Dylan sometimes lived in a motel with their dad; other times they were homeless and survived by couch-surfing with friends. "It was a very complicated thing for a couple of years," he says.
From an early age both boys worked for their dad installing granite and tile. "We were doing construction with him from the day we could walk," says Lathrop, who worked throughout high school — fulltime his senior year — to support himself and his brother. "I didn't think I would graduate — and I barely did. I did not have good grades, I barely showed up to school, I had visits from the truancy officer because a lot of the time I was skipping school to work."
But neither he nor his brother ever got into illegal drugs. "Seeing what drugs do and how it destroys people and how very, very smart good people can get caught up in that web so easily, it was a good deterrent," he says.
After graduation he took the only path he'd ever considered: construction. "I'd never questioned the idea I'd be a construction worker, that me and my brother would take up the family business one day," he says. But it started to take a toll. "I didn't think it was sustainable. One week in particular I had an 85-hour work week. I felt like I was sleeping, getting up and working, getting to sleep again around midnight and then back up at four. I was seventeen."
The older workers around urged him to get out. "I had good mentors in the granite industry," he says. "They were like, 'You have to figure something out. Trust us, this sucks, your body breaks down. At least think of other options.'"
That's when Lathrop had what he laughingly calls his "18-year-old 'mid-life' crisis, when a lot of people join the military." Despite his bad grades in high school, he'd begun to consider going to college. The Air National Guard in Nevada offered full tuition payment at state universities, so in 2016, he enlisted with the idea of becoming a military police officer and, eventually, a civilian cop. "I'd had all these experiences with the criminal justice system and truancy officers. I thought I could do a lot of good as a police officer," he explains.
But his test results on the Armed Services Vocational Aptitude Battery (ASVAB), which helps match a recruit's aptitude with a potential career path, pointed to a field Lathrop had never imagined: cybersecurity and IT. He was convinced he would quickly flunk out of the training but decided to give it a try. "I ended up loving it," he says, although, he adds, "You have to pick it up really, really quick." Some of his cohort, including some with significant IT experience, dropped out, but Lathrop — who perhaps for the first time in his life was getting ten hours of sleep a night — studied all the time. "I like cybersecurity and IT, and even though in high school I never got into studying, I really invested so much time and effort into learning cybersecurity," says Lathrop, who was assigned to 152nd Communications Squadron. "It was a perfect thing for them to put me in."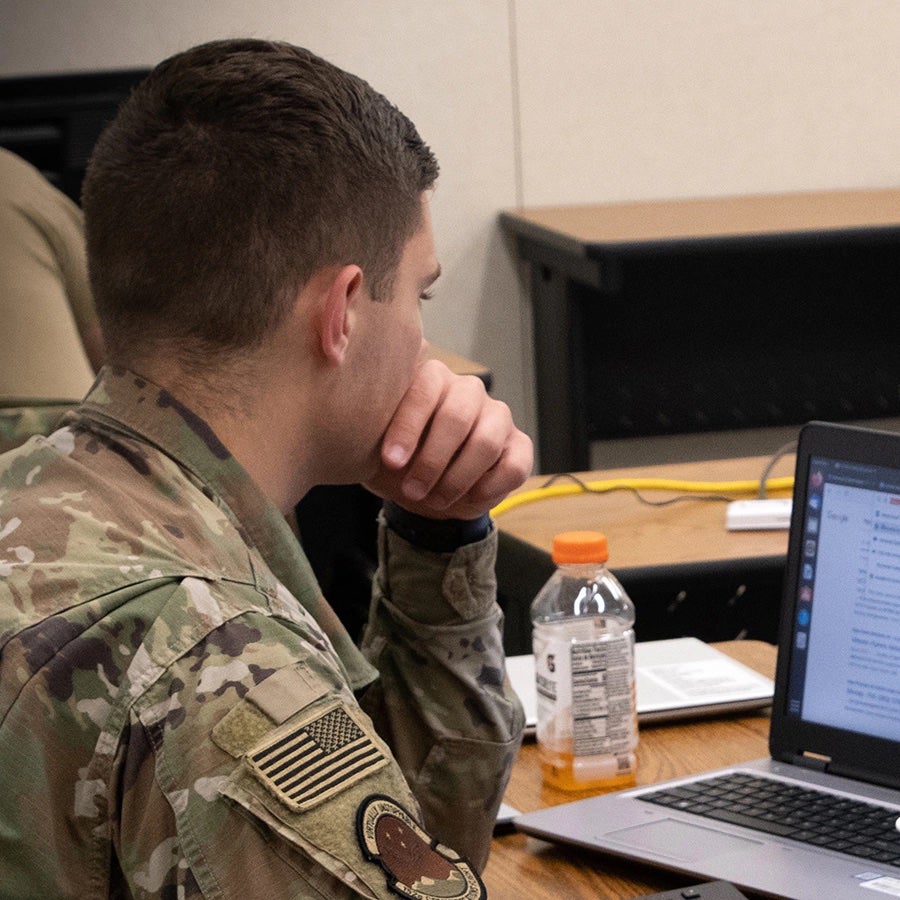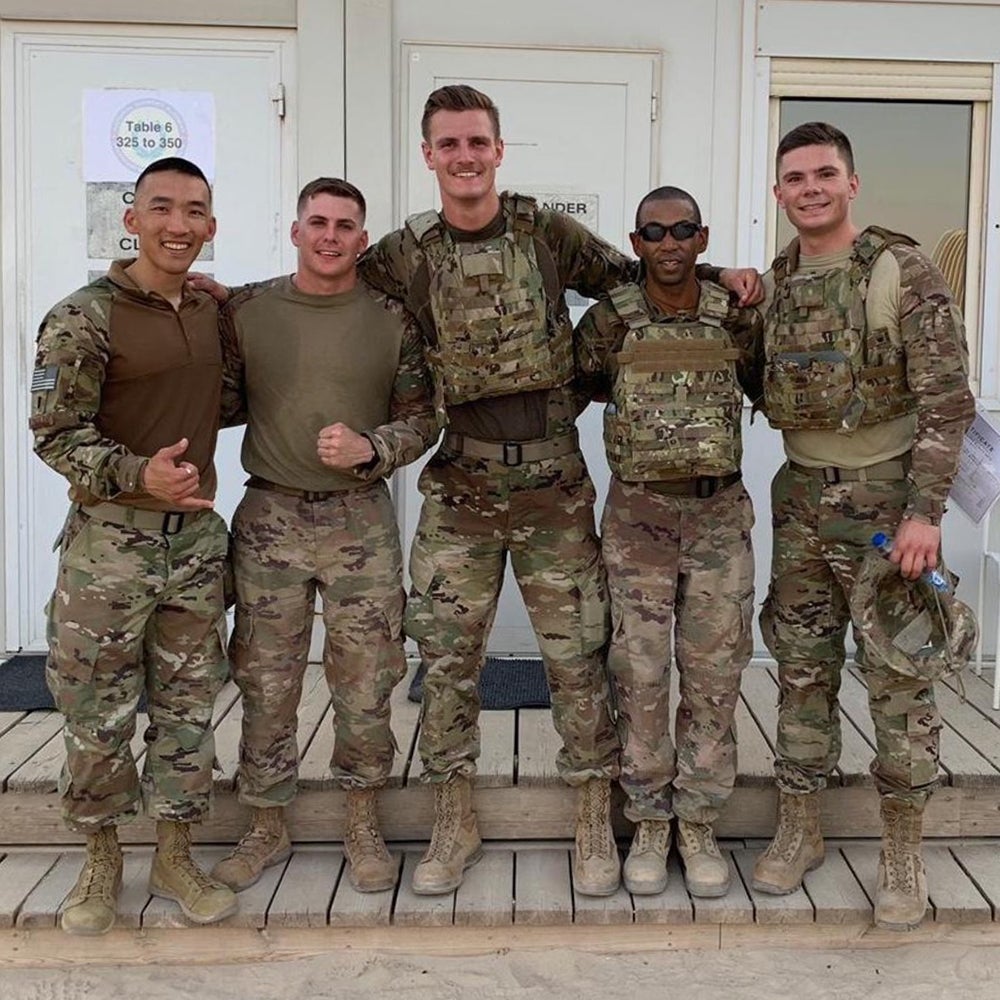 And the discipline of military life suited him. "It was nice to have the regimentation, because growing up was always so crazy. We never knew exactly…" He trails off, then adds, in the military, "you knew exactly where your shoes have to be, where your equipment has to be, what was going to happen in two weeks." But with his upbringing, he said, he had an advantage when the recruits were put through "adversity training," where something unusual is thrown at them.
In Reno he met military lawyers who encouraged him to consider law school. "I felt like I would love it because you can do so many things with a law degree," he says, and he began taking night classes at a community college.
But in 2019 he deployed to Al Jaber Air Base in Kuwait with the 407th Expeditionary Communications Squadron, where his IT work was "more big-picture and more technical," he says, though he can't reveal more. The deployment was stressful, and not just for the usual reasons: he worried he would lose his motivation for college. What rescued him was learning about Modern States, which offers free, high-quality college courses from leading college professors, free online textbooks, and full reimbursement for the College Board's College-Level Examination Program (CLEP) exams. Modern States was created by Steve Klinsky '81 to address the high cost of higher education, and through it, Lathrop knocked out 21 college credits, in sociology, psychology, economics, information systems, and more. "I loved it, it was good for my mental health, I felt like I was still progressing and my life wasn't on pause," says Lathrop, the first in his family to go to college. "I love CLEP testing in general, I think it's a great tool for people who can't afford college or who don't have access to education."
Returning stateside, he enrolled full-time at the University of Nevada, Reno — the military paid his tuition — and he switched to reserve status with the Guard. Full-time school was a luxury for him: he played rugby and started an organization that raised scholarship money for students struggling with tuition or housing costs. He graduated cum laude: "I found I had a new love for learning," he says.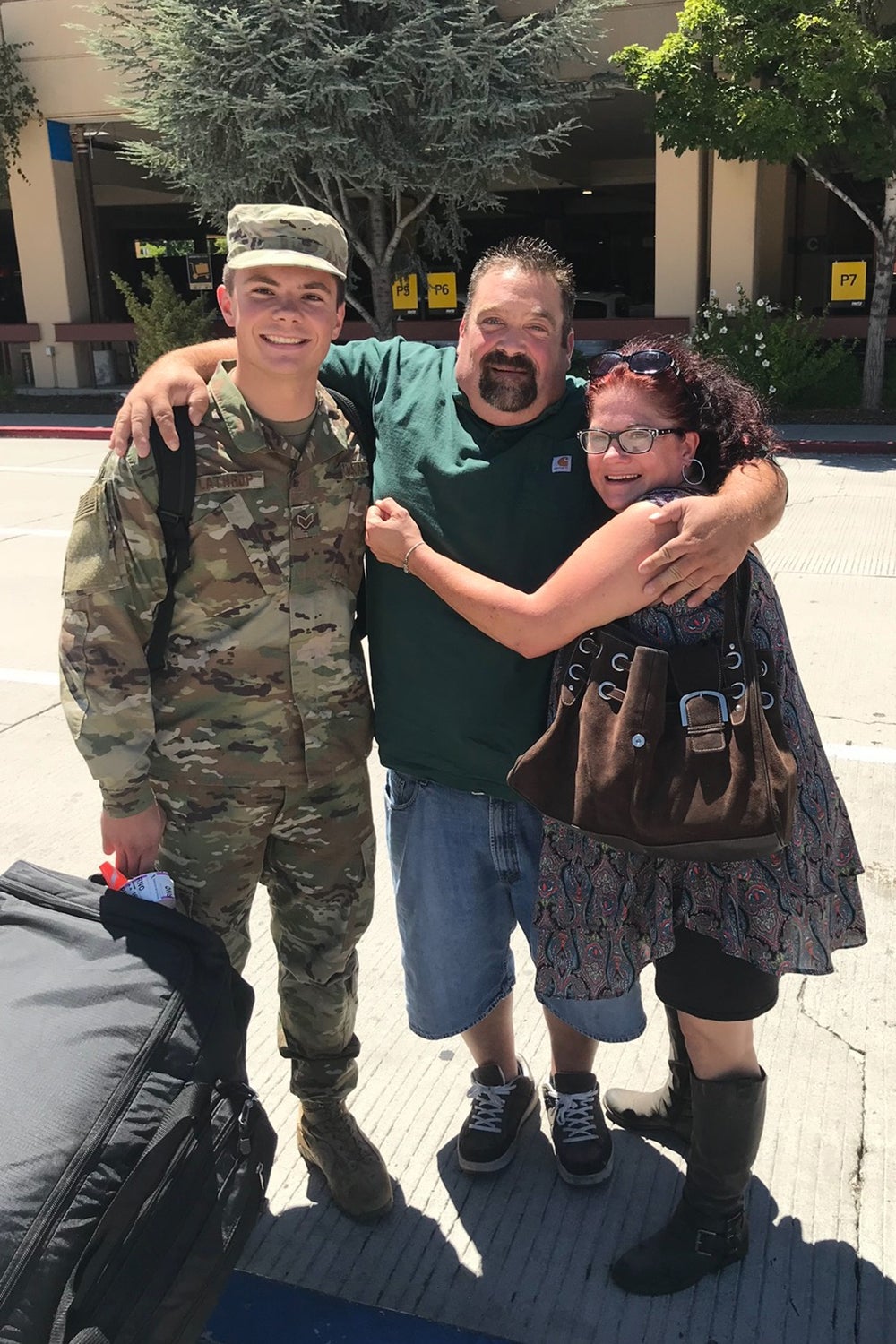 Motivated to "go to a really amazing law school like Harvard," he studied for the LSAT for three or four hours every day for a year, he says. Harvard Law School attracted him because of the vast array of courses, student organizations, and clinics including the Berkman Klein Center for Internet & Society, and the Criminal Justice Institute. The cost of his education is covered by the GI Bill and financial aid from Harvard Law.
"I had never really been on the East Coast especially at a fancy university like Harvard, and I was wondering what people were going to be like, was I going to clearly be an outsider? Once I got here, I saw how friendly everybody was," he says. "I feel like the university itself does a really good job making everybody feel they belong. I didn't feel excluded all." He joined the Harvard Armed Forces Association, and he plays rugby on a graduate school team organized at Harvard Business School. Military training makes the challenges of law school easier; "It puts some calluses on your brain," he says, smiling.
Just a month before he started law school, in 2022, Lathrop and his partner, Brooke Stevenson, had a baby boy, Luka, now 16 months old. Lathrop's brother Dylan moved to Boston to help the couple out — he's working selling granite and tile — and the four of them live together. When Lathrop graduates, the couple plan to move back to California, where Stevenson, who got her law degree last year, wants to practice family law.
Last summer Lathrop interned for Oracle Corporation doing transactional work including cloud platforming agreements; next summer he will work at WilmerHale in Palo Alto. And whatever he ends up doing, he wants to continue in the reserves.
"I've bought into the whole military thing of being part of something bigger than yourself," he says. "I've had so many great experiences in general in the military."
Read more about current and former Harvard Law students who have served in the U.S. military and how the Harvard Law community is supporting veterans.
---
Want to stay up to date with Harvard Law Today? Sign up for our weekly newsletter.