Scott Palmer, a United States Marine Corps veteran, has never been afraid to do things his own way. After serving for several years in the Marines, he became an entrepreneur, opening his own restaurant and, eventually, a successful coffee shop as well.
Then he had an epiphany: He would put his experience in the restaurant industry to good use as a personal chef and nutritionist, creating custom plant-based meals for local clients.
His new service blossomed, attracting a devoted clientele who appreciated his convenient, health-conscious meals. But, in 2020, the COVID-19 pandemic arrived, and suddenly many of Palmer's clients began trying to reduce their budgets. Business slowed. "Everyone took a little bit of a hit during those tough times," he says.
Palmer knew he would need to find a way to supplement his finances until the pandemic receded and his business had recovered. On the advice of a friend, Palmer visited a local veterans services office to ask about a benefit unique to Massachusetts, called Chapter 115, which provides low-income veterans income during difficult times.
The local office seemed to agree that Palmer was rightly owed the benefit, but when his application was processed, he was rejected for what seemed like a strange reason: his self-employment. To fight for his own case — and for other entrepreneurial veterans who fall on hard times — Palmer knew he needed legal representation and reached out to the Harvard Law School's Veterans Law and Disability Benefits Clinic.
The Veterans Law and Disability Benefits Clinic
At Harvard Law School's Veterans Law and Disability Benefits Clinic, part of the WilmerHale Legal Services Center located in Boston's Jamaica Plain neighborhood, law students work to protect the rights of veterans like Palmer and their families. Under the supervision of clinic instructors and faculty director Daniel Nagin, students offer no-cost assistance to veterans who have been unlawfully denied access to critical veterans benefits and healthcare, or who need representation in estate planning matters.
In addition to representing individual clients with specific legal needs, the clinic's docket is made up of cases designed to change federal and state policies that impact large numbers of veterans. Through impact litigation, clinic participants identify structural barriers affecting access to veterans benefits and healthcare and challenge these barriers in state and federal courts by finding and representing clients who are well-suited for these lawsuits.
Last year, for instance, the VA announced plans to end enforcement of a marriage duration requirement that discriminated against survivors of LGBTQ+ veterans after the clinic twice challenged the policy in federal court on behalf of a client who had been harmed. In 2019, the clinic filed a class action lawsuit on behalf of Massachusetts veterans who had served in Iraq, Afghanistan, or elsewhere after 9/11, but who had been deemed ineligible to receive the state's $1,000 Welcome Home Bonus.
Often less visible is the work student attorneys undertake to vindicate the legal rights of individual clients. When successful, these case victories can provide life-altering benefits to the student attorney's client. But these individual cases can also sometimes evolve and spur reforms that bring positive changes to the veterans community generally.
"One of the important features of our clinic's model is that we are a community-based program," said Nagin, the clinic's faculty director. "Because we represent many local veterans in their individual cases — whether at the state or federal level — we remain very grounded and in touch with the legal issues veterans encounter in their daily lives. In turn, this local knowledge serves as one of the many building blocks for our impact litigation and policy advocacy work. Student attorneys play the central role in identifying and pushing legal issues that provide opportunities for systemic change."
The clinic provides a critical service, says Tyler Yoo '24, one of Palmer's current student attorneys. "To say that the systems are an administrative or legal labyrinth would be an understatement," he says. "They are hard to comprehend."
When Palmer reached out to the clinic for help with his benefits appeal, he says he was thankful to find a group of people willing to go to bat for him. "I'm grateful for the Harvard Law team and their professionalism, and for knowing the system so well," he says.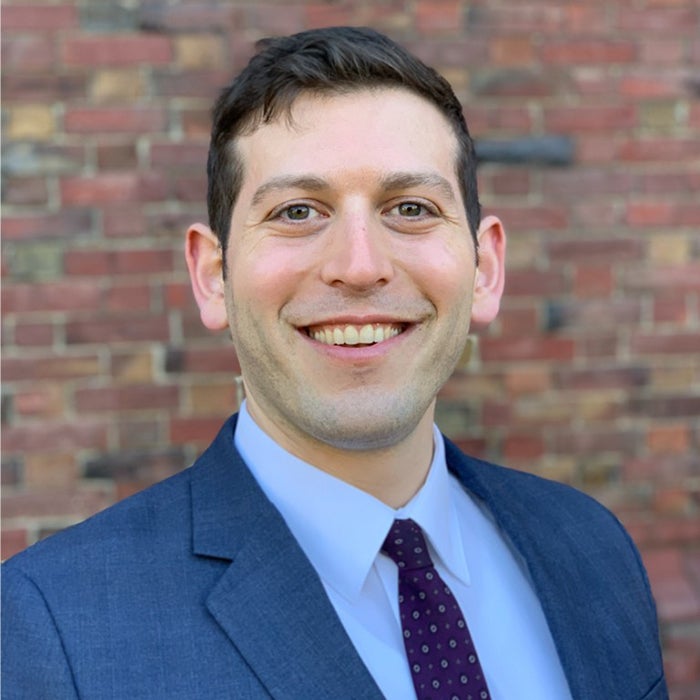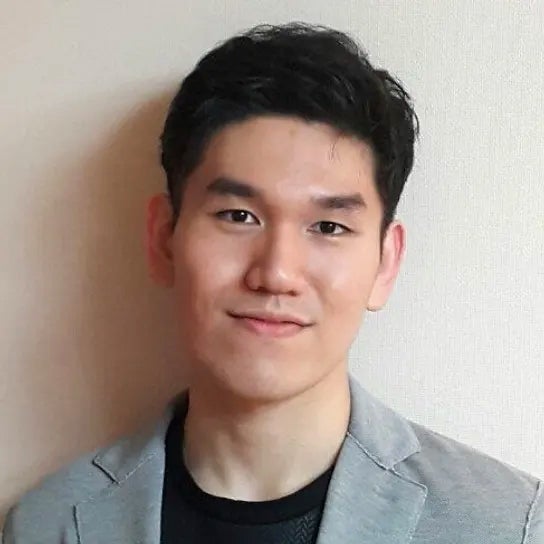 Ben Waldman '23 was one of Palmer's first student attorneys. An officer in the U.S. Army before law school, Waldman says he was interested in working at the clinic from the moment he toured Harvard Law as a prospective student. He ended up participating for four consecutive semesters, and says he enjoyed applying what he was learning in the classroom to help people in the real world.
"I have had a great experience with the VA," he says. "But not all veterans have. The clinic is a good opportunity to help veterans get closer to the positive experience they deserve."
Among the cases Waldman worked on as a student were those involving the Massachusetts law called Chapter 115, which provides support for low-income veterans and their dependents. It is a helpful program, he says, but "there are some ways in which the program is administered that sometimes lead to challenging outcomes for veterans."
There is an eligibility cliff, he explains, meaning if a veteran makes even a few dollars over the income limit, their benefits might be cut off completely, depending on a number of complex eligibility tests. And because the program is administered locally — not by the Massachusetts state veterans agency but by individual cities and towns — judgments can vary across the Commonwealth.
One particularly thorny issue is how to treat those who are self-employed. To be eligible for Chapter 115 benefits, "you have to be trying to pursue income that would replace the benefits," says Waldman.
"The clinic is a good opportunity to help veterans get closer to the positive experience they deserve."

Ben Waldman
In Palmer's case, an administrator had interpreted that requirement in a way that would have forced him to abandon his business to work a more "traditional" job. To Yoo, Waldman, and others who worked on the case, this was an unacceptable result.
"That doesn't seem to be in the spirit of this program," says Yoo. "First of all, veterans have earned this benefit. We also don't want to punish people for trying. We don't think it was intentional, but the result of the policy is that people who have initiative, people who want to challenge themselves and do something meaningful like start a business, end up getting punished."
The student experience
Yoo, who is serving for a second semester in the veterans clinic as an advanced clinic student, says that working in the clinic has been the best part of his time in law school. For that, he credits both the instruction he's received from Dan Nagin and the clinic's staff and the vital legal skills he's been able to acquire and practice.
Nagin, he says, "is the best teacher and the best boss I've ever met in my life. As a law student, I want to do interesting, meaningful work. At the same time, I want to grow as a litigator. And Dan does that so well, in the sense that he gives students just the right amount of instruction, and at the same time, just the right amount of freedom."
Students are expected, he explains, to make legal decisions, develop case theory and engage with the client, the opposing counsel, and the court as a practicing student attorney, all with the support and guidance of expert instructors. He describes Nagin's role as akin to "threading that line between an effective instructor and an administrator of a law firm where they want to give people some feeling of control and ownership. I think it's a hard task. And he does that so well."
That careful balance has enabled Yoo to practice law in ways that are rarely possible for a student. "Learning law in a classroom is helpful and necessary, but litigating actual cases teaches me lessons I cannot learn in classrooms," he says. From writing appellate briefs to engaging directly with judges, the clinic has enabled him to engage in work that is often out of reach of even lower-year law firm associates. "It's been such a great opportunity to have that exposure early on."
Yoo also emphasizes another thing he's learned from his time in the clinic: how to work as part of a team. "Not much of the formal law school curriculum focuses on how to cooperate, as a lawyer, with other lawyers on the team. Collaboration within a legal team comes with specific challenges, and it takes time and practice to master this skill."
The appeals
Working with Palmer on his initial appeal to the Massachusetts Executive Office of Veterans' Services, Waldman put together an argument he hoped would be convincing: that the program rules only require a veteran to have the ability to generate sufficient income for oneself.
"In other words, as long as you can show that you have a plan for your small business to provide for you, that should be sufficient to be able to receive Chapter 115 benefits," says Waldman.
The argument worked. A hearing officer agreed that if Palmer showed that his business could or was providing for him in normal times, he should qualify for the benefit. "I was grateful for that," says Palmer.
Unfortunately, the win did not last long. After several months, the local agency came back and once again denied Palmer's claim. To add insult to injury, it also asked him to pay back around $1,000 of the money he had already received.
So, Palmer and the Harvard Law team got back to work.
This time, says Yoo, the issue was that administrators hadn't properly accounted for Palmer's business expenses, which made it look as if he had more income than he did.
"If you operate a business, and if you can show that some costs are legitimate business expenses, the administrators should be able to deduct that from your gross income and get to your real income," he says, adding that other agencies, such as the Social Security Administration, do just that when administering their programs.
Because the clinic had already argued — and won — that same point in another veteran's case, Yoo said he had hoped that the hearing officer would be receptive to it in Palmer's case. To prepare, he and Palmer spent hours going through bank statements and receipts to provide unimpeachable proof of Palmer's business expenses.
"I'm just a one man show," says Palmer. "So, it almost felt like they were trying to take down the little man, the guy in the kitchen, because I didn't have my accounts set up like a corporation."
Victory
This past January, documents in hand, Palmer and the Harvard Law team once again stood before the state's Executive Office of Veterans' Services, ready to present their case.
In the end, the hearing officer decided in Palmer's favor on the overpayment issue — happily, he would not have to pay back a single penny of what he had received. Although there was another part of the appeal decision that did not provide Mr. Palmer the full relief he sought, Mr. Palmer was pleased with all he had accomplished in his two appeal cases.
Palmer credits the favorable outcome to the hard work of students at the Harvard Law School Veterans Law and Disability Benefits Clinic. "Knowing that they had my back, and that they knew the system in and out … that was so valuable."
Importantly, in the appeal decisions in Palmer's case, and in the appeal decision in a second case where the clinic represented another self-employed veteran, the state agency adopted the clinic's interpretation of the regulations governing self-employed applicants. These appeals presented questions of first impression that have now been resolved to the benefit of the veterans community. There is now agency precedent that will help more self-employed veterans meet the eligibility requirements for Chapter 115 benefits and a road map for self-employed veterans to avoid the same legal traps Palmer encountered.
With the rise of the gig economy, appeals such as Palmer's have taken on heightened importance. "We will likely see more of these types of cases," Yoo says. "That's part of why we want to etch it in stone that self-employed veterans qualify for this program."
Palmer is proud of the difference they made together for other self-employed veterans in Massachusetts.
"When you say 'self-employed,' some people automatically think you own a corporation or a factory, and don't realize you could be a guy working on bicycles in his garage," Palmer says. "I hope we put enough noise out there to make sure those people who are running an honorable business and fall on hard times can get help, too."
By automatically disqualifying veterans who build their own businesses and blaze their own trails, Palmer says, "you deny people the chance to control their own life."
Read more about current and former Harvard Law students who have served in the U.S. military and how the Harvard Law community is supporting veterans.
---
Want to stay up to date with Harvard Law Today? Sign up for our weekly newsletter.