On April 20, Harvard Law School will host the third and final major event in its year-long program celebrating 200 years of HLS.
HLS in the Community will convene alumni, faculty, students, and staff to explore the extraordinary reach and impact of Harvard lawyers. With a focus on ideas in action, the day's activities will include problem-solving hackathons, workshops, sessions, a showcase of HLS clinics and student practice organizations, and a closing celebratory reception.
The celebration will kick off Thursday evening with a special advance screening of "RBG," the new documentary about Justice Ruth Bader Ginsburg '56-'58, hosted by Assistant Professor Daphna Renan. Following the film, Professor Renan and Professor Michael Klarman, both former clerks of Justice Ginsburg, will discuss the film and take questions.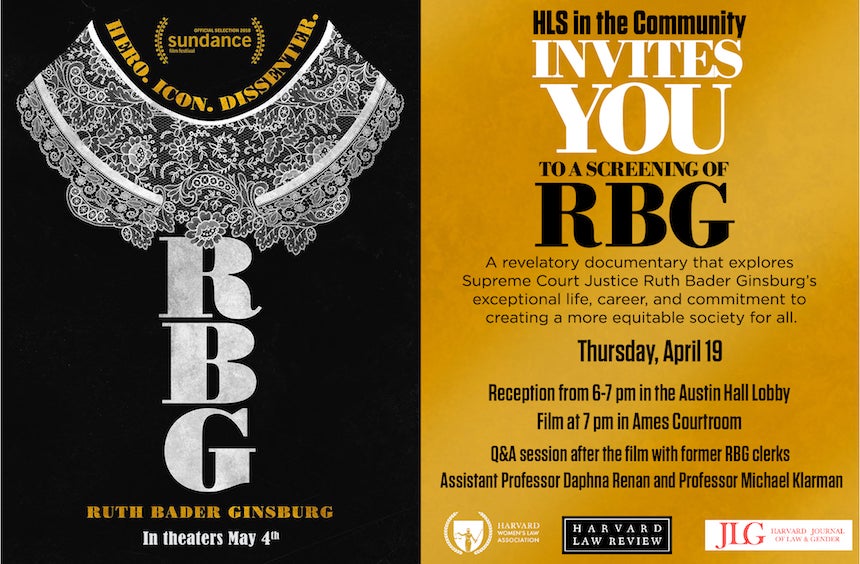 Friday, April 20 will be a full day of activities, with hackathons, panels, and sessions exploring some of the world's most pressing legal issues and the school's local and global contributions of service.
Three day-long, problem-solving hackathons will be facilitated by a diverse group of legal experts, lawyers in the field, students, and community members, and address justice for LGBTQ veterans, sanctuary spaces and deportation, and mediating harmful speech online.
Morning workshops led by HLS faculty and staff cover topics including human rights advocacy, disability rights, teaching and lawyering for systemic justice, and pro bono leadership.
Following the morning lineup is a special lunch talk with Judge Daniel A. Polster '76, on his ambitious and unconventional approach to addressing the national opioid crisis.
Afternoon panel session topics include artificial intelligence; criminal justice reform; business and finance; the future of the death penalty; environmental protection; artificial intelligence and the law; innovation in legal services; small business and entrepreneur support; women in law; and national monuments litigation.
The bicentennial celebrations conclude Friday afternoon with a spectacular showcase highlighting the important and wide-ranging work of our clinics and student practice organizations, followed by a special bicentennial capstone reception.
Harvard Law School's bicentennial has been an opportunity to reflect upon the law school's history and innumerable contributions of Harvard lawyers across the globe; it is also an opportunity for the HLS community to come together and do what the law school does best—ask hard questions about important matters, think critically, and explore solutions for urgent problems.
***
HLS in the World, held Oct. 26-27, featured an extraordinary gathering of leaders. Lawyers, legislators, governors, judges, public interest leaders, entrepreneurs, financiers, journalists, and others—from the United States and abroad—who joined together to share ideas, debate and deliberate in dozens of panel discussions and open fora.
On Sept. 15 and 16, HLS in the Arts celebrated the school's many contributions to the arts, with featured musical performances by members of the HLS community, as well as book talks, film screenings and conversations with alumni including actors, general counsel, talent representatives, filmmakers, television writers, producers, and composers.