Supreme Court Justice Neil Gorsuch '91 arrived at Harvard Law School in the fall of 1988. The fourth-generation Coloradan and recent Columbia University graduate quickly found like-minded fellow students in the Harvard Federalist Society, the conservative legal networking group founded six years earlier, and among the members of Journal of Law & Public Policy.
He sought a community of another kind inside a Victorian-era house with a mansard roof a couple of blocks from campus at 44 Follen St., the Lincoln's Inn Society.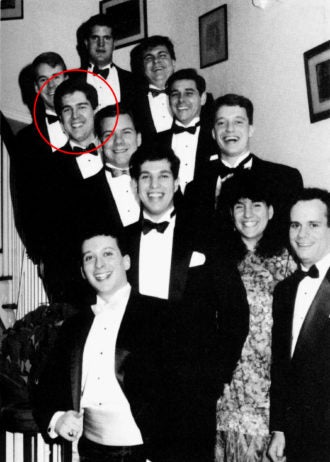 Here, Gorsuch found not just a place to socialize and decompress from the rigors of law school, but also a place to live his 3L year. He and his six housemates worked out in the basement gym and played pool on the house billiards table. They shared Thursday night dinners and hosted Sunday morning brunches for friends, as well as throwing the occasional party.
The social club gained some unwanted attention for those parties during Gorsuch's time when neighbors complained about noise and discarded trash, contacting the city council and licensing commission.
A member of the Lincoln's Inn board that scaled back the parties in response to these complaints, Gorsuch downplayed the potential impact of the changes, telling the Harvard Law Record at the time that members were more attracted to it as "a place to hang out."
Gorsuch himself was not much of a partier in law school, said Matthew Kairis '91, who met him while moving into the Ames dorm their first year. Kairis vividly remembered a late Saturday night visit when he found Gorsuch sitting in a chair with a scotch in one hand and a book in the other. Gorsuch was reading legal theory for fun.
[pull-content content="
A law school friend remembers finding Gorsuch on a Saturday night – a scotch in one hand and a book in the other – reading legal theory for fun.
A law school friend remembers finding Gorsuch on a Saturday night – a scotch in one hand and a book in the other – reading legal theory for fun.

According to law school friends, Gorsuch always seemed to have a scholarly—even judicial—air about him. Similarly, many other classmates later remembered another member of the Class of 1991—Barack Obama—as presidential timber.
Both Gorsuch and Obama had a knack for making friends across the political spectrum, said Adam Charnes '91, who was in the same 1L section as Gorsuch and has remained friends with him ever since. Charnes also worked with the former president on the Harvard Law Review and said Gorsuch and Obama shared the skill of "building bridges to everybody."
Perhaps that explains why even before President Donald Trump announced his pick for the Supreme Court on Jan. 31, Norm Eisen '91, who served as Obama's ethics czar and has had little good to say about the new administration, took to Twitter to praise Gorsuch as "a great guy."
Gorsuch replaces Justice Antonin Scalia '60, who died suddenly in February 2016. President Obama had nominated D.C. Circuit Judge Merrick Garland '77 to fill the vacancy last March, but Republican senators refused to consider the nomination.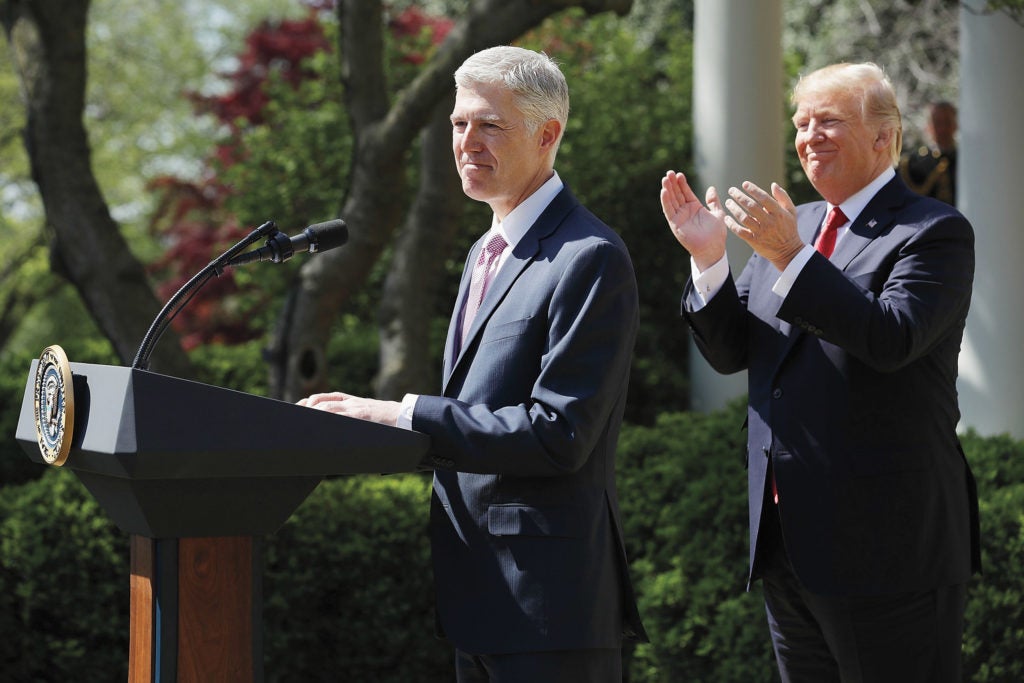 Law school friends recalled that Gorsuch sometimes talked about politics, and it was clear during the 1988 presidential race between George H. W. Bush and Michael Dukakis '60 that he knew more about how Washington worked than most 1Ls.
Ken Mehlman '91, a 1L sectionmate, remembered bonding over a common interest in public policy and talking about events reshaping the larger world during their time in law school, such as the fall of the Berlin Wall and the start of the first Gulf War.
Rarely, though, did friends recall him talking about his mother's experiences in Washington, D.C. Anne Gorsuch Burford, a former Colorado state legislator, served as the first woman to head the Environmental Protection Agency. She resigned in 1983 after a rocky tenure. At the time, Gorsuch was attending high school at a prep school in the D.C. area.
"It took me two and a half years before I even realized he came from a politically important family," said Bob Kroll '91, who became friends with Gorsuch during their 1L year and spent time with him at Lincoln's Inn.
Gorsuch was more likely to talk about his love for Colorado and the outdoors. (In a 2009 speech at Harvard Law School as part of the Traphagen Distinguished Alumni Speakers Series, he said, "Jogging last night down the Charles as the sun set evoked many happy memories.")
He returned to Washington after two years at Oxford as a Marshall scholar, where he earned a legal philosophy degree and met his future wife, Louise.
He clerked for Judge David Sentelle on the U.S. Court of Appeals for the D.C. Circuit and then Justice Anthony Kennedy '61. He then joined Kellogg, Huber, Hansen, Todd, Evans & Figel, where he focused on trial work until 2005, when he joined the Justice Department, serving as a top deputy during the presidency of George W. Bush.
In 2006, he returned to Colorado after his confirmation as a judge on the U.S. Court of Appeals for the 10th Circuit.
Today, 44 Follen St. is a duplex of luxury townhouses. Lincoln's Inn sold its home of 62 years in 2009 as membership declined and the cost of maintaining the old building grew too burdensome.
Gorsuch has stayed in touch with the friends he made there. Many of them came together for a reunion in Washington and a private tour of the White House after Mehlman became chair of the Republican National Committee under President George W. Bush.
Charnes, Kairis, Mehl­man and Kroll, as well as Eisen, joined 52 other classmates who signed a March letter supporting Gorsuch's nomination to the Supreme Court.
"Some of us supported Hillary Clinton, others voted for Donald Trump, while some of us supported third-party or write-in candidates. Some signatories believe in a more active judiciary, while others believe in judicial restraint," the letter said.
"What unites us is that we attended law school with Judge Neil Gorsuch—a man we've known for more than a quarter century—and we unanimously believe Neil possesses the exemplary character, outstanding intellect, steady temperament, humility and open-mindedness to be an excellent addition to the United States Supreme Court."
---
Gorsuch was confirmed on April 7 after a Democratic filibuster led by Senate Minority Leader Charles Schumer '74 prompted Republicans to change Senate procedures and eliminate the fili­buster for Supreme Court nominations. Democratic senators had voted to eliminate it for lower court and executive nominees in 2013.