Charles J. Ogletree, Jr. '78, or Tree, as he was affectionately known, the celebrated, influential, and beloved Harvard Law professor and civil rights scholar, died peacefully on August 4 in his home in Odenton, Maryland, from Alzheimer's disease.
"Charles was a tireless advocate for civil rights, equality, human dignity, and social justice. He changed the world in so many ways, and he will be sorely missed in a world that very much needs him," said John F. Manning '85, Morgan and Helen Chu Dean and Professor of Law at Harvard Law School, in a message to the community.
After serving for eight years in the District of Columbia Public Defender Service, rising to the position of deputy director, Ogletree was appointed a lecturer at Harvard Law School in 1984. He was named a professor of law in 1993 and became the Jesse Climenko Professor of Law in 1998. Throughout his career, Ogletree was a nationally recognized leader in addressing issues of race, justice, and equality. His teaching shaped generations of students working on those issues, including the future President Barack Obama '91 and First Lady Michelle Obama '88. Ogletree's mentorship of law students was renowned across Harvard's campus and beyond.
"Michelle and I are heartbroken to hear about the passing of our friend and mentor Charles Ogletree," said Barack Obama in a statement. "Charles' reputation preceded him at Harvard Law School. On campus, people would always talk about this Professor Ogletree and how supportive and encouraging he was. … Over the years, Michelle and I have always been able to count on Charles's support, often when we needed it the most. And after being diagnosed with Alzheimer's, he got to work spreading awareness — especially among people of color. He wanted to be a spokesperson for the disease, telling people not to be afraid," said Obama.

"Tree was a superb lawyer, an inspiring teacher, and an incomparably wise adviser," said Martha Minow, the 300th Anniversary University Professor. "As a scholar and a teacher, he honored the historic work of great advocates for civil rights while never relenting in the critical work of redressing continuing short-falls and abuses. When he provided legal representation for people in the public eye and people invisible to most, supremely effective advocacy emerged for the individuals involved and his most admirable lawyering provided a model for local, national, and international communities. A true heir of the civil rights heroes he honored, Tree's work was always grounded in history, humanity, and a profound commitment to the unending work of justice. We all will miss his passion, his chuckles, his sweet potato pies — but we will do our best to continue to advance the paths he forged."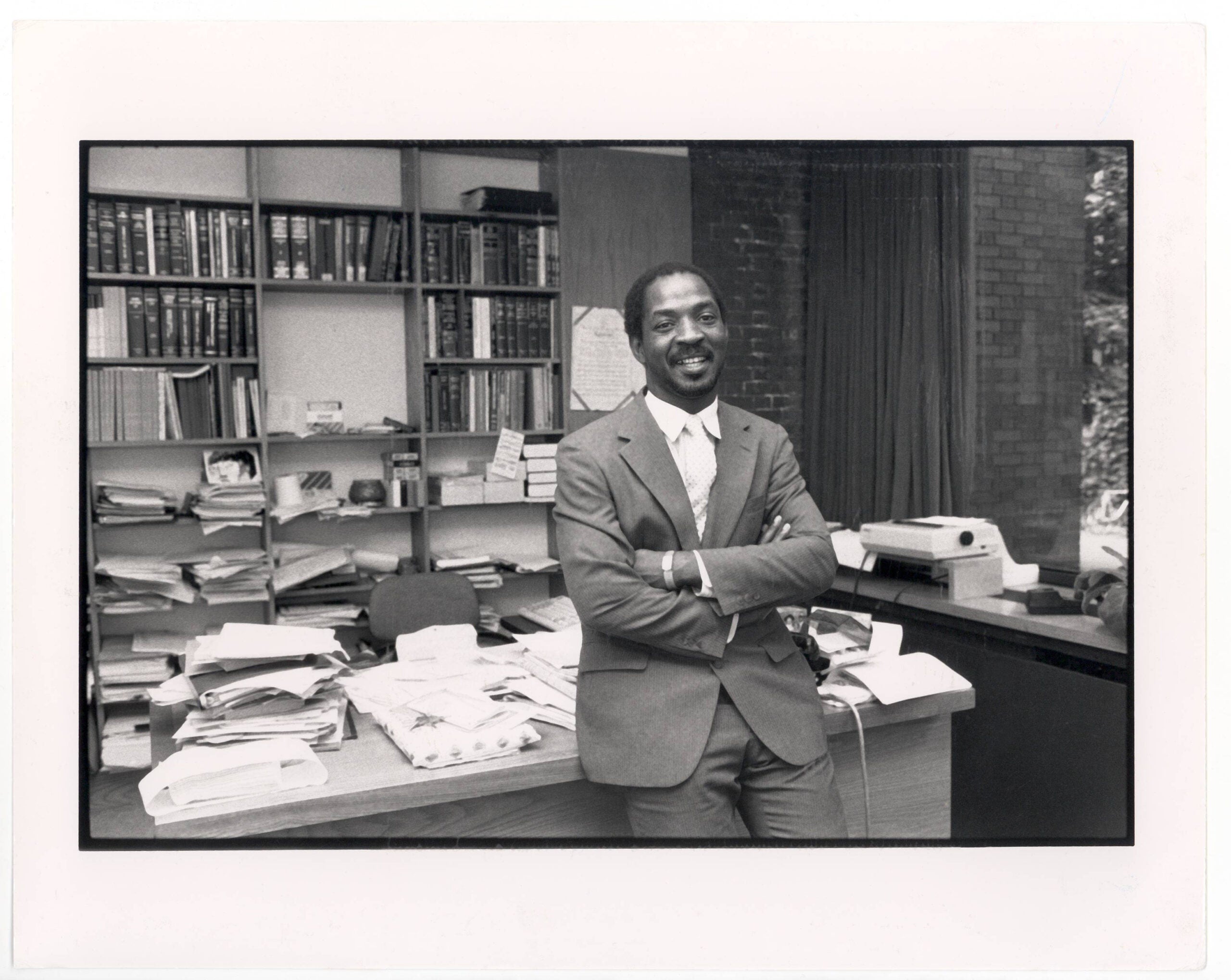 Among his many achievements, he founded the Criminal Justice Institute, which trains student lawyers to represent indigent defendants in the Boston area. He led the Trial Advocacy Workshop for many years, and he also created the legendary "Saturday School" program, a forum to support Black students and examine critical issues in the study of law, which brought luminaries in law and other fields to campus to connect with students and discuss issues of justice, race, and equity. Many of his students have gone on to illustrious careers of their own in government, business, law firms, and nonprofit organizations.
In 2005, Ogletree launched the Charles Hamilton Houston Institute for Race and Justice at Harvard Law School, named in tribute to the legendary civil rights lawyer who created the litigation campaign that eventually resulted in the landmark decision of Brown v. Board of Education. He served as its faculty director for many years. Under his leadership, the institute became an organizing force for impactful scholarship, innovative strategic advocacy, coalition building, socially concerned legal education, and community engagement on matters central to civil rights and equal opportunity.
Ogletree was an advocate for racial justice and the victims of discrimination. Among the causes that he cared deeply about was justice for the survivors and descendants of the 1921 Tulsa Race Massacre, in which hundreds of African Americans were killed and a prosperous African American business district known as "Black Wall Street" was destroyed. In 2001, Ogletree assembled a team, the Reparations Coordinating Committee, to represent the survivors of the massacre as they sought reparations. Although that lawsuit was ultimately dismissed, Ogletree dedicated his effort to ensuring the country knew the names and stories of the Tulsa survivors. Ogletree also represented high-profile clients, such as Anita Hill and Tupac Shakur, as well as the countless clients he served through his impactful work at CJI and the Public Defender Service.
Ogletree is the author or co-author of several important books on race and justice, including most recently "Life without Parole: America's New Death Penalty?," "The Presumption of Guilt: The Arrest of Henry Louis Gates, Jr. and Race, Class, and Crime in America," and "The Road to Abolition: The Future of Capital Punishment in the United States."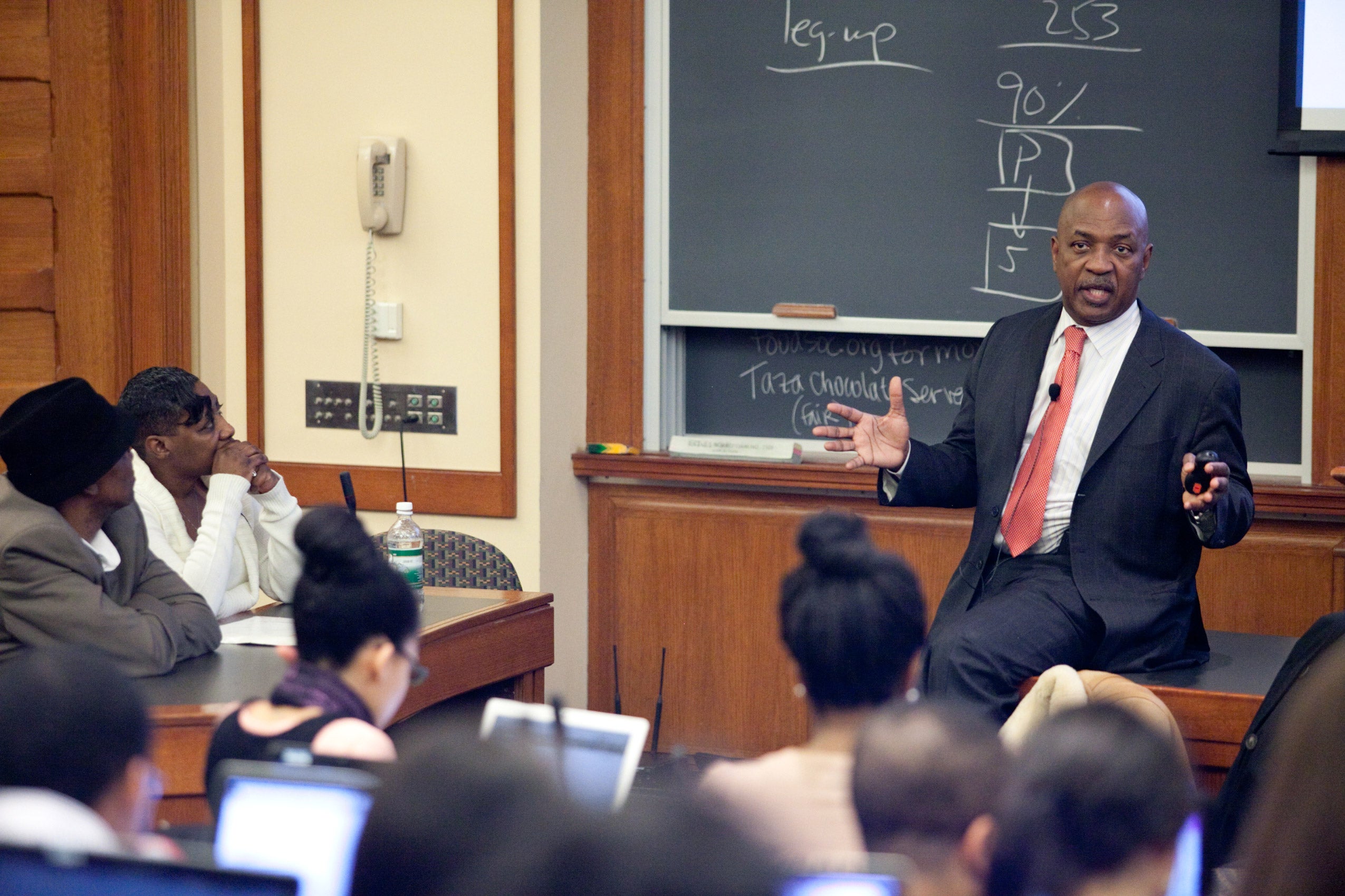 Ogletree retired from Harvard Law School in 2020 after a diagnosis of Alzheimer's disease. An endowed professorship, established in recognition of Ogletree's contributions, was announced at a symposium in Ogletree's honor in 2017. Guy-Uriel E. Charles, an expert in constitutional law, election law, and race who joined the Harvard Law faculty in July 2021, currently serves as the inaugural Charles J. Ogletree, Jr. Professor of Law.
"Professor Ogletree was a force of nature," said Charles. "He was an intellectual giant, an incredible humanitarian, and a legendary teacher, whose contributions to law and to racial equality were unparalleled. His loss is tremendous, not just for the Harvard community, his colleagues and students, and the people who loved him, but for the incredible impact he made. We are deeply saddened by his loss, but heartened by the tremendous legacy that he has left for us to carry on."
To his colleagues, Ogletree has served as the role model of an attorney committed to social justice and equality for all. Speaking at the symposium in 2017, Tomiko Brown-Nagin, professor at Harvard Law and Dean of Radcliffe Institute for Advanced Study, said: "Ogletree has embodied law in the service of society, just the same as other great beacons of the American legal profession, men and women like Thurgood Marshall, Constance Baker Motley, and Charles Hamilton Houston."
David Wilkins '80, the Lester Kissel Professor of Law at HLS, recalls that in 2000 Ogletree arranged for all the living members of the Brown v. Board of Education litigation team to receive the inaugural Harvard Law School Medal of Freedom as part of the school's first Celebration of Black Alumni that he and Ogletree organized.
"It was a fitting tribute to the greatest lawyers in U.S. history, and a fitting testament to Tree's stature in the civil rights community," said Wilkins. "To borrow Houston's famous phrase, Tree was a true social engineer for justice. Since we first met in 1977, he has been a steadfast friend and an inspiring role model to me as he has been for countless others in his 40+ years as a lawyer, teacher, and scholar. I will miss him dearly but take some small comfort in knowing that Charles J. Ogletree, Jr. has now taken his rightful place among the giants we honored in 2000 for his role in helping to make the words 'Equal Justice Under Law' chiseled above the entrance to the Supreme Court a reality for America's most vulnerable citizens."
Ogletree was born on December 31, 1952, and grew up in Merced, California, where he attended public schools. He earned an M.A. and B.A. in Political Science from Stanford University before receiving his J.D. from Harvard Law School. He received many awards and honors over the course of his lifetime, including the naming last February of a courthouse in his native Merced, California, in his honor.
Last fall, the Ogletree family donated papers from his illustrious career to the Harvard Law School Library, which will make them available on a rolling basis over the next 3 years.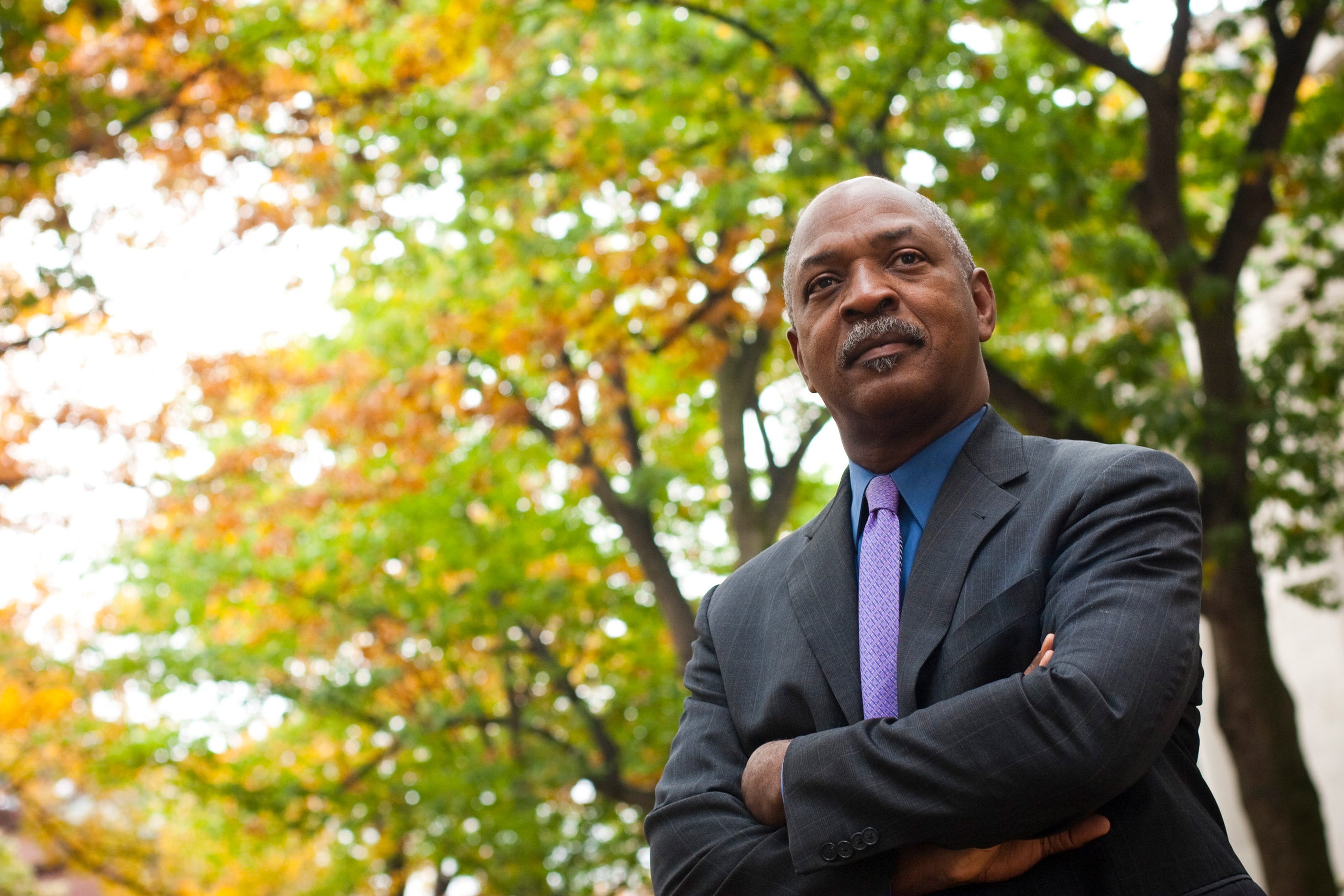 Ogletree is survived by his wife, Pamela Barnes; his two children, Charles J. Ogletree III and Rashida Ogletree-George; his four grandchildren: Marquelle Coreen Ogletree, Nia Mae Ogletree, Jamila Anita Ogletree, and Makayla Mae George; and four siblings: Richard Ogletree, Rosemarie Jacobs, Robert Ogletree, and Taalia Hasan. Ogletree was pre-deceased by two other siblings: Barbara Scoggins and Curtis Reed.
The Ogletrees were married for 47 years. Their 48th anniversary would have been August 9th.