Often, there's a bond between the donor of a new chair and the scholar who occupies it.
Harvard Law School's faculty has expanded rapidly in recent years, reaching an all-time high of 101 full-time members. During the past five years alone, 40 professors were hired, including those who hold the newly created clinical professorships. That growth enables smaller classes, increased collaboration between faculty and students, and unprecedented breadth and depth in curricular offerings and research. It has been made possible in part by the generosity of alumni who have endowed chairs during the recent fundraising campaign. Here, the Bulletin looks at eight of those donors and the ties that connect them to the professors who occupy the chairs they endowed.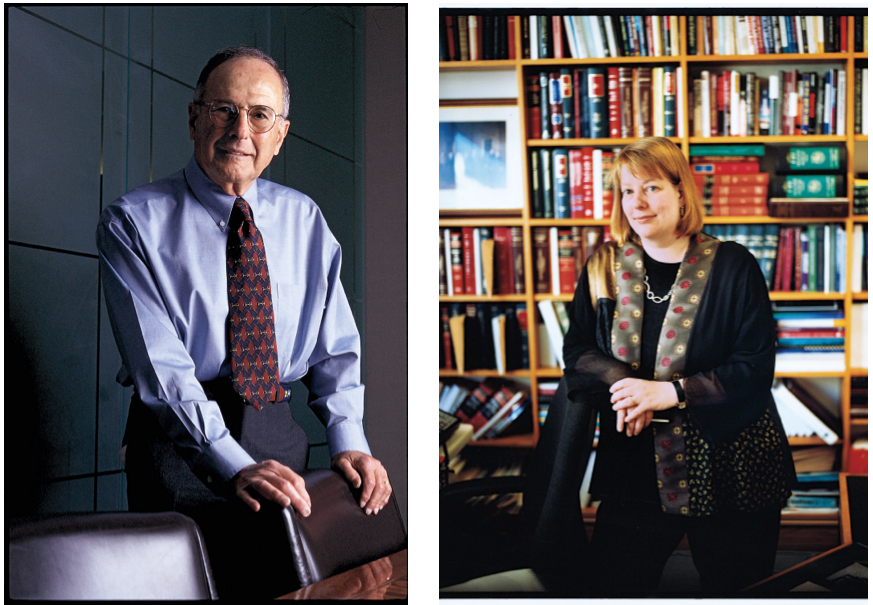 Howard Aibel '51 focused on plenty of areas of law as executive president and chief legal officer of ITT Corp. from 1968 to 1994 and then while developing the negotiation and mediation practice at LeBoeuf, Lamb, Greene & MacRae. His wife, Kathy, saw a different side of the legal system as a social worker and volunteer court-appointed guardian in Connecticut's juvenile courts. When they decided to endow a faculty chair, the Aibels made clear they had no preference about what area of law its holder might pursue. But Aibel found that the choice of Carol Steiker '86, a criminal procedure specialist who focuses her scholarship on the death penalty and advises the dean on all matters related to the school's public service mission, was a perfect fit. "I have had a great interest in civil liberties, having been a long-term 'card-carrying' member and supporter of the ACLU," says Aibel. "Then to discover that she is the dean's designee as faculty promoter to students of public interest legal practice was frosting on the cake."
"I'm very, very proud to be sitting in their chair," says Steiker of Howard Aibel and of Kathy Aibel (who died in 2006). "They really were committed to giving, not just in terms of money, but also with time, to make the world a better place."
---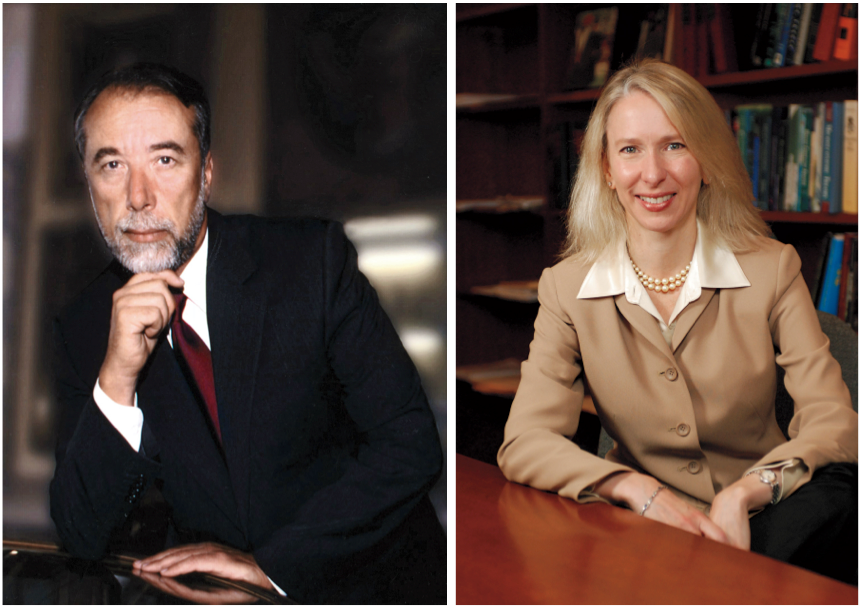 Domenico De Sole LL.M. '72 chose business over law when he graduated from HLS. He nonetheless credits the school with preparing him for his future success. As president and CEO of the Gucci Group, De Sole would turn the company into an $8 billion fashion industry giant, gobbling up luxury brands including Yves Saint Laurent and Boucheron. "I felt it was my duty to repay the school for the trust and the help," De Sole says. The one request De Sole made was that the chair benefit a professor who focuses on business law. The beneficiary is Kathryn Spier, an expert on law and economics and business strategy, who joined the faculty in 2007 from Northwestern University's Kellogg School of Management and School of Law.
"This helps diversify the faculty in terms of research and course offerings," says Spier. "Law students really benefit from getting a business education."
---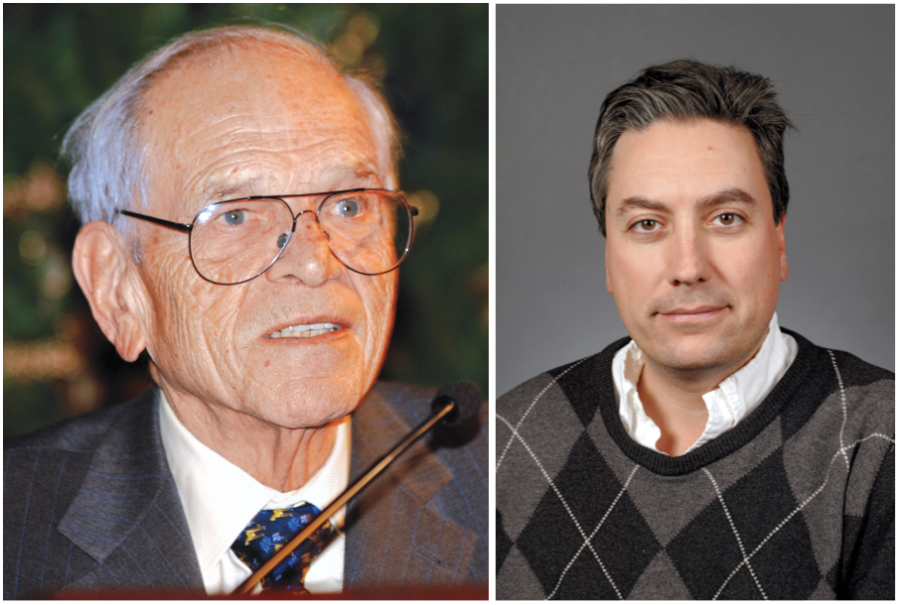 Joseph H. Flom '48 gained wide renown as one of the nation's leading merger and acquisition specialists, at Skadden, Arps, Slate, Meagher & Flom in New York City. But his interests are much broader, extending to human rights and bioethics. He has recently made donations to Harvard Law School for programs in both of those areas, both individually and as a trustee of the Carroll and Milton Petrie Foundation. Flom was a friend of Milton Petrie, a New York philanthropist known for giving money to leading institutions such as the Metropolitan Museum of Art and also to needy individuals he read about in the New York Post.
In 2005, the school established the Petrie-Flom Center for Health Law Policy, Biotechnology, and Bioethics. When it came to endowing a related chair, Flom—with a professorship in commercial law already in his name—was happy to see the establishment of the Carroll and Milton Petrie Professorship of Law. The first professor to hold the chair is Einer Elhauge '86, who also directs the Petrie-Flom Center (see related story).
"It's what one ought to do," Flom says of his support. "I thought the biotech revolution was running a lot faster than the legal underpinnings." And Harvard Law School, he says, is an ideal place for the study of these issues.
---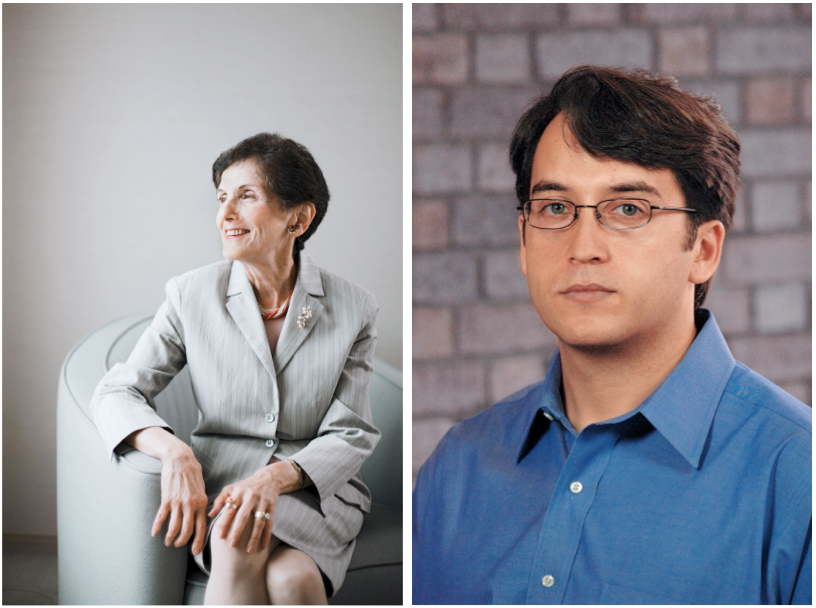 Rita E. Hauser '58 has been a longtime champion of human rights, both as a U.S. representative to the United Nations' Human Rights Commission and as a board member of the Global Humanitarian Forum. Her interest in human rights generally and the laws of war in particular motivated her to support Harvard Law School's Human Rights Program (see story, p. 50). Hauser made it clear that if the right professor could be found to fill a chair in the field, she'd endow it.
After Ryan Goodman, who had worked on the International Criminal Tribunal for the former Yugoslavia and at the U.S. State Department, joined the faculty in 2002, Hauser knew it was time to create the chair. Hauser has the highest praise for Goodman's scholarship and his leadership of the Human Rights Program, which he directs.
Goodman says, "The Rita E. Hauser Chair guarantees that the subject of human rights and humanitarian law will constitute a permanent priority at Harvard Law School. It is humbling to serve as the first occupant of this historically significant chair."
---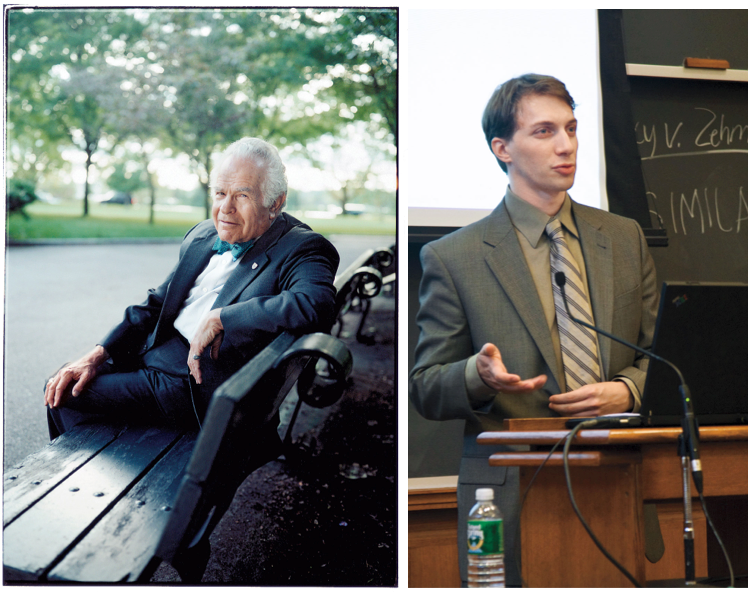 Charles Hieken '57 has wanted Harvard Law School to have a full-time patent law specialist on its faculty ever since he was a student looking for a professor to supervise his third-year paper on a section of the Patent Act of 1952. And in fact, his interest in the subject predated his time at Harvard Law. Hieken worked as an assistant to the patent attorney at an MIT laboratory for electronics after earning his bachelor's and master's degrees there. After graduating from HLS, he went on to a distinguished career practicing intellectual property law for the next 50 years, mostly at Fish & Richardson in Boston. So when he decided to endow a professorship, Hieken knew just what he wanted the focus to be. The result is Harvard Law's professorship focused on patent law—its holder a young faculty member who will make a perfect supervisor for a third-year paper on the subject.
"Having someone in practice with Mr. Hieken's experience take an interest in my scholarship and introduce me to people in the field has been invaluable," says Benjamin Roin '05, a specialist on the intersection between patent law and biotechnology, who joined the faculty earlier this year.
---
Michael Klein LL.M. '67 hasn't slowed down since retiring from law practice, which included partnership at WilmerHale in Washington, D.C. He co-founded the Sunlight Foundation, which aims to increase government transparency, and was president of the PEN/Faulkner Foundation, which supports literature and awards an annual prize for young novelists. In 2004, he decided he wanted to endow a professorship. "I got to a place, I was successful in life, and I wanted to do something to reciprocate for the support the law school gave me," Klein says. He didn't specify any particular area of law, but he and the recipient of the chair, Randall Kennedy, discovered several ties, including a common interest in literature. Kennedy is the author of four well-regarded books on racial issues, including, most recently, "Sellout: The Politics of Racial Betrayal." Kennedy grew up in Washington and graduated from the same high school as Klein's sons. After graduating from HLS, Klein taught civil rights law—also a focus of Kennedy's work—at Louisiana State University.
"The law school has an interesting set of professorships, including some old historical characters," says Kennedy. "It's a nice touch for me personally to occupy a chair named after somebody who is still with us—and still doing so much good in the world."
---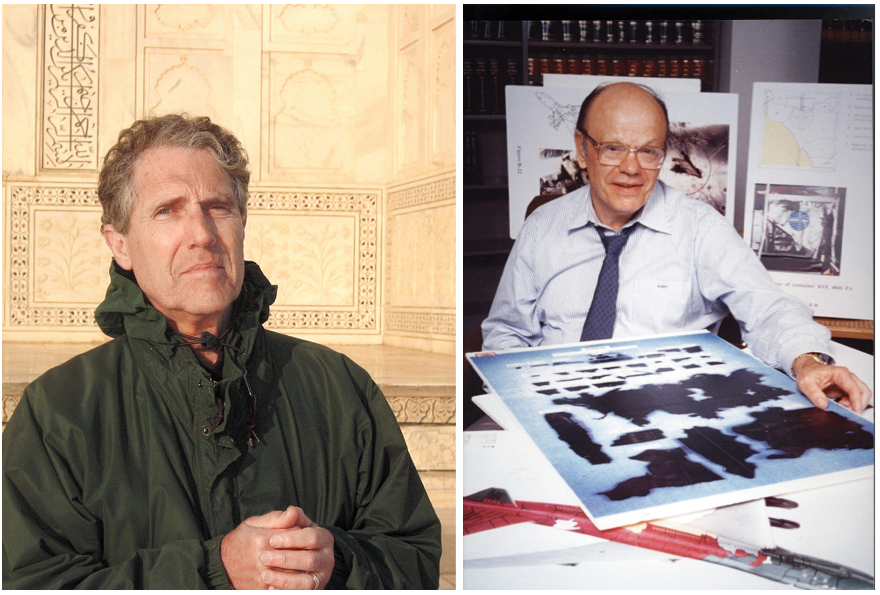 Lee Kreindler '49, whose law firm represented plaintiffs after nearly every major airplane disaster of the last half century, was widely considered the founding father of air disaster law. So it is only natural that David Rosenberg, the first
occupant of the Lee S. Kreindler Professorship of Law—endowed by Kreindler's family after his death in 2003—should share his interest in tort law. Ironically, Rosenberg notes, he and Kreindler were adversaries in a case not long ago. In a dispute over who should lead the plaintiffs' side of a complex litigation, Kreindler represented one group of victims in the 9/11 attacks in civil damage actions against several foreign countries, while Rosenberg served as a consultant to a different group of victims. "The professional attributes that enabled Kreindler to become a leading attorney were evident in our encounter," Rosenberg recalls. "He mastered the whole skein of the questions and material circumstances and patiently played his hand with exquisite timing and poise."
"The Kreindlers' decision to endow a chair is a remarkable moment for Harvard Law School and the profession it makes," Rosenberg says.
Ruth Kreindler says the gift reflects her husband's feelings toward the school that gave him a great legal education and laid the foundation for his career. "He always felt a sense of pride and gratitude toward the professors and Harvard Law School," she says.
---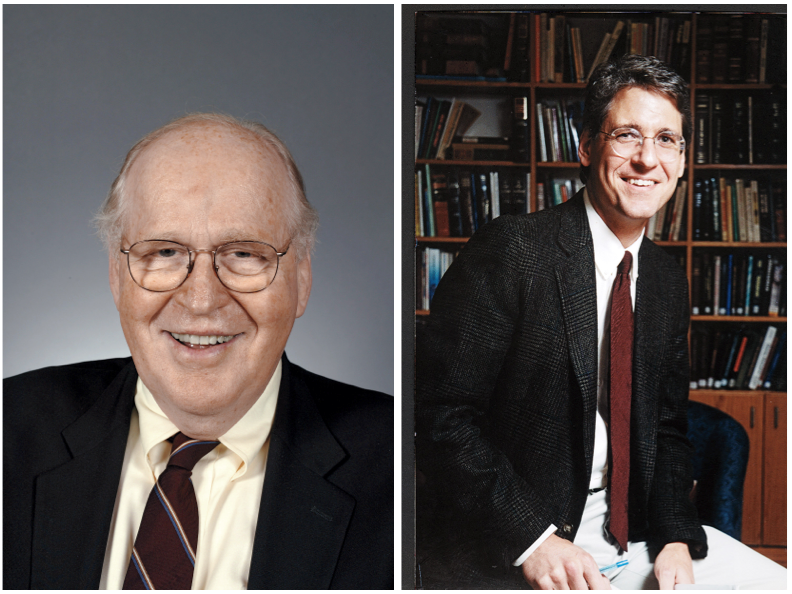 When Harvard Law Professor Alan Stone's sons, Douglas and David ('84) Stone, wanted to honor their father, they had a great vehicle for doing so. They sit on the board of the Smart Family Foundation, a philanthropy that has funded educational reform efforts and the University of Chicago's art museum. And when asked, their father knew just where he wanted the money to go. "I wanted them to give a chair to Harvard Law School," he says. "I just felt grateful to Harvard Law School. I've had my whole adult career here, and I wanted to give something back." He has been a professor of law and psychiatry on the Harvard faculties of law and medicine since 1972, and after he retires, the chair will bear his name. In the interim, it's named for his father-in-law, Alfred Smart, the co-founder of an educational firm and publishing company whose magazines included Esquire. The first faculty member to hold the chair is Jon Hanson, an expert on torts and corporate law, who most recently has been delving into an exploration of ideology, psychology and law.
"Alan Stone is not only a remarkable scholar and teacher, he is one of the most insightful, genial and generous people I know," says Hanson. "It is an extraordinary honor to receive a chair celebrating a person whom I've admired so much and with whom I have had the privilege of working over the last 15 years."