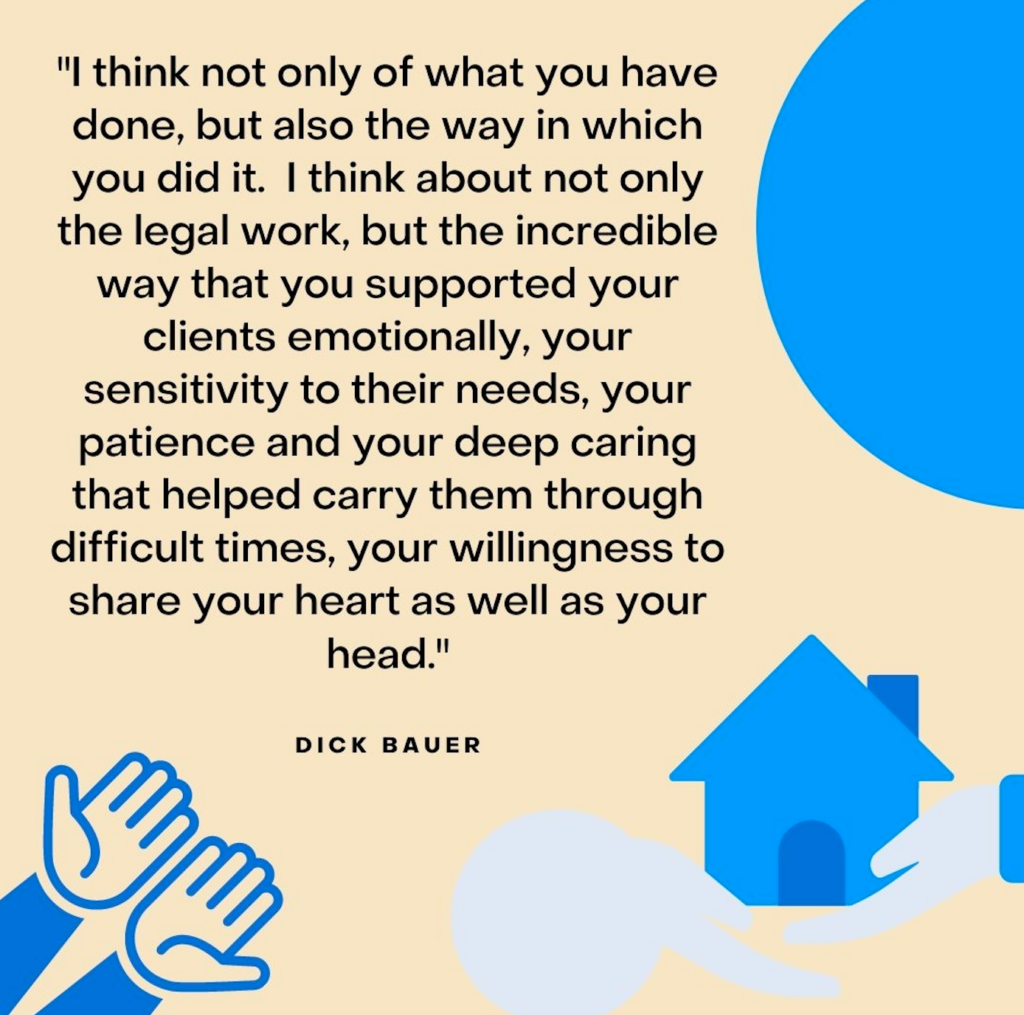 For almost a year, Attorney Dick Bauer has been the Clinical Instructor at the Tenant Advocacy Project (TAP). Dick is a graduate of MIT and Northeastern University Law School. He has worked in legal services since 1982, including 30 years at Greater Boston Legal Services and since then at a number of other legal services organizations. He is widely respected for his deep knowledge of housing issues and he quickly became part of the TAP community, supervising students who provide representation to local residents at administrative hearings related to public or subsidized housing.
As Dick wrapped up his time with TAP, he wrote to students and reflected on his time with the organization:
"I think of all the amazing work that you have done despite the being in the middle of a pandemic.
I think of the people who would have lost their housing and become homeless because of a threatened eviction or subsidy termination but for your advocacy. I think of those who were already homeless who would still be homeless, but because of you are now housed or on their way to being housed. I think of those who were in housing that did not meet their needs but because of your advocacy are being given reasonable accommodations to get into more appropriate housing, and those who had large arrearages but because of your advocacy the arrearages have been reduced or even eliminated, or at least the monthly payments substantially reduced.
I think not only of what you have done, but also the way in which you did it. I think about not only the legal work, but the incredible way that you supported your clients emotionally, your sensitivity to their needs, your patience and your deep caring that helped carry them through difficult times, your willingness to share your heart as well as your head.
I think about how you stretched to make sure that if something needed to get done it got done, such as following up with the agency that was providing the security deposit so that the client whose voucher you had saved or won could actually move in, or calling the storage warehouse where the client's possessions had been placed to try to make sure that the client would be able to get them back, or making arrangements for a mover to get the client into a new apartment, or repeatedly calling RAFT and other agencies to get funds to pay off arrearages. I think of one TAP member drafting a complaint for a client to file a pro se to meet the statute of limitations deadline and how that resulted in a court order that BHA had to give that client a hearing, and then when that TAP member couldn't do the hearing another TAP member stepped up to do it. I think of a whole team of TAP members dropping everything to make sure that a deadline got met to make sure that BHA would stop its eviction process and consider a reasonable accommodation. I think about when newer advocates had hearings scheduled on short notice, more experiences advocates stepped up to co-counsel with them.
I think about the ways that all of you together built an organization that could function efficiently and effectively despite having to be remote. I think about how we celebrated our victories and I think about how each of you took care and supported one another through the hard times, including this past week when we learned about the deaths of two of our clients. I wish that we could have done those things in person, but the fact that they happened at all under these circumstances speaks volumes about you.
I think of the many clients that you all will have in your careers, and how lucky they will be to have you as their lawyers."
Thank you Dick, and thank you TAP students for adapting to remote work, and continuing to offer crucial services to clients.