by Matt Stephen
via Washington Council of Lawyers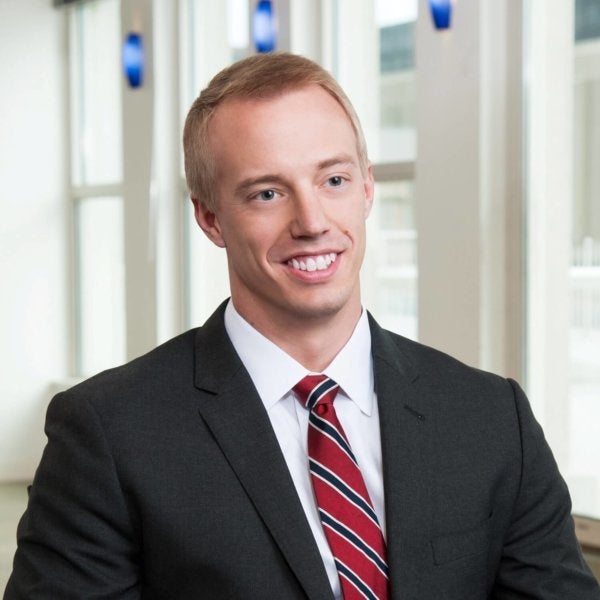 OCP note: During his time at HLS, Brad was a student at the Transactional Law Clinics and the Harvard Law Entrepreneurship Project.
Brad Guest volunteers his time to support D.C.'s small businesses because for the clients "this is often their life's dream, something they've poured their time and energy into often exclusively for a long time. Receiving pro bono legal advice may be the only opportunity for these individuals to get answers to questions that could not only impact their business, but also their personal risk and liability."
Brad was born in St. Louis and relocated to the East Coast to attend college at the University of Virginia. He majored in business and economics before beginning a career in corporate finance. Inspired by his father, an attorney in St. Louis, Brad decided to attend Harvard Law School. With a background in finance, Brad focused on corporate law after graduating.
A fifth-year associate at Latham & Watkins LLP, Brad credits his firm's generous policy of "encouraging, promoting, and recognizing pro bono service" for his regular pro bono engagement. He began his pro bono service almost immediately after joining Latham in 2016. Brad has been volunteering at the D.C. Bar Pro Bono Center's Small Business Legal Assistance Program for nearly five years. "I was hooked after my first time," Brad said. "Volunteering and providing advice to a client through the Pro Bono Center never feels like work."
Pro bono service can be its own reward, but appreciation from clients is also gratifying. "Pro bono clients are invariably extremely grateful to get the opportunity to ask questions and have their concerns addressed, often after feeling like they won't get the chance," Brad said. "It's very fulfilling to sit with these individuals and hear how the advice they get at the clinics will directly and beneficially impact them and their business."
The Pro Bono Center's Small Business Legal Assistance Program supports small business owners and aspiring entrepreneurs through clinics, training and online resources. The Center's monthly walk-in Small Business Brief Advice Legal Clinics enable business owners to consult with an attorney on their entity formation, contracts, commercial leasing, intellectual property, and more.
Since the onset of the pandemic, the Clinic has offered weekly remote consultations for small business owners and developed special clinics to connect business owners with volunteers on COVID-19 related topics such as financial assistance programs and how to reopen safely for employees and customers.
"Not only has Brad provided advice to over 100 small businesses through the small business clinic and our COVID-19 clinics, but his assistance comes with extraordinary enthusiasm and thoughtfulness that small business owners notice," said Pro Bono Center Staff Attorney Christine Kulumani.
"Volunteering with the Pro Bono Center enables me to give direct, one-on-one advice to individuals who often desperately need legal advice or guidance that they simply can't afford," Brad said. "They often have very fundamental and important questions that could make or break their small business. Without the Pro Bono Center, many of these individuals have no choice but to proceed without crucial assistance and insight."
Matt Stephen is Communications Specialist for the D.C. Bar Pro Bono Center.