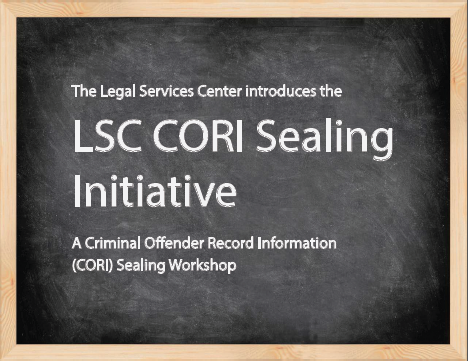 The Legal Services Center strives to place the voices of Boston's communities at the heart of its practice.
While Julie McCormack, Director of the Safety Net Project, facilitated People's Law School community workshops around the Boston area over the past 5 years, she learned first-hand from clients and community partners of the staggering, unmet demand for criminal record sealing services. Due to LSC's specialized projects serving domestic violence survivors, low-income individuals, people with disabilities, veterans, and others, Julie recognized that the Legal Services Center had a unique opportunity to leverage its existing resources to respond directly to requests from community partners and clients to expand access to these critical criminal record sealing services.
With criminal record information publicly available to employers, banks, and landlords, a criminal record operates as a de facto sentence for individuals long after their time is served by erecting barriers to financial stability. Indeed, for the estimated one in three American adults with a criminal record, ordinary essentials such as finding a well-paying job, obtaining safe and affordable housing, getting a student loan, and purchasing a decent car are nearly impossible to attain. This reality means that those with criminal records experience poverty, unemployment, and homelessness at far higher rates than their peers without records. In effect, a criminal record is a harsh, life-long obstacle for those striving to lift themselves out of situations of personal and financial hardship. The discrimination experienced by individuals after their encounter with the criminal justice system reverberates throughout their families and communities, exacerbating inequality and hardship.
Fortunately, the 2018 Criminal Justice Reform Act has accelerated and expanded sealing opportunities. Individuals with old criminal records can now have their Criminal Offender Record Information (CORI) sealed so that it cannot be seen or held against them by potential employers, landlords, and banks. For the first time in Massachusetts history, the 2018 law also provided for the expungement of a criminal record for de-criminalized offenses (such as the possession of less than 2 ounces of marijuana). These reforms provide a path toward a brighter future for individuals fighting against the barriers and stigma that accompany a criminal record.
However, this change in the law did not provide the legal resources necessary to help people exercise their right to criminal record sealing. Organizations such as Greater Boston Legal Services and Rosie's Place have taken an early lead in identifying the need for sealing services by providing self-help resources and walk-in clinics. We applaud the groundbreaking work of these organizations and seek to expand CORI sealing opportunities – particularly to the veterans, military families, low-income students, disabled individuals, and domestic violence survivors that we already serve – through free workshops every third Tuesday of the month, from 4pm to 6pm.
We believe this is a valuable service with tremendous spillover effects in combatting inequality and injustice. Moreover, we believe that by hosting these CORI Sealing Workshops, LSC is leveraging its connections with the veteran and local communities – as well as its easily accessible location – to respond to an urgent community need.
For more information about our new CORI Sealing Initiative, please visit our information page.