via HIRC blog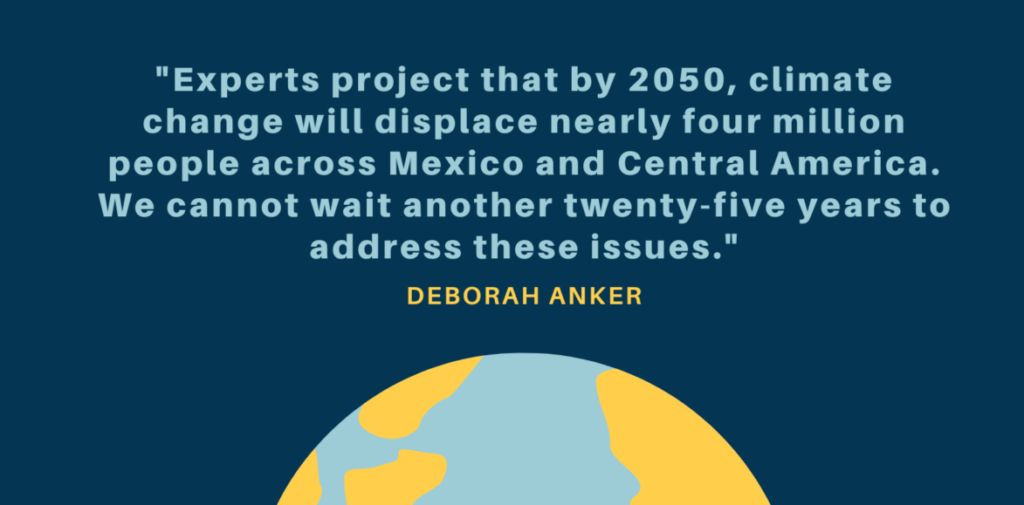 On April 22, our Program, in partnership with the HLS Immigration Project, the University Network, students from Yale Law School's Environmental Law Association, and the Yale Immigrant Justice Project, released the report Shelter from the Storm: Policy Options to Address Climate Induced Displacement from the Northern Triangle. This report examines the large-scale migration of residents from the Northern Triangle and analyzes the impacts of climate change on migration and its relationship to current and future migration flows.
"Experts project that by 2050, climate change will displace nearly four million people across Mexico and Central America. We cannot wait another twenty-five years to address these issues. The Biden administration must reform our immigration infrastructure now," said Program Founder Deborah Anker, who co-authored the report.
The Northern Triangle (El Salvador, Guatemala, and Honduras) has already seen both increased severe weather events and long-term climate change. Last year, Hurricane Eta and Iota ravaged Central America, marking the most active storm season on record. The convergence of the hurricanes' impact, the COVID-19 pandemic, and pre-existing socioeconomic vulnerabilities in the region will continue to push people from their homes, into urban centers, and ultimately, into the United States.
"Those displaced by climate change maintain their human rights to physical security and dignity. By implementing practical changes within the existing immigration and asylum framework, the Biden administration could make an outsized impact on the wellbeing of millions of people in the coming decades," said John Willshire Carrera, Co-Assistant Director of the Harvard Immigration and Refugee Clinic at Greater Boston Legal Services.
You can read more about the report here.