via Animal Law & Policy Clinic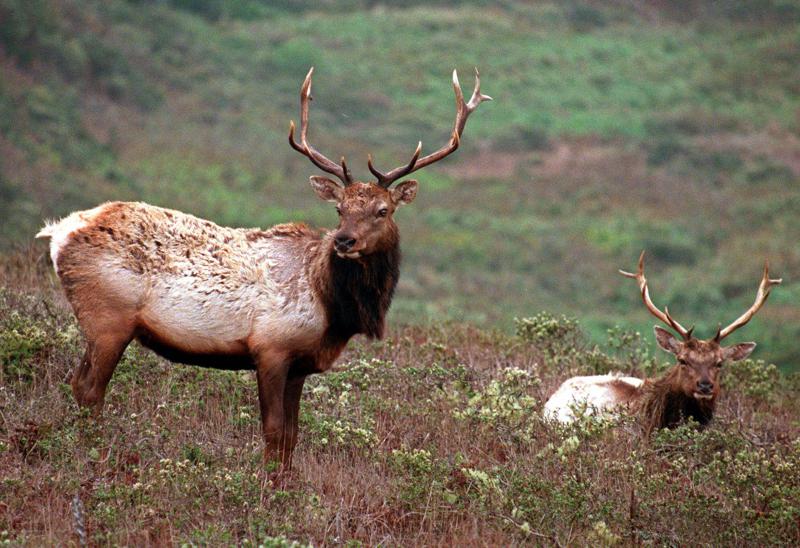 Animal Law & Policy Clinic Files Lawsuit on Behalf of Residents and Animal Legal Defense Fund
Harvard Law School's Animal Law & Policy Clinic took legal action against the National Park Service today for its negligence in allowing tule elk to die slow and preventable deaths as a result of starvation and dehydration at Point Reyes National Seashore in Northern California.
The lawsuit was filed in the United States District Court for the Northern District of California on behalf of several California residents who have personally witnessed emaciated and dead elk at Point Reyes and the Animal Legal Defense Fund. The Plaintiffs are represented by attorneys Kate Barnekow and Katherine Meyer, Director of Harvard Law School's Animal Law & Policy Clinic.
"The federally protected tule elk at Tomales Point in Point Reyes National Seashore are suffering and perishing at alarming rates due to an outdated General Management Plan that impedes the ability of these animals to find water in a drought-prone region," says Animal Legal Defense Fund Executive Director Stephen Wells. "It's the responsibility of The National Park Service to ensure tule elk are protected and not barred from access to water that would help them survive in conditions that are likely to worsen as a result of climate change."
The lawsuit challenges the failure of the Park Service to revise the 1980 General Management Plan for the Tomales Point portion of the Point Reyes Seashore to address the fact that dozens of these elk—who are required to be protected by federal law—are dying slow and prolonged deaths from starvation and dehydration because they cannot get past a fence that the Park Service maintains along the southern border of their habitat on the Tomales Point peninsula. Already 152 elk—more than a third of the population—have died since last year, with many more expected to die again this year due to the ongoing drought and the elks' inability to get to forage and water on the south side of their habitat (which the Park Service leases to private ranchers).
The fence was erected decades ago to prevent the elk from competing for forage and water with the cattle that are permitted by the Park Service to graze on this public land. However, for years now, due to climate change and other factors, drought conditions in this area have become dire, and the elk—who were re-introduced to this area and are extremely popular with the millions of visitors to the Seashore—have been unable to obtain access to sufficient food and water. All last year the Park Service vehemently denied that the elk were without sufficient water and forage. However, necropsies of dead elk obtained under the Freedom of Information Act show that the emaciated elk died of starvation and/or dehydration. In response to the huge public outcry about this state of affairs, the Park Service recently announced that it would provide supplemental water to the elk, but it still refuses to remove the fence or provide any supplemental forage, and the water it has provided is only accessible by one of the four herds at Tomales Point.
"The National Park Service has a responsibility to protect and preserve these beautiful animals. The idea that depriving them of food and water somehow fulfills that responsibility isn't just absurd, it's undeniably inhumane," says Barnekow who is representing the Plaintiffs.
One of the Plaintiffs, Laura Chariton—a resident of California who has been visiting the Point Reyes National Seashore since 1974—says that witnessing the suffering of Tule elk at Tomales Point haunts her every single day.
"I have seen elk who were emaciated, dehydrated, and lacking access to appropriate water sources," she said. "Knowing that the animals are suffering is alone deeply upsetting, but witnessing it myself has been horrifically distressing for me." She adds that in sharp contrast to previous years, she has not seen a single elk calf at Tomales Point in the last year. "This, to me, is a sign that the elk on Tomales Point are in such bad shape that they either will not breed or they have no ability to care for or otherwise protect their young. This is heartbreaking," she says.
Plaintiff Jack Gescheidt, an environmentalist, artist, and educator has lived in California since 1996. He has been visiting Tomales Point in the Point Reyes National Seashore on a regular basis for at least twenty years. His horror at what he encountered drove him to take troughs of water to the Tule elk for which the Park Service issued him a citation. Like millions of others, he has visited Point Reyes National Seashore to enjoy and observe the Tule elk—a precious natural resource. He no longer feels able to do so without continuing to be horrified by seeing dying or dead elk.
Mr. Gescheidt, who personally observed an emaciated elk while hiking in the area, says: "The knowledge that approximately a third of the Tomales Point herd of Tule elk has already died from a lack of adequate water and forage is absolutely chilling. But far beyond that, any visit to the area for me is now akin to going to a dog shelter: I see these beautiful animals and want them to experience a healthy, happy, safe life, but I know that so many of them will die—through no fault of their own."
Plaintiff Skyler Thomas, a wildlife photographer, videographer, and resident of California has personally seen as many as fifteen emaciated, dead elk—an experience that horrifies him, and a sight he cannot get out of his mind. He describes hiking through Tomales Point with the sun blazing down and feeling the insufferable heat. "I began to imagine what it must be like for the elk in the area who do not have sufficient access to water and food and who are unable to leave Tomales Point to find whatever resources they may need, he says. "This is absolute and total cruelty."
The Plaintiffs are asking the Court to order the National Park Service to revise the General Management Plan for this portion of the Seashore and to "preliminarily and permanently enjoin Defendants from continuing to deprive the Tule elk at Tomales Point of adequate food and water."