via HRP blog
by Bonnie Docherty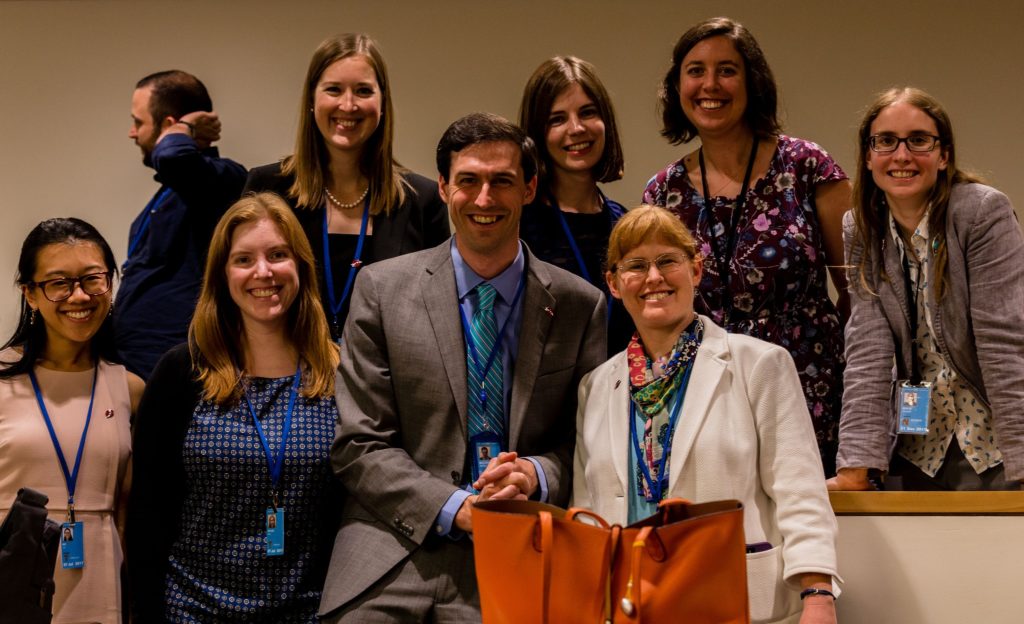 At the stroke of midnight on January 22, 2021, the Treaty on the Prohibition of Nuclear Weapons (TPNW) was transformed from words on paper to binding law. States parties — countries that have have agreed to be bound by the treaty — are now obliged to uphold a ban on nuclear weapons, take measures to ensure the weapons' elimination, and address the harm caused by past use and testing. Signatory states may not violate its object and purpose.
The TPNW's entry into force, triggered last October when Honduras became the 50th state to ratify, is a milestone for humanitarian disarmament, a crucial step toward a world free of nuclear weapons, and an uplifting moment in the midst of a devastating pandemic.
This landmark moment also offers an opportunity to look back on negotiations at the United Nations in New York in 2017. The hard work, determination, and collaboration of hundreds of individuals made the TPNW a reality.
My colleague Anna Crowe LLM'12 and I participated in the negotiations with a four-person team from Harvard Law School's International Human Rights Clinic. The students included Carina Bentata JD'18, Molly Doggett JD'17, Lan Mei JD'17, and Alice Osman LLM'17.
At a reunion celebration last week, our team reflected on the experience and shared memories that will likely resonate with our fellow campaigners. "Witnessing the treaty's adoption was overwhelming," Mei said. "It felt like a key moment in my life. Even though it wouldn't affect me personally, it was monumental."
During the four weeks of negotiations, we partnered with the International Campaign to Abolish Nuclear Weapons (ICAN), which later received the 2017 Nobel Peace Prize for its efforts. We engaged in advocacy and offered legal advice on a range of topics.
While negotiators devoted much of their attention to the TPNW's prohibitions on future actions, we focused on the treaty's positive obligations, affirmative requirements to mitigate the harm already inflicted by nuclear weapons. In partnership with campaigners from Article 36, Mines Action Canada, and Pace University, we argued successfully for obligations on victim assistance and environmental remediation. This group became known as ICAN's "pos obs team," after the positive obligations for which we were calling.
From the Mundane to the Monumental

Treaty negotiations are intense. They can be simultaneously exhausting and energizing. They involve round-the-clock work for weeks at a time, much of it behind the scenes.
Several of our students recalled the more mundane moments of the process. These moments generally happened outside of the plenary — in chance encounters in the hallways, in UN lounges where dozing delegates seek refuge, and at offsite offices or coffee shops.
The Vienna Café in the basement of the UN headquarters became the hub for the pos obs team. There we held internal strategy discussions, honed our arguments, and fortified ourselves with crêpes and caffeine.
"In that environment, we were certainly stressed out, but we had a common goal that helped us maintain positivity," Crowe said. "There was a feeling of solidarity with a cause and camaraderie with each other."
Undaunted when civil society was excluded from a key session on the positive obligations, for example, we headed to the café to continue our work via email and What's App. Our state allies kept us posted on developments in the room, and we sent back suggested treaty language and relevant precedent.
After a tense period of silence, the diplomats emerged to report that they had reached agreement on the victim assistance and environmental remediation provisions we sought. The TPNW would require affected states parties to address the harm nuclear weapons had caused in their territory, and other states parties to provide them the support necessary to fulfill their obligations.
Such collective efforts of states, international organizations, and civil society campaigners culminated in a strong humanitarian treaty designed to prevent future harm from nuclear weapons and respond that which has occurred. On July 7, we watched 122 lights flash green on the UN conference room's voting board, signaling the treaty's adoption with only 1 objection and 1 abstention.
Crowe remembered "the feeling in the room when people realized it was done and there could be no backtracking on the text after that moment. It was complete and something we could be proud of." Speaking of the positive obligations in particular, Doggett said, "I'm proud of what our team achieved in actually getting them in the treaty in an implementable and palatable way. Having them in the text of the treaty was a bright spot."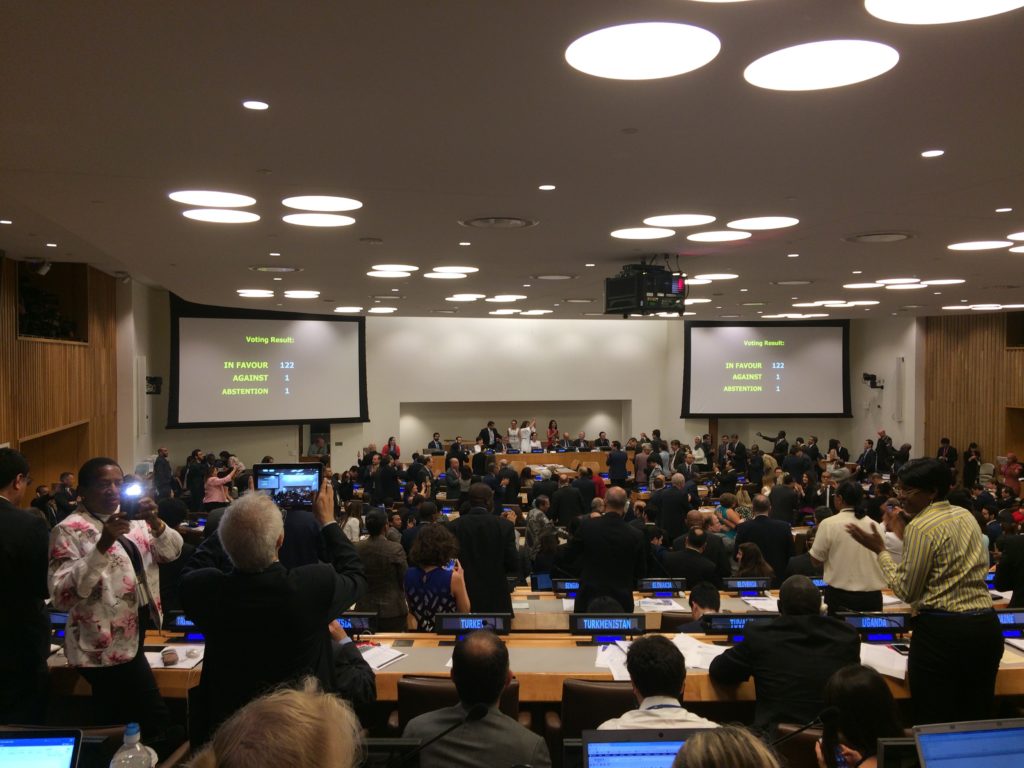 The Power of People

The TPNW negotiations offered participants eye-opening as well as memorable experiences. Our team learned that while new law was the goal, people were both the motivation and the mechanism for achieving it.
Like all humanitarian disarmament instruments, the nuclear weapons ban treaty was motivated by a desire to reduce arms-inflicted human suffering and environmental damage. Having researched the effects of nuclear weapons use and testing and heard the testimony of survivors, Doggett stressed that "really understanding human experience and what happened was a key part of being able to advocate for victims' rights. Our work was grounded in reality. It was not just an abstract concept."
Others on our team were struck by the influence of different players in the negotiations.
Bentata valued the opportunity to attend ICAN meetings and "look behind the curtain at how coalitions worked." She recalled being surprised when Elayne Whyte Gómez, the Costa Rican president of the conference, came to one of the campaign's meetings. "She actually sat down and listened and heard what ICAN wanted. I didn't realize to what extent civil society groups get their voice heard in the UN forum," Bentata said.
Individuals as well as coalitions make a difference in negotiations. When convening potential government proponents of the victim assistance and environmental remediation provisions, our pos obs team sought out allies from other disarmament processes. Mei said she was impressed by "how personal relationships could influence something as impactful as a global treaty."
While disarmament veterans came with connections, ICAN's younger campaigners, including our law students, brought energy, fresh eyes, and recently acquired expertise to the process. Having watched our team construct persuasive arguments and present them to delegations in New York, Crowe praised "the dedication of the students and their willingness to go the extra mile for something they believed in."
The lessons of teamwork, coalition building, and lawmaking continue to serve them well in their legal careers.
Hopes for the Future

The TPNW's entry into force gave our team and other participants in the negotiations a chance not only to reflect and reminisce, but also to look ahead and share hopes for the treaty they helped to produce.
Doggett expressed her desire for the TPNW's rights-based approach to victim assistance and environmental remediation to become "the foundational approach going forward" and to provide actual relief for survivors and the contaminated environment. "That's what we were working towards and advocating for, and I hope it bears out successfully as implemented."
Regarding the treaty as a whole, Mei emphasized the importance of setting a global norm that nuclear deterrence is "not a viable strategy for security." Bentata added, "I hope the treaty makes nuclear disarmament a greater priority for countries, and that the general population recognizes [nuclear disarmament] as important and urgent and possible to do."
---
Bonnie Docherty JD'01 is the Associate Director of Armed Conflict and Civilian Protection in the International Human Rights Clinic at Harvard Law School. She founded and directs the Clinic's Armed Conflict and Civilian Protection Initiative. Docherty specializes in disarmament and international humanitarian law, particularly as they relate to civilian protection during armed conflict.