The court's decision is likely to have national implications, says Phil Torrey, the clinic's director.
By Rachel Reed via Harvard Law Today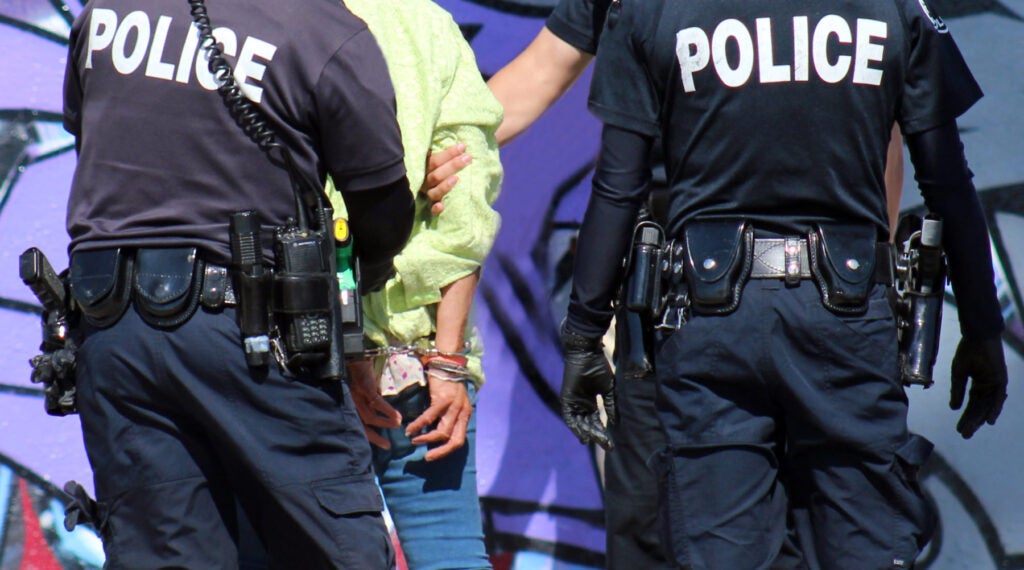 The Harvard Law School Crimmigration Clinic, in concert with Boston-area immigration attorneys, recently convinced judges at the United States Court of Appeals for the First Circuit to give a Salvadoran national another chance at asylum – and to discredit the use of controversial municipal gang databases in immigration proceedings.
In an en banc – or full panel – decision, the First Circuit judges agreed that a Boston police database containing the names and activities of alleged gang members was unconvincing and unreliable, a determination that Philip L. Torrey, director of the Crimmigration Clinic, says may impact the fate of immigrants across the country.
"It is a huge decision from the court to finally say, 'this isn't right,'" he says.
The decision means that Cristian Joshue Diaz-Ortiz, an undocumented immigrant from El Salvador who maintains that police wrongly concluded he was a member of the MS-13 gang, will receive another chance at asylum in the U.S.
It also means immigration judges in the First Circuit will need to use caution in relying on reports from Boston's – and other cities' – gang databases in evaluating the character and truthfulness of applicants.
These controversial reports – called Field Interrogation Observations – are typically written by police officers and are records of interactions between members of the public or other evidence of possible gang membership. The observations – none of which contain allegations of crimes – are then assigned points, says Torrey, which are added up to determine a person's likelihood of being a member of a gang.
Most people never know they are included in the database. "There is no mechanism to get yourself off of the gang database, or even to confirm that you are on it," says Torrey.
Worse, the reports are often incomplete, without context, or just plain wrong, says Torrey, and can also be subject to racial bias. This is because the reports are based on subjective police observations, often in neighborhoods with a high number of people of color. Diaz-Ortiz, the defendant, had been assigned points for casual conversations he had been seen having with suspected gang members at school or on the street.
And these other suspected gang members, adds Torrey, might themselves have been incorrectly branded based on the same flawed reporting system.
"I had a client I represented who was detained in immigration custody four years ago. He had no criminal record whatsoever, but was in custody based on one of these reports. He had been labeled a gang associate by the Boston police department because he had accrued points in the gang database for things like wearing black Nike sneakers in a park. He also accrued points because he was regularly seen at a particular M.B.T.A. stop where the police knew that there was gang activity happening. The problem is that that was the closest T stop to his house, and he had to use it to go to two different jobs to support his family."
The result, says Torrey, is that the database "becomes a targeting of entire communities, particularly in places like East Boston, Chelsea, Revere — communities with high immigrant populations, communities of color," he says.
Working with Diaz-Ortiz's counsel, Torrey, along with clinical instructor Sameer Ahmed, and Harvard Law students Austin Nielsen-Reagan '22, Maura Smyles '22, and Nnamdi Jogwe '22, offered strategies for the case. The team later submitted an amicus, or friend of the court, brief outlining why the use of gang reports was troublesome in general, and in Diaz-Ortiz's case specifically. Ahmed also presented at oral argument before the en banc court last summer.
Put simply, says Torrey, "Our argument was that it is fundamentally unfair to use these reports in removal hearings."
The full panel at the First Circuit agreed: the reports were unreliable and unfair, and should not have been relied on by immigration officials in rejecting Diaz-Ortiz's asylum application.
Torrey says that the opinion is great news for Diaz-Ortiz, and for others in similar situations in the First Circuit. "Within Boston, the use of those gang packets is going to be significantly undercut, which is really, really important. I also think that it's going to hopefully push the campaign to get rid of the city's gang database."
And Torrey says that he anticipates the case will be harnessed by advocates around the country. "Other circuits can now reference this case in their own decision-making processes, and the fact that it's an en banc decision — that a majority of all the judges in the First Circuit have agreed that these reports shouldn't be used — will have significant weight. I think this will be really persuasive for other courts."
Nielsen-Reagan, who says he was heartened by the decision, added, "While it will never repair the damage that the database has inflicted on Mr. Diaz-Ortiz and others like him, it does create an important precedent that advocates will be able to point to in the future when representing people harmed by gang databases. Gang databases like Boston's embody so much of what is wrong with criminal law enforcement in America, and their abolition is long overdue."
Jogwe said he was excited by the decision and cautiously hopeful. "I'm optimistic, but I am still unsure how many will follow [the First Circuit]," he says. "Regardless, I hope that communities gain momentum from this decision to continue to organize to end gang databases. As many community organizations fought for in Boston specifically, I yearn for Mayor Wu ['12] to fulfill the promises she put forth on her platform to end the Boston gang database. I also hope that this decision illuminates the faultiness in these databases, [in order] to allow more people to live their lives in this country."
Smyles says she is deeply honored to have worked alongside a talented and dedicated team in achieving this victory, but agrees that the work is not yet done. "As long as this database exists, it serves to facilitate discriminatory surveillance of young Black and brown members of our community and to punish them for perfectly lawful teenage behavior," she says.