Each of the newly-elected leaders mentioned in this article are also alumni of a variety of our clinics and Student Practice Organizations! Michelle Wu, JD '12, was a member of the Harvard Mediation Program and completed clinical placements with Boston Medical Center's Medical-Legal Partnership for Children; Ruthzee Louijeune, JD/MPP '14, was a member of Project No One Leaves, the Harvard Legal Aid Bureau, and a volunteer with the Harvard Immigration and Refugee Program; Jared Nicholson, JD '14, was a member of Project No One Leaves, the Tenant Advocacy Project, and the Harvard Legal Aid Bureau.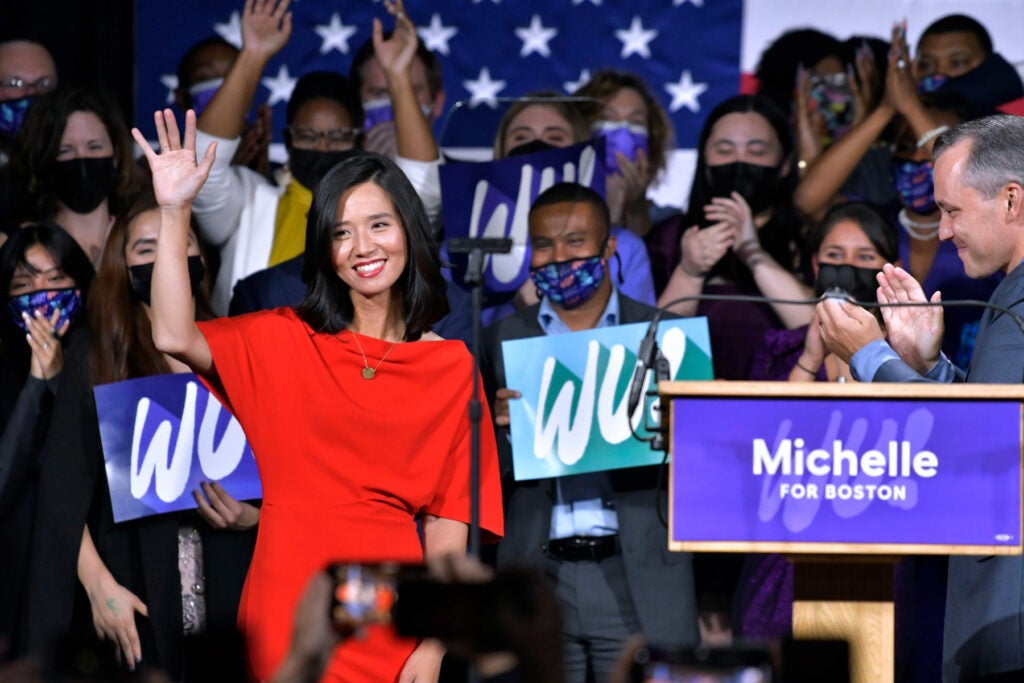 Michelle Wu '12, the 36-year-old daughter of Taiwanese immigrants, was elected mayor of Boston on Tuesday. Her historic victory will make her the first woman and the first person of color elected to lead Boston when she takes office on Nov. 16. She will follow acting Mayor Kim Janey, who became the first Black woman to hold the seat after Marty Walsh resigned in March to become President Joe Biden's labor secretary.
"One of my sons asked me the other night if boys can be elected mayor of Boston. They have been, and they will again someday, but not tonight," Wu said after her election Tuesday night. "On this day, Boston elected your mom, because from every corner of our city, Boston has spoken."
Other Harvard Law alums are leading cities around the country, including Jorge Elorza '03 in Providence, Rhode Island; Adrian Perkins '18 in Shreveport, Louisiana; Keith James '82 in West Palm Beach, Florida; Sylvester Turner '80 in Houston, Texas; Andrew Friedberg '05 in Bellaire, Texas; Sam Liccardo JD/MPP '95 in San Jose, California, and Darcy Paul '03 in Cupertino, California.
A former Boston City Council president — the first Asian American to hold that role — Wu was first elected in 2013 to the council, where she served for eight years. A graduate of Harvard College and Harvard Law School, she gained experience in community advocacy at the HLS WilmerHale Legal Services Center in Jamaica Plain, providing legal advice to low-income small business owners. She was also involved in HLS' Tenant Advocacy Project and Harvard Mediation Program. Wu was inspired, and her candidacy was endorsed, by her former Contracts professor Sen. Elizabeth Warren, for whose Senate campaign she had worked. As a candidate, Wu put forward policy proposals around affordable housing and transportation, among other issues, vowing to push for changes such as rent stabilization and a "fare-free" public transportation system.
Wu is not the only HLS grad to be elected to city government in Massachusetts this week. Ruthzee Louijeune JD/MPP '14 was elected a Boston city councilor at-large. Louijeune served as senior counsel on Elizabeth Warren's presidential and Senate campaigns. While a joint degree student at Harvard Law School and the Harvard Kennedy School, Louijeune was appointed by then-Mayor Thomas Menino to serve on the Advisory Committee on Student Assignment for Boston Public Schools. She also assisted people facing eviction through the Harvard Legal Aid Bureau and its Project No One Leaves. She will be the first Haitian American to serve on the council.
Jared Nicholson '14 was elected mayor of the city of Lynn, Massachusetts. A three-term member of the Lynn School Committee, Nicholson has been a clinical professor of law at Northeastern and director of its Community Business Clinic. At HLS, he served as executive director of the Harvard Legal Aid Bureau. After graduating, he was awarded a Skadden Fellowship which he used to create a community development practice at Northeast Legal Aid that focuses on providing legal assistance to low-income entrepreneurs and small businesses in Lynn and Lawrence.