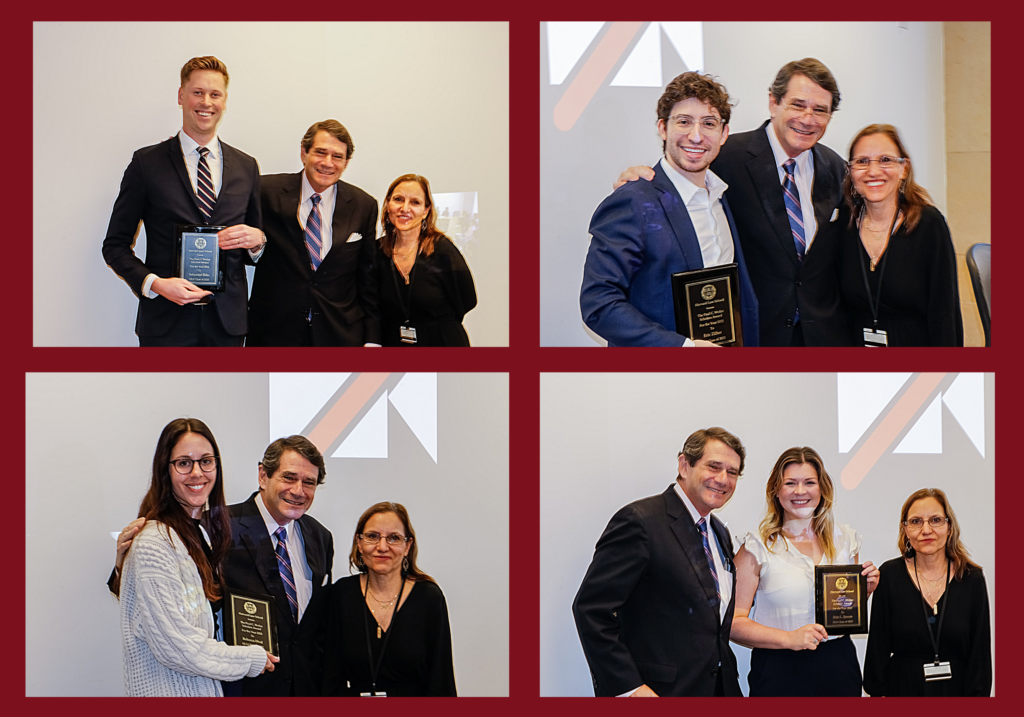 On April 11, 2022, four HLS Sports Law Clinic students were honored with Weiler Awards at the 2022 Harvard Sports Law Symposium.
The Weiler Awards were established in 2008 in honor of Paul C. Weiler, Henry J. Friendly Professor of Law Emeritus at Harvard Law School, considered to be the founder of American sports law and one of America's foremost labor law scholars. Weiler passed away in 2021 after a long illness; "Paul represented the best of our profession and of the legal academy," said Harvard Law School Dean John F. Manning '85. The Paul C. Weiler Endowed Scholarship Fund supports outstanding sports law students, and this year's awards were given to four students who have participated in the Sports Law Clinic: Sebastian Edin, JD '23, Rebecca Hval, JD '22, Erin Savoie, JD '22, and Eric Zilber, JD '22.
We caught up with several of this year's Weiler Scholars to learn about their involvement with the Sports Law program at HLS and the impact their clinical placements have had on their career aspirations.
---
Office of Clinical and Pro Bono Programs (OCP): What sparked your interest in Sports Law?
Eric Zilber (EZ): The story begins with my parents who emigrated from Odesa, Ukraine in the early 90's to escape rampant anti-Semitism and for better opportunities in the United States. I was born in Brooklyn, NY and for the first few years, I only spoke Russian. Sports helped me fit in, especially when I moved to a mostly American school. I played every sport growing up, but my true love started in first grade watching the 2000 NBA playoffs with my dad. While I've added many other leagues over the years, the NBA will always hold a very special place in my life.
This was particularly true after my mom passed away from lung cancer after college graduation. Sports 100% saved me. At the time, I had decided to pursue tax law after a few years at PwC. Let me tell you… I'm happy as hell that I didn't do that! My mom always told me to pursue my dreams, so after getting into HLS, I did a complete 180. I was going to do sports and be true to myself. I've never looked back.
Erin Savoie (ES): I think much like many students who are interested in Sports Law, my interest began first because of my love for sports. I grew up watching college sports, professional sports, and attending games whenever possible. And when the New Orleans Saints won their first Super Bowl when I was 12 years old, I was hooked for life. It's been such a great experience in law school to have the additional dimension of sports law added to my love for sports as a fan.
Sebastian Edin (SE): Sports have always been a big part of my life. My dream growing up was to become a professional tennis player. My experience of playing tournaments around the world introduced me to the business and legal side of sports and laid the foundation for my interest in the field.
OCP: Tell us about your Sports Law Clinic experience – where was your placement? What type of work did you do?
EZ: I could not have asked for a better Sports Law Clinic experience than the one I luckily fell into at BSE Global (Brooklyn Nets & Barclays Center) with Jeff Gewirtz, Russell Yavner (JD '14), and Wendy Li.
The New Jersey Nets were my childhood team, so having the chance to work for the Brooklyn Nets with a stacked team of Kyrie Irving and Kevin Durant, coached by Steve Nash was a pipe dream. I cold-emailed Russell in January 2020 to learn about his role at BSE. After one of the coolest calls, he offered me a 1L summer internship. I've been with the Nets and BSE ever since.
I am particularly grateful for Jeff. Besides taking me to dozens of Nets games, Jeff let me work on projects like: presenting to all 30 NBA GC's on COVID-19 legislation, assisting with the NBA "bubble" and WNBA "wubble," reopening Barclays Center, preparing a "Return to Office" memorandum that was distributed to 500+ employees and ownership, managing legal compliance for the 2020 MTV VMAs, NBA rules compliance matters, player promotional activities, drafting and reviewing commercial and operational agreements, cryptocurrency/NFT projects, freeing Kyrie thru Mayor Adams' office this year, and so much more. All in all, I could not have asked for a better boss and mentor.
ES: I worked with the Boston Red Sox during my 3L J-Term. I did a range of work which included largely contract drafting with a little legal research. It was a great opportunity to put to practice the skills that I had learned in Professor Carfagna's sports law courses. Those classes really prepared me for the experience that I would have at the Red Sox and made me a much better intern.
SE: I'm currently working with the Arizona Coyotes. It's been a great experience. Both Marina Carpenter and Michael DiGiacomo have been tremendous mentors. The Coyotes are currently relocating to a new arena, so a lot of my work has been related to the transition.
OCP: What were your biggest takeaways from the experiential learning of the Sports Law Clinic?
EZ: Working at BSE, especially during COVID-19, solidified what I had previously only imagined – working in sports law. I also learned that there is so much more to the business and operations of sports than I could have ever imagined. Lastly, anyone working in the sports industry is incredibly lucky as the main output we help to produce is: joy.
ES: Working in-house is such an interesting experience. After spending summers with larger organizations, it was very different to work with a small team. Issues arose which were issues of first impression, and it was our job to research and do our best to inform them on a new issue. The environment was wholly new to me and I had such a fun time getting to work with a degree of autonomy that I hadn't had before.
SE: I was surprised by the diversity of the work. On any given day, Marina and Michael would work on issues ranging from contract drafting and sponsorship agreements to business strategy, PR campaigns, and NHL compliance.
OCP: Are you planning to pursue sports law after graduation? If so, how have your experiences in Professor Carfagna's classes and in the clinic shaped your plans?
SE: Absolutely. However, I think that Professor Carfagna's classes do a good job of demonstrating your first priority should be to become a great lawyer. That's my main focus for now.
EZ: Upon graduation, I will be starting my dream job as an associate at Proskauer's Sports Group in the Corporate Department of the New York office. Proskauer has produced legendary figures in the sports world including: David Stern, Gary Bettman, and Jessica Berman. Without Jeff's guidance and support this opportunity would most certainly not have been possible, as the Sports Group takes only one associate from the prior summer's intern class. Last summer, I was a summer associate at Cravath, Swaine & Moore's Corporate Group, so I was extremely fortunate that there was a spot for me in Proskauer's Sports Group.
Professor Carfagna's classes will be invaluable as background to the work I will be doing at Proskauer, particularly the contract drafting skills I was able to hone.
OCP: What does the Weiler Scholar Award mean to you?
EZ: Receiving the Weiler Scholar Award is a dream come true and the culmination of three years of hard work, luck, and fun. Moreover, the Weiler Award is iconic, rooted in history and excellence. I am also eternally thankful for the incredible dedication of Professors Weiler and Carfagna in building up the sports law community at HLS. Bar none, HLS is the best school to attend if you want to go into sports.
I could not have achieved what I did at HLS without Professors Weiler and Carfagna or the distinguished alumni who came before me. I was truly walking on the shoulders of giants. As a child of immigrants and high school drop-out, I am deeply humbled to join the family of Weiler Scholars. I dedicate this Weiler Award to Mariya Kleyner, she was the best mom and friend I could have ever asked for.
ES: I'm so grateful that the time and effort that I've put into the Sports Law Program over the years culminated in this award. The sports law community at HLS is such a powerhouse in the field, and to be given this award is such an honor.
SE: It means a lot. I decided to attend HLS because of its outstanding sports law program, and my sports law education at the school has been everything I hoped for and more. This would not have been possible without Professor Carfagna and Professor Weiler. So to be recognized by Professor Carfagna and the Weiler family is a great honor.
---
Congratulations to this year's Weiler Scholars!