by Grace Yuh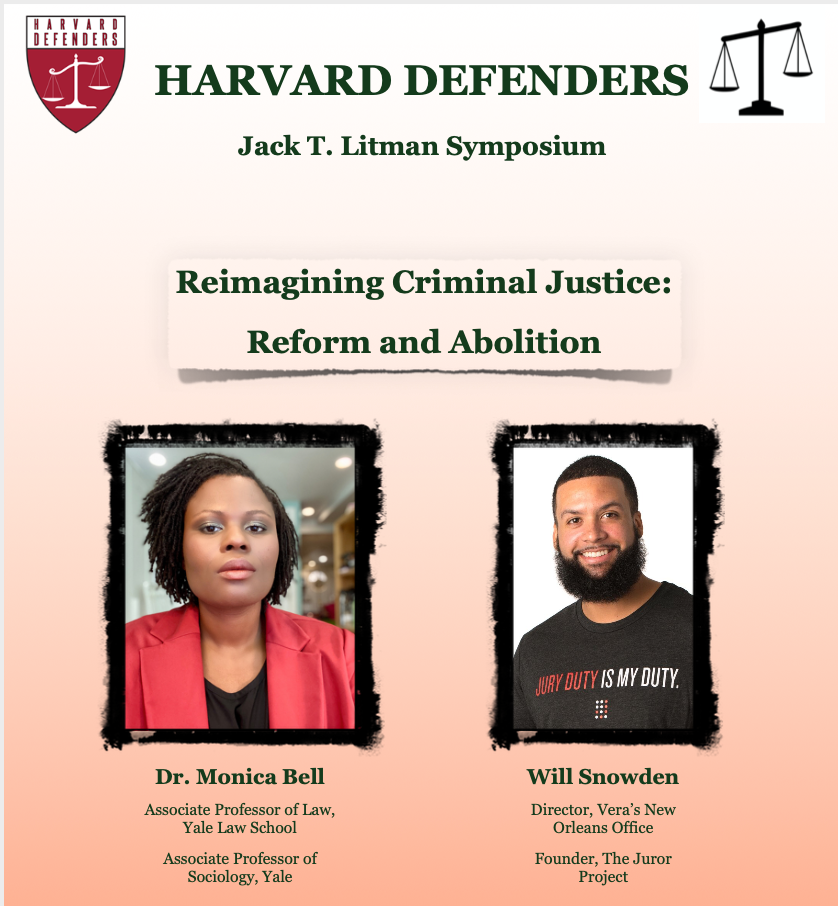 Harvard Defenders hosted the 9th Annual Jack T. Litman Symposium on February 3rd, 2021. Directed by Mike Bliss J.D.'22 and Kimberly Quick J.D.'22 and moderated by Defenders President Mara Chin Loy J.D.'21, this year's theme was Reimagining Criminal Justice: Reform and Abolition. Dr. Monica Bell, associate professor of law at Yale Law School and Attorney Will Snowden, director at the Vera Institute of Justice's New Orleans Office and founder of The Juror Project, joined remotely as panelists.
"We hoped that attendees would learn from the insights shared by our amazing panelists, Dr. Monica Bell and Will Snowden, and also reflect on their role in society and as future lawyers fighting for social justice. We were really happy with the large turnout (over 115 people registered) and the thoughtful questions attendees provided during the symposium," said co-directors Bliss and Quick.
The Litman Symposium is hosted every year as part of the Jack T. Litman Fellowship Program. The program was established in 2012 in memory of Jack T. Litman, a renowned defense attorney who was a member of Harvard Defenders during his time at the law school, by his sons Benjamin J.D'06 and Sacha HKS '03. Each summer, Harvard Defenders selects three law students to serve as full-time Litman Fellows.
The symposium began with a presentation from Litman Fellows Anna Bower J.D.'22 and Yang Ding J.D.'22, where they spoke on the legal issues that they came across in their work over the summer. Dr. Monica Bell and Will Snowden then led a discussion moderated by Chin Loy on the roles legal professionals might play in reimagining the criminal justice system.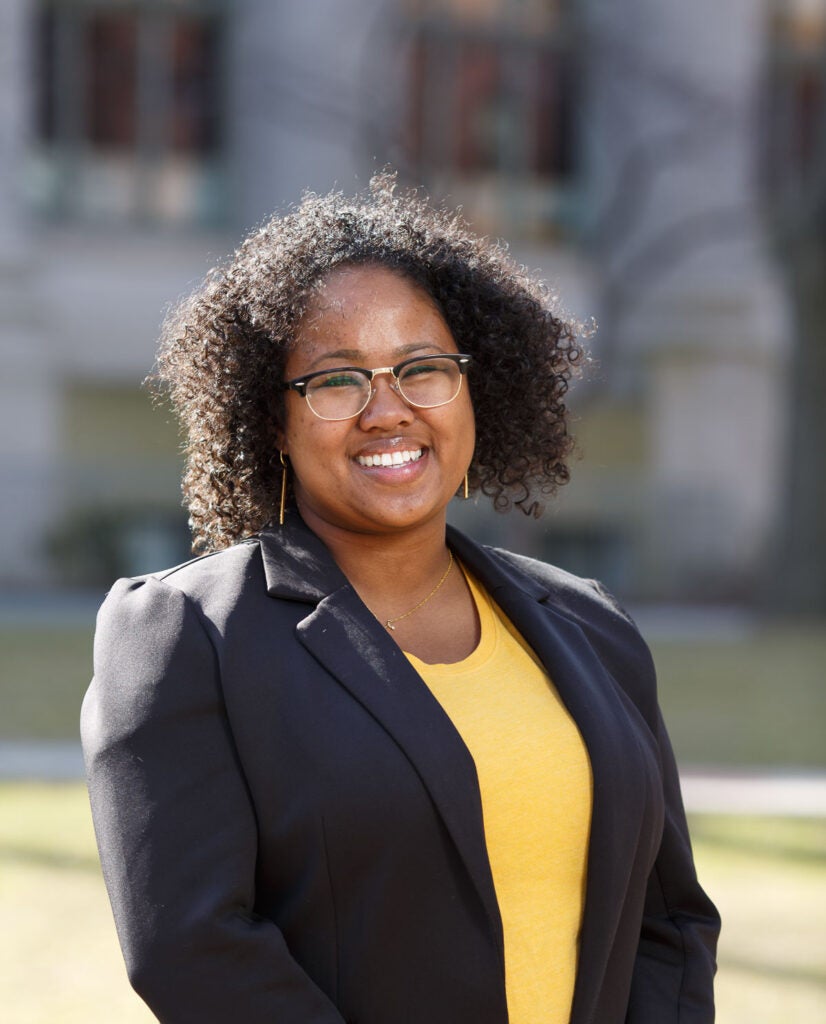 "One of my main goals as a moderator was to push discourse on reforming the criminal legal system beyond the typical conversations one may hear in law school settings…there are very few, if any, spaces that expressly center the role of systemic oppression and how the inherent harms of the criminal legal system compound the trauma experienced by marginalized communities," said Chin Loy.
Chin Loy and Bliss reflected on the insights they gained and the stories they found particularly impactful.
"It was incredible to learn from them, and to hear their insight on how different institutions such as police, prisons, and child welfare systems interact with the criminal legal system, given the overlay of various systems of oppression, including racism and classism," Chin Loy said. "The panelists' response to my final question stood out to me the most. I simply asked how do you take care of yourselves, which opened the doors to a wonderful and thoughtful discussion on how we as attorneys experience vicarious and secondary trauma through our work. Especially in this current moment in time, prioritizing and legitimating self-care as a necessary, revolutionary act is an essential message to send to not just lawyers, but for all of us."
"I thought it was fascinating to hear anecdotal stories from Mr. Snowden's experience fighting for justice as a public defender and his emphasis on his clients' trauma and also the secondary trauma experienced by lawyers, family members, and others involved in this fight. I also appreciated Dr. Bell's perspective which emphasized that people like Mr. Snowden are fighting within an unfair and unjust system. It was a great balance of insights covering both techniques for improving our direct-client services and also fighting against the fundamental issues within our current legal system," said Bliss.