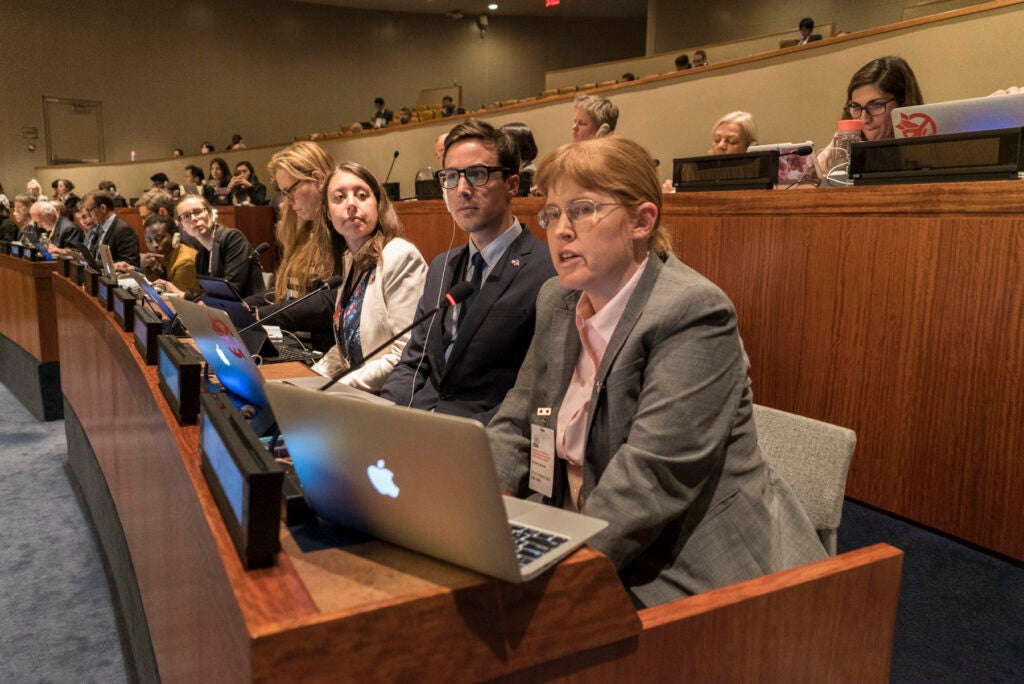 By Daniel Moubayed '20
Reducing the civilian impact of arms and armed conflict has been the focus of Bonnie Docherty's career since she was a student at Harvard Law School.
Since 2005, Docherty '01, an international expert on civilian protection in armed conflict, has served as a lecturer on law at the International Human Rights Clinic at Harvard Law School. She participated in the negotiations of the 2008 Convention on Cluster Munitions and has promoted strong implementation of the convention since its adoption. She recently played a key role in the negotiations of the 2017 Treaty on the Prohibition of Nuclear Weapons, successfully advocating for specific provisions and providing legal advice to the International Campaign to Abolish Nuclear Weapons (ICAN), the civil society coalition that received the 2017 Nobel Peace Prize. In 2018, Docherty launched the Armed Conflict and Civilian Protection Initiative (ACCPI) at Harvard Law School, where she serves as associate director.
On Tuesday, Oct. 8, Docherty hosted an event with Hiroshima bombing survivor Setsuko Thurlow, who accepted the 2017 Nobel Peace Prize on behalf of ICAN. Accompanying the event, HLS also showcased a photo exhibit, "From the Atomic Bomb to the Nobel Peace Prize", which illustrates the history of nuclear disarmament.
Over the course of her career, Docherty has mentored scores of clinical students, from field researchers in conflict zones to advocates inside the halls of the U.N. in Geneva. Daniel Moubayed '20, a student in the International Human Rights Clinic who works closely with the Initiative, sat down with Docherty prior to the talk to discuss the exhibition, Thurlow's presentation, and the ACCPI.
A Q&A with Bonnie Docherty
Daniel Moubayed: This month, you've arranged for Hiroshima atomic bombing survivor Setsuko Thurlow to give a presentation on campus alongside an ACCPI photo exhibition. Could you tell me a little bit about that exhibition?
Bonnie Docherty: The photos trace the journey from the original atomic bombings in Hiroshima and Nagasaki through nuclear testing up to the present day where a humanitarian approach significantly advanced the disarmament field. We're trying to highlight both the catastrophic harm that can be caused by nuclear weapons and the successful approach to disarmament that's been applied lately and in which the Clinic has actively been involved. This is really important, especially now when international tensions are very high. To move forward, we need to look beyond national security to the human impact of these weapons.
DM: And what impact do you hope to achieve by bringing Setsuko Thurlow to HLS?
BD: It's a real honor for her to visit. She's a very powerful speaker, and I'm thrilled she's able to make the trip. She is one of the decreasing number of survivors from the bombings at Hiroshima. It's remarkable and significant to be able to hear first-hand testimony of this horrible event from over 70 years ago. As a survivor, she's one of the strongest voices for disarmament. So I'm hoping that her talk will not only increase awareness of the humanitarian harm caused by nuclear weapons but also inspire the audience not to lose faith in the wake of recent events and trying times.
DM: You were also involved with ICAN at the time they won the Nobel Prize. Could you tell me more about that?
BD: Well, it was a team effort. I worked with ICAN, four HLS students, and my colleague, Anna Crowe [assistant director of the International Human Rights Clinic]. We acted as a legal adviser to ICAN in 2017, when they were negotiating the Treaty on the Prohibition of Nuclear Weapons, which was adopted in July 2017 by 122 countries. Only one voted against it. The U.N. General Assembly mandated the negotiations so they had widespread support. We were on hand if ICAN needed information about precedent for a certain provision, for instance, but we focused primarily on advocating for provisions requiring countries to assist victims of past use and testing and remediate the environment where countries used or tested. We wanted to address the harms that had already been caused, not just advocate to eliminate future harm. Students did a lot of research and wrote papers in advance of the negotiations, and we worked closely with states and other NGOs to successfully get these provisions added to the Treaty. It was a real accomplishment and very rewarding for all of us.
DM: Incredible work. Did you first meet Setsuko during these negotiations?
BD: Yes, and she was the concluding speaker at the adoption. Hearing how long she had waited for this day and how meaningful this treaty is — not just on a geopolitical level, but on a personal one — was very moving. That's what made me want to invite her to campus, and I believe she has inspired others to want to continue work in this field.
DM: So you were there for both the adoption of the treaty and the Nobel Peace Prize ceremony. Can you talk more about that?
BD: It was one of the highlights of both my professional and personal life. There's nothing like seeing a treaty adopted — it's a sign of hope for the work I do. Most of my projects focus on documenting the harm that's caused, so it's nice to see that things can change. At the Nobel Peace Prize ceremony, Setsuko accepted alongside Beatrice Fihn, the executive director of ICAN. What struck me in that moment was how ordinary people can do extraordinary things. I was looking at friends of mine with whom I've been working on disarmament issues for the past 18 years, who aren't heads of states or archbishops or world leaders. They're ordinary citizens raising awareness and pushing states to action. Setsuko was once a girl buried in the rubble of her destroyed school. Now she's delivering a Nobel Peace Prize lecture. What an amazing journey.
DM: I love that. "Ordinary people doing extraordinary things." Let's fast-forward: you help win a Nobel, you're doing your other Clinic work on killer robots and incendiary weapons, and you also have a job in the Arms Division at Human Rights Watch. Yet in March 2018, you launch the Armed Conflict and Civilian Protection Initiative, or the ACCPI, because clearly you didn't have enough on your plate. Can you take us back to when the ACCPI was still in the planning stages? What were the goals of setting up the Initiative?
BD: The motivation came from my years of work in civilian protection. I began considering the human rights and humanitarian impacts of armed conflict right when I graduated from HLS in 2001. My fellowship with Human Rights Watch just happened to start the day after 9/11. Six months later, I was in Afghanistan researching cluster munition use, getting my first hands-on exposure. That led to many other field missions, and eventually, I got involved in treaty negotiations.
With the ACCPI, I wanted to enhance advocacy and support NGOs working to reduce the civilian effects of armed conflict. But also I felt that it was important to have it here at HLS. I wanted to provide an opportunity for students to get involved and continue this work after graduation. I've always been doing this kind of work at the Clinic, but formalizing it gives it greater influence.
DM: What were the resources in this area while you were a student? The ACCPI didn't exist. You had to go out and start it. What were discussions like then and how have they changed?
BD: Opportunities were more diffuse; you had to seek out the conversations. I have always been interested in armed conflict, and originally I thought I was going to be a history professor. Then, I had the opportunity to embed with peacekeepers in Bosnia as a journalist between undergrad and law school, which was very influential. At law school, most of my international law and humanitarian law professors were visitors, but now we have permanent faculty that address these issues. There was the Harvard Human Rights Journal and the International Law Journal, which I worked on. But there wasn't any hands-on experience available like we have now with our clinical and pro bono programs. Luckily, we had a strong human rights community on campus, and I received an HRP summer fellowship to work with Article 19 after my 1L year. Things have changed since then for the better.
DM: As a clinical student, I'm incredibly excited about the ACCPI's work; there's really a broad focus on affecting change. We're now in the second academic year of the Initiative. How are you hoping to galvanize students and accomplish your own advocacy goals?
BD: The ACCPI is really centered on students, on developing the next generation of leaders in this field. We're laying the foundation for what I call the three pillars of the Initiative. So, first we have advocacy through our ongoing clinic work. That's not necessarily new but we've expanded our focus areas, including environment and armed conflict or cultural heritage and armed conflict. Second, we've built a resource database for students interested in pursuing careers in the field. We've also had alumni come to campus to do advising. This past spring, we hosted Matt Wells '09, who is Senior Crisis Advisor with Amnesty International, and Chris Rogers '09, a Senior Program Officer with Open Society's Human Rights Initiative. Third, we're promoting innovation. We're bringing practitioners to campus to raise awareness but also to do the actual brainstorming and work of disarmament. This includes Setsuko's visit and the ACCPI's launch in 2018, when we invited leaders in the field to HLS to meet, strategize, and collaborate around issues we're facing as a community.
DM: What are your long-term thoughts while directing this Initiative? What's the vision going forward?
BD: One immediate goal is to develop an alumni mentorship program, which we plan to pilot this fall thanks to Nicolette Waldman '13, an alum of the Clinic and the Satter Fellowship, who spent last spring as an ACCPI Senior Clinical Fellow. Long term, we hope to create a formal track at HLS and the Clinic for students interested in these issues. We're providing trainings and resources for students and shaping a more concrete path for them to follow. Off campus, we're working on framing the humanitarian disarmament issue and increasing collaboration among different organizations in the field. We've held workshops for diplomats in Geneva, published reports and pamphlets, and served a convening function for NGOs. We hope to continue those activities and engage students as we go.
DM: So there are things happening here in Cambridge and in Geneva and all over the world, really, a bit of everything.
BD: Yes, a bit of everything. And we respond to real world events. I'm heading to Vienna next week for negotiations on a new political declaration of reducing the effects of explosive weapons — rockets and bombs — when they're used in civilian areas. I also have a clinical team working on that.
DM: How do you keep it all going?
BD: Adrenaline. And I'm energized by both colleagues and by students like yourself who come in with great enthusiasm who want to immerse themselves in the issues and will go on to make the world a better place.