via HNMCP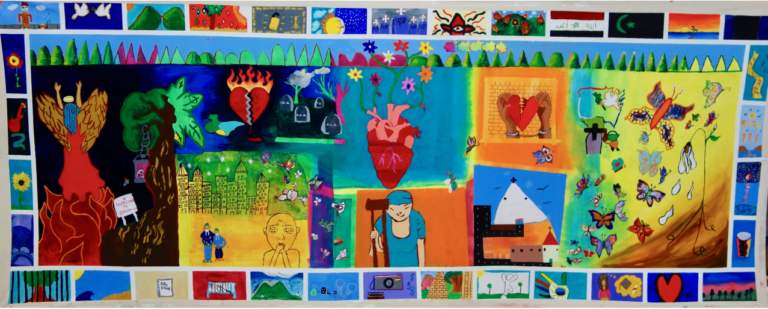 The Harvard Negotiation & Mediation Clinical Program (HNMCP) is pleased to celebrate the winners of its 6th Annual Art Award Contest. The purpose of this annual award is to honor artists who, through their creative expressions, contribute to the work of conflict resolution and peacemaking.
As a clinic, HNMCP seeks to explore challenging interpersonal dynamics leading to conflict and build community around the honing of skills associated with effective dispute resolution.
Given our dedication to the creation of an environment conducive to those goals, we hope that our physical office space is reflective of our values as well as the ambitions we have for our work.
We believe that art has the power to illuminate what connects all of us and to encourage the engagement of empathy. We are fortunate that the artwork detailed below will be on display in our offices for the remainder of the academic year, and in the case of a couple of the pieces, join our permanent collection.
Please visit our offices on the fifth floor of Pound Hall (P513) in the coming weeks to join us in appreciating these awe-inspiring works of art!
2019 Winners
Allow Me To Flower One More Time/ Déjame Florecer Una Vez Más"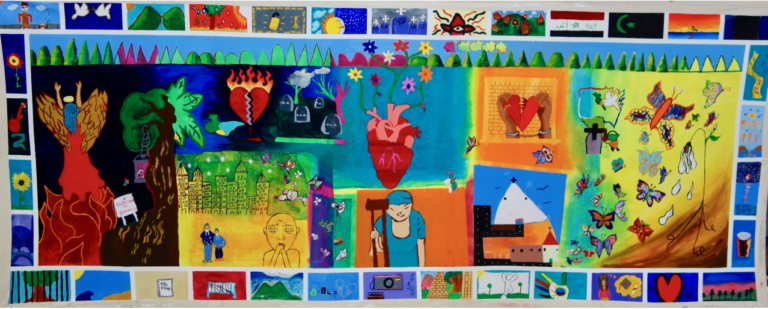 About the Piece: This mural was designed and painted by undocumented, unaccompanied Central American minors currently detained in a maximum security prison in the United States. The mural is the outcome of a six- years art in prisons project that artist Claudia Bernardi has been facilitating, reaching Central American incarcerated minors who had been detained at the US/ Mexico border.
About the Artist: Claudia Bernardi, socially engaged and community-based artist, printmaker and installation artist, whose artwork is impacted by the effects of war and political violence. Born in Argentina, Bernardi endured the military junta (1976-1983) that caused 30,000 "desaparecidos". Bernardi participated with the Argentine Forensic Anthropology Team in exhumations investigating human rights violations against civilians. This experience impacted her commitment to community arts. In 2005, Bernardi created the School of Art in Perquin, El Salvador, a community-based art project replicated in Colombia, Mexico, Guatemala, Argentina, Switzerland, Germany and Northern Ireland. Bernardi is Professor of Community Arts, Diversity Studies and Critical Studies at the California College of the Arts.
Lina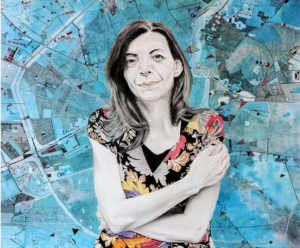 About the Piece: This artwork is a digital reproduction of Lina 2018, a pastel, gunpowder & powdered graphite drawing of a Syrian woman framed by an aerial view of Aleppo. This work is a companion piece to the artist's video and mixed-media series, 'Forced to Flee', inspired by one woman's escape from Syria and her ongoing effort to find a safe home for herself and her family. The artist hopes to humanize the abstraction of the crisis in Syria and to communicate her subject's struggle, courage and tenacity with her work.
About the Artist: Linda Bond is a Resident Scholar at the Brandeis Women's Studies Research Center and a former faculty member of the Massachusetts College of Art & Design. She was recently awarded a grant from the Chenven Foundation and in 2017 was awarded grants from the Pollock Krasner Foundation and the Puffin Foundation. Her exhibitions include Kean University, Brandeis, Simmons, Southern New Hampshire University, B'NK'R Munich, Germany, Museo de Arte de Zapopan, Jalisco, Mexico, the MFA in Boston, Brattleboro Museum, Art Complex Museum, Fitchburg Art Museum, and the Corcoran Gallery. Her upcoming solo exhibition at Drexel University in Philadelphia will open in April 2020.
Mutuality

About the Piece: Swiss photographer, Saskia Keeley, runs photography workshops in which participants unpack decades of fear and bias through the simple yet profound acts of looking and listening. She is exploring where these workshops can be helpful in global conversations toward peace and coexistence. Since 2016, Keeley has brought together Israeli and Palestinian women for photo workshops at the Roots Center on Israel's West Bank.
The Roots Center was founded by a Palestinian peace activist and two rabbis for the purposes of promoting dialogue and understanding between Israelis and Palestinians who live in neighboring towns and villages. Saskia's workshops provide an opportunity for Israeli and Palestinian women to have real contact with one another through a personal interaction. After each session, the participants bring the cameras home to photograph details of their life settings. The objective is for them to capture specific moments that are special and meaningful to them
In between sessions during a recent workshop, a threatening post on Facebook denounced the Palestinian coordinator for his connection to Roots, calling him an instigator and a "Jew collaborator." The escalating provocations and threats caused great distress and the Palestinian participants were too scared to return. Saskia retrieved the cameras that had been in the women's homes for 48 hours.
Out of fear of reprisal for this brief encounter with the Israelis, half of the Palestinian women had erased all the images from the memory cards. But in one of the cameras, the anonymous photographer captured the setting she saw a few days prior in the workshop, in the Havdalah photo. From memory, she replicated the image in all of its aspects: subject matter, emotion, and composition. The result is a similar moment in an Israeli home and a Palestinian one.
About the Artist: Saskia Bory Keeley is a Swiss photographer, educated at Geneva University, Sotheby's, and the New Academy for Art Studies in London. She trained at the International Center for Photography in New York City and is enrolled in the Interspiritual Counseling Program (ISC), a 3-year training at the leading edge of the newly emergent field of Interspiritual Counseling (One Spirit Learning Alliance—NYC).
Saskia runs the Accompagnateur Workshops, photography workshops in which participants unpack decades of fear and bias through the simple yet profound acts of looking and listening. She is exploring where these workshops can be helpful in global conversations toward peace and coexistence (working with NGOs like Roots and Taghyeer in the West Bank) and within divided communities (collaborating with NGOs like Pico Union Project in Los Angeles and the Women's Prison Association in New York City).
Founded in 2006, the Harvard Negotiation & Mediation Clinical Program focuses on cutting edge work in dispute systems design, negotiation, mediation, and facilitation.
Our clients are U.S.-based and international and include private corporations, non-profit organizations, government agencies, and community groups. Our students develop critical problem-solving skills, apply theory to practice, and deliver tailored conflict management solutions to our clients.