By Regina Fairfax '24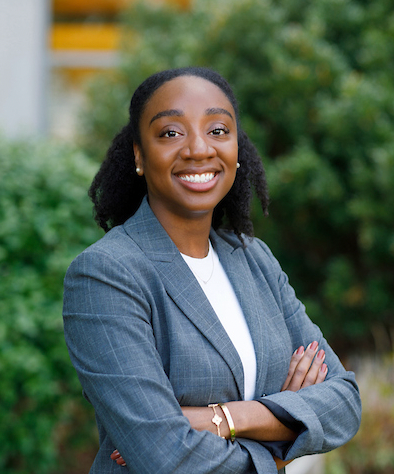 I came to Harvard Law School with a passion for Voting Rights and public service. In my year between college and HLS, I joined the NAACP Legal Defense & Educational Fund to work on key issues of Voting Rights, Election Protection, and Census work during the 2020 Election and Census year. There, I fought against voter intimidation in Pennsylvania, helped expand voter access in the South, crafted redistricting guides for legislators across the nation, and advocated for ballot access in the Georgia run-offs. Following my 1L year, I was excited to gain some hands-on legal experience working on the voting issues for which I was the most passionate through HLS' clinical program. I joined the Election Law Clinic because I knew I would be able to further my work in the voting rights and Census space, and gain tangible skills in using my legal education to help improve access to the right to vote and safeguard our democratic process.
The Election Law Clinic not only connected me with amazing professors, attorney supervisors, and peers all with a passion for voting rights work, but exposed me to a variety of complex and interesting legal problems facing voting rights and election law today. From day one, I became a part of a legal team. I was given real responsibility and a real voice on each of the cases and legal projects we worked on. In the first three weeks, I flew down to Jacksonville to meet with a group of plaintiffs on our racial gerrymandering case, where I helped lead presentations and was able to see the impact of our work on the communities most at risk for voter suppression. After we won our preliminary injunction in that case, I gained insight into the movement and fast-paced nature of the litigation and appellate process, as we fought against appeals and motions to stay, and worked on our remedial briefing to protect the ruling and ensure a proper remedy to fix the constitutional violations identified in our legal challenge. I learned so much about the appellate process through this work and had the honor of working on a team that was supportive and encouraging.
In addition to this active litigation, I worked on a number of legal research projects as well as reports to support Voting Rights legislation. These projects exposed me to new areas of the law and various legal strategies that we as future lawyers could use to protect and defend Voting Rights. Further, the Election Law Clinic seminar gave us a space to solidify our understanding on Election Law litigation and legislation by breaking down these processes and teaching us effective strategy and considerations for succeeding in the election law space. At the end of the semester, I was able to use the experience gained through this clinic to identify a new issue facing election law today and develop a litigation strategy to tackle this problem. It was amazing being able to identify novel ways to improve voting rights and to solidify everything I had learned over the semester into a final project.
Like much of my law school experience, participating in a clinic was a huge learning curve. From managing my time between my assignments and classes, to learning how to navigate different legal database systems, to interacting with clients and co-counsel, many of the experiences that I had in the clinic were novel and intimidating to me at the beginning. However, I was surprised and encouraged to see how much I could learn and grow through this hands-on program. For every mistake I made or road bump I hit, I had a whole team supporting me and was able to improve every day in this work. Whether it was drafting sections of briefs ahead of quick filing deadlines or presenting legal findings in meetings in front of clients and attorneys, I began to realize that I can do this work.
The HLS Clinical program is one of the best and most unique aspects of my legal education thus far. To me, the right to vote is not only a symbol of our democracy, but a precious representation of my history as a African-American woman in America. The Election Law Clinic pushed me to be a better learner and a better doer, all while allowing me to serve my communities and pursue my legal passions. Since starting this clinic, I have gained and strengthened innumerable technical, personal, and interpersonal skills– such as legal research and writing, brief writing, and client representation– that will help me succeed in my legal career. I know the Election Law Clinic is an experience that I will be able to look back on and say, "this made me a better lawyer." I am thankful to be a part of the Election Law Clinic at HLS.