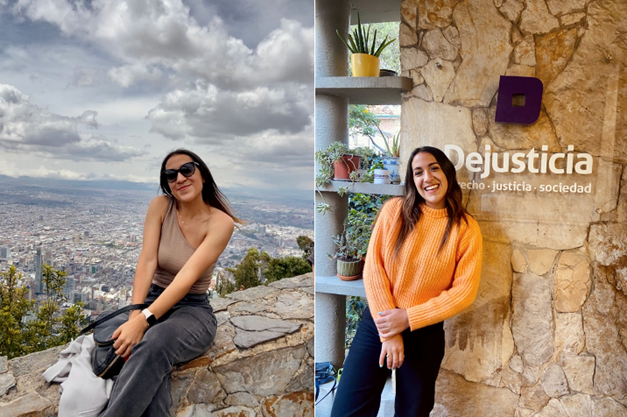 Azucena Marquez, JD '23, spent the 2022 winter term at Dejustica in Bogota, Colombia. At Dejusticia, she worked on various transitional justice projects.
This past J-term, I had the opportunity to work with the Centro De Estudios De Derecho, Justicia y Sociedad – Dejusticia in Bogota, Colombia. Founded in 2005, Dejusticia is a research and advocacy organization dedicated to the strengthening of the rule of law and the promotion of social justice and human rights in Colombia and the Global South. The organization bridges the gap between academic research and human rights practice by focusing on both advocacy and litigation and producing fact-based policy proposals. Dejusticia is organized into seven key thematic lines in human rights: anti-discrimination, drug policy, economic justice, environmental justice, the judicial system, rule of law, and transitional justice. I was working within the transitional justice line, which focuses on victim's rights to truth, reparation, reconciliation, and justice following Colombia's 50+ year armed conflict. Dejusticia's goal is to ensure that their advocacy on this issue within Colombia has an international perspective by developing comparative research projects and participating in experience sharing forums.
During the three weeks I spent with Dejusticia, I worked on three different projects. For my first project, I conducted research using documents from the Special Jurisdiction for Peace (SJP), which is the justice component of Colombia's Integrated System for Truth, Justice, Reparations, and Non-Repetition. People who committed crimes in relation to the armed conflict prior to 1 December 2016 have the opportunity to turn themselves in to the SJP, which focuses on victim's rights—offering them the truth about what happened, contributing to their reparation, and promising non-repetition to ensure peace. The SJP differs from the ordinary criminal jurisdiction ("jurisdicción penal ordinaria"), which primarily focuses on incarceration and guilt.
My project involved "terceros civiles"—civil third parties to the armed conflict, meaning non-FARC and non-AUC (United Self-Defense Forces of Colombia) members—whose participation in the SJP is voluntary pursuant to the Constitutional Court. This mainly includes company executives and some politicians who obtained their political power through bribery, murder, and/or other associations with direct parties to the armed conflict. In order to be admitted to the SJP, civil third parties must submit a Clear, Concrete and Programmed Commitment (CCCP) that demonstrates the civil third party's serious and consistent commitment to contribute to the goals of the SJP and the victims' rights to truth, justice, reparation. Because the SJP is so new and still has not standardized its process to deal with people who decide to participate, I was tasked with reconstructing the case of one of the politicians and comparing it to that of others to then articulate recommendations to the SJP.
The second project I worked on involved helping with the drafting of a 29-page document outlining recommendations to improve the participation of victims in front of the SJP in cases involving civil third parties. Adequate victim participation is key to the SPJ's legality and legitimacy, so it was interesting to see the differing perspectives of various stakeholders regarding what shape victim participation should take. These groups differed on even the most rudimentary aspects of victim involvement in the process (for example, should we even have a definition for "victim"? Who should count as a civil third party?). The last project I worked on involved mapping Civil Society Organizations (CSOs) and Community-Based Organizations (CBOs) in the Andean Region (Colombia, Perú, and Venezuela) that are currently facing challenges to remain institutionally resilient and strategically relevant. The goal of this project is to eventually consolidate the efforts of organizations working to advance social and environmental justice across the region.
Working with Dejusicia was an incredible opportunity. I loved the organization's non-hierarchical structure because I was doing the exact same work as the investigators from day 1, which made me feel like my input was valued and like I was an integral part of the team. Dejusticia's willingness to give fellows the opportunity to be uncomfortable and grow from that discomfort is unmatched. The investigators also went above and beyond to make themselves available and answer my questions. I was consistently impressed by how knowledgeable, passionate, diligent, and approachable every investigator I had the opportunity to work with was.
Lastly, one of my biggest frustrations with elite institutions is the dearth of opportunities to learn about the Global South, especially through a non-U.S. lens, or to take on any projects in Spanish-speaking countries. As such, I really appreciated this opportunity, especially given that my work was 100% in Spanish, and will look for new opportunities to continue meeting this need.