via The Crimson
by Emmy M. Cho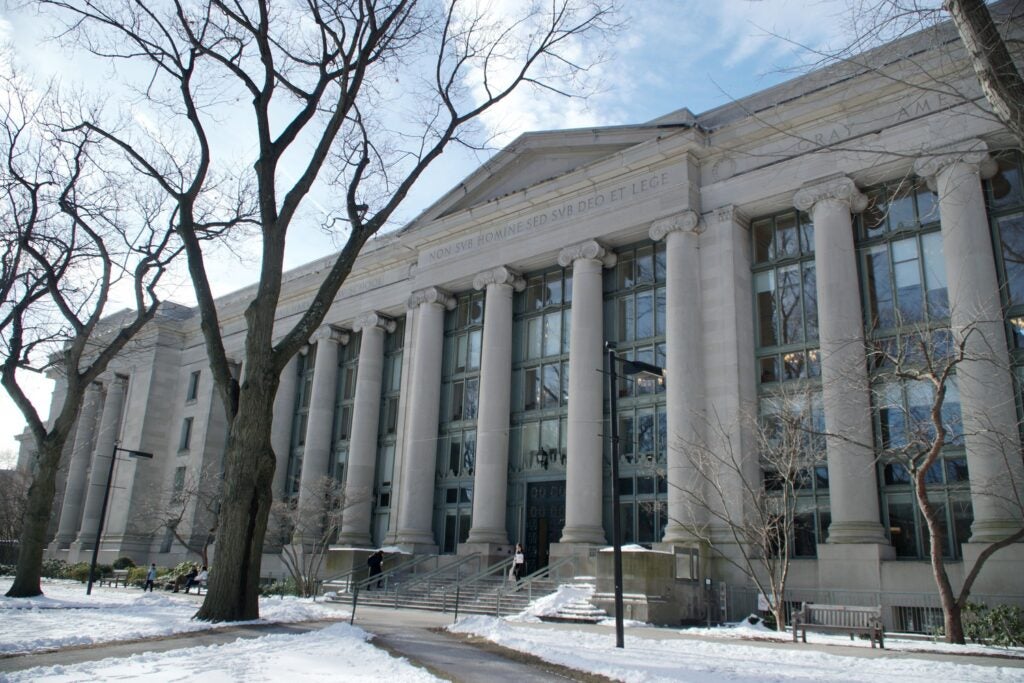 A Harvard Law School clinic that offers professional experience to law students in negotiation and mediation published two reports at the end of last year on political activism and public safety reform in Boston.
The first report, entitled "Power, Protest, and Political Change," examines global political movements that have brought about lasting change. The report draws on interviews from both American and international political organizers conducted by co-authors Brooke A. Davies and Daniel Oyolu — students at the Law School and participants in the Harvard Negotiation and Mediation Clinical Program.
The report description poses the question, "If you want to make change as an organizer, how do you build power to get into the negotiating room, and then how do you wield that power effectively once you've sat down at the table with your political leadership?"
Oyolu said that racial justice protests that broke out throughout the United States over the summer motivated the report, which he said can serve as a resource to people looking to make change.
"In the aftermath of the George Floyd murder as well as the racial reckoning and protests across the country, Brooke and I were thinking, 'What are ways we can use our training in alternative dispute resolution and the resources we have at Harvard to contribute to organizers, people on the ground, advocates, and activists for social change?" Oyolu said.
Clinical Instructor Lisa K. Dicker said the students' contribution to the report — "born of and designed by" Davies and Oyolu — was unique.
"This was a project that Brooke and Daniel thought of, designed, and brought to the clinic for our supervision," she said. "Oftentimes, it's a bit of the reverse — we get projects coming to us from client organizations or from client groups."
One of the goals of the report, Davies said, was to "create a free and accessible guide" for activists and community organizers. The two students interviewed leaders of the Black Lives Matter Movement, members of the U.S. Institute of Peace, and revolutionaries in six countries currently experiencing mass political uprisings.
"We gained a wealth of both problems and challenges that these activists are facing but also enormous insight into the lessons that they have learned," Davies said. "One of the challenges was just taking the wealth of information that we had gathered from all of these interviews and all this research and boiling them down."
The second report, entitled "Rethinking Boston's Public Safety System," provides recommendations spanning from "broad, overarching ideas" to "specific programs" for reforming Boston's public safety system.
The report's co-authors, law students William J. "Billy" Roberts and Anna K. Vande Velde, interviewed officials employed by the city's various public safety departments to examine those agencies' practices compared to their counterparts in other states.
"Our focus did shift throughout the semester from attempting to look at the individual characteristics of Boston's public safety system to a broader search of public safety systems in other cities that might serve as examples for or offer insights for Boston's public safety system as it attempts to introduce reforms," Roberts said.
Vande Velde said she was surprised to learn through research that a multitude of systems designed to promote public safety operate throughout the country but receive little attention.
"One thing I didn't expect was for there to be as many other systems and alternative programs out there that we could look at," Vande Velde said. "There's still not nearly enough, but there were some that had been there for 30 years and really hadn't been getting much attention until this year."
Roberts said one of the report's main findings is that public safety is intimately related to and dependent on other aspects of a society.
"There are interconnections with access to mental health resources, access to housing, access to education, racial justice, discrimination, etc.," Roberts said. "In considering potential reforms to policing or to a public safety system more broadly, those other factors need to be taken into account and woven together with the institutions that we classically think of as bearing on public safety."
Rachel A. Viscomi, the director of the Harvard Negotiation and Mediation Clinic, wrote in an email that the clinic took a "novel approach" through developing the report without a traditional client. Usually, a third-party group interested in using the clinic's services works with the law students.
"We undertook the project independently, in an attempt to support the city of Boston and the City Council as they determine how to move forward in rethinking public safety," Viscomi wrote. "In particular, I hope that [Roberts and Vande Velde's] thoughtful reflections on how interconnected the 911 system is with the many other systems at play here will help to expand the dialogue around these questions."