via Harvard Law Today
by Rachel Reed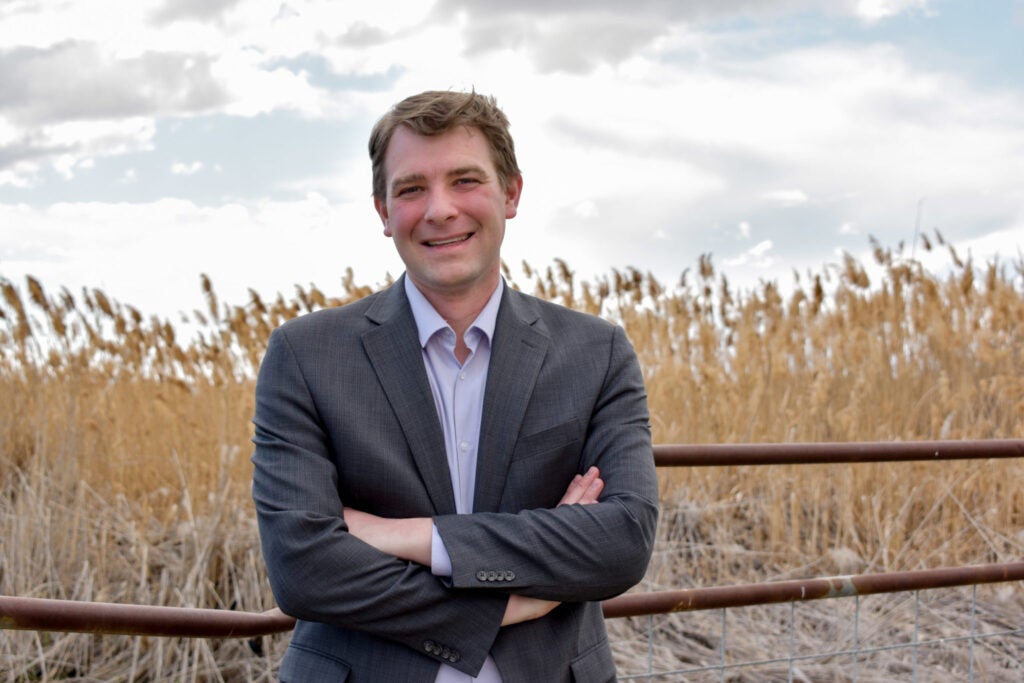 Growing up with a father in the Air Force, Mark Gillespie '21 moved around a lot as a child. But far from this being a negative, Gillespie says it gave him the sense that life's possibilities were endless. "Although I didn't really have a strong feeling of where I was going to go next, it always seemed like there could be something new ahead that I didn't know about," he says.
It was a mission trip abroad, coupled with a strong interest in religious freedom and a desire to help others, that eventually led him to Harvard Law School — where he will graduate on May 27 before friends and family, including his wife, Aimee, and one-year-old son Samuel.
Gillespie's journey began after high school. A dedicated member of the Church of Jesus Christ of Latter-day Saints (sometimes called the Mormon church), he spent two years on a volunteer mission in Nagoya, Japan teaching about his church, serving in the community, and offering free English classes. As a missionary, Gillespie enjoyed sharing his faith while learning more about his new students and neighbors. He says he also began considering what he valued most in a future career.
"I had a lot of time to think about what was really important to me," says Gillespie. "And when I was interacting with people, I thought about how I could see myself helping people later in my life."
In fact, he added, it was the first time he clearly saw how the law shaped peoples' everyday circumstances. "I felt like when I talked with people about their problems and the things they cared most about, the law always had an impact on those things."
Initially, Gillespie believed that a medical career would enable him to fulfill his desire to contribute to the world in some way. As an undergraduate at Brigham Young University, Gillespie majored in neuroscience and Japanese. But despite doing well in his studies, the further Gillespie progressed, the more he noticed that what interested him most was not anatomy or pharmacology, but his courses on law and policy issues in medicine.
"I took a bioethics class and I found the biology part kind of interesting. But what I really found interesting was, should people be allowed to do these things?" he says. "Or should people be allowed to stop people from doing these things?"
Soon afterward, Gillespie says he attended a lecture by a well-known D.C.-based religious freedom lawyer, Hannah Smith. Her work crystallized his law school aspirations.
"Hannah spoke about the Religious Freedom Restoration Act (RFRA), and about her experiences defending members of minority religions that were not her own," he says. "We are still running into problems today that you don't really think about. We hear, and rightfully so, about lingering racial and gender inequality issues, but I think it is safe to say that there are also still disfavored religions. That was surprising to me back then. And I felt like, 'that's something that I could make a difference in fighting for.'"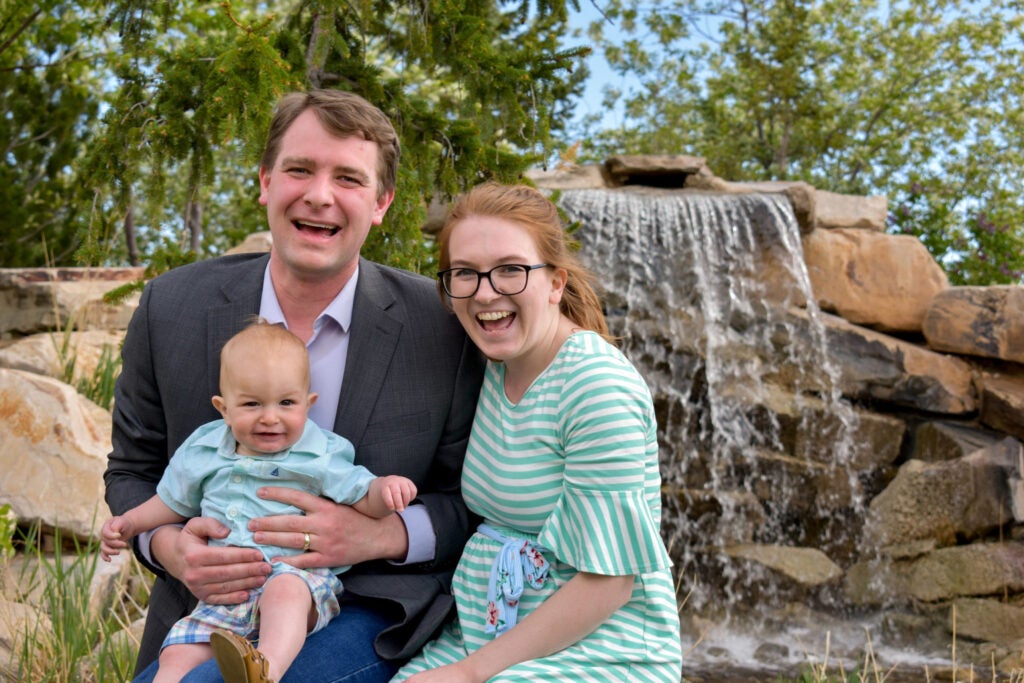 After visiting multiple schools, Gillespie says he felt something special on Harvard Law School's campus. "When I heard the professors, students, and even prospective students talk about attending HLS, it seemed like this was a place where people know that with a degree from Harvard, you can make a difference. And I don't just mean that in a vague sense. I mean, really, people know that with a Harvard degree, you're in demand and people will listen to you. I personally don't think it should be this way — that if you go to a particular school, more people listen to you. But I think that's how it is," he says.
At HLS, Gillespie found many avenues to explore his interests, while discovering some new ones along the way. "I quickly realized my first year that I'm really interested in litigation, and especially constitutional litigation," he says. "Separation of powers, federalism, and limits on government, those kinds of questions I really find absolutely fascinating."
Gillespie says he was surprised to learn how much he enjoyed legal research and writing at HLS as well. He served as a teaching assistant to Jack Goldsmith, Learned Hand Professor of Law, and as a research assistant for Richard Fallon, Story Professor of Law; Ronald Sullivan '94, Jesse Climenko Clinical Professor of Law and director of the Criminal Justice Institute; and Professor Nicholas Quinn Rosenkranz of Georgetown Law. He also contributed student notes for the Harvard Law Review and the Harvard Journal of Law and Public Policy. During his three years at law school, Gillespie was a legal intern at the United States Attorney's Office in Boston, and a summer associate, which gave him opportunities to work on civil procedure and constitutional law.
Another particularly meaningful experience, he says, was his work for the Harvard Law School Religious Freedom Clinic, where he represented clients with a variety of backgrounds and beliefs.
"Like many others, I chose to attend law school because I was inspired by our constitutional tradition," Gillespie wrote in an essay for the clinic's website. "And as a member of a faith with a history of persecution, I have always had a particular regard for the First Amendment's promise of religious liberty."
Gillespie says it was not only rewarding to help work toward a positive resolution for his clients, but that he took away important lessons about listening to and respecting clients' needs. As one example, he mentions a client who was a member of the armed forces. For religious reasons, the man wanted to keep a beard — usually prohibited in the military — while continuing to perform his duties.
Gillespie says he went into his first meeting with the service member already contemplating which legal actions they could take. But he quickly realized that his client preferred a much less combative approach.
"He didn't feel nearly as litigious as we did," says Gillespie. "He wanted to serve his country. He loved his job and his community and career and, and if possible, he would also like to observe his religion the way that he was taught to do in his family and in his mosque. He wasn't trying to die on a hill; he wasn't trying to make some kind of bigger point."
The bigger point, for Gillespie, was how critical it is to truly understand a client's motivations and goals when pursuing justice — a lesson he also applied as a summer intern for the Becket Fund for Religious Liberty in Washington, D.C.
Engaging with the debate around important topics is also one of the reasons Gillespie was a member of the Federalist Society at HLS. He says his political beliefs lean to the right, adding that while he did not always agree with other members of the organization, he appreciated the opportunity to foster discussion — both among conservatives and in the wider political landscape.
"There have certainly been members of the Federalist Society that have said and done things with which I firmly disagree," Gillespie says. "But that personally is what drew me to it — it's a place for discussion. There were a lot of really good debates with professors, often those who would never want to be a member of the Society themselves, who come in to give their point of view. I thought that was great."
And as vice president of professional development for the group this year, Gillespie says he enjoyed providing support for other members in their job search, "helping people brush up their resumes, encouraging them, giving interview advice, and then watching them all succeed."
As for his own post-graduation plans, Gillespie says he will continue to burnish his experience as a judicial law clerk for Judge Britt C. Grant of the U.S. Court of Appeals for the Eleventh Circuit.
"Judge Grant is someone I really personally admire," he says. "She has a thoughtful perspective not only on judging, but also on the law in general. She also has a great approach to interacting with other people, especially people she disagrees with, that I hope I can learn from during the year that I'm working for her. I think she's a wonderful example of respect coupled with legal brilliance in the thoroughness of her opinions and how she considers arguments."
Gillespie is not exactly sure where in the country he and his family will end up after his clerkship, or in what type of legal job – he eventually sees himself at a smaller firm or in public service – but in any case, he knows he wants to continue making pro bono work a priority.
"I keep an eye out for religious freedom cases," he says. "But I also think there are all kinds of things that one can do to help people who don't really have the resources to do it themselves. People who feel hopeless because they don't even know where to begin in the system. That's one thing that really appeals to me about being a lawyer — helping others. It's the thing I had in mind when I came to law school."