By Allie Cunningham '23 and Jess Valenzuela Ramirez '23
This fall, Crimmigration Clinic students Allie Cunningham '23 and Jess Valenzuela Ramirez '23 presented oral arguments before a three-judge panel of the Second Circuit Court of Appeals in Peguero Vasquez v. Garland, a petition for review involving a client who was deported because he was deemed to have been convicted of a crime involving moral turpitude ("CIMT"). Allie and Jess traveled to New York to argue on Mr. Peguero Vasquez's behalf under the supervision of Philip L. Torrey, the Director of the Crimmigration Clinic, and Tiffany J. Lieu, the Albert M. Sacks Clinical Teaching and Advocacy Fellow.
"Presenting an oral argument in a case with potentially far-reaching implications and dire consequences for our client was a humbling experience. We are so grateful to our clinical instructors, Phil Torrey and Tiffany Lieu, for spending countless hours preparing with us. Most of all, we are incredibly grateful to our client for trusting us to present his case," Allie said.
"I have a newfound appreciation for what it takes to appeal a case to this level. Being an attorney who is dedicated to the immigrant community requires great preparation and I have no doubt that I can speak for the team when I say that we are proud to have presented Mr. Peguero Vasquez's case before the Second Circuit Court of Appeals," Jess said.
At issue in the case was whether the misdemeanor in question qualifies as a CIMT, a crime-based ground of removal that renders an individual ineligible for certain forms of immigration relief such as asylum and withholding of removal. To constitute a CIMT, a conviction requires, as relevant to the case, a potential sentence of one year or longer. Allie and Jess argued that the misdemeanor was not a CIMT because New York passed a law retroactively lowering the maximum sentence for misdemeanor convictions to less than one year. Notwithstanding, immigration adjudicators determined that the misdemeanor constituted a CIMT because the New York law did not apply for federal immigration purposes, and ordered Mr. Peguero Vasquez deported. Allie and Jess argued that immigration adjudicators erred in so determining.
"Crime-based grounds of removal are rooted in state law. The federal government regularly relies on state criminal law to mete out deportation consequences. For immigration adjudicators to disregard a state's changes to its sentencing laws for immigration purposes not only makes no sense as a policy matter, but has devastating consequences for members of our community," Allie reflected.
The Clinic, along with co-counsel Prisoner Legal Services New York, began working with Mr. Peguero Vasquez in his petition for review in the spring of 2022. Former clinical students Dan Brown '22, Lydia Ghuman '23, and Carlos Martinez '23 assisted in drafting the opening brief to the Second Circuit. The Immigration Defense Project, as well as New York Defender Organizations and the Kathryn O. Greenberg Immigration Justice Clinic at Cardozo Law School, filed amicus briefs in support of the case.
Jess and Allie joined the team over the summer to prepare for the oral argument before the Second Circuit. In a short period of time, they mastered the complex legal arguments presented in the case and 700+ page record. In the weeks leading up to the oral argument, they participated in multiple moots in which their clinical instructors, other clinical students, and co-counsel and amicus counsel acted as judges, peppering them with difficult questions about the case. Jess and Allie, along with their supervisor Tiffany, traveled to New York to deliver the argument before the three-judge panel in person. Co-counsel and amicus counsel packed the courtroom as Allie and Jess presented a compelling and persuasive oral argument.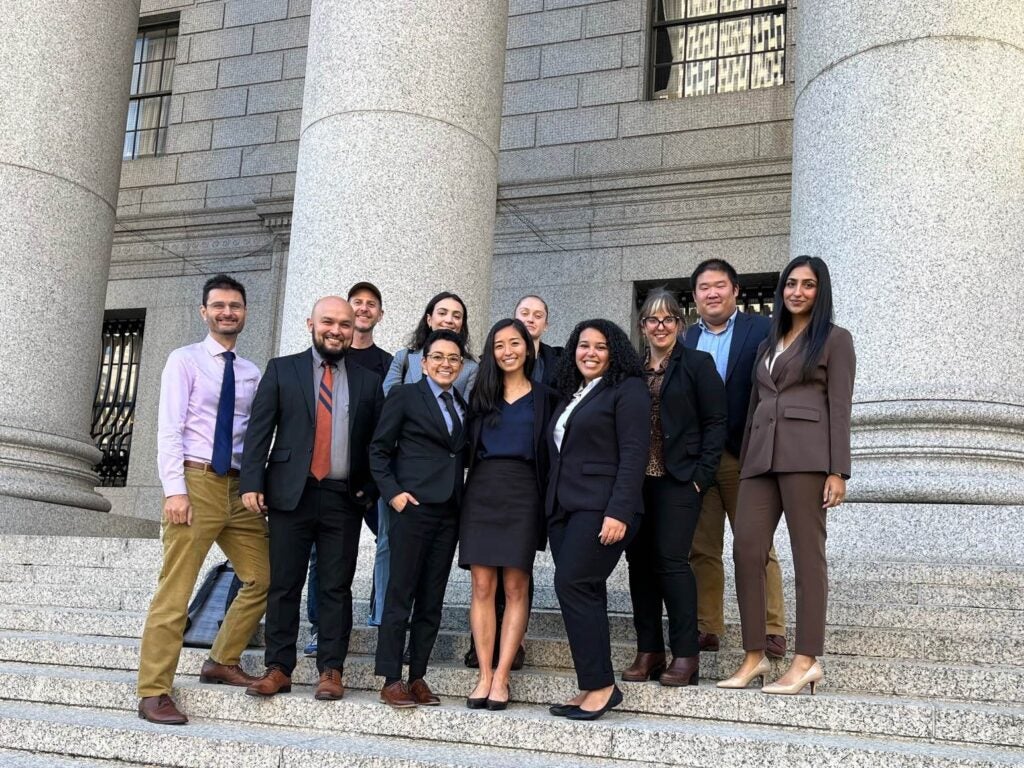 "It is no easy task condensing hundreds of pages of legal argument into a ten-minute oral argument during which three federal judges pepper you with difficult questions. But Allie and Jess did so with impressive skill and poise. Their mastery of the legal arguments and ability to move deftly between points speaks volumes to their hard work and dedication to our client," Tiffany said.
The experience is one that Allie and Jess will carry with them. As Jess reflected on the experience:
"Before enrolling in law school, I worked as a DOJ Accredited Representative with nonprofit organizations in Los Angeles, California, where I witnessed the complexity and injustices that emerge at the intersections of the immigration and criminal areas of the law.
I hoped to learn more about these intersections as a clinical student when I enrolled in the Crimmigration Clinic. I have learned about the increasing interaction between criminal and immigration laws as immigration law has become a more punitive tool of exclusion. Having the opportunity to work on this case highlighted the role of the courts in determining the future of immigration law as they grapple with the interaction of state and federal laws.
Because I was delivering the rebuttal, I focused on identifying the weaknesses in the opposing counsel's argument. Although the legal profession calls for professionalism and collegiality among attorneys, our commitment is to our client, and so we set out to formulate counterarguments to the opposing side's position. One of the judges on the panel communicated concerns for an influx of folks who might want to reopen their cases if they ruled in our favor. Another one of the judges asked us to explain why they should not defer to the agency's previous decisions. The concerns expressed by the court echo some of the concerns expressed in society – fears of more people entering the country and concerns for how to determine what the law should be and how to arrive at that determination. Our performance depends on our ability to answer the judges' questions and to do so with a clear understanding of the law.
I learned a lot thanks to the support provided by each member of the team. This team effort has potential consequences for Mr. Peguero Vasquez and the future of immigration law while already having had the impact of building bridges for collaboration. I hope that many more opportunities exist so that the various teams that worked on this case can continue uniting their efforts to advocate for immigrant communities."
A recording of the oral argument can be found on the Second Circuit's website (Docket No. 21-6380).
---
Este otoño, los estudiantes de la Clínica de Crimmigration (especializada en la intersección entre leyes de inmigración y leyes penales) Allie Cunningham '23 y Jess Valenzuela Ramírez '23 presentaron el argumento oral frente a un panel de tres jueces del Tribunal de Apelaciones del Segundo Circuito en el caso de Peguero Vasquez v. Garland, referente a una Solicitud de Revisión que involucra a un cliente quien fue deportado por haber recibido una condena de un crimen que califica como "crimen de inmoralidad" (esta categoría de crímenes se conoce por sus siglas en inglés como "CIMT"). Allie y Jess viajaron a Nueva York a presentar el argumento oral del señor Peguero Vásquez bajo la supervisión de Philip L. Torrey, el Director de la Clínica de Crimmigration, y Tiffany J. Lieu, la recipiente del Albert M. Sacks Clinical Teaching and Advocacy Fellowship.
"El presentar un argumento oral en un caso con implicaciones potencialmente de largo alcance para nuestro cliente fue una lección de humildad. Estamos muy agradecidos por nuestros instructores clínicos, Phil Torrey y Tiffany Lieu, por dedicar innumerables horas preparando con nosotros. Más que nada, estamos muy agradecidos con nuestro cliente por tener confianza en nosotros para presentar su caso," dijo Allie.
"Aprendí bastante gracias al apoyo de cada miembro del equipo y pude apreciar el esfuerzo que requiere llevar un caso como este al nivel de apelación. Ser un abogado con dedicación a la comunidad inmigrante requiere de mucha preparación. Sin duda, creo que puedo hablar por todos los miembros del equipo del señor Peguero Vásquez cuando digo que nos enorgullece el poder presentar su caso frente al Tribunal de Apelaciones del Segundo Circuito," dijo Jess.
El caso afecta un aspecto crítico de leyes de inmigración ya que algunas condenas penales tienen consecuencias de deportación si es que califican como CIMT. Para ser considerados como CIMT, la condena requiere llevar una sentencia de por lo menos un año. Allie y Jess argumentaron que el crimen menor no es un CIMT porque Nueva York aprobó una ley retroactivamente que reduce la sentencia máxima para condenas de delitos menores a menos de un año. Sin embargo, los jueces de inmigración determinaron que el delito menor era un CIMT porque la ley de Nueva York no es válida para propósitos federales de inmigración, y ordenaron la deportación del señor Peguero Vásquez. Allie y Jess argumentaron que los jueces de inmigración erraron en su determinación.
"Las bases de remoción penal están arraigadas en la ley estatal. El gobierno federal regularmente depende de leyes penales estatales para repartir consecuencias de deportación. Para que la BIA ignore los cambios estatales a las leyes de sentencia para el propósito de inmigración no sólo no tiene sentido como una cuestión de política, sino que también tiene consecuencias devastadoras para miembros de nuestra comunidad," reflexionó Allie.
La Clínica, junto con los abogados adjuntos de Prisoner Legal Services New York (Servicios Legales de Prisioneros en Nueva York), empezaron a trabajar con el señor Peguero Vásquez en su Solicitud de Revisión en la primavera del 2022. Los ex alumnos de la clínica, Dan Brown '22, Lydia Ghuman '23, y Carlos Martinez '23 asistieron en preparar el escrito inicial al Tribunal del Segundo Circuito. El Immigration Defense Project (Proyecto de Defensa de Inmigración) al igual que New York Defender Organizations (Organizaciones de Defensores de Nueva York) y Kathryn O. Greenberg Immigration Justice Clinic at Cardozo Law School (La Clínica de Justicia de Inmigración Kathryn O. Greenberg en la Escuela de Derecho Cardozo), aportaron escritos ante el tribunal en calidad de amicus curiae en apoyo del caso.
Jess y Allie se incorporaron al equipo en el verano para preparar el argumento oral frente al Tribunal de Apelaciones del Segundo Circuito. En muy poco tiempo, dominaron los argumentos complejos que se presentan en el caso y en el registro de más de 700 páginas. En las semanas previas al argumento oral, participaron en varias simulaciones en las cuales sus instructores de la clínica, otros estudiantes, y abogados adjuntos actuaron como jueces, presentándoles preguntas difíciles sobre el caso. Jess y Allie, junto con su supervisora Tiffany, viajaron a Nueva York a presentar el argumento frente al panel de tres jueces en persona. Los abogados adjuntos y abogados amicus llenaron la sala del tribunal mientras que Allie y Jess presentaron un argumento convincente y persuasivo.
"No es tarea fácil condensar cientos de páginas de argumento legal a un argumento oral de diez minutos durante el cual tres jueces federales te hacen preguntas difíciles. Pero Allie y Jess lo hicieron con impresionante habilidad y aplomo. Su dominio de los argumentos legales y su habilidad para moverse con destreza entre los temas dice mucho de su arduo trabajo y dedicación a nuestro cliente," dijo Tiffany.
La experiencia es una que Allie y Jess llevaran consigo. Como Jess reflexionó sobre la experiencia:
"Antes de matricularme como estudiante de derecho, trabajé como representante acreditado por el Departamento de Justicia (conocido por sus siglas en inglés como "DOJ") por medio de organizaciones sin fines de lucro, proporcionando servicios de inmigración para personas de bajos recursos en Los Ángeles, California. Algunas personas que solicitaban nuestros servicios se enfrentaban a consecuencias de deportación por la clasificación de alguna condena penal como un CIMT. Hubo quienes pudimos ayudar y algunas otras personas a las que tuvimos que referir a abogados particulares debido a la complejidad de su caso. Por medio de esas experiencias, me di cuenta de que las leyes de inmigración son muy complicadas y que están delineadas por leyes penales en formas ambiguas y en ocasiones de forma injusta.
Al matricularme como estudiante de la Clínica de Crimmigration, esperaba aprender más sobre la relación entre las leyes federales de inmigración y las leyes penales estatales. He aprendido que desde que las leyes de inmigración se han convertido más punitivas, dependen más sobre las leyes estatales, ya que estas se encargan de determinar cuál conducta se define como delito y cuales castigos se le atribuyen a cada delito. El tener la oportunidad de trabajar en este caso me ha demostrado el poder que tienen las cortes en determinar resultados de inmigración. Las cortes interpretan la ley, lo cual es de alta importancia en esta área que implica la interpretación de leyes estatales a la misma vez que la ley federal.
La función que mi compañera Allie y yo desempeñamos fue la de presentarle el caso al panel de jueces para explicar los argumentos legales que apoyan el caso del señor Peguero Vásquez. Allie presentó el argumento inicial, seguida por el abogado que representa al gobierno, y yo presenté la refutación. Una vez frente al panel de jueces, me enfoqué en identificar los puntos débiles del argumento presentado por el abogado del gobierno, nuestro contrincante. A pesar de que existe un nivel de profesionalismo y respeto hacia el abogado de la parte contraria, nuestra responsabilidad es hacia nuestro cliente y lo defendemos al formular contraargumentos que demuestran que el argumento del contrincante está equivocado o es falso. Uno de los jueces en el panel tenía la preocupación de qué pasaría si reconocen estos tipos de leyes que retroactivamente reducen la máxima sentencia posible para delitos menores – nos preguntaba si todas las personas que han sido deportadas van a reabrir su caso y reingresar al país. Otro de los jueces nos pidió que defendiéramos la aplicación de un análisis legal que le permite a la corte tomar una decisión sin deferir a las decisiones previas de la agencia federal. Las inquietudes de la corte no son muy distintas a las inquietudes que vemos reflejadas en la sociedad – mientras unas personas temen la entrada de más personas al país, otras contemplan lo que debe decir la ley y el proceso que debemos seguir para determinarlo. Como abogados, nuestro desempeño depende de nuestra habilidad de interpretar las preguntas de la corte y de contestar con un entendimiento muy claro de la ley.
Fue un esfuerzo en equipo que tiene la potencial de cambiar el trayecto de las leyes de inmigración y el caso del señor Peguero Vásquez. Lo que ya se ha logrado, y merece celebrarse, es el poder que tenemos mediante la colaboración. Espero que existan más oportunidades como esta, para que los varios equipos que se reunieron sigan uniendo sus esfuerzos para abogar por las comunidades inmigrantes."
La grabación del argumento oral se encuentra en el sitio de web del Tribunal (Número de Expediente/Docket No. 21-6380).