Getting something 'wrong' can be unsettling — particularly if one's professional or personal identity is at stake. But according to three Harvard Law School professors, allowing ideas to evolve — as new arguments, information, and data emerge — may lead to new, positive, and altogether different paths.
During a discussion on Feb. 21, Professors Guy-Uriel Charles, Charles Fried, and Rachel Viscomi '01 brought this point home in a personal way by sharing moments of reckoning from their own lives when ideas they previously thought settled — changed.
Jonathan Zittrain '95, George Bemis Professor of International Law, kicked off the panel by asking panelists to share something they once believed — possibly fervently — that they no longer consider true. He began with Charles Fried, the Beneficial Professor of Law, who is currently writing a book about his own and other people's change of heart.
Fried said he'd begun his book project, which focuses on Mikhail Gorbachev, James Madison, and Oliver Wendell Holmes Jr., before the pandemic, but in revisiting it recently, found it needed to be revised.
"I find that the description of my own change that I wrote two years ago was really not —what's the word? — true," he said.
A longtime Harvard Law professor who served as U.S. Solicitor General under President Ronald Reagan, Fried said his conservative leanings are historical, rooted in family and professional experience. In 1939, he fled Czechoslovakia with his family in advance of the Nazi invasion. Joseph Stalin's rise to power in Russia and the fall of the Iron Curtain made it impossible for them to return.
In the 1970s, as a professor at Harvard Law School, he encountered a movement he described as "radically left," with faculty-led Marxist study groups. "I thought that was awful," he said. His personal experience with communist regimes, he said, left him "quite allergic to the left."
"That allergy took a form where I wanted to be in opposition," he said. "What better way to be in opposition than to go into the Reagan administration?"
As solicitor general from 1985 to 1989, Fried argued before the Supreme Court in cases touching on separation of powers and voting rights issues, and defended the Reagan White House's opposition to affirmative action and abortion. Fried said that, as a member of the administration, he "grew up fast," finding people "way to the right" of him, but also working with a "wonderful" team who taught him a lot. "I learned a certain moderation."
But returning to the law school, he found his approach too many questions had evolved. "I think what had changed was that I was older, and I had lived, and I had children." Listening to the opinions of his children and grandchildren, he said, "changed me."
In recent years, Fried has broken rank with conservative orthodoxies, serving as a founding member of Checks & Balances, a group of prominent conservative and libertarian attorneys who publicly criticized policies and actions of the Trump administration.
Zittrain asked if the fact that he once was considered a movement conservative now lends credence to his opposition — "even Charles Fried thinks that this particular policy is bananas."
"If so, so be it," said Fried.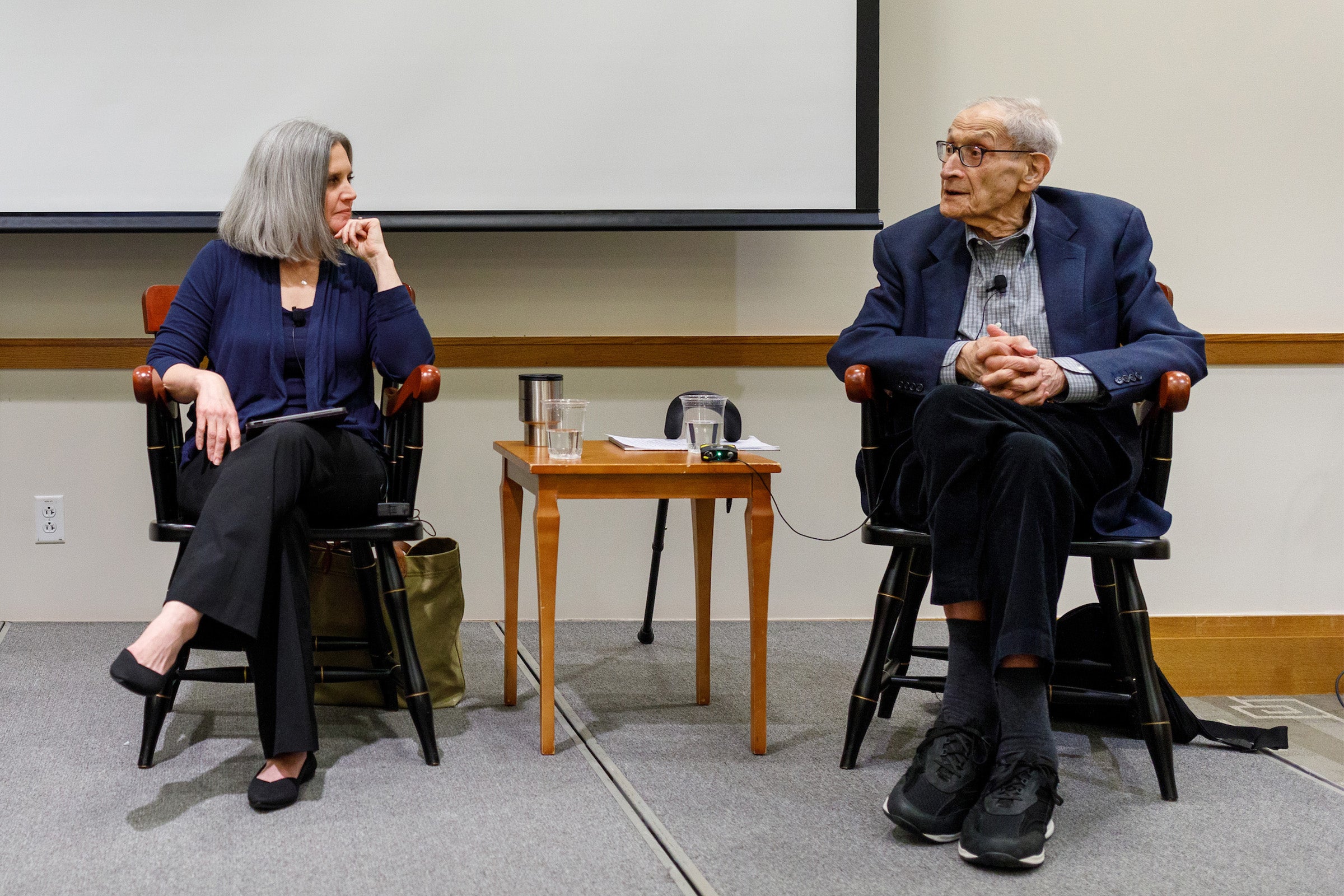 Rachel Viscomi, clinical professor and director of the Harvard Negotiation and Mediation Clinical Program, said the occasion of her daughter's 19th birthday prompted her to share a journey of transformation related to how she viewed childbirth.
Describing herself as a "maximizer" who reads multiple reviews and researches all options before buying a product or choosing a path, Viscomi said she took an analytic approach in preparing for her daughter's birth, but that she'd neglected to take into consideration several factors that ultimately changed her thinking.
Her birth plan involved an epidural for pain relief and giving birth in a hospital, but after reading a book on the many ways in which birth has been medicalized, Viscomi said her vision for the experience was altered.
"It really kind of just reconfigured the kaleidoscope of my understanding of birth in a lot of ways," she said. "There aren't these two views — I have this one, now I have this one. It's like, the ground underneath my feet has shifted in a way that makes it impossible to understand this thing that I understood in one way before, in the same way after."
Viscomi opted to leave her OB/GYN practice for a more holistic approach at a birth center, but her vision never came to fruition. When she went into labor, there were immediate signs her child was in distress with complications involving the umbilical cord, and Viscomi was rushed to the hospital, where her daughter was safely delivered.
"The thing that called this story to mind was really the ways in which when I have changed my mind, it's almost always that I'm operating on the basis of a set of assumptions that I have not thoroughly considered, or if I've thoroughly considered them, there's a context outside of it that I haven't taken into account," she explained.
Guy-Uriel Charles, the Charles J. Ogletree Jr. Professor of Law and Director of the Charles Hamilton Institute for Race and Justice, whose work is centered around democracy and autonomy and agency and self-determination, said he found himself shifting his view on self determination through the experience of a visit to Haiti.
Charles, who is of Haitian descent, returned to the country after the 2010 earthquake and was confronted by the overwhelming amount of suffering and deprivation. The lack of available resources and institutions led him to wonder if there was a broader obligation to help support Haitians that was irrespective of Haitian self-determination.
"It confronted me with a professional position that I had long held on the importance of agency and self-rule and democracy," Charles said. He said the experience confronted him with the question of whether it is sometimes necessary "to rethink our understanding of what consent of the governed means, as a first pass, not as a final destination."
"For me, those thoughts were very frightening, because the thing that I once had held dear, the ideas that I held dear intellectually, did not make sense in that circumstance," he said.
To hold on to the idea of self-determination for Haiti, he said, would be to condemn a group of people with whom he, but for "an accident of history," would be trying to survive amid the same set of dire circumstances.
The event was sponsored by HLS Beyond, a new program of events sponsored by the Harvard Law School Library to provide students with skills-based and ideas-based learning opportunities that are beyond what they typically encounter in the classroom.
---
Want to stay up to date with Harvard Law Today? Sign up for our weekly newsletter.