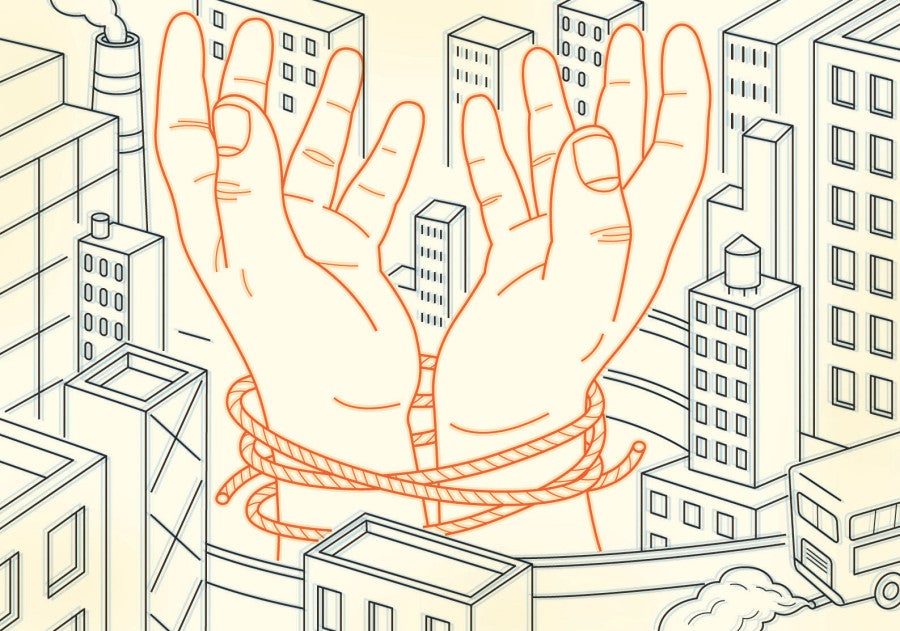 Last year, while waiting for a flight at Boston's Logan Airport, Harvard Law Professor David J. Barron '94 eavesdropped on the couple in line ahead of him as they complained about the airport's general disorganization. "Someone should call the mayor and get him to do something about this," he heard the woman say.
Her complaint—and how fruitless it would be if someone did call the mayor—goes to the heart of a new book Barron has co-written with his Harvard Law colleague Gerald E. Frug '63. "City Bound: How States Stifle Urban Innovation," forthcoming from Cornell University Press in December, examines how state laws shackle cities. A call to Boston's mayor about the city's airport would be ineffective because the airport is owned and governed not by the city, but by a state agency. The Boston mayor would just add to the chorus of complaints.
In "City Bound," Barron and Frug look at how state law determines what cities can and cannot do to raise revenue, control land use and improve schools. The authors compare the laws of seven U.S. cities—Boston, New York, Atlanta, Chicago, Denver, San Francisco and Seattle—and analyze which legal structures stimulate city growth and autonomy and which ones stifle it.
The roots of the book are in a Harvard Law seminar Frug and Barron, both experts in local government law, co-taught in 2001. The course examined the extent of home rule in 101 municipalities in the Greater Boston area and the legal powers the commonwealth of Massachusetts grants to those cities and towns. With support from the Rappaport institute for Greater Boston, in 2004, the two professors, along with then-3L Rick Su (now an associate professor at the University of Buffalo Law School), published a book on the subject: "Dispelling the Myth of Home Rule: Local Power in Greater Boston." By 2007, there was a follow-up study, "Boston Bound: A Comparison of Boston's Legal Powers with Those of Six Other Major American Cities."
That report made waves in Boston, spurring local policy-makers and planners to examine 19th-century laws that limit the city's ability to respond to modern problems. Gov. Deval Patrick '82 is now exploring the creation of a state home rule committee to rethink local powers. He has also proposed a Municipal Partnership Act that would allow cities and towns to raise taxes and fees, among other measures.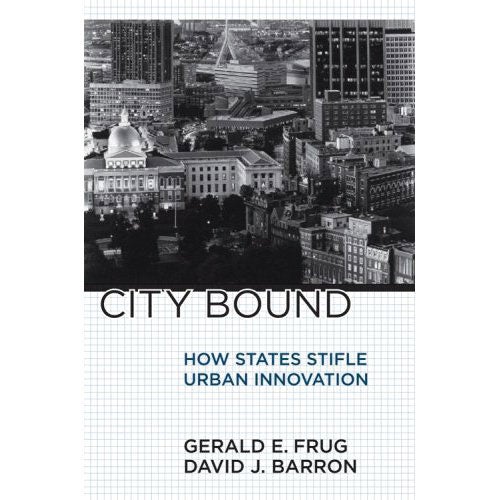 In "City Bound," Frug and Barron look beyond Boston to other cities. "The intent is to generalize the Boston project so people understand how city power is organized around the country and the world," says Frug.
This fall, the authors are offering another government law class at HLS, a seminar called Green Cities: New York. Taught in conjunction with attorneys working for the environmental division of the New York City Law Department, including Amanda Goad '05, the course examines environmental issues facing cities and how they can address them. In the spring, students will undertake the clinical part of the course, tackling projects of their own design to assist New York City's environmental division.
Frug and Barron also envision a law school clinic, tentatively named the Program on Urban Law and Governance, to give students more opportunities to work with local governments. HLS is currently seeking funding to underwrite such a project, which the two professors say would be the first of its kind in the country, and a natural for Harvard Law, which, according to Frug, has more students enrolled in local government law courses than any school in the country.
Those courses played a role in Barron's own career; his local government law professor in the early '90s was Gerald Frug.