Thirty law students walk into a bar …
No, it's not the beginning of a joke, but rather the beginning of an event held by Beeritas, a Harvard Law School student organization dedicated to tasting, evaluating, and enjoying one of humanity's oldest beverages: beer.
Beeritas's mission is to bring together lovers of that familiar fermented drink of hops and grains for regular tastings and conversation, fostering connections and friendships along the way.
Simply put, "The gist is people like to drink beer," says Melyssa Eigen '22, the organization's president. "The group is a way to have a social organization on campus with a unique twist, to get to know some of the different local breweries and to have places to explore around the greater Boston area."
Eigen thinks Beeritas — its name is a play on "veritas," or "truth," which appears on Harvard Law's shield — has been around for at least a decade. The group appeals to a wide variety of law students, she says — their email list has more than 350 people on it — and everyone is welcome, from beer-ginners to connoisseurs.
"We try to keep it as open as possible, because we don't want it to be exclusive," she says. Beer, she adds, can bring people together. "We also attract some LL.M. students, which I think is really exciting. You get to hear about the beers from their countries, and it's something you can bond over, coming from different backgrounds."
Eigen was initially drawn to the laidback nature of Beeritas as a first-year law student. "A lot of groups were academically focused, and I felt that 1L was so rigorous that I really wanted to find something that was more low key, and was genuinely just about having fun at something that wasn't school-related," she says.
As a researcher at the Berkman Klein Center for Internet & Society, teaching fellow at the Cyberlaw Clinic, and future cybersecurity lawyer, Eigen says Beeritas is a great way to use what free time she has to relax, make friends, and explore her other interests.
"While you're in law school, you're already doing a lot. It's a huge stress relief to be able to unwind and talk to people who you know are going through similar experiences as you. Or if they're older students, they can help you understand what to expect. And if you like beer — I genuinely enjoy tasting different kinds of beer — you can enjoy it from that perspective as well."
---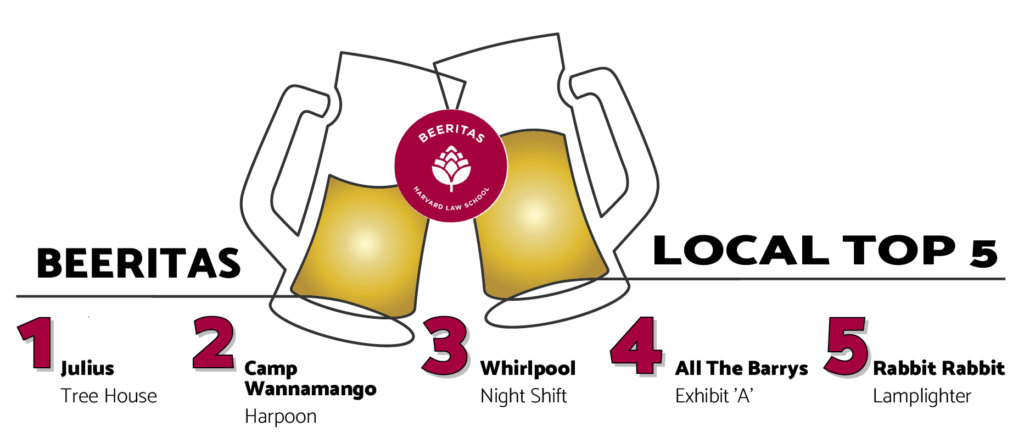 ---
Eigen says that the organization has established relationships with many nearby breweries — and a few outside the Boston orbit. Before the pandemic, the group held weekly Monday night tastings featuring representatives from breweries like Sixpoint in Brooklyn, Victory in Pennsylvania, and local darling Lord Hobo.
"The brewery would bring a sampling of five or six beers for us to taste for free," says Eigen. Beeritas members would also learn how the beers were made, and the tasting notes they should look for in each. Was it bitter? Sweet? Did it have hints of lemon peel, or was it more of a dark coffee flavor? "The representatives are just nice, interesting people," says Eigen. "Everyone would try all of the beers, and you could ask them anything you wanted."
Sometimes, when a brewery wasn't available, the group would curate its own tastings, or occasionally take a field trip to one of the many breweries walkable from campus, such Lamplighter in Cambridge, or Aeronaut in Somerville. A few times, Beeritas members even took a bus trip to Portland, Maine — what Eigen calls "the haven of all beer — on the East Coast, at least."
When the group went remote last year in response to the pandemic, Eigen and fellow Beeritas members worked hard to keep spirits up. "First, we had a professor of law come and talk to people on Zoom about intellectual property related to beer," she says. "It was less about drinking, but everyone brought their beer with them to the virtual event. I thought was really cool and interesting."
They also distributed beers to those who were near Cambridge and held virtual tastings. "It was just a small group, but it was something to keep people engaged, especially for the 3Ls who were graduating who couldn't have their last beer tasting in person," she says.
This year, with caution in mind, the group has held a few tastings on campus with a limited number of attendees, which Eigen says sold out quickly. And as the winter melts to spring and restrictions possibly ease, she says Beeritas hopes to hold a few more tastings on campus. She also wants to organize trips to Boston breweries to help her fellow law students explore New England through its beer.
"I'm not from Boston, and I knew nothing about Boston or the beer scene here before coming to HLS," she says. "Learning from different people about different breweries, and having the opportunity to explore neighborhoods like downtown or the North End — I've learned it's this great place with a ton of really cool breweries. I'm glad I've gotten to explore so much through this organization."
And to meet others who share her interest in a good pint, of course. "I personally did not know anybody when I first joined. Now, the board members happen to be my very close friends," she says.