Will Brazil embrace the ideas of Roberto Unger?
Two years ago, HLS Professor Roberto Unger LL.M. '70 S.J.D. '76 publicly denounced the government of his native Brazil, calling it "the most corrupt in history." He also called for the impeachment of its president, Luiz Inácio Lula da Silva, known throughout Brazil as "Lula."
In June, Unger took a job as a minister in Lula's Cabinet, in charge of the secretariat for long-term planning.
Surprising? Not at all, say friends and colleagues of the law professor and social theorist who, even from the distance of Cambridge, Mass., has managed to stay visibly involved in Latin American politics during his 36 years on the Harvard Law School faculty.
Unger and Lula are no strangers to one another—they worked together in a series of workshops organized in the mid-1990s by Unger and NYU Professor Jorge Castañeda to develop a comprehensive political agenda for Latin America. A number of rising leaders from the region took part, including Vicente Fox, who later became president of Mexico.
The Unger-Lula relationship, says Castañeda, has been marked by occasional disagreements and even some rivalry (Unger was a key backer of one of Lula's election opponents), but ultimately by shared vision and enough mutual respect to enable collaboration. Unger's criticism, he says, was merely an outburst of frustration.
It was never in doubt that they would, in today's parlance, "hug it out."
Castañeda says he wasn't surprised, therefore, when Lula shrugged off Unger's criticism and offered him a job, nor when Unger took a leave from HLS in June to join Lula's Cabinet. For both men, the shared opportunity to develop a comprehensive plan for Brazil's future was more important than their disagreements.
"Unger is the minister of thought," says Castañeda. "Lula has asked him to have a sense of what he would like Brazil to look like 20 years from now. Then, the president will decide which ideas to act upon."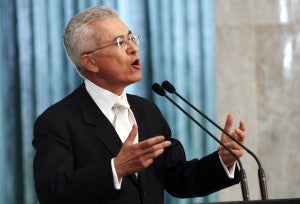 Unger was already engaged in that kind of endeavor for the region when he and Castañeda organized the workshops in the mid-'90s and produced their principal working document, "A Latin American Alternative." He has suggested that the Left in power can and should do more than rely on the redistribution of wealth as a quick fix for economic inequality, and he has spent a great deal of time exploring how a Leftist program could make good on its ideals without trying to resuscitate discredited notions about government control of the economy.
In a sense, says Castañeda (who took a similar leave to serve as Mexico's foreign minister in the Fox administration), Unger's new job gives him the chance to put into practice some of the social and political theories he has been developing over the past four decades and puts forth in his recent book, "What Should the Left Propose?" (Verso, 2006). As of June, he's gone from writing about that question to living it.
Straddling the line between academic theory and political involvement is common in Latin American politics, says Castañeda. He describes Unger's path as that of a "typical Latin American public intellectual" who is making a perfectly normal career move.
Unger was born into an intellectually and politically active family in Rio de Janeiro in 1947. His grandfather was an astronomer who became the nation's foreign minister and later founded the National Democratic Union, a liberal opposition party. Unger's mother co-edited one of Brazil's first feminist periodicals. A great-uncle launched Brazil's Socialist Party.
When he enrolled at HLS, Unger was planning on a career in Brazilian politics. But when Brazil's military government arrested thousands of civilians—including his sister—in a crackdown on government critics and activists, Unger decided to stay in the U.S., and embarked on an academic career.
In 1971, Unger was appointed to the faculty at HLS, where he was an early leader of the Critical Legal Studies movement and wrote the tract that became known as one of its principal manifestos. He became a social theorist and critic with a body of work that covered not just law but also art, religion, politics, philosophy and economics.
And yet, despite his intellectually rich and wide-ranging academic life, Unger never stopped feeling the gravitational pull of politics in the Southern Hemisphere. In 1990 he waged a quixotic campaign for a seat in the lower house of Brazil's Congress. He also ran unsuccessfully for mayor of São Paulo. He even toyed several times with the possibility of his own presidential candidacy, most recently in 2006. He counseled several leading Latin American politicians, including Fox, and he was a key adviser to Brazilian finance minister and unsuccessful presidential contender Ciro Gomes in the 2002 election that Lula ultimately won.
Castañeda says Unger's political experience and ability to think broadly and theoretically make him well suited for his new job. People in government rarely have enough time to devote to serious thought, he says. Conversely, he adds, "it's very difficult for thinkers out of government and with no sense of realities to suggest things that make a whole lot of sense."
"The combination of the two can be an ideal one."