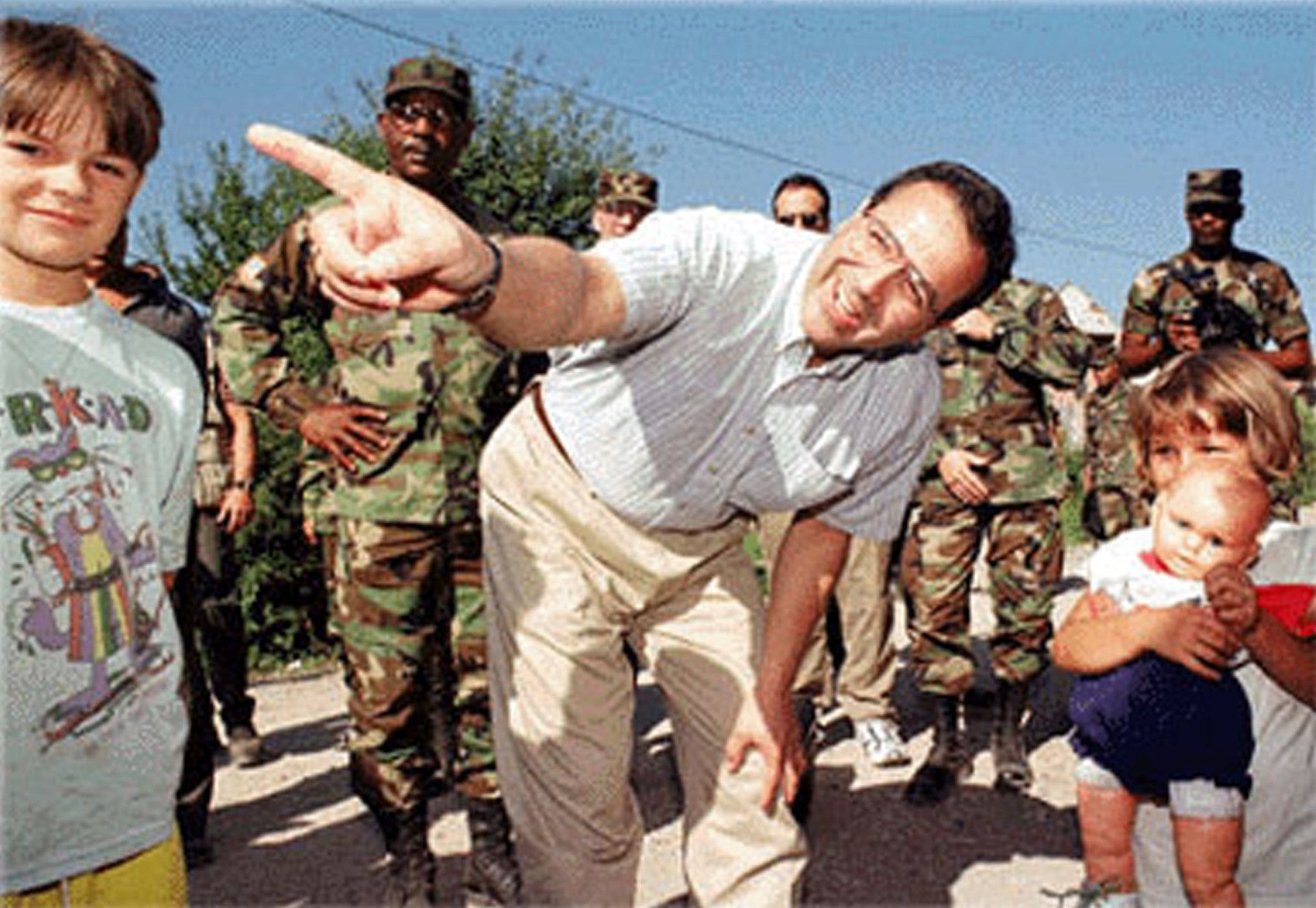 An Army security officer sets a brisk pace as we quickstep through the Pentagon toward the offices of Louis Caldera '86 ('87), Secretary of the Army. His schedule barely permits an interview between one whirlwind tour of the Middle East, where Caldera celebrated Thanksgiving with the troops, and fast-approaching trips to Miami, Missouri, and Panama.
One of countless lookalike doors along an endless Pentagon corridor opens into the Secretary of the Army's deceptively tranquil quarters. Contrasting with the sober decor is Caldera's smiling image in photos taken with children in Honduras, when he went to oversee relief operations in Central America following Hurricane Mitch, and with officers and soldiers stationed around the world.
Since July 1998, when the Clinton nominee was confirmed as the 17th Secretary of the Army, Louis Caldera's bags have never been unpacked for long. His calendar is crowded with trips across America and abroad to visit veterans, government officials, and commanding officers, Army projects and training sites, and, of course, enlisted men and women. Says Caldera: "I want to be thought of as the 'Soldier's Secretary,' and to hear directly from them. It's important for me to be out in the field, where the work is being done. It's in my nature to be a hands-on manager."
As the service's top civilian official, the Secretary of the Army does not lead military operations but ensures that the Army is properly staffed, trained, and equipped. Caldera manages a $70 billion annual budget and a work force of around one million regular Army, National Guard, and Army Reserve soldiers, plus another 270,000 civilian employees. He oversees all matters relating to recruitment and personnel, weapons systems and equipment acquisition, environmental issues, reserve affairs, and financial management, as well as stewardship for over 25 million acres of land.
Caldera brings a diverse resume to his post. He has not only served as an Army officer, rising to the rank of captain, but has also practiced corporate finance law, been deputy counsel with Los Angeles County, and for five years represented downtown L.A. in the California state legislature. He was then appointed by Clinton to head up the Corporation for National and Community Service, which runs the AmeriCorps voluntary service program. One year later, Clinton tapped him again, for the Army Secretary spot left vacant by Togo West.
Caldera's agenda is even more daunting than that of his predecessor, for with the arrival of a new century, the U.S. Army is preparing for dramatic changes. Images of lumbering tanks, trench warfare, G.I. Joe, and John Wayne characters are now antiques. Two world wars and the cold war era are rapidly receding, and the Army must transform itself to adapt to new global realities and to fulfill increasingly complex peacekeeping and war-making missions. "Ultimately, my job is to put the right tools in the hands of our soldiers today, as well as tomorrow, to make sure they're trained and ready to be deployed by our war fighters if national authorities so decide," the Secretary says.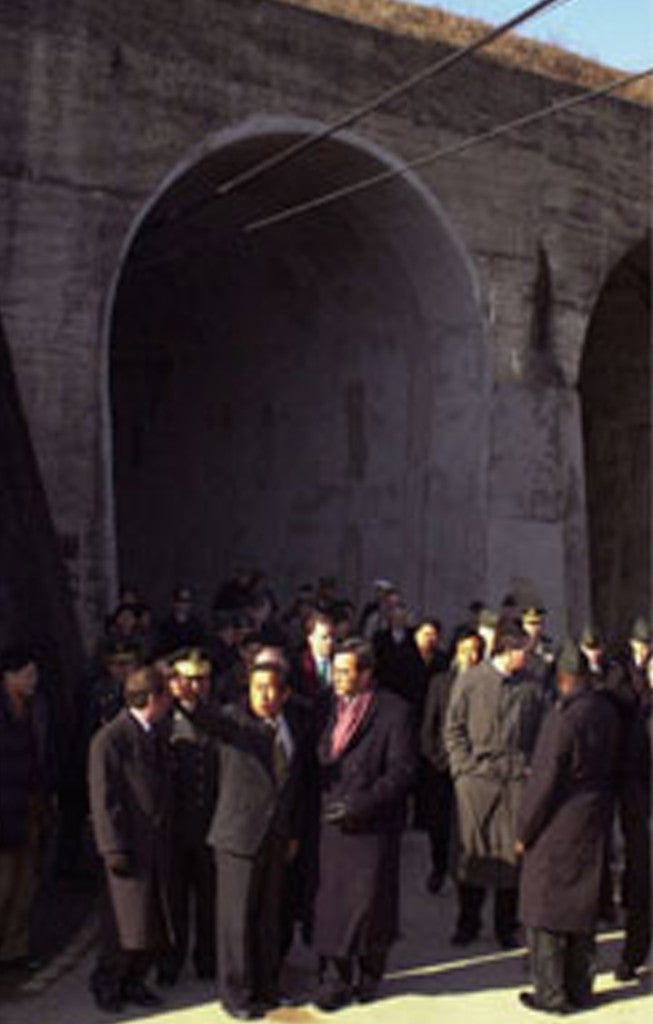 "Today there are hotspots all over the world, and our job is to get to them faster and influence them decisively," he continues. "The tank battle on the plains of Europe" belongs to the past. "Regional instability, failed states, terrorism, drugs, and weapons of mass destruction are among the new threats we need to address. But our cold war legacy is a weapons platform of 70-ton tanks and heavy artillery that are difficult to deploy quickly." In Desert Storm it took six months to put five Army divisions on the ground. In Kosovo, ground conditions nearly immobilized Army equipment, underscoring the need for a major shift in strategy. "That was a wake-up call," Caldera says.
This fall Secretary Caldera and General Eric K. Shinseki, the Army chief of staff, announced a total transformation of Army forces. Heavy divisions and light infantry will begin to merge to create a versatile fighting force that can be deployed anywhere in the world and in days rather than months. To start out, two brigades at Fort Lewis in Washington, one heavy and one light, are transforming to new levels of capability using off-the-shelf equipment to reconfigure. Meanwhile, the research and development process is commencing on the next generation of Army technology, including a much lighter fleet of combat vehicles as well as reconnaissance helicopters designed to sweep and "digitize" the battlefield, thereby pinpointing enemy and friendly forces and eliminating "the fog of war," Caldera explains. New technology will also permit a much smaller "logistical footprint," he adds, by streamlining and standardizing Army equipment and using more "reach back" capabilities.
The Army is also exploring technologies to revolutionize its training programs. In August, the department signed a $45 million contract with the University of Southern California to establish the Institute for Creative Technologies, which will draw on Hollywood and Silicon Valley talent to help the Army develop virtual-reality simulators for training and mission rehearsals.
It is up to Caldera to communicate these and other Army priorities to the public and elected officials, to secure support and funding. Whether the issue is proposed new weapons systems or the decision to close an Army base a local community depends upon, Caldera, the Army's top communicator, frames its message. It is also up to him to communicate to the Army's own people, he says, "who, from the enlisted soldier to the senior officer, are asking, 'Where is the Army going? What is our mission? Why should I continue my commitment to this organization?'"
And as the Army eagerly forges ahead, it cannot forget history. At the request of Secretary of Defense William S. Cohen, Caldera is leading the investigation into reports of the massacre of Korean refugees by American soldiers at No Gun Ri, which took place in 1950, at the start of that war. Caldera says these inquiries, to conclude next year, "must be handled very diplomatically, to keep in mind the views of our own veterans, the domestic Korean-American community, and the international ramifications." He adds, "In 1950 the Army was in Korea to protect South Koreans. That relationship was and is too important to let it be undermined by what may have been a tragic loss of civilian life."
Another priority for the Secretary of the Army is a pressing concern throughout the military: falling recruitment numbers. "We haven't done a good job of communicating to young people how important and honorable military service is."
Caldera will fill the Army's depleted ranks through new strategies including better marketing. He intends to do more campus recruiting, to urge college students to do their part. To young people concerned about postponing or interrupting undergraduate studies to join the Army, Caldera suggests that "military experience will make college more meaningful." American soldiers stationed around the world mix with people of different races and cultures. "They see how the rest of the world lives, and learn to handle themselves in all kinds of situations." Caldera adds that the Army is wiring barracks and hooking soldiers up to education programs via distance learning. "The best-kept secret is that most soldiers are students working on undergraduate and graduate degrees."
Does the slogan "Be all that you can be" sound familiar? According to Caldera, even the famous Army recruiting slogan, ranked second on Advertising Age's listing of the century's most popular jingles, may be retired or retooled to better grab the attention of today's 18- to 24-year-olds.
"We must do a better job of recruiting Hispanics in particular," he says, noting their high representation during the Vietnam War. Thirty-seven of 160 Medal of Honor recipients are Hispanic. But according to current Army standards, "90 percent of new recruits must have graduated from high school. Nearly half of all Hispanics fail to graduate. Yet they make great soldiers." To turn the situation around, Caldera is calling for increasing the number of Hispanic cadets at West Point and in ROTC programs and approving admittance in the ranks of more men and women who pass high school equivalency (GED) tests.
The highest-ranking Hispanic ever to serve in the Defense Department, Caldera is the son of Mexican immigrants. When he was four years old, his family moved from El Paso, Tex., where he was born, to Los Angeles, first to a low-income section called Boyle Heights and then to nearby Whittier, which was safer and offered better schools. "Our family didn't have it easy," Caldera recalls. "We hit all the rough spots that immigrant families typically experience."
As a teenager growing up amid the turmoil of the '60s and '70s, during the Civil Rights movement, the "war on poverty," and the Vietnam War, Caldera decided the country he loved needed continual improvement, and he longed to contribute through public service of some kind. So he applied to the U.S. Military Academy at West Point because it offered leadership training along with top-notch academics.
He laughs as he remembers the "culture shock" of going from relaxed Southern California to spit-and-polish West Point. "My classmates at the Point were idealistic, hardworking kids who came from all over the country. We learned that if we stuck together, we'd make it through the hellish plebe year."
After graduation, Caldera went on to Fort Dix, N.J., for training. "I had decided that becoming an officer, serving in uniform, and, if necessary, leading soldiers into combat was the right road for me to take." After five years of active duty Caldera chose to leave the military and study law. The Civil Rights movement had interested him in the legal system "as a force for change." He wanted to shift his career to a local level, and ultimately seek an elected or appointed office that would permit him to work on issues closer to those of the community in which he grew up.
His first choice, HLS, accepted him. Compared to the rigors of West Point, Caldera found his 1L year smooth sailing. In fact, he welcomed the variety of Law School courses, in contrast to the Point's prescribed curriculum, and decided to pursue a joint J.D.–M.B.A. degree. His involvement with the two schools, the Kennedy School's Institute of Politics, and his job as a Weld Hall proctor exposed Caldera to an array of Harvard students and gave him an intense appreciation for liberal arts studies.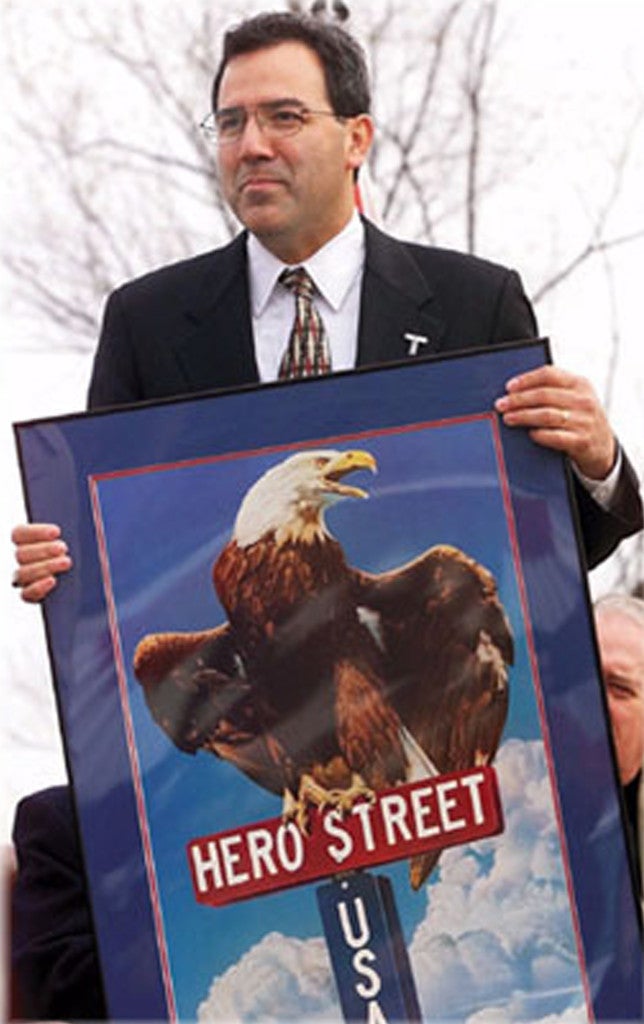 In his role as Secretary, he says, "I'm trying to direct the Military Academy to shift from its traditional focus on engineering to include more liberal arts, so that our future soldiers will be more broadly educated. Today's challenge — multinational military efforts, involvement worldwide in regions with deep histories of conflict and ethnic hatred as well as the Army's growing role in setting up institutions of civil society, such as in Bosnia and Kosovo, all call for liberal-arts-based skills, Caldera says.
It was at HLS that Caldera met his future wife, Eva Orlebeke '89. After graduation he practiced law with the L.A. firm O'Melveny & Myers, and then took a job as litigator for the County of Los Angeles. When the 1990s redistricting opened up a new seat in the legislature, Caldera seized the chance to represent his old L.A. neighborhood. Despite "zero name recognition," he managed to win the election and soon was chairing or vice-chairing several fiscal committees.
Now that he'd mastered the skills of legislation and policymaking, Caldera set himself a new challenge, running a large organization. He accepted President Clinton's offer and became Managing Director and Chief Operating Officer of the Corporation for National Service, a $600 million agency. "I loved being part of this new organization, motivating young people to be involved in service to the nation," he says. He also acquired useful experience in the congressional budget process.
Then the Army post opened up. Caldera's military background and political skills made him an easy choice. It was also the job he had always wanted, for it drew together the interests and goals of a lifetime.
His personal mission as Secretary, Caldera says, "is to communicate to the American people what soldiers do for our country, from deterring aggression in Kosovo to peacekeeping in the Balkans to fighting drugs in South America." The Army's role in promoting international stability "helps protect U.S. security interests and makes it possible to open new markets," contributing to the nation's prosperity and peace.
Yet the public remains skeptical about the military, and Caldera believes that a big part of the problem is the Army's own reticence about touting its accomplishments. "So I travel all over, to tell the Army's story, because it is important for people to know exactly why we spend so much on defense, and how terrific our men and women in uniform are."
And with that the Soldier's Secretary is eager to move on — to prepare for his talk at the Hispanic Leadership Summit in Miami, his visit with soldiers stationed at Fort Leonard Wood in Missouri, his role at the historic transfer of ownership of the Panama Canal, and countless more of the spirited conversations he enjoys above all, with soldiers, veterans, and citizens.