Social media should be treated like a public utility, with broadband access guaranteed and harmful third-party content moderated, according to John G. Palfrey '01, Harvard Law School's 2021 Steven and Maureen Klinsky Professor of Practice for Leadership and Progress.
The internet went largely unregulated during its first boom in the early 2000s, an approach Palfrey said many supported at the time. The years since, culminating in the January 6 attack on the U.S. Capitol, have seen an escalating debate about how much regulation is necessary for the public good. "My view is that the 2001-era absence of regulation does not make sense today, if it ever did," said Palfrey. "We need a regulatory regime today for technology that puts the public interest first, with equity and inclusion as a design principle and not an afterthought."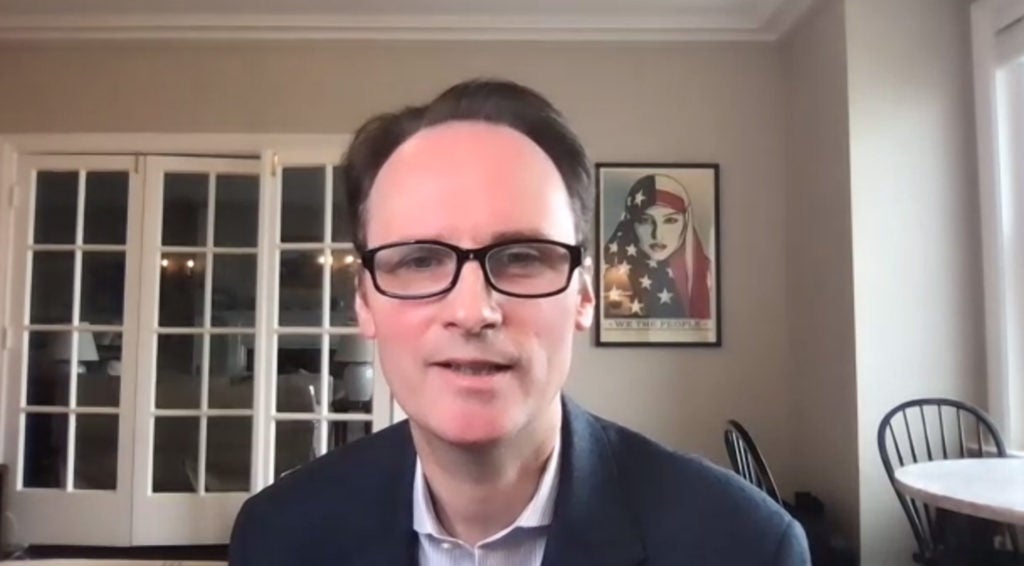 Palfrey's comments came at the annual Klinsky Lecture, and built on the January Term course he taught earlier this year, "Technology and the Public Interest." Palfrey is currently president of the John D. and Catherine T. MacArthur Foundation. Before leaving HLS in 2012 to become head of school at Philips Academy, Andover, he served as the Henry N. Ess III Professor of Law, vice dean for Library and Information Resources, and executive director of the Berkman Klein Center for Internet & Society. The Klinsky professorship he holds this year was established in 2013 by Steven Klinsky J.D. '81 M.B.A. '79 and Maureen Klinsky.
In welcoming remarks, Harvard Law School Dean John F. Manning '85 thanked Steven and Maureen Klinsky for "their enduring commitment to educating great lawyers and leaders," and praised Palfrey for his many contributions to the Law School, where he, along with Jonathan Zittrain, "was one of the moving forces behind the effort to digitize the resources of Harvard Law Library, the largest law library in the world, and to make them available to lawyers, researchers, and students across the globe."
Palfrey said that, as a student at HLS in 2001, he noticed the proliferation of internet-themed courses across Harvard — notably Charles R. Nesson's "The Exploding Internet" and Zittrain's "Internet & Society: The Technologies and Politics of Control." A research assistant on the latter course, Palfrey recalled some lively and passionate "water cooler" discussions at the early Berkman Klein Center.
"The spirit of the times in 2001 was electric and exciting." Palfrey said. "It was dominated by the point of view that the internet was a new space, and something that deserved to be treated differently. For many this translated into a hands-off regulatory environment. There was even a name for it: Cyber-libertarianism." The internet, he said, was seen as so promising that the U.S. Congress and judiciary were loath to regulate it.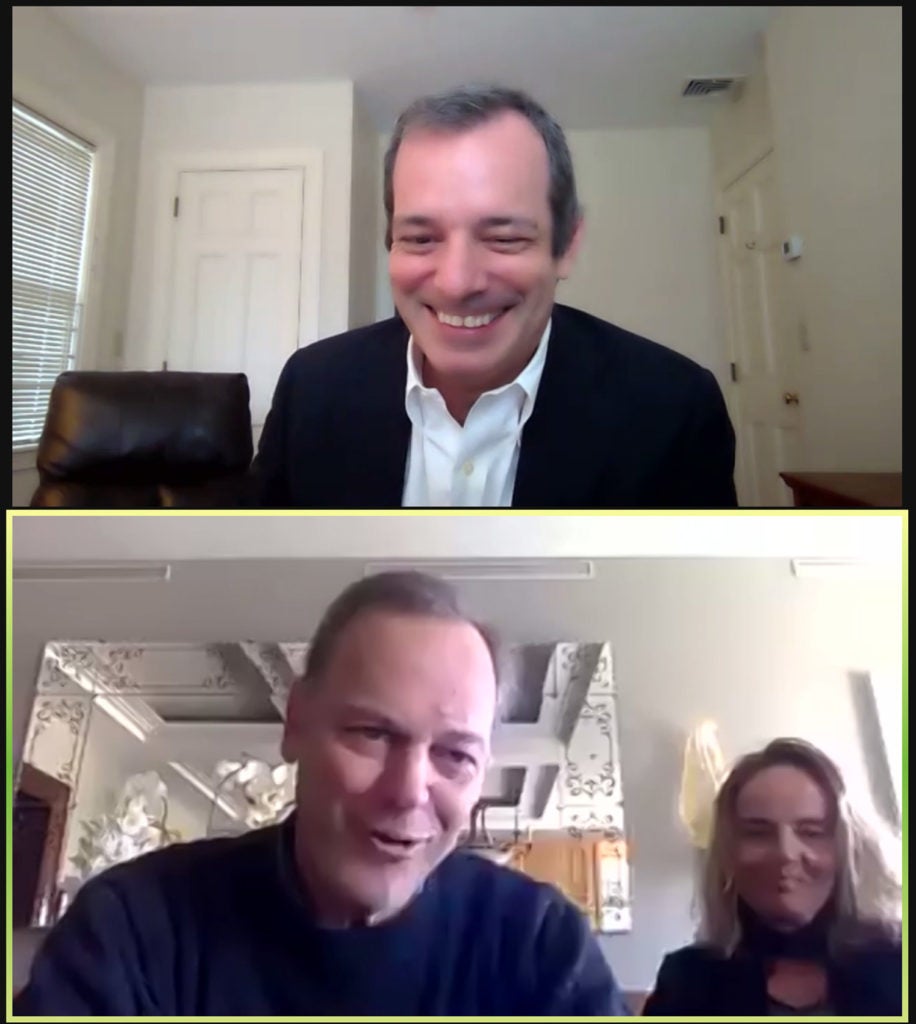 The result, he believes, was that e-commerce and social media companies started booming, especially in the US. "And it made a small number of people — mostly men, mostly highly educated, mostly white and Asian — fabulously wealthy." He cited Professor Susan Crawford's calling attention to "the captive audience, the telecom industry and the monopoly power in the new Gilded Age"; and exposure of "the role of political and media elites in spreading dis- and misinformation on social media platforms" by Professor Yochai Benkler '94.
The latter became a particular threat around the January 6 assault on lawmakers in Washington, DC, which strongly informed his January course. "While this mattered to everyone, it had special meaning in the context of our course," Palfrey said. "These terrifying events unfolding in front of us held out the chance to talk about race, power, injustice and social class, among many other things. It was a time of high emotion disproportionately felt by some members of our class and our society." They also prompted talk about specific regulatory issues — notably, whether social media companies should assume unprecedented power in deleting posts of a sitting president.
Palfrey called on three students to reflect both on the course and their experience of doing their first year of law school virtually. Isabella J. Berkley '23 noted that the remote learning experience acquaints more students with the sense of isolation that a minority student might feel in more normal times. "Even during in-person learning, these people might hold marginalized identities on campus, to have struggled to see themselves represented and valued in their academic community," she said. "So being virtual took a once selectively felt isolation and made it unfortunately more widely felt. My hope is that this virtual year will increase empathy on campus for those who often feel left out and less valued."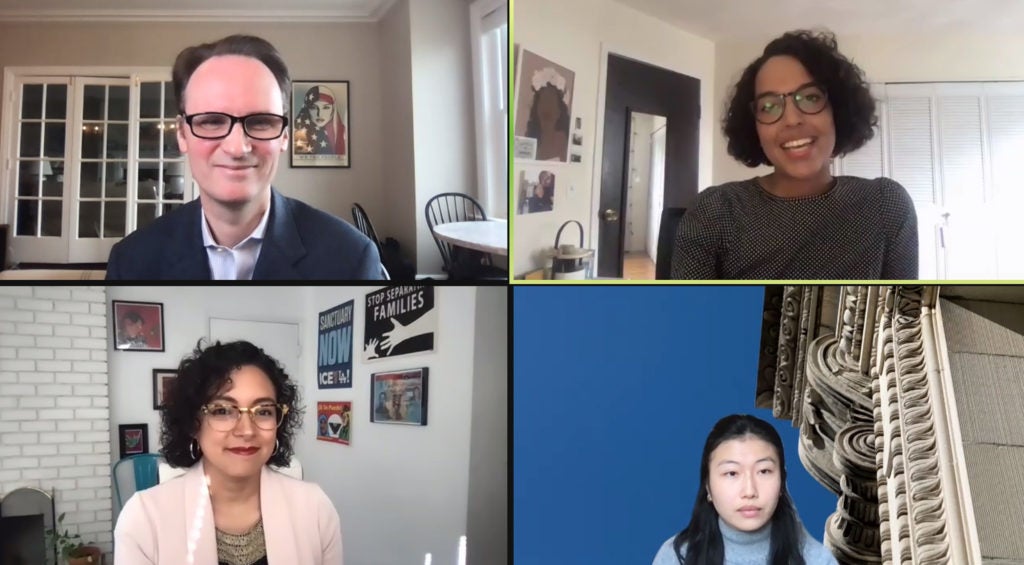 Zooming from Hong Kong, Madeleine Matsui '23 said that the January 6 crisis helped to being her online HLS community together. "Our conversations, though upsetting, also felt deeply humanizing during a year that at times felt removed from the realities of the outside world," she said. "I appreciated that as students we were able to share our reactions and perspectives, and to offer consolation and support to one another just as people … Despite the physical distance I've been amazed at the communities I've been able to discover and feel a part of this year."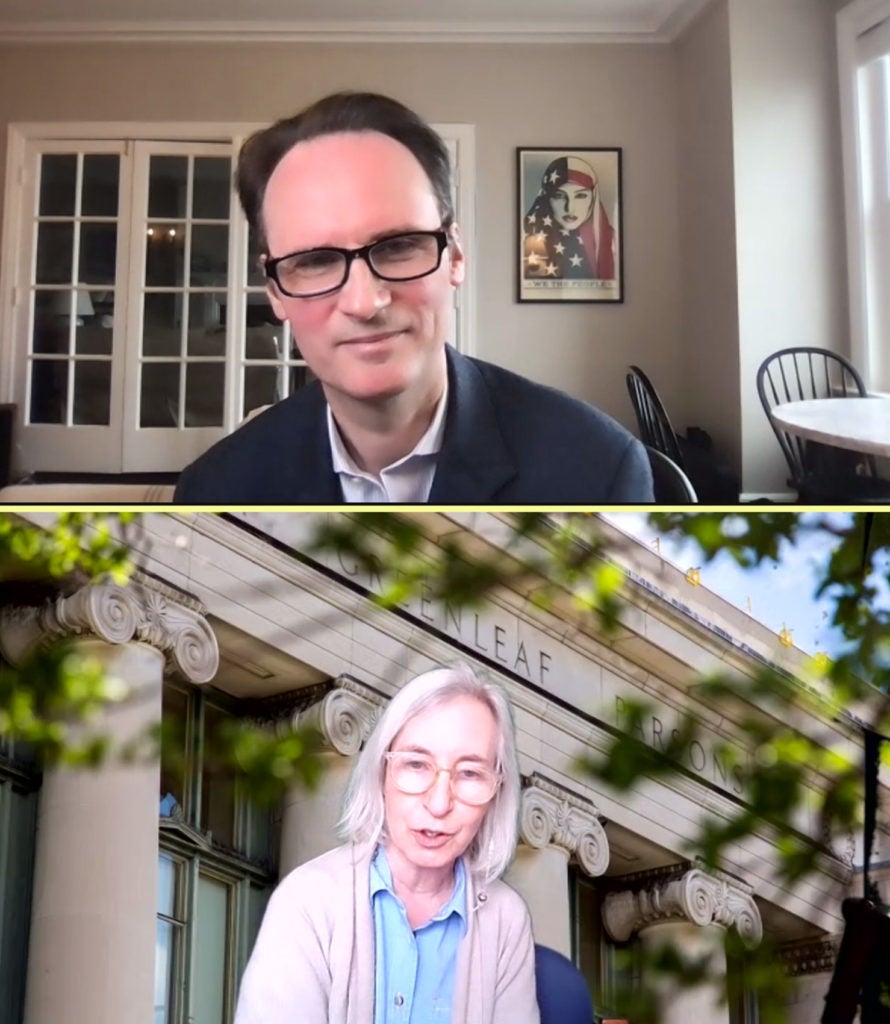 Northern California-based student Jess Valenzuela Ramirez '23 said that she's experienced social media technology in the past year as a double-edged sword: It gave her a community as a student and provided resources when she was a patient with COVID-19, but also reinforced inequality among society at large. "One of the reflections I took away from this course was that our country really needs a space for healing," she said. "The changes that we wish to implement have to center on those who are disproportionately impacted or are at the margins. And we need sustainable solutions that will protect women, LGBTQ people, children, from negative impacts of the new digital era."
In closing remarks, Martha Minow, the 300th Anniversary University Professor at Harvard, thanked Palfrey and the Klinskys for their constructive work but underlined the challenges ahead. "It's remarkable to see the Secretary General of the United Nations warn that social media is weaponized now for political gain against refugees, migrants, dehumanizing minorities, and so-called others," she said. "Hate is moving into the mainstream and with each broken norm, the pillars of our humanity are weakening. So, it's in that context that I appreciate the insights you all brought today, including that everything connects to everything."