During a virtual faculty panel held on ABA Mental Health Day, Harvard Law School Professors Sabrineh "Sabi" Ardalan '02, Todd Rakoff '75, Carol Steiker '86, Scott Westfahl '88, and Mark Wu welcomed the community into a candid discussion about the challenges of being a law student, the struggles of their own law school days, and options for coping and support. The discussion was one of a series of HLS-sponsored events this month designed to help students more effectively address challenges and stresses, and to support their personal well-being.
The conversation moderated by HLS Dean of Students Marcia Sells began with several faculty participants offering their tips. Several shared stories about facing difficulties during their own education. Wu, for example, talked about his blue-collar upbringing, which often made him feel like an outsider as an undergraduate at Harvard College.
With a steel-worker father and a mother who worked three different jobs, Wu, Henry L. Stimson Professor of Law and vice dean for the Graduate Program and International Legal Studies, was acutely aware of socio-economic differences once at Harvard. "Many of us who come from this type of background see ourselves as the person in whom the family has invested all of these resources," he said. This self-imposed pressure was amplified by anxiety about learning the right norms to fit in, or "pass," in the dominant culture.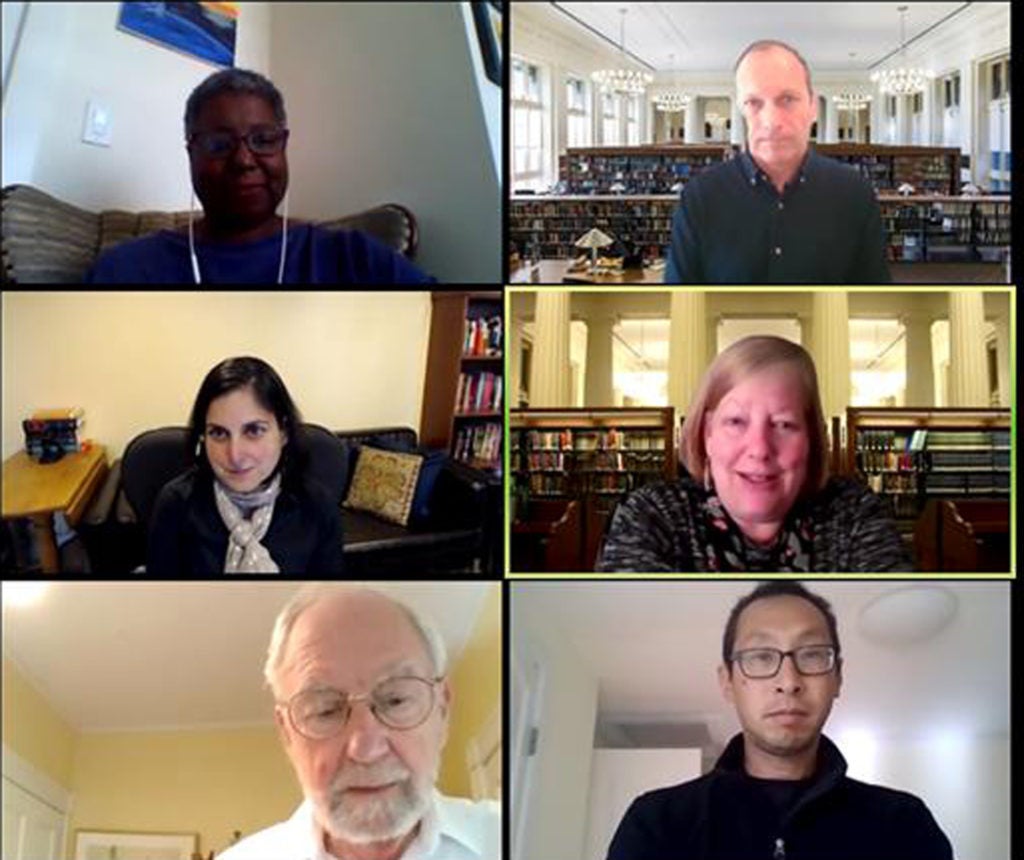 Coming to HLS at a time when women made up less than a third of the student body, Steiker recalled also being very aware of her minority status. "For years, I knew the exact number of women on the law faculty," she said. Steiker, the Henry J. Friendly Professor of Law and special adviser for public service, described herself as part of a transitional generation, and shared her willingness to discuss such issues.
Surveys of law school students and lawyers across the country in recent years have again highlighted the pressures involved. One widely cited study, for instance, began by noting that "[l]aw school, like medical school or any other doctoral program of study, can be a time riddled with anxiety, stress, and financial upheaval." Other research has indicated that, for many, those challenges can extend into their legal careers.
As the panelists acknowledged how real-world issues—such as the financial demands of law school or family complications—often add to the pressure of a law student's already demanding schedule, all pointed to one readily available resource: the law school faculty.
"My goal as a professor is to create an environment that's very inclusive, where people get to know each other and really form deeper connections," said Westfahl, professor of practice and director of Harvard Law School Executive Education. For both personal and professional reasons, he urged students to understand "how important it is to leverage the incredible network here at the law school."
Mentors were key to Ardalan's success. The daughter of immigrants from Iran, Ardalan, director of the Harvard Immigration & Refugee Clinical Program, grew up knowing she wanted to do human rights and immigration advocacy work. During her first years out of law school, however, she changed jobs several times, trying to find the right fit. Then a mentor steered her toward a clinical teaching fellowship. "I was lucky enough to have really great mentors along the way who helped me figure out that this could even be an option," she said.
Such mentoring was crucial for Wu, as well. He recalled conversations with the late Harvard Dean of Students Archie C. Epps III. Although they only spoke once or twice a year, one of those conversations had an outsized impact. "I remember him asking, 'What are you doing next, after you graduate? Have you thought about applying for Rhodes?' Wu, an expert on international trade and international economic law, went on to earn a M.Sc. in development economics from Oxford University as a Rhodes Scholar and a J.D. from Yale Law School.
"What he did for me was push me to imagine myself in a bolder context than I saw myself in," said Wu.
"People are sometimes hesitant to reach out, to ask questions, to get that mentoring," said Ardalan. "But it's not only our job, it's what all of us love to do as teachers."
Whatever the problem, Steiker added, "there are terrific people at the law school who can connect students with resources that can help."
In recent years, both the University and HLS have expanded well-being and mental health resources for students, adding new clinical drop-in hours, same day mental health appointments, an online screening tool, a dedicated clinical social worker, additional workshops and training, and expanded mentoring and advising opportunities. The Live Well@HLS page on the Dean of Students Office website offers a wide range of opportunities to reduce stress. And the school has advocated for the elimination of mental health questions on state bar exam applications.
Along with focusing on the school's resources, faculty shared some private coping skills as well. Rakoff, Byrne Professor of Administrative Law, discovered one survival strategy while still in law school. "I took the last half-hour or 45 minutes every night and declared it mine," said the former dean of HLS's J.D. program. "I would just stop work, even if the work wasn't done, and do something that I just wanted to do," he said.
Often, he recalled, he unwound by "reading, cheap murder mysteries." The activity was less important than the practice. Taking that time meant "reasserting that I control at least some part of the situation," he explained.
Especially in these tumultuous times, all agreed, finding joy is essential, whether in a book, a carefully prepared meal, or nature. Although she indulges in all three, Steiker particularly treasures her daily walks. Comparing this new practice with her "super busy pre-pandemic life," she says, "I had never really experienced spring unfolding in real time. And now I'm doing the same thing with the leaves changing, and I'm getting a great deal of joy out of that, as well as exercise, which is great."