Loretta Lynch '84 appeared at her January confirmation hearing before the Senate Judiciary Committee only days after a new Republican majority openly hostile to her predecessor assumed control of the panel.
Halfway through the daylong hearing, John Cornyn of Texas, the Senate's second-ranked Republican, asked Lynch: "You're not Eric Holder, are you?" Lynch, known as an unflappable prosecutor of drug dealers, corrupt politicians and terrorists, calmly replied that no, in fact, she wasn't.
"If confirmed as attorney general, I will be myself," she said. "I will be Loretta Lynch."
Throughout Lynch's life, being herself has meant being a trailblazer, from when she was an overachieving schoolgirl in newly desegregated North Carolina through her first job out of Harvard Law School at a New York law firm in the mid-1980s, when young African-American women lawyers were so rare that she was sometimes assumed to be the stenographer at depositions. Then she found her calling as a federal prosecutor who twice served as the U.S. attorney for the Eastern District of New York, with a stint as a law firm partner sandwiched in between.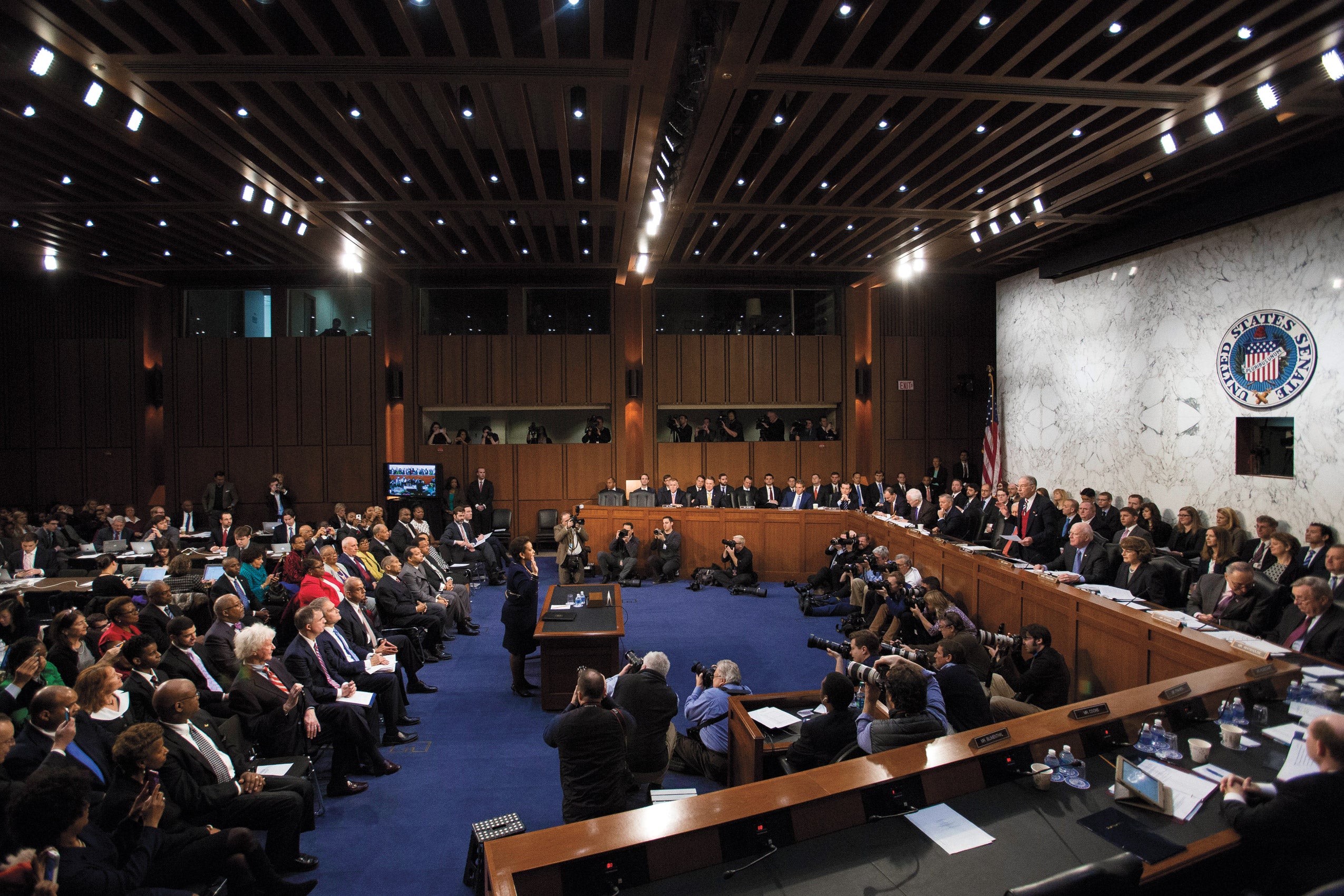 After enduring the lengthiest confirmation process for a Cabinet member in 30 years, Lynch was confirmed by the Senate on April 23 by a 56-43 vote. She is now poised to serve out the remainder of Barack Obama '91's presidency as the nation's first female African-American attorney general.
To understand how Lynch wound up here, go back to the rural North Carolina farm where her grandfather, a sharecropper-minister with a third-grade education, built a church right next to his house. Inside the farmhouse, long before she was born, her grandfather sheltered African-Americans facing Jim Crow justice and told the sheriff he hadn't seen them. He hid them beneath the floorboards.
"My grandfather had eight children and no money. He was dependent on the white farmers of the county to hire him and his sons to support them all," Lynch said in an April 2014 speech. "If justice was so important to him to risk his livelihood for it—how can I do any less? How can any of us?"
Lynch's father, Lorenzo, a fourth-generation Baptist minister, opened up the basement of his Greensboro, North Carolina, church to college students and NAACP members organizing sit-ins in the early 1960s, meetings he brought his toddler daughter to on his shoulders. Her mother, Lorine, a librarian who picked cotton one summer to pay for college, refused to use racially segregated bathrooms as a young minister's wife when they drove through rural North Carolina on his preaching assignments.
Lynch's family moved to Durham when she was 6, and there, new to town, she did so well on a standardized test at her predominantly white school that skeptical administrators asked her to retake the exam, her father told The Charlotte Observer. She scored even higher the second time.
Lynch graduated from high school as valedictorian, although, as she told The Wall Street Journal, the school insisted she be co-valedictorian alongside a white student and another black student. She then majored in English at Harvard College, where she read Chaucer in Middle English and helped found a chapter of Delta Sigma Theta Sorority, whose members mentored local youths.
"We knew that she was a 'PK,' as you call them, a preacher's kid, in her conduct and what she did," said Karen Freeman–Wilson '85, who first met Lynch at Harvard College and followed her to Harvard Law School.
When Lynch was job hunting during law school, one law firm receptionist couldn't believe that an African-American woman was the job candidate from Harvard. Lynch and her classmate Annette Gordon-Reed '84 both wound up at Cahill Gordon & Reindel in New York along with a third female African-American associate, Alysa Rollock, who is now a vice president at Purdue University, and the three nicknamed themselves "the triplets."
Gordon-Reed and Lynch bonded over their shared Southern roots. Gordon-Reed would host Lynch for dinner on Friday nights, frying shrimp the way she learned to growing up on the Gulf Coast. Mostly, though, they worked "very, very hard," said Gordon-Reed, now Harvard Law School's Charles Warren Professor of American Legal History.
In her sixth year as a litigator at Cahill, Lynch began rethinking her career path after a secretary found her passed out at her desk. "I spent the night in the hospital, diagnosed with exhaustion, with an IV drip in me, thinking about a lot of things, things like—Is this the highest and best use of my talents? Am I truly happy?" she recounted in a 2014 speech.
In early 1990, she began working as an assistant U.S. attorney for the Eastern District of New York, which has jurisdiction over Brooklyn, Queens and Staten Island as well as two suburban Long Island counties. She started prosecuting narcotics cases and then moved on to white-collar crime and public corruption.
Lynch's highest-profile assignment came in 1998, when she joined the trial team prosecuting New York City police officers accused of assaulting Haitian immigrant Abner Louima in a precinct-house bathroom. "It was nothing to see her at all hours of the evening, all days of the week, working on the case," said Leslie Cornfeld '85, who met Lynch at Harvard and went on to work with her in the U.S. attorney's office.
Lynch had an "uncanny ability to talk to witnesses and present to a jury in a case as explosive as Louima in a way that few people really can," Cornfeld said.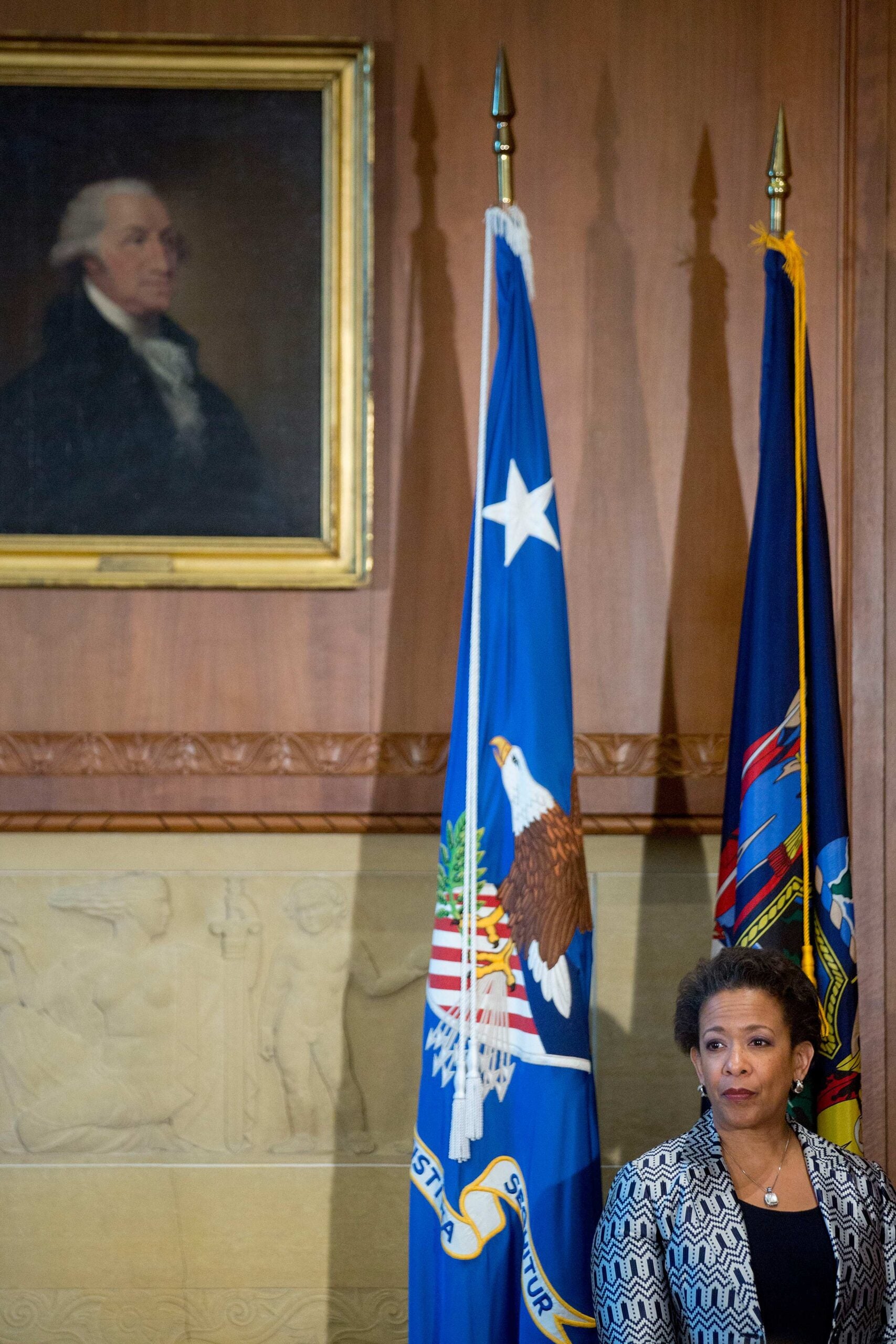 "It was extremely racially and politically charged at the time," Lynch told the Harvard Law Bulletin in 2011. "My way of dealing with high-profile cases like that is to completely separate from the press. What you have to do is insulate yourself."
Lynch rose through the office's senior ranks before President Clinton named her U.S. attorney in 1999. A few months into the job, she joked in a speech in lower Manhattan that when she took office: "I am sure that a long line of dead white men rolled over in their graves. But at the same time, I am sure that just a stone's throw away from here, in the African Burial Ground, a long line of people for whom the law was an instrument of oppression sat up and smiled."
Lynch often talks in her public speeches about the "dual challenge" African-Americans working in law enforcement face "trying to improve a system that traditionally was one of the harshest to us."
She faced the issue head-on at a 2011 panel on criminal justice at Harvard Law School's third Celebration of Black Alumni, where fellow panelist Paul Butler '86, now a professor at Georgetown University Law Center, questioned how much good African-Americans can do serving as prosecutors in a "dysfunctional, racialized system of justice."
Lynch was unapologetic. "I view my role as protecting the people in my district," she said. "The reality is, sometimes when people in this society have been harmed, someone has to step up for them, and I'm proud to do it—I absolutely am." After taking Butler to task, she gave him a "big hug" when the panel ended, he recalled. "Lynch is extremely charming," he said.
After nearly 11 years as a prosecutor, Lynch left the Justice Department in 2001 and joined Hogan & Hartson as a partner in New York. Her work ethic made an impression even before her start date, when the collapse of Enron enmeshed the firm's client Arthur Andersen.
Dennis H. Tracey III, a partner at the firm, called Lynch, who was on vacation in between jobs, and asked if she might be willing to talk and perhaps to assist the attorneys representing Arthur Andersen once she started working a few weeks later.
"She said: 'No problem. I'll come in this afternoon.' She abandoned her vacation, came in, met with the client and worked on the case from that moment on," Tracey said. "It was incredible. I'd never experienced it in all the years as a managing partner."
Lynch's white-collar criminal defense work, involving internal investigations in matters such as the Foreign Corrupt Practices Act, "was a terrific asset to the firm," said Ira M. Feinberg '72, a partner at the firm, which is now known as Hogan Lovells. Feinberg said her experience as both a prosecutor and a defense attorney will prove valuable in her new role as attorney general since she understands "where the other side is coming from and [will] be in a position to evaluate it properly."
Even at Hogan, Lynch didn't entirely give up being a prosecutor. She assisted the International Criminal Tribunal for Rwanda on a pro bono basis, first as a trial advocacy instructor and then as special counsel in a witness tampering investigation. She spent much of the summer of 2005 in East Africa interviewing genocide survivors who had seen their entire families killed or had survived by hiding under piles of dead bodies. She considered the work both overwhelming and one of her "most significant and rewarding" assignments as a lawyer.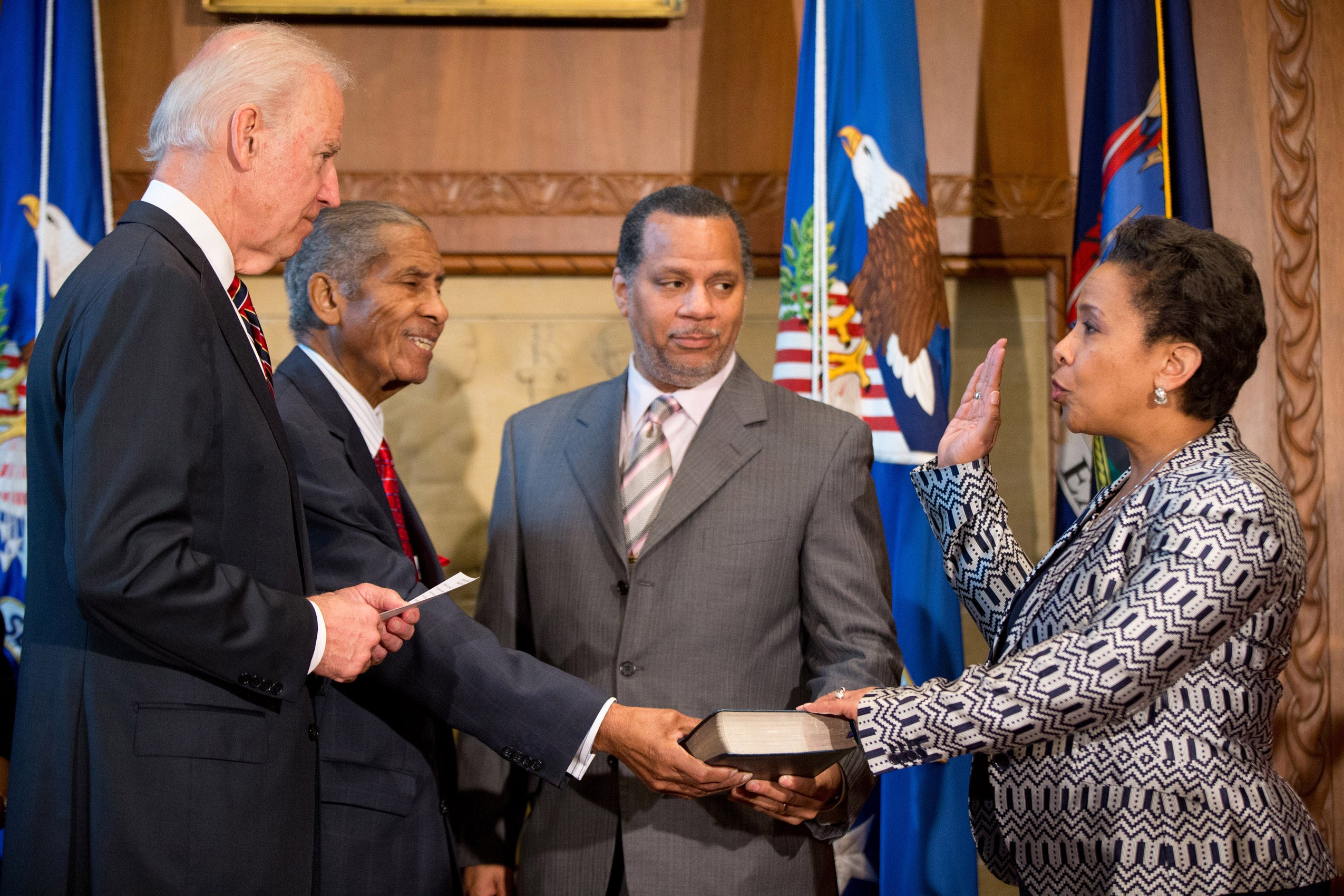 At her 30th law school reunion last year, Lynch jokingly called herself a "recidivist" when talking about her decision to return to the Eastern District of New York for a second stint as U.S. attorney after President Obama took office.
"Most people think if they've got a government job or a corporate job, their next job has to be of a higher rank," said Jamie Gorelick '75, who first met Lynch while serving as the deputy attorney general under President Clinton. "She was so dedicated to the work of the Department of Justice that she came back to the same job and did a bang-up job the second time."
During Lynch's second tenure as U.S. attorney, notable targets included mobster Vincent Asaro for his role in a $6 million heist at Kennedy Airport, the former New York State Senate majority leader who embezzled federal funds from nonprofit health clinics, and terrorists planning to attack the New York City subways and plant a bomb at the Federal Reserve Bank in Manhattan.
After 9/11, the office's focus had shifted, and increasingly its cases had an international dimension, whether they involved terrorism, like the thwarted bomb plots, or human trafficking, cybercrime, or money laundering. Lynch also made it a priority to reach out to Muslim Americans. "What I hear them saying is what so many African-Americans said in the '50s and '60s: 'We're part of America, too. We're just like you,'" she told the Harvard Law Bulletin in 2011.
Her work at the Justice Department extended beyond the Eastern District when Attorney General Holder appointed her as a member and later the chair of the Attorney General's Advisory Committee, which helps set policy across U.S. attorneys' offices.
When Holder announced plans to leave last year, Lynch quickly emerged at the top of the shortlist of possible successors, and President Obama announced her selection at the White House on Nov. 8. Two and a half months later, Lynch sat before the Senate Judiciary Committee carrying the trident medal her late older brother, Lorenzo, earned during his two tours of duty as a Navy SEAL. Supporters in the hearing room included her father; her younger brother, Leonzo, the family's fifth-generation minister; Gordon-Reed; and a contingent of red-clad sorority sisters.
Gordon-Reed said she realized how much had changed for her law school friend when Lynch emerged from the hearing room to a scrum of photographers with flashbulbs popping.
"Washington is tough for everybody, and I would imagine there's nothing that prepares you for that kind of limelight," Gordon-Reed said. "But as her performance [at the hearing] showed, she's very cool under pressure and she's as prepared as anyone could be for this."
Freeman-Wilson was just as impressed by what Lynch did away from the cameras the weekend before the hearing. In the middle of her preparations, Lynch drove out to Maryland to visit a law school classmate in poor health. "That's a real testament to who she is," said Freeman-Wilson, who is now mayor of Gary, Indiana.
Lynch's Senate confirmation was held up in wrangling between the Obama administration and the new Republican majority over an executive order on immigration and legislation combating human trafficking. Texas Republican Ted Cruz '95, said her support of administration policies would "undermine the rule of law."
While Republican senators made Lynch wait longer for a vote than any Cabinet nominee since the Reagan administration, they acknowledged her qualifications even as they questioned whether she could be independent enough. Sen. Shelley Moore Capito, Republican of West Virginia, for example, told The New York Times she could hardly expect a better nominee, "not in terms of qualifications or personal attributes," but nevertheless wanted someone in the job less inclined to be a stalwart supporter of the president's policies.
Lynch's prior experience in the Justice Department makes her "well prepared" to serve as the nation's 83rd attorney general, Gorelick said. Still, Gorelick added, there's a learning curve for anyone assuming the job of overseeing the department's 116,000 employees, law enforcement agencies ranging from the FBI to the Federal Bureau of Prisons, and an expansive national security portfolio. "Your domain is just bigger and more complex."
Lynch will also have to get accustomed to serving in a position that has become more of a political lightning rod since Gorelick served as deputy to Janet Reno '63, the first female attorney general. But Gorelick believes that Lynch is well suited to take the helm in the second half of a president's second term, "when it's very important to mind the business of the department itself."
"That's not to say she can avoid the political scrum, because she can't," Gorelick said. "But I predict her stewardship will be less eventful than has been the case [under Holder]."
Butler, who challenged Lynch about the proper role for African-Americans in law enforcement at the HLS panel in 2011, predicted her approach to racial justice is likely to evolve as she becomes the second consecutive "African-American who is the chief law enforcement agent in the land."
"If she has the same kind of focus on racial justice as an important part of her portfolio, if she becomes a race woman in the way Eric Holder became a race man, I think there's a huge potential," Butler said.