"What counts as 'income' for taxes?" "Will paying taxes affect the public assistance I receive?" "Will I lose my veterans disability benefits if I make too much money?" "Why should I use a bank?"
Those are some of the questions street vendors of Greater Boston's Spare Change News grapple with. A recently published guide, "Two Cents for Spare Change News: A Legal Resource for Spare Change News Vendors," developed by Harvard Law students, aims to provide answers.
Spare Change News, the oldest street publication in the country, provides its vendors, many of whom are either currently or formerly homeless, with the resources needed to run a business. Vendors operate as sole proprietors, buying as many papers as they want for 50 cents per copy and then keeping what they earn. While Spare Change's mission is to show by example that, "with the proper resources, empowerment, opportunities and encouragement, homeless and low-income people are capable of creating change in society for themselves," for vendors, selling newspapers can be an inherently unstable business for a number of reasons.
Katherine Bennett, executive director of the Homeless Empowerment Project, the publisher of Spare Change News, said vendors face complex issues. They have many legal questions, including understanding their rights and responsibilities as vendors, and they don't have many resources. "I can't explain how hard it is when you see these vendors who are really trying to improve their lives to see them feel so afraid that if they make one mistake they're going to be homeless again or some terrible consequence is going to happen," she said.
In the spring of 2017, Antoine Southern and Anne Rosenblum, then 3Ls in Harvard Law School's Community Enterprise Project (CEP) of the Transactional Law Clinics, spearheaded a new partnership between the clinic and Spare Change to help vendors better understand their legal obligations as business owners. CEP combines direct client representation with community-based projects in which students work alongside community organizations on persistent legal problems over the course of a semester.
"Meeting with vendors, we were able to gain a sense of what they really needed, and began to develop a guide that would help with legal issues such as their taxes and personal banking and benefits," said Southern.
According to Harvard Law School Clinical Professor Brian Price, director of the Transactional Law Clinics, working in the clinics is a great opportunity for law students to be able to learn, hands-on, how to serve the community, and to help community businesses and nonprofit organizations. Previous CEP efforts have included producing a legal guidebook for immigrant entrepreneurs, filing for an abated tax bill for low-income buyers of a new condominium, and creating legal toolkits for condominium associations and food trucks.
"We teach the same things that students will wind up doing at the firm or organization that they go to after graduating. After a 12-week semester, students feel like they're equipped to handle what comes next," Price said. "I'm proud of that."
The core part of the Spare Change project involved collecting and sharing information regarding legal issues inherent in running a small business. The guide includes information on what it means to be the sole proprietor of a small business, tax obligations and how to meet them, how public benefits might be impacted by small business ownership and tips on banking services. The guide also includes resources for nonbusiness-related concerns, such as housing discrimination and mental health.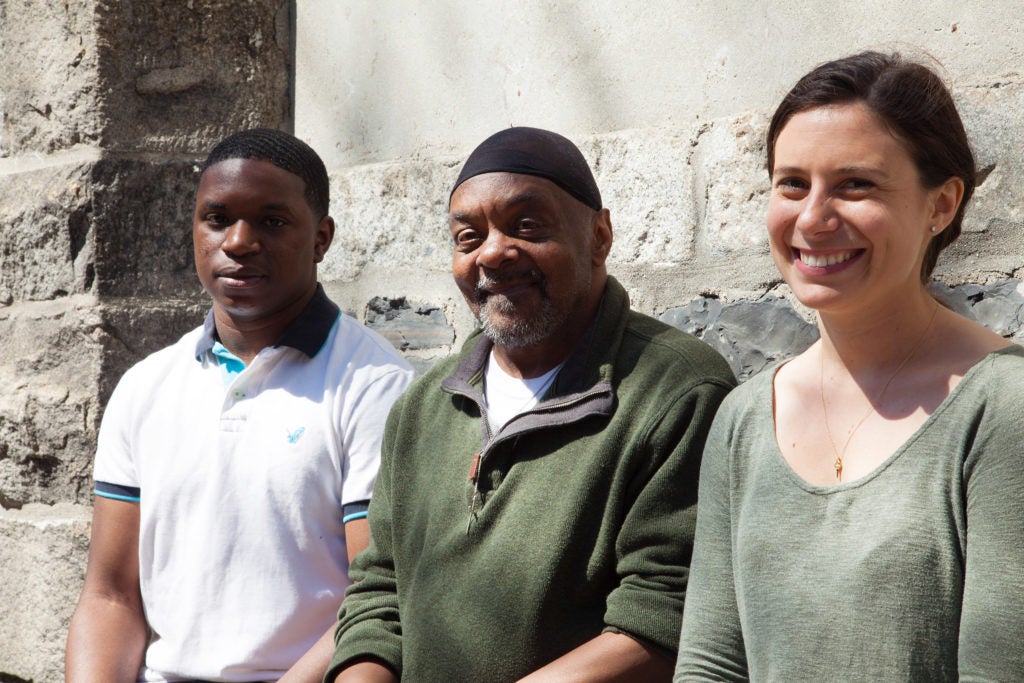 "We were aware of the fact that vendors also face a lot of issues outside of their work with Spare Change News, so part of the resources that we included in the guide are sort of a reference to other service providers and organizations in the Boston, Cambridge area that they might be able to turn to for help with different issues," said Rosenblum.
Cross-collaboration between Harvard Law School clinics is an important part of the success of individual projects. With 30 clinics in a remarkably wide range of fields of law and policy, and more than 1,000 students enrolled in clinics each year, Harvard Law School is one of the largest providers of free legal services in New England. In addition to individual case representation, students often need to take a more holistic approach to address their clients' needs. In the case of the CEP's Spare Change project, students sought input from several other Harvard Law School clinics to address vendors' questions about criminal records, disability rights and housing discrimination.
"Part of our job in the Community Enterprise Project is to reach out to the different clinics that we have at the law school in order to inform the work that we do," said Amanda Kool, a former clinical instructor in the Transactional Law Clinic. "I think we're really lucky in the Transactional Law Clinics to have that umbrella."
"The experiences that I've had have been invaluable and have given me an opportunity to develop skills and put them to use in ways that are just not available through academic classes," said Rosenblum. "They've also just made my life richer and more enjoyable, a welcome break from the classroom and departure from the Harvard bubble."