Michelman, Goldstone lead exploration of South Africa's Bill of Rights
Just hours after embattled South African President Thabo Mbeki announced that he would resign on Sept. 21 students in a Harvard Law School classroom are absorbing the reverberations from a hemisphere away.
For those enrolled in Comparative Constitutional Law: South Africa's Bill of Rights, the news from Cape Town adds to their sense that they are studying a fledgling democracy going through its earliest growing pains.
But for Professor Frank Michelman '60, the president's sudden resignation under a cloud of scandal offers more than just the drama of immediacy. "Notice how Mbeki seeks to lodge an appeal in a case to which he was not a party at the trial level," he tells the class. "This is new territory."
Mbeki—perhaps in a bid to salvage his reputation—has just asked the republic's highest constitutional court to undo the damage that many say forced his resignation: He is seeking the expungement of comments made on the record by a lower court judge suggesting that he improperly pressured prosecutors to pursue corruption charges against his chief political rival.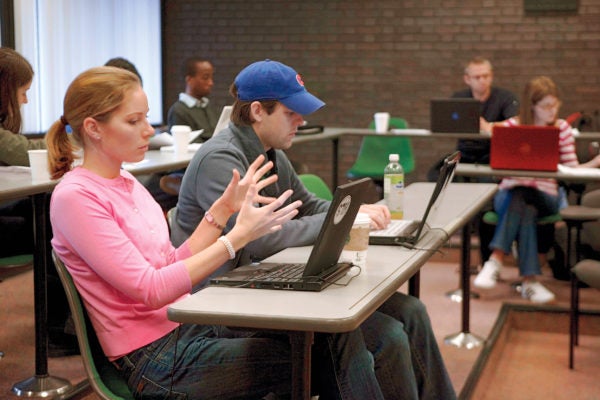 In lodging an appeal with the Constitutional Court of South Africa, Mbeki evidently means to claim that the judge's comments, which were made on the record, violated some right he has under the Constitution. Such a claim might raise new constitutional issues. Michelman asks the class: What rights were violated? Where, in the bill of rights, are they set forth? South Africa's constitution guarantees the right to dignity, among other values. Is Mbeki relying on that?
Almost every case in the Constitutional Court, it seems, presents a matter of first impression.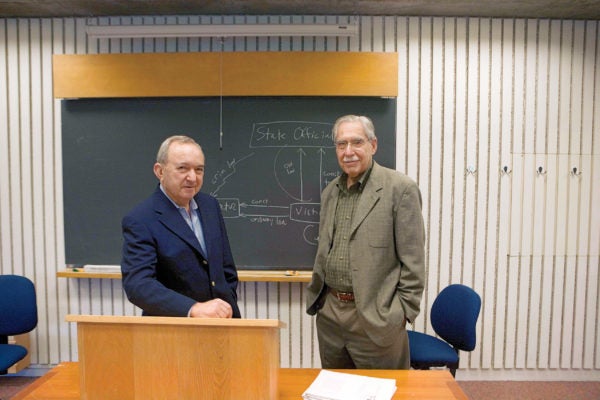 Also in the classroom is a man who, until just five years ago, sat on that court. Justice Richard Goldstone, who is a visiting professor at HLS this fall and is teaching the course with Michelman, was one of the first appointees to the 11-member court when it was created in 1994 under South Africa's interim post-apartheid constitution.
For the students (from the U.S. and other countries including South Africa and Canada), the course offers an invaluable chance to spend a semester of weekly exploration with Michelman, a renowned scholar in comparative constitutional law, and Goldstone, an eminent jurist with unmatched experience in a variety of arenas in international law. While on the court, Goldstone also served—from 1994 to 1996—as the chief prosecutor of the United Nations International Criminal Tribunals for the former Yugoslavia and Rwanda. And between 1999 and 2001 he was the chairman of the International Independent Inquiry on Kosovo. On October 21st, the MacArthur Foundation announced that he had been selected for its Award for International Justice.
When South Africa's constitution was drafted, Goldstone was literally present at the creation. "We were fortunate in having the advice and counsel of eminent scholars from a number of countries and especially the United States, Canada and Germany," he says. "As judges, we have also benefited much from foreign law clerks."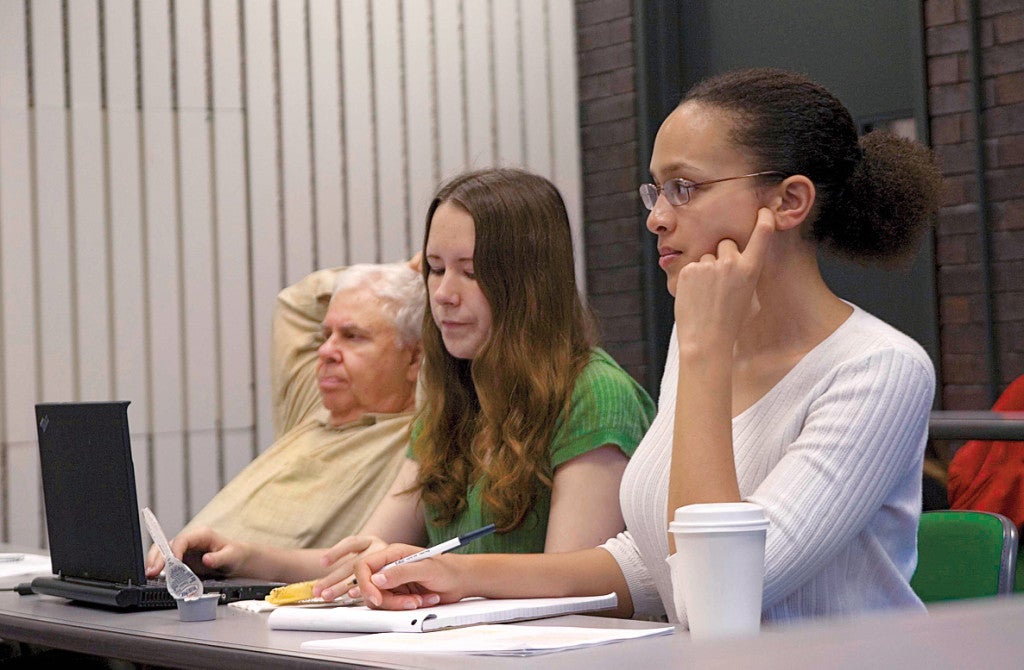 In classes like this one, Goldstone says, he is continuing to benefit. "Having students [from several countries] in the class is obviously of significant value to me as a teacher," he says. "This is especially so with regard to Canadian students—important provisions in the South African Constitution are modeled on the Canadian Charter of Rights [and Freedoms] and especially so the provisions that provide for legislative limitations of fundamental rights."
As the class embarks on its exploration of the pros and cons of what South Africa's framers decided to include (and not include) in their new constitution, Michelman offers an overarching observation: The biggest choice of all was to include a bill of rights that courts could uphold against the legislative and executive branches of a popularly accountable government—"a choice totally opposite to South Africa's prior constitutional history and tradition," he says.
"The country's basically peaceful transition from the old order to the new probably could not have been achieved without it."