In 2003, when Lori (Halstead) Windham '05 first interned at the Becket Fund for Religious Liberty based in Washington, D.C., she was accustomed to working quietly in behalf of clients' religious rights with only sporadic press coverage.
But Windham, who returned to the Becket Fund full time after graduation, has watched the nonprofit law firm's public profile grow as it has taken on a series of challenges by representatives of religious institutions and private business owners who argue that provisions of the Affordable Care Act infringe on their religious liberties.
The Becket Fund scored its biggest victory to date in June, when the U.S. Supreme Court ruled that the federal government can't require closely held businesses, such as the Hobby Lobby craft store chain, to provide female employees with access to no-cost contraceptives.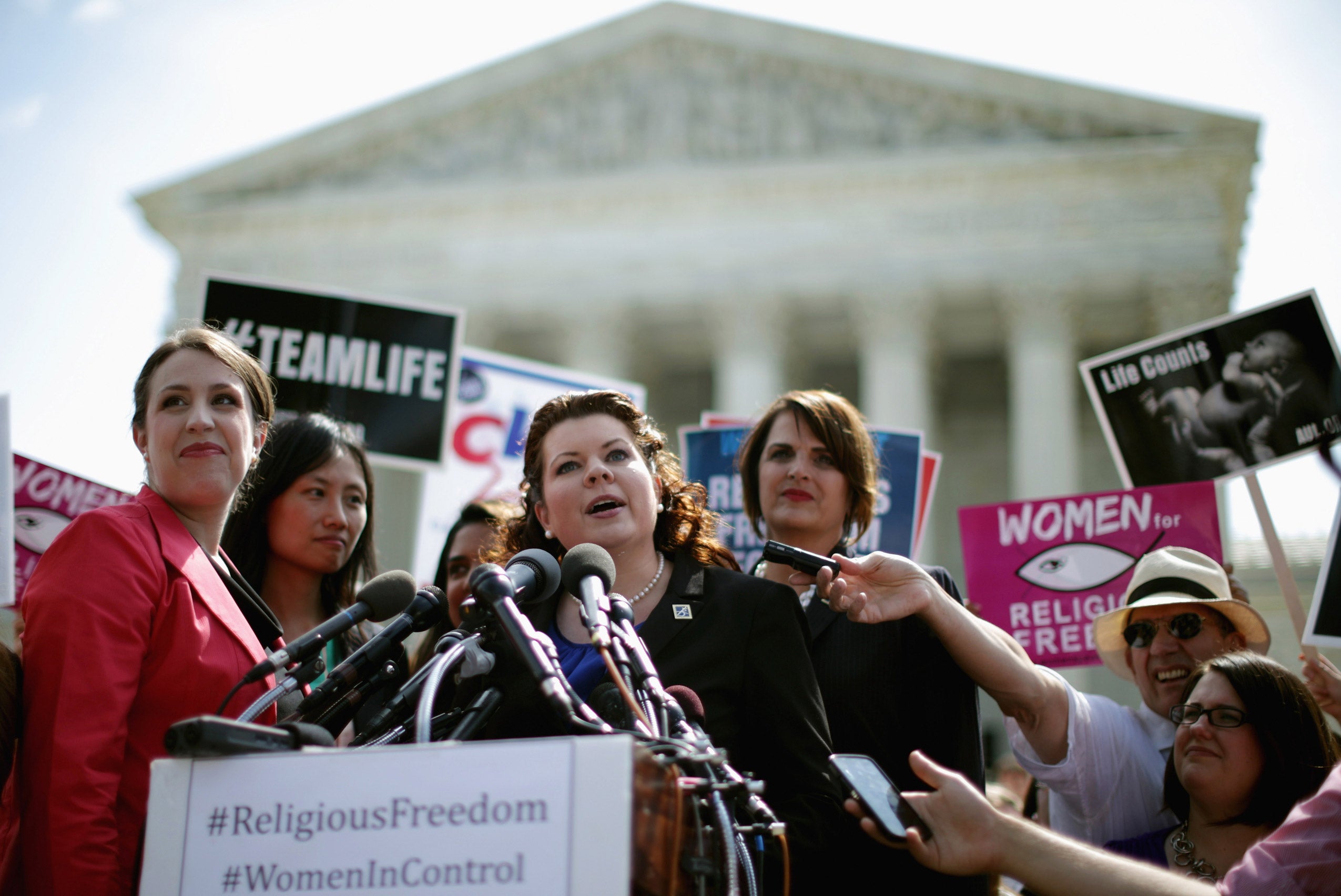 During her tenure, Windham has also seen the ranks of Harvard Law alumni on the Becket Fund's staff grow to include Eric Rassbach '99, Mark Rienzi '00 and Angela Wu Howard '00. For a law firm with a staff of only a dozen or so attorneys, it's a striking percentage (and current Justice Department workers Roger Severino '02 and Eric Treene '92 are former staff members).
Windham, who graduated from Abilene Christian University, said she's always had an interest in religious liberty issues. She turned down a job offer from the Justice Department's Civil Rights Division to join the Becket Fund after law school.
The others took more circuitous paths to the firm founded in 1994 by Kevin "Seamus" Hasson and named in honor of Thomas à Becket, the 12th-century archbishop of Canterbury who was murdered and eventually canonized after he resisted the English king's attempts to interfere in church affairs.
Rassbach, the firm's deputy general counsel, did transactional project finance work for Baker Botts before moving to the Becket Fund as a volunteer in 2004. His clients have included a Hindu temple in Queens, a mosque in Tennessee and a Texas priest of the Afro-Caribbean religion of Santeria, who sued for the right to slaughter goats at home as part of his religious practice.
"I never thought when I was at Harvard that I'd be doing a goat sacrifice case," said Rassbach, who won the case before the U.S. Court of Appeals for the 5th Circuit in 2009.
Howard, who previously did M&A work at Cleary Gottlieb, became the Becket Fund's international law director in 2005. Her caseload has included challenging an anti-conversion law in Malaysia, an anti-blasphemy law in Indonesia and Muslim headscarf bans in Europe.
Rienzi, a former WilmerHale patent litigator, now splits his time between teaching at Catholic University's law school and handling many of the challenges to the Affordable Care Act mandates, including on behalf of Wheaton College (Illinois) and the Little Sisters of the Poor, as senior counsel at the firm. (In January, in a case unrelated to the Becket Fund, Rienzi argued before the Supreme Court, successfully challenging a Massachusetts law that barred protests within 35 feet of abortion clinics.)
Windham, also senior counsel at the Becket Fund, worked on the briefs in the Hobby Lobby case from the complaint forward and "lost count" of how many media appearances she did as the organization's spokesperson in the case.
While Burwell v. Hobby Lobby is the Becket Fund's most high-profile case, Rassbach said he's equally proud of 2012's Hosanna-Tabor Evangelical Lutheran Church and School v. EEOC. In that case, the Supreme Court ruled 9-0 that federal discrimination laws don't apply to religious organizations' selection of religious leaders, in what is known as the "ministerial exception" to anti-discrimination laws.
"It staked out some pretty important rules in our field," Rassbach said.
Becket's legal team was back at the Supreme Court at the start of the fall term, when the justices heard an appeal by a Muslim prisoner in Arkansas who is challenging regulations prohibiting inmates from growing beards.
Citing that case, Rassbach said suggestions by the liberal political magazine The American Prospect that the Becket Fund has become ideological and focused on conservative causes are "complete baloney."
"We've always represented everybody and we're continuing to do so," he said. "If you've decided we're bad in advance, you're going to ignore that, but it's actually quite core to who we are."
Mary Ann Glendon, HLS professor and a longtime Becket Fund board member, said she is "enormously proud of the stunning record of victories" compiled by the firm's lawyers in recent years.
"Since 1994, when the Becket Fund was founded to protect the free religious expression of all religious traditions, religious freedom has come under increasing attack, domestically and internationally," said Glendon, who serves as vice chair of the U.S. Commission on International Religious Freedom. "It is gratifying that some of the most talented young lawyers in the country have stepped forward to meet those challenges."