Reading and discussing Supreme Court opinions is a quotidian detail of law school life. But it's not every day that students have a chance to learn from the very justices who wrote those decisions.
This fall, students had just such an opportunity in several Harvard Law School courses, including one called The Judicial Role in a Democracy, taught by retired Canadian Supreme Court Justice Rosalie Silberman Abella.
Abella, who retired from Canada's high court in 2021 and is currently the Samuel LLM '55, SJD '59 and Judith Pisar Visiting Professor of Law at Harvard, is an inspiration to many who enrolled in the class. As Hairul Hakkim LL.M. '23 puts it, "She's the Ruth Bader Ginsburg of Canada."
"Justice Abella is one of the reasons I applied to law school," agrees Sean Goldman-Hunt '23, who is Canadian. "She has been a hero of mine for a long, long time."
The seminar explored the differences between the American and Canadian courts' approaches to many of today's most contentious issues, such as free speech, abortion access, and affirmative action. Abella encouraged students to think about those topics in the context of a broader fundamental question: What role can — or should — courts and judges play in democratic societies?
"These were really big-picture questions with no easy answers," says Carolina Isaza '24. "Justice Abella made us all think twice about our presumptions about what judges should do and about how courts can uphold democratic values."
Each class examined differences in how the U.S. and Canadian courts addressed similar issues. Abella invited guests — including writer Margaret Atwood and retired U.S. Supreme Court Justice Stephen Breyer '64, who recently returned to Harvard Law and taught a class in the fall — to participate in the discussions, which often delved into the reasons courts might arrive at divergent conclusions, including historical and political differences, cultural explanations, and the founding documents of the two nations.
"I was really interested in thinking about questions of constitutional design and the extent to which we can attribute the current crisis of judicial legitimacy in the U.S. to differences between the Canadian and U.S. constitutions, versus something else," says Lloyd Lyall '24.
Lyall adds that the class was a way for him to stay connected to his home country of Canada while examining the problems he sees facing the U.S. Supreme Court. "I wanted to know how we could think about what's happening in the U.S., and whether there are alternatives that we can look to in Canada or other countries that might inform how we move forward," he says. "What do we do when one of the core pillars of government is facing a crisis of legitimacy?"
Insights from a justice
Abella, the daughter of Holocaust survivors and the longest-serving judge in Canadian history, is known for her groundbreaking contributions to human rights, constitutional law, and labor rights, among other areas. During her 50-year career, she was a family court judge, chaired the Ontario Labour Relations Board and the Ontario Law Reform Commission, and sat on the Ontario Human Rights Commission, in addition to serving on the Ontario Court of Appeal and the Supreme Court of Canada.
"I think all of Justice Abella's experiences came to bear on the decisions she made on the court," says Lyall. "It was really interesting to hear her explain how her background informs how she thinks about what's happening in the United States or Canada right now, and ultimately what the role of judges should be."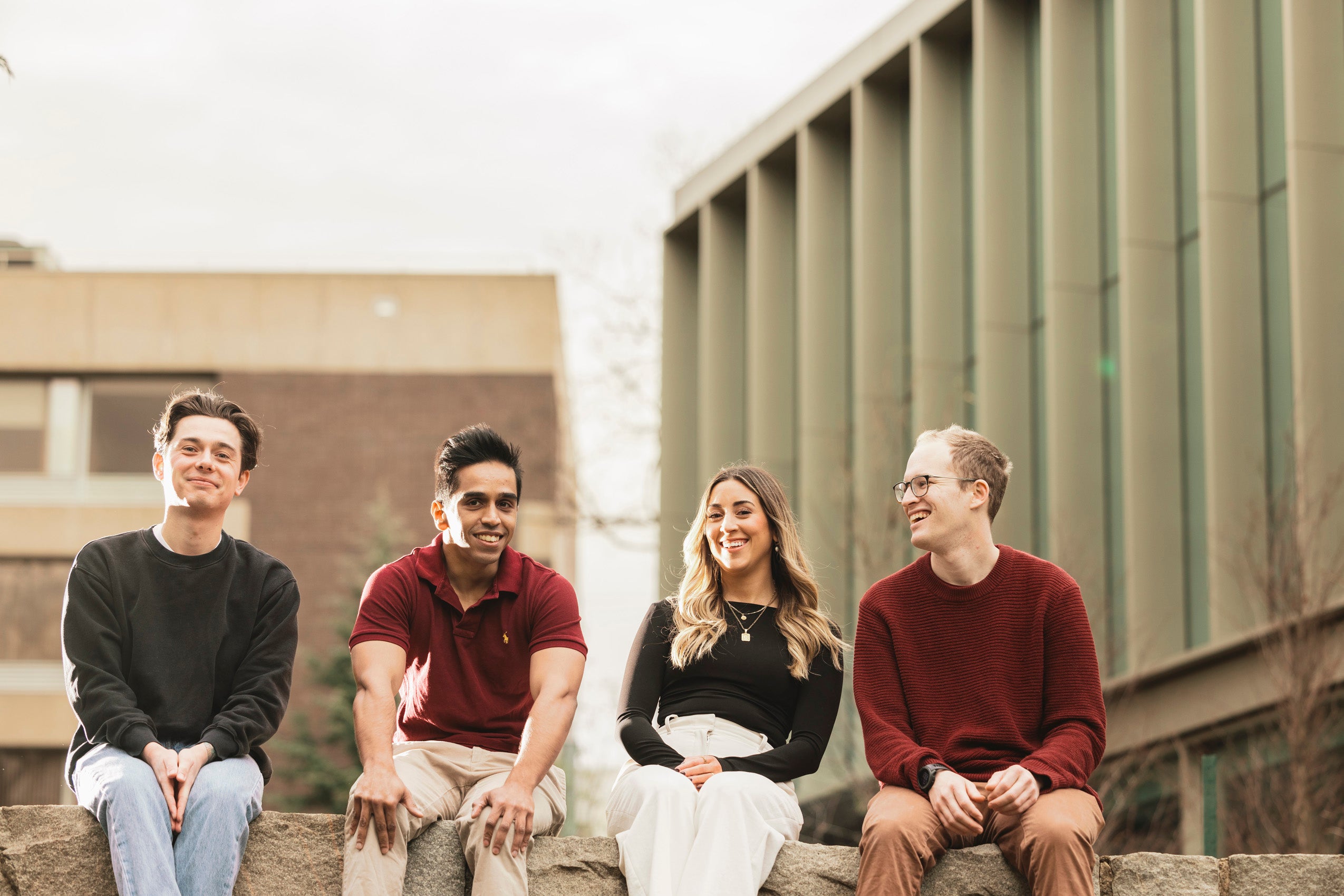 Hakkim, the LL.M. student, is a judge in his native Singapore. He says he respected that Abella was forthright about her own belief that courts exist to guarantee the rights of citizens — particularly the most vulnerable — but also that she encouraged rich debate on the issues. "Justice Abella said, 'This will not be a monologue.' Instead, it was more like the Socratic method. She made sure that everybody got an opportunity to ask questions, offer input, and feed off one another."
Isaza also appreciated that spirit of debate, particularly because the class drew students from multiple countries and different types of democracies. "I was surrounded by very, very smart people who articulated their points very effectively," she says. "There were times when people disagreed on certain things, and we would go back and forth. But that's what made it clear to me that there are considerations on both sides of pretty much every debate."
The students say they valued Abella's insights on the Canadian Court's decisions and on the practical side of judging. "For the majority of cases we read, Justice Abella was part of the quorum. But it's one thing to read what is written on the paper, and another to hear her speak about why they decided in the way they did," says Hakkim.
More questions than answers
Hakkim jokes that he left Abella's course with more questions than answers — a problem he is grateful to have as he progresses in his own judicial career. "To what extent should courts settle contentious issues as opposed to legislatures? What happens when courts fail people? These are issues we need to think deeply about in a democracy," he says.
In addition to challenging some of his views, Hakkim adds that the class reaffirmed others. For instance, it confirmed his belief that courts exist at least in part to protect rights, which means they must distance themselves from public opinion. "It's not that we don't care about public opinion at all," he says. "But we should not be afraid to rule in favor of an unpopular opinion, or in favor of unpopular people, if these are mandated by the Constitution."
Lyall says he came into the course skeptical of the idea of wide-ranging judicial review, owing in part to recent decisions by the U.S. Supreme Court. Today, his thoughts are more nuanced. "One of the big things I think I took away from this class is that sometimes you do have to make big decisions," he says. "There is a rights-expanding answer, and there is a rights-constricting answer. We arguably need our judges in a democracy to be bold enough and willing enough to make those big decisions."
Isaza's experience in the course solidified her commitment to the pursuit of justice through law, and she says she feels more strongly than ever that courts should work to expand rights, not contract them. But she adds that she also gained a greater understanding of the difficulties faced by courts in achieving that goal. "It's easy to think that right and wrong are very apparent," she says. "That becomes murkier when you look at different scenarios. What's right is not always as obvious. At the end of the day, we are really asking, 'Who do you want to be determining what is right and what is wrong?'"
In light of recent decisions, Goldman-Hunt came away from the class believing that courts in a constitutional democracy shouldn't be able to restrict rights that the population believes should be afforded. "But it also convinced me that courts are an important conversational partner in constitutional dialogue," he says.
Perhaps more importantly, for Goldman-Hunt the course was also a sorely needed reminder that lawyers can do good in the world. "If you take up the mantle of somebody like Justice Abella, and follow her example and her ideas, you can accomplish important and great things."