Supreme Court Justice Ruth Bader Ginsburg's influence on Harvard Law School runs deep. On Sept. 24, a star team of Harvard deans and HLS professors remembered Ginsburg as a teacher, boss, colleague, inspiration, and friend.
In a virtual event to celebrate her enormously consequential life, career, and contributions, HLS Dean John F. Manning '85, who organized and moderated the event, and five panelists—former HLS Dean Martha Minow; Dean of the Radcliffe Institute for Advanced Study Tomiko Brown-Nagin; and HLS Professors Vicki Jackson; Michael Klarman ;and Daphna Renan—shared both personal and professional remembrances of Ginsburg. The talk touched not only on her great achievements as a litigator and jurist, but also on such personal details as her love of opera and her indifference toward sports (Klarman, a former clerk for Ginsburg, recalled that she once asked what the Super Bowl was).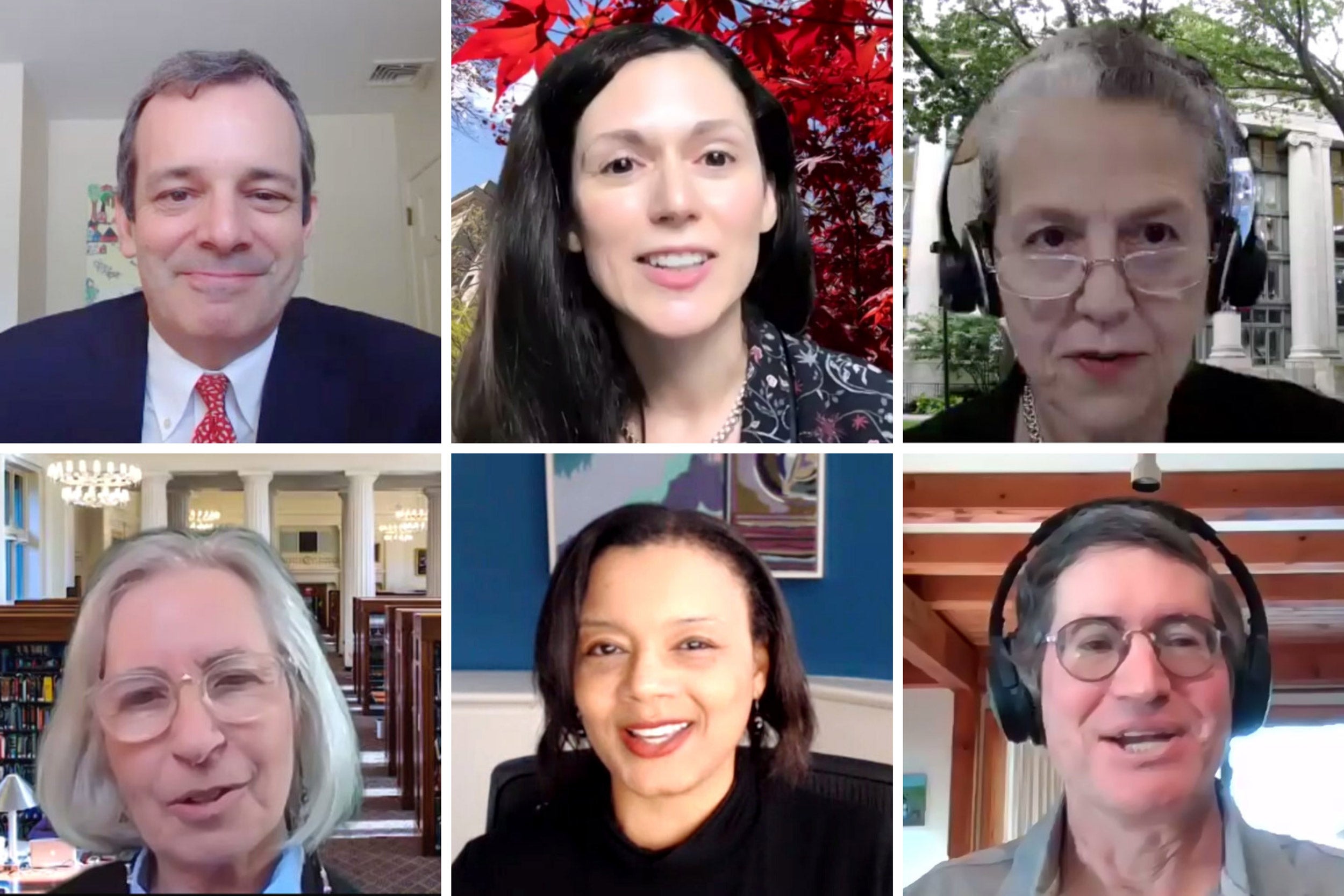 As moderator, Manning noted that Ginsburg "transformed American law and American society, making both fairer, more open, and more equal. She accomplished all of this by working hard to perfect, and apply to best advantage, the lawyer's craft." Along with her exacting standards, Manning said, Ginsburg evinced patience, humility and empathy. And he emphasized that she accomplished all that she did while carrying the added weight imposed by sex discrimination. "She faced headwinds and indignities too numerous to count. Think of what an extraordinary person it took to overcome all of that and, in the process, to change the world and to open for others doors that had been closed to her because of her sex." It's hard, he said, "to imagine a more consequential life."
In her remarks, Brown-Nagin expanded on a quote from President Bill Clinton, who nominated Ginsburg to the Supreme Court, calling her the Thurgood Marshall of the women's rights movement. Brown-Nagin cited a 1970's ACLU campaign Ginsburg led to dismantle laws that classified by sex, following a blueprint of Marshall's work with the NAACP three decades earlier to dismantle laws that classified by race.
"Like the Marshall campaign, the Ginsburg campaign unfolded incrementally. It involved carefully chosen plaintiffs, featured stark examples of differential treatment, and successfully showed that because of stereotypes and animus, the classifications in question treated differently groups that were in fact fundamentally the same, and thus violated the Equal Protection Clause's equal treatment principle," said Brown-Nagin, who is also a constitutional law professor at HLS.
Yet, she said, Ginsburg also had a more substantial connection to the civil rights movement. She collaborated with Pauli Murray, "a brilliant queer Black woman civil rights lawyer," whose own work shaped the NAACP's campaign. Marshall drew on Murray's work for the Brown v. Board of Education decision; and Ginsburg's first Supreme Court win on sex discrimination (Reed v. Reed, 1971) also credited Murray's work.
"This is significant," Brown-Nagin said. "The collaboration between Ginsburg and Murray undermines the critique, in my view, of Ginsburg's litigation approach as minimalist, as having advanced a narrow theory of equality that prioritized the needs of middle-class white women. After all, Pauli Murray was one of the original theorists of intersectionality—the idea that people experience discrimination along multiple axes, and that the law ought to remedy compound discrimination." This theory, she said, informed Ginsburg's landmark Supreme Court cases, including United States v. Virginia (1996), which cited a pivotal race-discrimination precedent (Sweatt v. Painter, 1950) in finding the Virginia Military Institute's single-sex admissions policy unconstitutional.
"Justice Ginsburg does so much more than avenge women's rights, as important as that is," Brown-Nagin said. "Her record on the Court reveals that Ginsburg was not only the Thurgood Marshall of women's rights. She was the last civil rights lawyer on the Court. … She championed equity for a range of identities and conditions that had led to subjugation."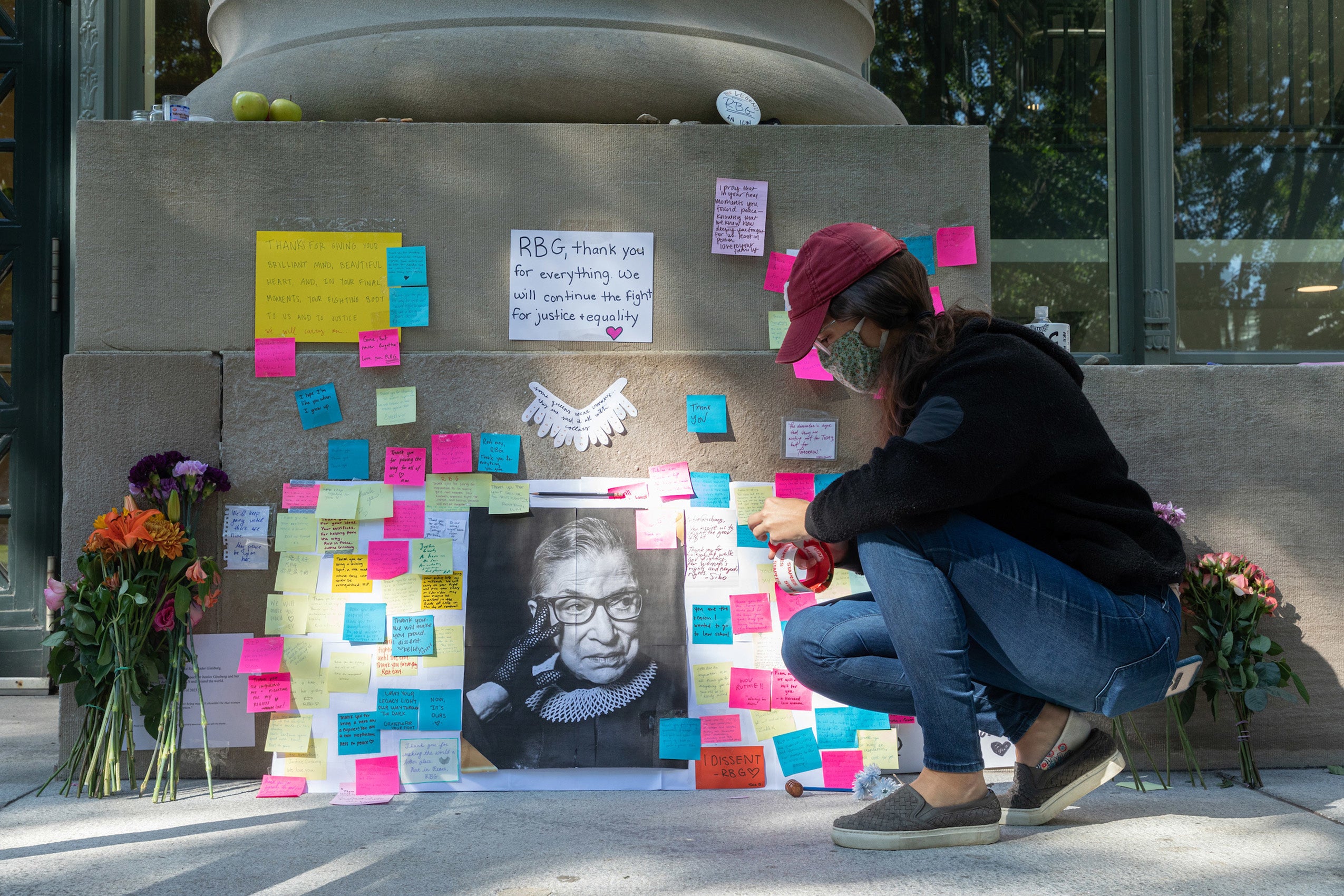 Speaking after Brown-Nagin, Jackson also cited Reed v. Reed as the first Supreme Court case to strike down a gender classification, and noted Ginsburg's willingness to credit her collaborators, both Pauli Murray and civil rights lawyer and McCarthy target Dorothy Kenyon.
"In her work, Ruth Ginsburg was intellectually fearless, analytically brilliant and persistent. But like a truly great leader, she gave credit to others and worked collaboratively." Yet, Jackson said, Ginsburg worked just as hard on cases that were regarded as less significant. "Ginsburg was simply incapable in her legal work of being less than thorough, less than analytically precise and attentive to the contextual implications of the issue."
Jackson also told a story about Ginsburg's personal generosity. In 1993, Jackson was asked to help Ginsburg prepare for her Senate confirmation hearings, but demurred because her mother was seriously ill. "From this Supreme Court nominee, whom I knew only slightly and who must have had many more important things to do at that time, came a touching handwritten note reflecting [her] own experience with her mother's illness and supporting my decision to be with my mother."
As a former clerk for Ginsburg, Klarman brought additional insight into the Reed case—noting that Ginsburg learned of the ACLU's involvement and immediately asked their legal director if a woman should be involved as co-counsel on the case; she was promptly invited. "She received countless notes of gratitude from women she had inspired, which she always answered," he said.
He could also say what it was like to have conversations with her: "They could be awkward, because she always thought carefully before speaking, did not waste words and declined to engage in small talk. Thus, conversations with her would often feature long pauses while you tried to figure out if she was finished speaking. You certainly did not want to interrupt an eminent federal jurist in midthought."
He also noted Ginsburg's close friendship with Justice Antonin Scalia '60, of whom Klarman professed not to be a fan: "They traveled together, they rode elephants together—they even shopped together on their trips. I'm sure she didn't approve of the scathing dissents Scalia was so adept at writing, but she just shrugged it off as Nino being Nino, and they went on with their friendship—perhaps a valuable lesson to us all in today's atmosphere of poisonous political polarization."
Minow credited Ginsburg's work with making her own career possible: "When I was a law student, there was no mention of gender in any of my classes until we got to rape in Criminal Law. So a group of us tried to organize to create a Women in Law class and there was one casebook—that's how I [first] encountered Ruth Bader Ginsburg."
Their paths crossed when Minow was a law clerk at the D.C. Circuit; years later Ginsburg surprised Minow with a phone call, saying she was nominating Minow to the board of the American Bar Foundation. "I learned immediately three things from her: Don't hide under a bushel what you're doing in your life; step up to leadership opportunities when invited; and help other people quietly and consistently." She also had a memory of celebrating at New York's Algonquin Hotel after giving a lecture on Ginsburg's behalf. "She was delightful, and she was the one who could stay all night while the rest of us were beginning to fade."
Minow also discussed the underlying philosophy of Ginsburg's work and her flair as a strategist. "She received advice on her wedding day from her mother-in-law, who said that in every good marriage it helps sometimes to be a little deaf. She would say that applied to her job as well … that reacting in anger and annoyance will not advance anyone's ability to persuade."
The civility, she said, was part of Ginsburg's "long game," especially in recent years when she was more often in dissent. "She understood she wasn't speaking only to her colleagues, but to a broader audience." Minow cited the Ledbetter v. Goodyear case (2006), in which the Supreme Court denied compensation to a plaintiff who'd discovered upon retirement that she'd been paid less than her male colleagues. "Justice Ginsburg read her stinging dissent from the bench, and described how this neglect of women's experiences in male-dominated workplaces showed a failure to understand how women might be anxious to avoid making waves." Minow noted that Ginsburg was really addressing her point to Congress—and it worked, ultimately leading to President Barack Obama's ['91] signing of the Lilly Ledbetter Fair Pay Act of 2009.
Renan brought some personal stories from her own stint as a clerk for Ginsburg—recalling the ubiquitous red pen, which would immediately go into action whenever she received a draft. "Judicial writing for RBG was an act of reverence," she said.
Another story about Ginsburg's work methods was especially telling: Renan was stunned to learn at a law-clerk lunch that women advocates were still being advised by the Court to wear skirt suits for oral arguments. "When we returned from the lunch, we asked RBG if she knew that this advice—in 2006!—was still being given to women. Before the end of the day, she buzzed us into her chambers to let us know that she had already secured a change in that practice."
"It was remarkable to watch a brilliant mind, but also a quiet and reserved person, assume the role of the Notorious RBG," Renan remarked. "RBG did not ask for or anticipate this stature but she embraced it, with wit and good humor—when our culture and our politics demanded it of her."
Renan also had some encouraging words for students in despair over the future path of the law. Invoking language RBG herself had written in a different context, Renan urged: "I know that many of you are hurting. And I want you to know that you are exactly whom Justice Ginsburg had in mind: our future lawyers 'of sense and steel,' who must help 'to see the changes [RBG] helped to inaugurate through to full fruition.'"