Does hateful speech on campus constitute an act of violence? Yes, said psychology professor Lisa Feldman Barrett, arguing that it inflicts measurable neurological damage. Ethical leadership professor Jonathan Haidt disagreed, viewing it more as a necessary evil that arms students for the outside world.
The two squared off Friday during the inaugural Rappaport Forum at Harvard Law School in a session titled "When Is Speech Violence? And Other Questions About Campus Speech." Barrett, who teaches at Northeastern University, is author of "How Emotions Are Made: The Secret Life of the Brain." Haidt, a New York University social psychologist, co-authored "The Coddling of the American Mind: How Good Intentions and Bad Ideas Are Setting Up a Generation for Failure."
Moderator and HLS Professor Jeannie Suk Gersen '02 began by asking what it means to think of speech as violence. The talk proved so vigorous that it was nearly an hour later that Haidt asked if Gersen had a second question.
The forum is the brainchild of developer and philanthropist Jerome Rappaport '47, and is intended to promote rigorous discussion of government and social issues. As a new 1L in March 1946, Rappaport launched the Harvard Law School Forum with a panel on war crimes in the midst of the Nuremberg trials. Over the years the forum has hosted various influential thinkers, among them John F. Kennedy, Eleanor Roosevelt, Fidel Castro, and Martin Luther King Jr. Now 92, Rappaport was present for the new forum's launch, which HLS Dean John F. Manning '85 introduced. Praising Rappaport's ideal of thoughtful disagreement, Manning said, "A great university must be a place of open inquiry– a place where disagreements, debates, and differences of opinion deepen knowledge and bring us closer to understanding and truth."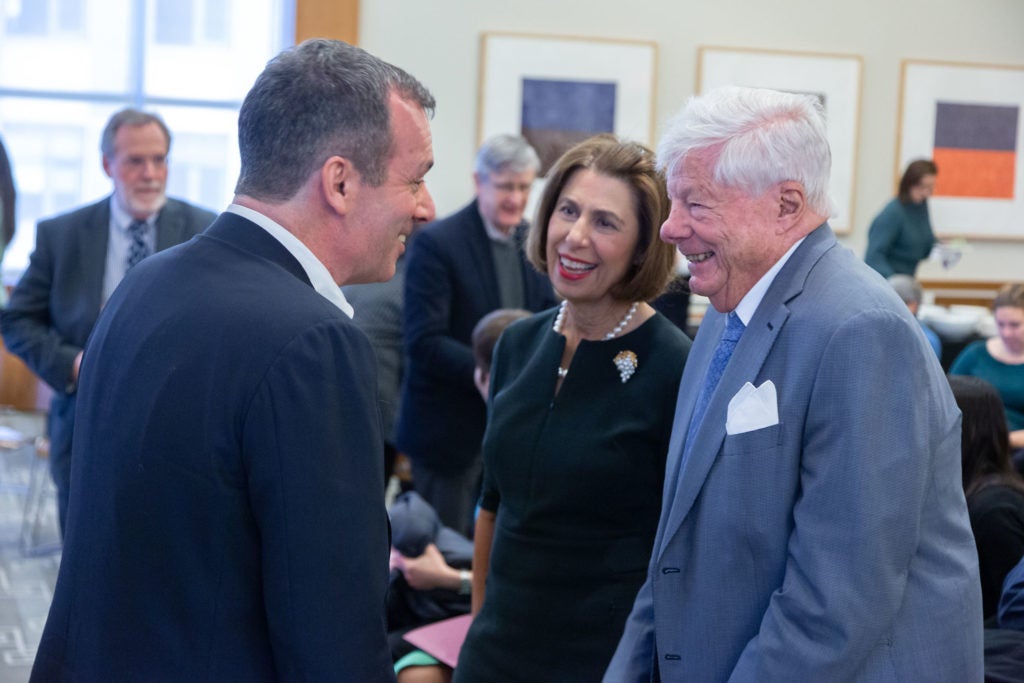 Barrett pointed out that stress has a metabolic effect on the neurons, potentially leading to depression and even heart disease. Further, scientific evidence shows that verbal aggression causes stress similar to that triggered by physical aggression and some forms of sexual abuse. "This doesn't mean you will suffer physical illness if somebody says something you don't like," she said. "What it does mean is that if you are chronically stressed, the words are likely to pile on and add to that. That is hard to accept as a culture because we believe in individual freedom."
Haidt agreed with Barrett's premise that words cause harm, and that hate speech should be subject to some restrictions. But he argued against its classification as violence, noting that a certain amount of unpleasant speech is crucial to the educational experience. "You have opened up a giant can of worms here that we are responsible for what we say, and that there are bureaucratic measures that will enforce it," he said. "You're opening up room for students to say that speech we don't like, even academic claims that we find to be threatening, are violence. That does a huge disservice to what we are trying to do at universities."
He noted the danger of pushing sensitivity too far, saying that his children's grade school now classifies teasing as bullying. "We don't want to protect kids so much that we ban teasing," he said. "We'd be adapting them to an extremely low-stress environment, preparing them for a world that doesn't exist. And I fear that we're doing the same thing on our campuses. We are saying, 'We are going to do everything we can to clear out microaggressions. So that when you go out into the real world and try to find a job, you will find that completely intolerable.'"
One audience member said that if heightened sensitivity on campus is bad preparation for the real world, why not condemn the real world and act as a standard bearer? "I see the logic, but let's play that out," Haidt replied. He suggested that even if it became possible to regulate speech in some places, graduates would still be likely to find themselves working in other parts of the world and that it would never be possible to escape hateful speech altogether.
Barrett said that she is not looking for enforced hypersensitivity, only for greater awareness of the neurological factors. "We are not snowflakes; we are people with nervous systems. I agree that teasing is not the same as bullying, but when you have a child who has been bullied, that child will respond as if it has been bullied when it is exposed to teasing. That's the reality of the nervous system, and I think it's important to recognize that."
---
This article was originally published in the Harvard Gazette on February 24, 2020, and it has been updated by Harvard Law Today.