John H. Mansfield '56 retires after instilling a "desire to respond" in generations of Harvard Law students
By James A. Sonne '97
John Mansfield has graduated from Harvard at last.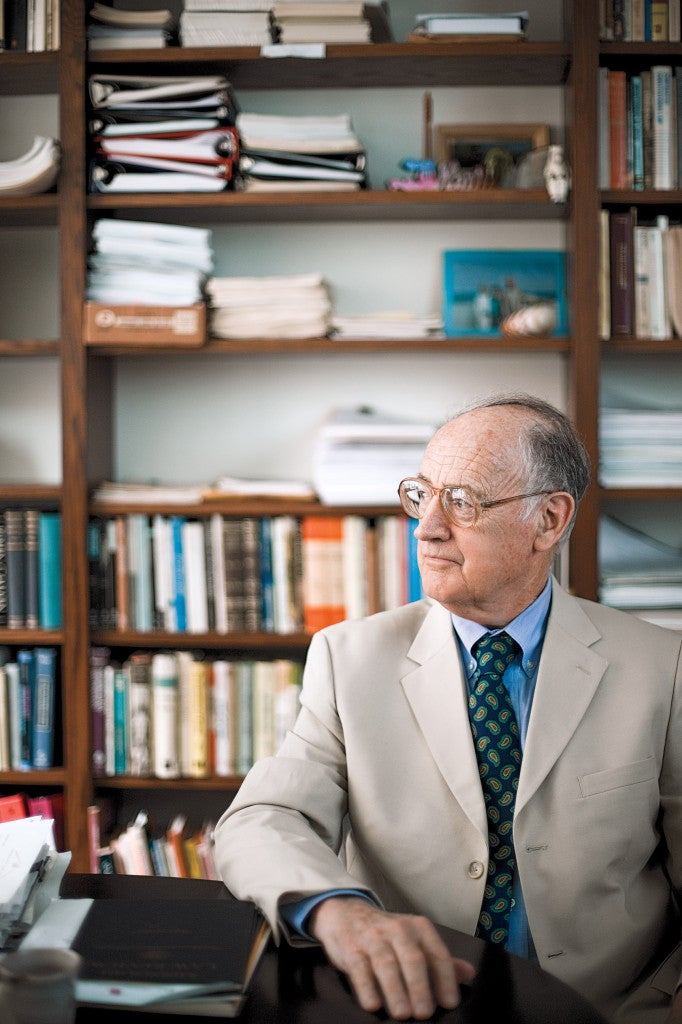 Beginning as a student over a half century ago—and with the notable exception of successive clerkships for Justice Roger Traynor of the Supreme Court of California and Justice Felix Frankfurter—Professor Mansfield's journey in law has taken place entirely at the Harvard Law School, as he is fond of calling it. Impressive as such longevity is, he has left a mark on Harvard—and on my life as well—that is even deeper than it is wide.
When he retired from teaching in July, Professor Mansfield capped a rich chapter in his life and the history of our school. He is one of the last of a great generation, having shared the joys and struggles that marked the times with dearly departed friends and colleagues such as Mark Howe, Phillip Areeda and David Westfall. In many ways, he is a man of "the old school" who believes, as Professor David Rosenberg once observed, that "one good question is better than 10 good answers." At the same time, his work in comparative and interdisciplinary areas exemplifies the cutting edge of legal thought.
Professor Mansfield is perhaps best known to former students for his evidence and church-state courses. He was a demanding yet warm teacher who embodied the "education by expectation" that he so admired in his hero, Justice Frankfurter, and honored in a 1965 Harvard Law Review tribute to the justice. In his scholarship, he has written landmark works on the jury system, scientific evidence, law and religion, and legal history, and has written extensively on the law of India. All his work shows the dexterity of mind and clarity of thought of a true teacher-scholar.
John Mansfield is among the most engaging, and engaged, men I've ever known. Many can remember sitting in the glow of their favorite professor's office on a crisp Cambridge afternoon. With Professor Mansfield, such a meeting was an event. Always in coat and tie, he had a demeanor as refined as that of any 10th-generation Bostonian. Yet, as one born and raised in San Francisco, he possessed a curiosity of the most modern sort. Whether discussing Madison's "Memorial and Remonstrance" or why people would want tattoos, it mattered little. He was always thinking, and pushing you to do likewise.
A man of deep conviction, Professor Mansfield has never stopped seeking understanding of what makes life so worth living. This pursuit of truth and goodness will continue in retirement in both scholarship and, even more important, his life away from campus. As his friend Jeff Meller told me, "John waiting until his seventies to marry in 2003 tells you everything. In his mind, it may have taken the world, or God to be more precise, decades to deliver Maria Luisa into his life, but here she is, and isn't she just wonderful."
John Mansfield inspired me to become a professor myself, and his guidance has been critical in my hope of helping to bring a passion for life and learning to another generation of lawyers. To borrow from his tribute to Justice Frankfurter, he is a teacher, mentor and friend who "knew of what poor stuff we were made. But his expectations of us did indeed arouse a desire to respond, to be what he assumed we were, to live as nobly and as usefully as he suggested we might."